Visibility can be challenging for shorter drivers as modern cars and SUVs get larger with every new generation.
In many cases, the doors or dash in newer vehicles are too high and difficult to see past if you're vertically challenged.
Many of these hurdles can usually be overcome if the vehicle is smartly designed and has adjustments for seat height and steering wheel position.
In this article, we'll take a look at some of the best hybrid SUVs that will be perfectly suited for shorter drivers and passengers.
1. Kia Niro Hybrid and Plug-in Hybrid
The Kia Niro is a cross between a tall hatchback and a small crossover.
It sits lower to the ground compared to other compact SUVs so shorter drivers and passengers don't have to strain to get in.
The Niro's doors also open up very wide, making it easy for taller people or those with limited range of motion to climb inside.
When the more modern-looking second generation Kia Niro debuted in 2023, it got a bit bigger overall, but it's still very easy to use for shorter people.
It still has large windows all around that give you a fishbowl view. Its upright seating position and smaller dimensions also help improve outward visibility and maneuverability in tight spaces.
The EX and SX models get power adjustable driver's seats as standard which makes height adjustments much easier.
The SX trim level also adds driver seat memory, as well as parking sensors for both front and rear. These higher trim levels also come with a power tailgate so you don't have to reach up at all to close the back.
Both generations of the Kia Niro Hybrid are also very affordable and practical for long distance commuting as they can easily return over 50 mpg.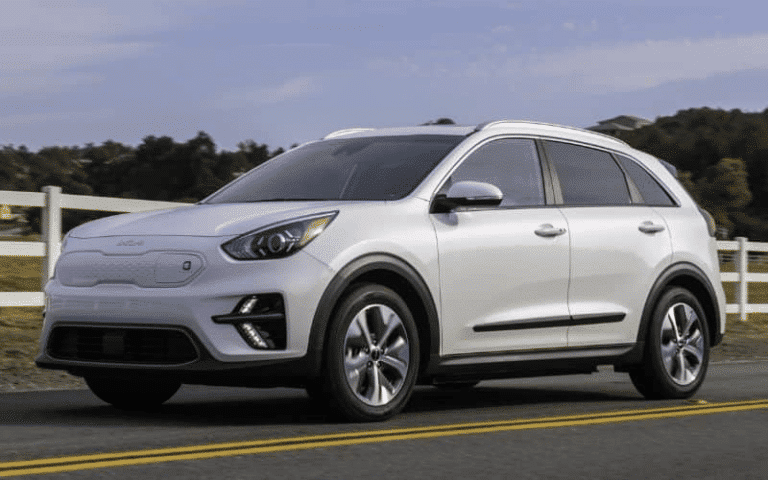 2. Toyota Corolla Cross Hybrid
The Corolla Cross is more affordable and only slightly smaller than the RAV4 but it's much bigger inside compared to the Corolla hatchback.
Gas mileage for the Corolla Cross Hybrid is also better at over 40 mpg combined compared to the RAV4 Hybrid.
Short drivers will find the smaller size and sloping hood of the Corolla Cross makes it easy to see what's around you.
Visibility through the large windows front to back is also very good and there are hardly any blind spots to worry about.
The whole interior of the Corolla Cross is exactly the same as the regular Corolla, so if you fit in the sedan or hatchback version, the Cross will feel very similar.
Ground clearance for the Cross is 8.1 inches, which is as high as the RAV4 and almost three inches more than the standard Corolla.
This makes getting in and out very easy because you don't have to bend down too much and just simply slide into the seats.
Only the top of the line Hybrid XSE gets the 10-way power-adjustable driver's seat, which makes getting the right driving position much easier.
It's also the only trim level that comes with front and rear parking sensors.
A tilt and telescoping steering column is standard across the entire Corolla Cross range.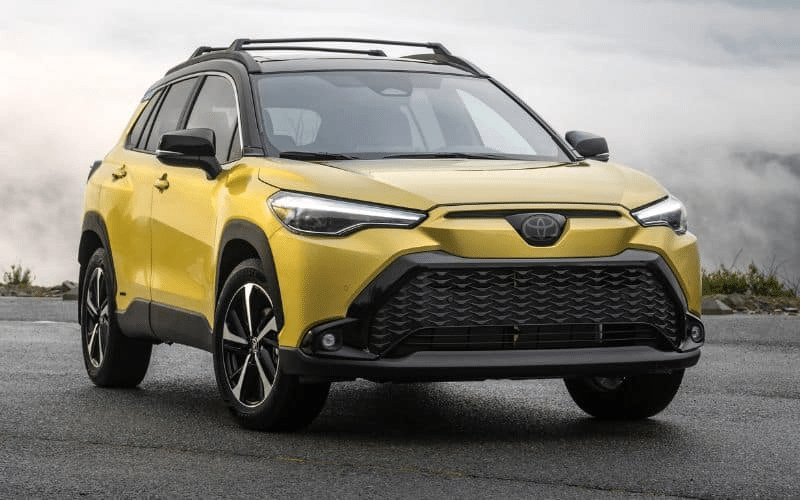 3. Lexus UX Hybrid
The Lexus UX 250h subcompact crossover is the smallest and most affordable model in the Lexus lineup.
The UX uses the same platform as the Corolla Cross but is only available as a hybrid.
In typical Lexus fashion, it has a much more luxurious interior compared to a normal Toyota and is packed with lots of features as standard.
Its ground clearance is not much higher than a sedan at 6 inches so shorter people will find it a lot easier to get into compared to a lot of compact SUVs.
It also has good seat height adjustability with both front seats being power adjustable on all models — allowing you to get the perfect viewpoint whichever one you choose.
Front and rear parking sensors, as well as a color head-up display are also available as a standalone option on all trim levels.
A power tailgate with kick sensor is optional on all models except the UX 250h Premium which has it as standard.
The 2.0-liter inline-4 hybrid powertrain makes a pretty decent power at 181 hp and delivers amazing gas mileage at 42 mpg combined.
The Lexus UX also has the distinction of being the only hybrid in the luxury subcompact crossover segment.
Compared to many of its rivals, the Lexus UX not only gets the best gas mileage but it will also require much less maintenance as it gets older thanks to Toyota's excellent build quality.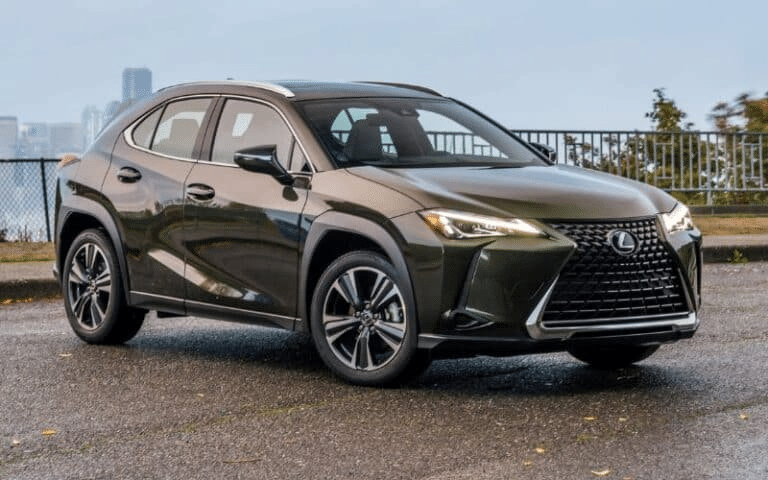 Related: 10 Best Small Hybrid SUVs for Towing (With Pictures)
4. Toyota RAV4 Hybrid
The RAV4 has been one of the best selling vehicles in the U.S. for several years and its hybrid version has been extremely popular since it was introduced in 2016.
The second generation RAV4 Hybrid added a plug-in hybrid variant, known as the RAV4 Prime, to the lineup in 2021.
The RAV4 Prime is the quickest among the current RAV4 models and gets up to 42 miles of all-electric range.
When the battery runs out, the hybrid powertrain is still able to deliver excellent gas mileage of up to 40 mpg combined, similar to the regular hybrid's numbers.
Shorter drivers will appreciate the power-adjustable driver's seat that comes standard with the RAV4 Hybrid XLE and higher trim levels.
A lot of drivers and passengers who are taller than average even say that the RAV4's front seats sit a little too high even in its lowest position, which is exactly what a lot of shorter owners will want.
The top of the line Hybrid Limited's power driver's seat adds a memory function and it's the only model with a height adjustable front passenger seat.
Parking sensors are standard on the Limited models and come as an option on others.
The XSE and Limited models also have the option of adding a 360 camera which makes the car easier to maneuver in tight spaces. A power liftgate also comes standard in these models.
All variants of the RAV4 Hybrid also come with all-wheel drive as standard which makes it very capable and safe when driving in harsh weather conditions, slippery roads, and unpaved off-road trails.
If you want to make climbing in and out of the RAV4 Hybrid even easier, dealers can also install the OEM running boards for a few hundred dollars.
5. Toyota Venza Hybrid
The Venza Hybrid uses the same platform and engine as the RAV4 Hybrid but is more upscale with its better on-road manners and not as rugged.
Like the RAV4, the Venza's front seats are quite high up and elevates your seating position for better visibility.
It's not as great for really tall people, but shorter folks will have no trouble getting inside and driving the Venza.
All trim levels of the Venza come with a power adjustable driver's seat. The XLE and higher models add a memory function which lets you quickly switch between different driving positions.
A power tilt and telescopic steering wheel is also standard on all models, but only the XLE, Nightshade Edition and Limited have a memory function.
The XLE and higher trim levels also have a manually adjustable 4-way passenger seat. However, only the Limited model with its 8-way power adjustable passenger seat has height adjustments.
These more expensive models also have front and rear parking assist as standard while the top end Venza Limited adds a 360 camera.
Compared to the RAV4, the Venza has a higher load floor in the back which means shorter people will have to lift up their cargo a bit more to stow it away in the rear cargo area.
All trim levels of the Venza also come with a power liftgate as standard.
6. Honda CR-V Hybrid
The Honda CR-V, much like the RAV4, is one of the pioneers of the small crossover/SUV craze we have today.
Aside from being very practical and reliable, the CR-V usually has better handling and interiors than its rivals.
Along with the introduction of the sixth generation CR-V for the 2023 model year, a new hybrid version was also released.
This latest model is more rugged on the outside, while the interiors are sophisticated and very modern looking. It even received a 10Best Trucks and SUVs award from Car & Driver in 2023.
Like the older CR-V's before it, the sixth gen CR-V is still a good choice for short people with its high seating position, height adjustable driver's seat, and large windows all around.
The base model CR-V Hybrid has a power driver's seat and a tilt-and-telescopic steering wheel to get the driving position right.
On the higher trim levels, both front seats are powered, and the driver's seat also has a memory function.
To make getting in and out easier, you can also get the CR-V's OEM running boards installed at the dealer.
Higher trim levels add useful features like a power tailgate and parking sensors.
The top of the line Sport Touring Hybrid has standard all-wheel drive while the more affordable models come with front-wheel drive and optional all-wheel drive.
The front-wheel drive models get better fuel economy at around 40 mpg combined while the AWD variants get about 3 to 4 mpg less.
Related: 10 Best Hybrid SUVs for Dogs (With Pictures)
7. Kia Sportage Hybrid
The Kia Sportage was often seen as a more affordable yet boring alternative to some of the more popular compact SUVs in the market.
This has completely changed with the arrival of the fifth generation Sportage for the 2023 model year.
It now sports a more aggressive and youthful exterior, as well as new hybrid and plug-in hybrid powertrain options.
In front-wheel drive trim, the Sportage hybrid is very fuel efficient and can get up to 43 mpg combined.
The more powerful PHEV model is not only quicker off the line, but also has around 32 miles of EV range.
The Sportage is also a great choice for shorter drivers and passengers with its lower seat height and door sills making entry and exit much easier.
Drivers with smaller stature should definitely look at the EX and SX Prestige trim levels as these come with a 10-way power adjustable driver's seat instead of the manual seats with limited adjustments in the base model.
The SX Prestige also has an 8-way power passenger seat and a power tailgate as standard.
Rear parking sensors are standard on all trim levels of the Sportage, but the top of the line SX Prestige model also has front parking sensors and a 360 camera which should help with awareness and visibility when maneuvering in tight spaces.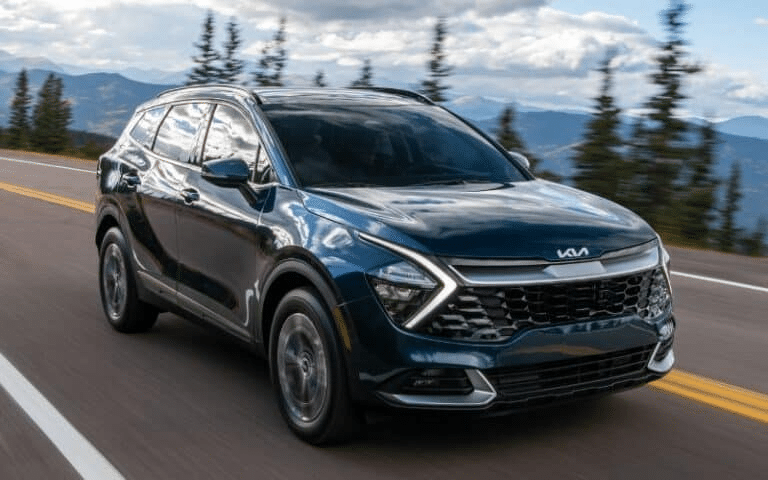 8. Volvo XC60 Plug-in Hybrid
The Volvo XC60 Plug-in Hybrid has been around since the 2018 model year but has gone through a few updates.
Over the years, this stylish PHEV's power went from an already impressive 400 hp to 455 hp, and its EV range doubled from 18 miles to a more usable 35 miles.
Volvo prioritizes safety and driver assistance technology in all of its vehicles so it's a great choice for small families.
The XC60 also has great ergonomics so the seats and all the touch points are very comfortable to use for long periods.
Shorter persons will appreciate the range of adjustability of the powered front seats that come standard in all trim levels of the XC60 Plug-in Hybrid.
The top of the line Ultimate trim level adds even more features such as seat ventilation, power side bolsters and seat bottom cushion extensions.
The back seats also have optional booster cushions for small children and shorter passengers.
For better visibility, the rear headrests fold down manually in the base model, and electronically in the more expensive models.
A power tailgate is also standard on all models. To make loading cargo even easier, the Ultimate model can be equipped with active air suspension which can raise or lower the vehicle's ride height.
The Plus and Ultimate models come with a 360 camera, as well as parking sensors for the front, rear and sides, The Ultimate also comes with a head-up display as standard.
Although the XC60's ground clearance isn't particularly high at around 8 inches, owners can also add the optional integrated running boards to make getting in and out much easier.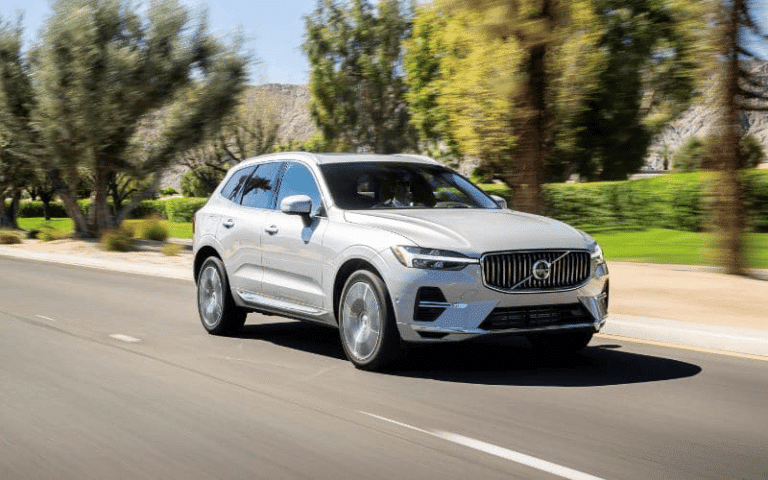 9. Audi Q5 Plug-in Hybrid
The Audi Q5 doesn't stand out as much in today's very competitive compact SUV class, but it's still a solid package with sophisticated looks, cutting edge tech, great handling, and lots of refinement.
It's also one of the few compact luxury SUVs that has a hybrid powertrain option.
The Q5 55 TFSI e was first introduced in 2020 and can deliver around 20 miles of EV range on a single charge.
The latest PHEV models have around twice the EV range, but the Q5 PHEV's 20 miles is still very usable for short errands and driving around town.
The Q5 also comes with a lot of creature comforts and amenities that make it ideal and more comfortable for shorter occupants.
It has a fairly low step-in height, which makes getting in much easier, and the seats can be set very low so you can easily slide into them.
All Q5 plug-in hybrids come standard with 8-way power-adjustable seats for both the driver and passenger. A power tailgate and front/rear parking sensors are also standard.
The Premium Plus and Prestige models of the Q5 plug-in hybrid have a power adjustable steering wheel and can also get the optional air suspension which lowers the car's ride height to make entry and loading cargo much easier.
The Premium Plus also adds a 360 camera while the Prestige model has a head-up display as standard.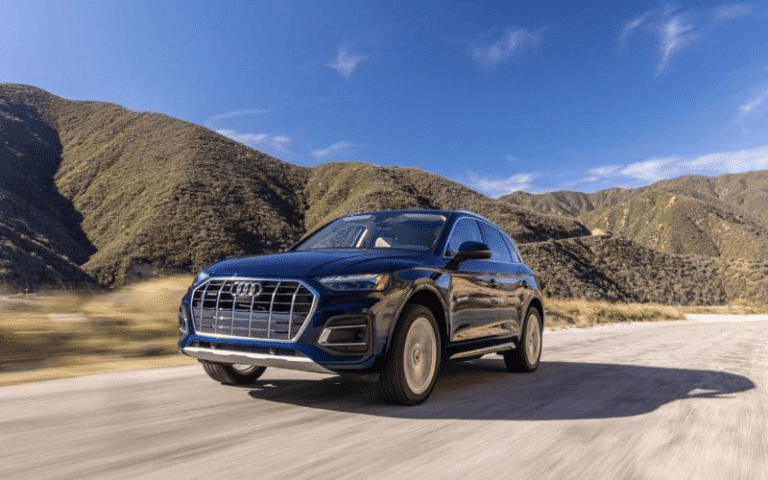 10. Kia Sorento Hybrid
The fourth generation Kia Sorento debuted in 2021 with a bold new look and two hybrid powertrain options.
The older Sorento looked more like a minivan, but Kia significantly improved the fourth generation Sorento's desirability with its more aggressive exterior and very modern interior.
The Sorento is also one of the smallest SUVs that comes with a third row, making it ideal for shorter individuals and growing families.
Gas mileage for the hybrid is around 37 mpg combined, which is impressive for a people hauler, while the plug-in hybrid model adds up to 32 miles of EV range.
Being on the smaller side, it's a lot easier to get into and maneuver around tight spaces compared to other three-row SUVs.
The base EX model comes standard with a 10-way power driver's seat, so it already has loads of adjustability. But the SX Prestige takes it up a notch with its 14-way seat and powered thigh extensions.
All Sorento Hybrids also come with a power tailgate and front/rear parking sensors as standard.
The top of the line SX Prestige model also adds a 360 camera to make parking and maneuvering even easier for those who have issues with visibility.