Small hybrid SUVs typically have smaller engines because they prioritize fuel economy over power numbers.
This limits your towing options, but many plug-in hybrids and some regular hybrids have better towing capacities than others.
In this article, we'll take a look at a couple of small SUVs with the best towing capabilities and additional features that make them more versatile.
1. Volvo XC60 T8 Recharge Plug-in Hybrid (3,500 lbs)
The Volvo XC60 has been around since 2018 but it has gone through several updates since then.
It uses the same hybrid powertrain found in the larger XC90 so it has a lot of power on tap for a luxury compact crossover.
Over the years, its power numbers went from 400 hp to 455 hp, and its EV range increased to 35 miles from its original 18 miles.
With lots of power under the hood, it's not surprising that the XC60 has one of the highest tow ratings for a hybrid SUV/crossover of its size at 3,500 lbs.
The plug-in hybrid and mild hybrid variants of the XC60 have the same towing capacity.
A 3,500-lb tow rating is the maximum for a Class II trailer hitch and will let you tow small campers, travel trailers, boat trailers, and single horse trailers even when they're loaded up.
The XC60 can just as easily tow lighter things like pop-up campers and trailers for motorcycles, ATVs and jet skis.
Volvo also sells a couple of OEM tow accessories for the XC60 such as a foldable trailer hitch.
The Ultimate trim level's optional air suspension also helps keep the XC60 level even when pulling heavy trailers out back.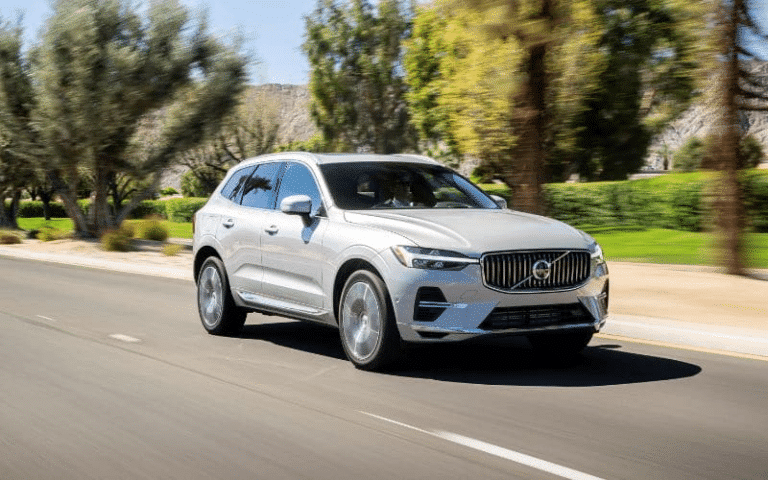 2. Lexus RX Hybrid (3,500 lbs)
The Lexus RX is a luxury SUV that's had a hybrid version since the mid 2000s and the latest generation just debuted for the 2023 model year.
Lexus RX Hybrids have traditionally used larger V6 engines, but the fifth generation model has switched to a smaller 4-cylinder engine.
Despite the smaller engine displacement, power numbers for the new RX 350h aren't that far off from the older V6 hybrid models, but fuel economy has significantly improved.
The tow ratings for different generations of the Lexus RX Hybrid has also remained the same throughout the years at 3,500 lbs.
The more expensive RX 500h and RX 450h+, both of which make more power than the standard hybrid, also have the same towing capacity.
At 3,500 pounds, the Lexus RX Hybrid can easily tow what other small to midsize SUV can such as small campers, trailers and recreational vehicles
Lexus also offers a tow hitch package for the RX which adds a ball mount, trailer ball, and a towing wire harness.
3. Jeep Wrangler 4xe (3,500 lbs)
The Jeep Wrangler continues to be a popular choice among outdoor and off-road enthusiasts because it not only has great trail capabilities, it also looks the part.
In 2021, Jeep introduced the Wrangler 4xe plug-in hybrid which has lots of different trim levels to choose from.
It's powered by a turbocharged 2.0-liter inline-4 and two electric motors that produce a combined output of 375 hp.
It has around 20 miles of EV range, but once the battery has been depleted, fuel economy is around 20 mpg combined.
The Wrangler 4xe has the same tow rating as the gas-powered 4-door Wrangler at 3,500 lbs, which is decently average for the size of the vehicle.
Weekend warriors will have no trouble taking out their different toys such as small fishing boats, jet skis, dirt bikes and ATVs to far flung places with the Wrangler 4xe.
It will also have no issues towing small campers, pop-up campers and teardrop trailers for those who like to rough it out in the woods.
Jeep also offers tow accessories for the Wrangler 4xe like a receiver hitch, trailer wiring harness, auxiliary switches and a 700-amp battery for the trailer's electricals.
Related: 10 Best Hybrid SUVs for Short People (With Pictures)
4. Lincoln Corsair Plug-in Hybrid (3,000 lbs)
The Lincoln Corsair is a new luxury compact crossover that replaces the short-lived Lincoln MKC.
The Corsair's plug-in hybrid powertrain is only available with the top of the line Grand Touring model.
Although it uses the same platform and engines as the Ford Escape, its exterior is more premium looking and the cabin is significantly more upscale and luxurious.
The plug-in hybrid powertrain of the Corsair also makes more power at 266 hp compared to the Escape PHEV's 221 hp.
The Lincoln Corsair also has pretty decent towing capacity for its size at 3,000 lbs which is double that of the Escape PHEV's 1,500 lbs.
Lincoln also offers a towing package, as well as individual towing accessories such as a hitch receiver, ball mount, trailer wiring, and a hands-free liftgate restoration kit.
5. RAV4 Prime (2,500 lbs)
Toyota's best selling RAV4 has had a hybrid version since 2016, but with the arrival of the the fifth generation model, the RAV4 Prime PHEV eventually followed.
The RAV4 Prime is the most powerful and quickest RAV4 so far, with its two electric motors helping to produce up to 302 hp and a 0 to 60 mph time of 5.6 seconds.
The Prime also has an EV range of up to 42 miles which is better than what a lot of more expensive luxury PHEVs can muster.
Thanks to the added power of the RAV4 Prime, it can also tow up to 2,500 pounds which is 1,000 pounds more than the regular gas-powered RAV4's tow rating.
This is good enough for camping and recreational activities that involve towing a teardrop trailer, pop up camper, motorcycles, an ATV, a small fishing boat or jet skis.
The RAV4 Hybrid with its 219 hp also has better towing capacity than the gas model at 1,750 lbs.
Toyota also sells OEM towing accessories for the RAV4 which includes a trailer ball, hitch receiver, and towing wiring harness.
6. Sportage Hybrid and PHEV (2,000 lbs)
The Kia Sportage received a significant update in 2023 which includes two new hybrid powertrains.
The Sportage has always been a value leader in the small SUV segment with its affordable pricing and array of standard features.
With the fifth generation update in 2023, it now has a bolder and more contemporary look coupled with a sophisticated and hi-tech interior.
The hybrid and plug-in hybrid variants of the Sportage have a slightly lower tow rating at 2,000 pounds compared to the regular gas-powered models' 2,500 lbs.
This may not sound too impressive off the bat, but it's still better than the gas-powered RAV4's tow rating of 1,500 pounds.
The Sportage Hybrid also gets very impressive fuel economy at 43 mpg combined while the PHEV model adds up to 34 miles of EV range.
Kia also offers several towing accessories like fixed and detachable tow bars, as well as an electronically controlled tow bar that hides itself away with the push of a button.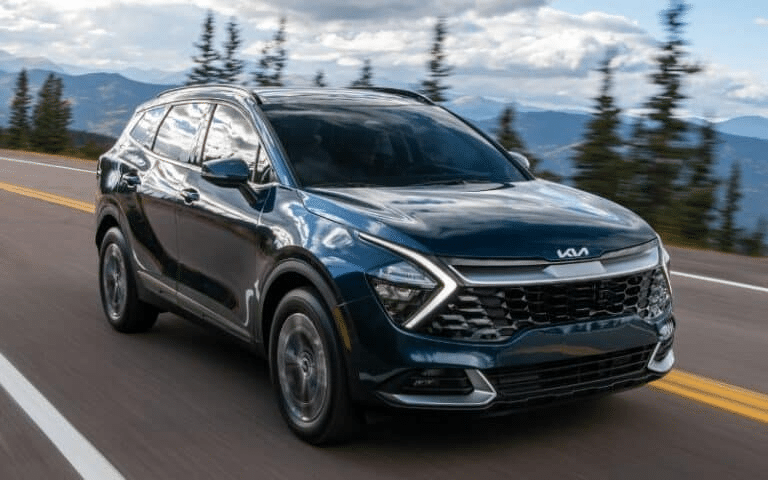 Related: 10 Best Hybrid SUVs for Dogs (With Pictures)
7. Hyundai Tucson Hybrid and PHEV (2,000 lbs)
The fourth generation Hyundai Tucson came out earlier but is mechanically the same underneath as the fifth gen Kia Sportage — similar to the previous models.
It was the first to unveil a hybrid and plug-in hybrid powertrain, which it now also shares with the Hyundai Santa Fe, Kia Sportage and Kia Sorento.
The fourth generation Tucson has also been heavily restyled inside and out to make it more contemporary.
Like the previous generations of the Tucson, the fourth gen also offers a lot of value for money when it comes to standard features and tech.
Inside the Hyundai Tucson, you'll be greeted by a modern and minimalist interior that's filled with modern technology.
It's not as futuristic as the Kia Sportage's interior, but the Tucson's interior and exterior still stands out among the rest of the field.
Similar to the hybrid variants of the Sportage, the Tucson hybrid and PHEV's towing capacity maxes out at 2,000 lbs.
However, unlike the gas powered Kia Sportage which sports a higher tow capacity of 2,500 lbs, all variants of the Tucson, whether gas powered or hybrid, have the same max tow capacity of 2,000 lbs.
To take advantage of the Tucson's towing capabilities, Hyundai offers a towing kit which includes essential accessories such as a tow hitch receiver, tow hitch ball and trailer wiring harness.
Related: 8 Best Small Hybrid SUV for Seniors (With Pictures)
8. Lexus NX Hybrid (2,000 lbs)
The Lexus NX is a luxury compact crossover that uses that same platform as the RAV4.
Its first generation model, which had the hybrid 300h hybrid variant, debuted in 2015.
For the 2022 model year, the second generation Lexus NX and its hybrid models, called the NX 350h and NX 450h+, were released.
This latest generation of the Lexus NX offers more towing capacity at 2,000 lbs versus the first generation NX's 1,500 lbs.
Its higher towing capacity makes it more capable at hauling around small trailers and campers up to 2,000 pounds.
Although the Lexus NX design philosophy is geared for on-road plushness and daily commuting. it won't let you down if you need it to perform SUV duties.
With its current tow rating, it's still very capable at hauling around small trailers versus a lot of its competition in the luxury compact SUV segment.
At 2,000 lbs, it can even tow more than the gas-powered RAV4 which is only rated for up to 1,500 lbs.
9. Audi Q5 55 Plug-in Hybrid
The Q5 is Audi's best selling model and is known for its outstanding build quality and refinement, cutting edge tech, and driver-focused handling.
The Audi Q5 is also one of the few luxury compact crossovers with a hybrid variant, known as the Q5 55 e Quattro.
The Q5 PHEV is the most powerful across the Q5 lineup with up to 362 hp on tap thanks to its electric motor.
Its EV range is a bit lacking for today's standards at only 23 miles, but it's still very usable for daily commuting.
The Q5 55's towing capacity is also pretty respectable at 2,000 pounds for a luxury compact SUV.
It's a far cry from the regular gas-powered Q5's 4,400 lbs, but the Q55 PHEV's 2,000 lbs is good enough for a lot of light trailers and campers.
Audi also offers a bunch of tow accessories for the Q5 PHEV which includes hitch receivers, ball mounts, wiring harnesses and many more.
10. Toyota Corolla Cross Hybrid
The Corolla Cross is a new model that debuted in 2022 and got its first hybrid variant in 2023.
It's meant to be a replacement for the subcompact C-HR and uses the current generation Corolla's platform.
The Corolla Cross is a bit smaller than the RAV4 but significantly more spacious and practical than even the Corolla hatchback.
The regular gas-powered and hybrid variants of the Corolla Cross have similar tow ratings of 1,500 lbs.
This may not sound too impressive, but it compares favorably when compared to larger SUVs such as the CR-V Hybrid with its towing capacity of 1,000 lbs.
Toyota also offers an activity mount that allows you to connect lightweight trailer hitch equipment, but a few aftermarket companies also offer more capable tow hitches.