In the past, towing with a hybrid vehicle was pretty much out of the question because most models lacked power and had very low tow ratings.
This has changed though as more powerful hybrid SUVs that have almost the same towing capabilities as their non-hybrid counterparts become more popular and mainstream.
In this article, we'll check out several hybrid and plug-in hybrid SUVs with the best towing capacities, as well as their additional towing features and options.
1. Toyota Sequoia Hybrid (9,000 Pounds)
The third generation Sequoia, which debuted as a 2023 model year, gets a hybrid powertrain for the very first time and all trim levels come with it as standard.
The Sequoia's 3.4-liter twin-turbo V6 that's paired with an electric motor is capable of producing 437 hp and 583 lb-ft of torque, while the old V8 models only had 381 hp and 401 lb-ft of torque.
Fuel economy has also improved to an estimated 22 mpg combined compared to the gas guzzling V8's 15 mpg.
The rear-wheel drive model Sequoia has a higher tow rating of 9,500 pounds while the four-wheel drive model is rated for 9,000 pounds. For comparison, older V8-powered Sequoias were only rated to tow up to 7,400 pounds.
The Sequoia's new "Direct-Shift" 10-speed transmission is also a torque converter unit which has proven to be very reliable for towing heavy loads.
Other standard features that make the Sequoia Hybrid an excellent towing rig include a Class-IV hitch receiver, an Integrated Trailer Brake Controller, Trailer Sway Control, and Trailer Merge Warning.
The Platinum and Capstone trim levels also have the option of getting the load-leveling air suspension for the rear.
Optional tow mirrors and the tow technology package, which adds a digital rearview mirror and trailer backup guide, are also available.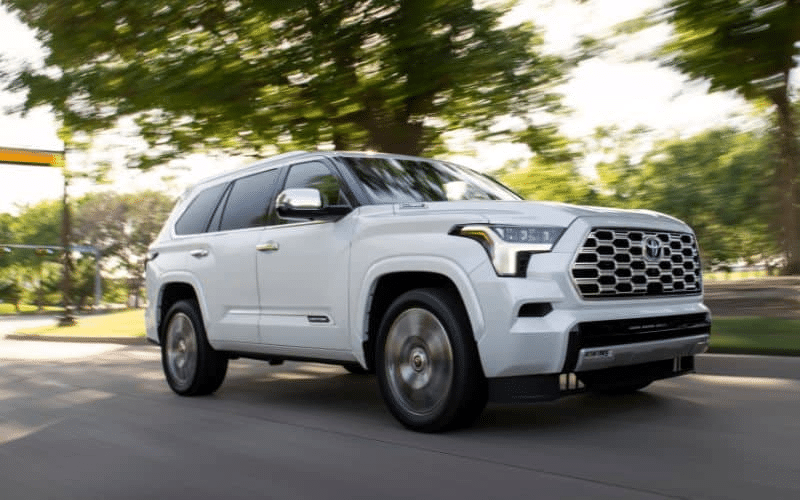 2. Ford Explorer Hybrid (5,000 pounds)
The Ford Explorer Hybrid is a practical and versatile midsize SUV with three row seating and decent towing capabilities.
Its hybrid powertrain, which uses a 3.3-liter V6 coupled with a small electric motor, is capable of producing up to 318 hp and 332 lb-ft of torque.
These power figures give the Explorer Hybrid a towing capacity of 5,000 pounds — only slightly less than the 5,300 to 5,600 pound rating of the non-hybrid models.
This is enough to tow small to average sized campers, boats and other recreational vehicles.
All sixth gen Ford Explorers come with a 10-speed automatic transmission that uses a torque converter and is the same exact unit found in the Ford Bronco.
It does significantly better at towing than its main rivals, the Toyota Highlander and Kia Sorento Plug-in Hybrid, which are rated for 3,500 pounds and 2,000 pounds respectively. The Mitsubishi Outlander PHEV is rated even lower at only 1,500 pounds.
Fuel economy for the rear-wheel drive model is rated at 27 mpg combined while the all-wheel drive gets 25 mpg.
Trailer sway control is standard on all sixth generation Ford Explorers. The Class IV trailer tow package and blind spot monitoring with rear cross-traffic alert and trailer coverage are optional.
Related: 10 Best Hybrid SUVs for Camping (With Pictures)
3. Toyota Grand Highlander Hybrid MAX (5,000 Pounds)
The Toyota Grand Highlander is new for the 2023 model year and is slightly larger and more luxurious than the Highlander Hybrid, which has been around since 2006.
Lower trim levels use the same hybrid powertrain as the current generation Highlander Hybrid, and are only rated to tow up to 3,500 pounds.
The more expensive Grand Highlander Hybrid MAX Limited and Platinum models come with a more powerful turbocharged 2.4-liter inline-4 paired with a hybrid motor that produces up to 362 hp and 332 lb-ft of torque.
The extra 100 or so horsepower and torque ups the Grand Highlander Hybrid MAX's towing capacity to a very respectable 5,000 pounds.
This tow rating should allow you to pull average sized campers, trailers, boats and smaller cars, just to name a few.
The Hybrid MAX models are also equipped with a 6-speed Direct-Shift transmission compared to the eCVT, which have been pretty bulletproof so far.
Fuel economy does go down to 27 mpg combined whereas the regular Highlander Hybrid can get up to 36 mpg combined.
Trailer sway control is standard on all hybrid models of the Highlander and Grand Highlander, while the tow hitch receiver is an optional extra.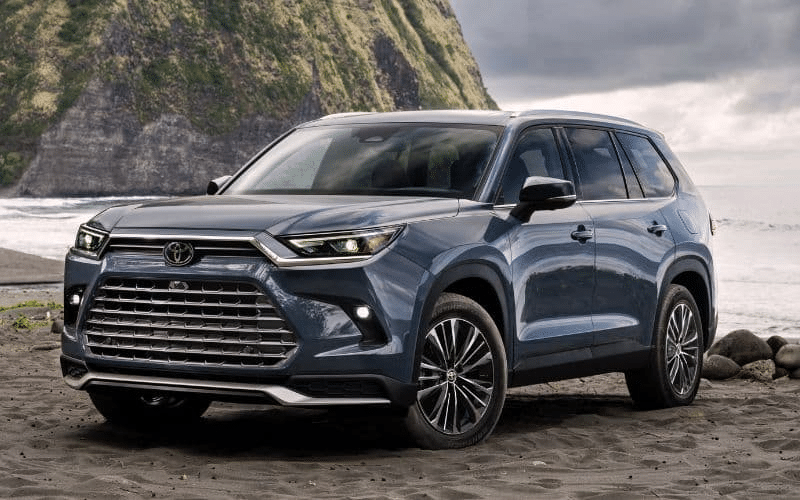 4. Jeep Grand Cherokee 4xe (6,000 Pounds)
The Jeep Grand Cherokee 4xe is a highly capable off roader that's also very comfortable and luxurious inside.
It has the same hybrid powertrain as the Wrangler 4xe, which is rated for 375 hp and 470 lb-ft of torque, but has almost double the towing capacity.
The Grand Cherokee 4xe can tow up to 6,000 pounds — just slightly less than the non-hybrid model's 6,200 pounds.
Every Grand Cherokee 4xe comes with four-wheel drive and has an estimated EV range of 26 miles.
The Trailer-Tow package is standard on all trim levels except the base model and 30th Anniversary model. This adds a 4 and 7-pin wiring harness, auto headlamp leveling, Class IV hitch receiver, and rear load-leveling suspension courtesy of the Quadra-Lift air suspension system.
Also standard is Jeep's Trailer Sway Damping, but the Trailer-Hitch Zoom for the backup camera is only available on the Trailhawk and higher models.
5. Mercedes Benz GLE 450e (7,700 Pounds)
The Mercedes-Benz GLE 450e plug-in hybrid is new for the 2024 model year and is the first true hybrid of the current generation GLE.
Mercedes-Benz has always been known for its smooth ride, luxury interiors, and cutting-edge technology, and it's in the GLE and E-Class where these characteristics really start to shine.
The GLE 450e plug-in hybrid's power comes from a turbocharged 2.0-liter four-cylinder engine and an electric motor that have a combined output of 381 hp and a hefty 479 lb-ft of torque.
Its towing capacity is rated at 7,700 pounds which is about the same as a midsize pickup truck like the Ford Ranger and Chevrolet Colorado and is definitely enough to tow most cars, larger boats and average sized campers.
Optional features that will make towing easier include a self-leveling air suspension, trailer maneuvering assist for the backup and 360 camera, and a Class III hitch receiver.
EV range for the GLE 450e is estimated at around 40 miles per charge, so you'll barely have to use any gas if you're just using it for regular commutes and errands. But it still has lots of power and towing capacity on tap whenever you need it.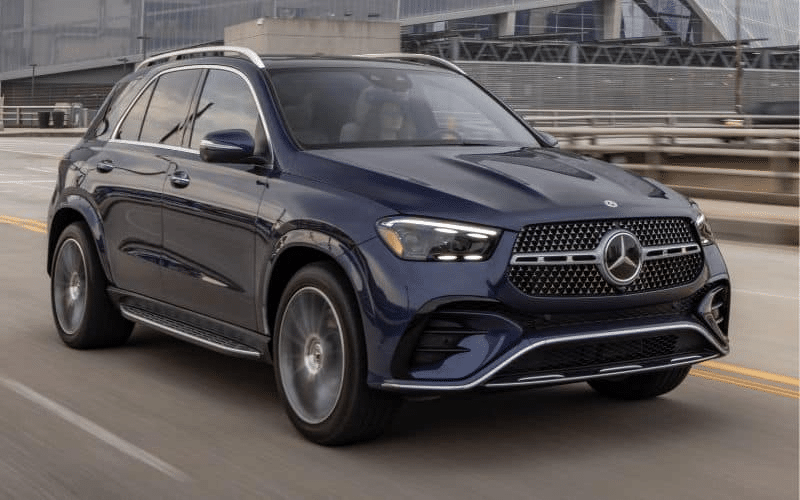 6. Porsche Cayenne E-Hybrid (7,700 Pounds)
The Cayenne E-Hybrid is not only very luxurious and comfortable, but also has the sharpest handling you can get in a large SUV.
Total power from the Cayenne's plug-in hybrid powertrain is rated at 455 hp and 516 lb-ft of torque. The Cayenne Turbo S E-Hybrid ups the performance quite a bit to 670 hp and 567 lb-ft of torque.
Towing capacity for the Cayenne E-Hybrid is pretty stout at 7,700 pounds, and is exactly the same as the non-hybrid models.
The significantly more expensive Turbo S E-Hybrid has a slightly lower tow rating of 6,600 pounds.
EV range for the 2023 model is estimated at 17 miles, but is expected to improve slightly for the 2024 model year.
Adding a trailer hitch from the factory costs $660 and the self-leveling adaptive air suspension is also optional.
All third generation Cayennes also use a ZF 8-speed transmission which has proven to be very reliable in a lot of makes and models.
7. BMW X5 xDrive50e (5,950 Pounds)
The BMW X5 has been around for roughly 25 years and still continues to provide an excellent balance of luxury, versatility, and excellent driving dynamics for a large SUV.
The fourth generation BMW X5 was refreshed for the 2024 model year and the new xDrive50e plug-in hybrid is the replacement for the xDrive45e.
Its turbocharged 3.0-liter inline-6, also known as the B58 engine, is now paired with a more powerful electric motor that produces a combined output of 483 hp and 516 lb-ft of torque, up from the 389 hp and 443 lb-ft of the older model.
Towing capacity for the xDrive50e is similar to the xDrive45e at 5,950 pounds. The factory trailer hitch is a $650 option.
According to BMW's spec sheets, the X5 plug-in hybrid models should have no trouble hauling this much weight up a 12% grade.
For comparison's sake, the mild hybrid and non-hybrid variants of the X5 have between 6,600 to 7,200 pounds of towing capacity.
All fourth generation BMW X5s are also equipped with the very reliable and robust ZF 8-speed transmission, so you'll have no issues regularly towing heavy loads.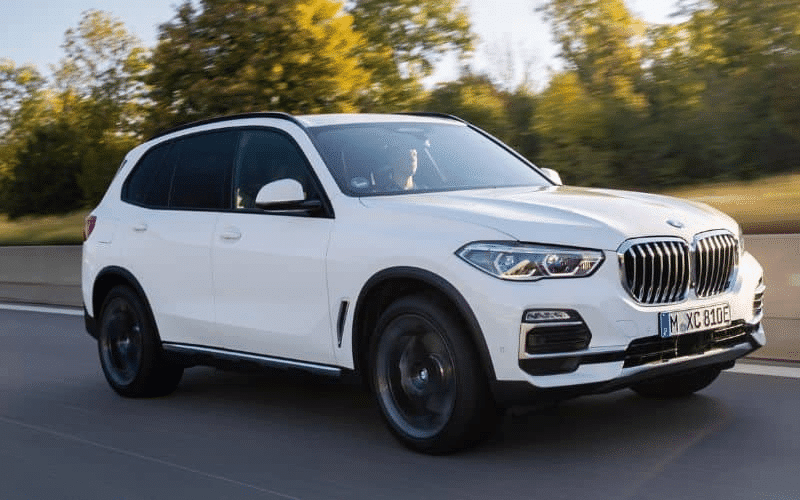 Related: 11 Plug-in Hybrids With the Highest Towing Capacity (Ranked)
8. Range Rover P550e Autobiography Plug-in Hybrid (8,200 Pounds)
For the well heeled, there's nothing quite like the opulence and levels of comfort that a Range Rover offers.
The Range Rover's first plug-in hybrid model, known as the P400e, first went on sale as a 2020 model. This was replaced by the P440e in 2023, and now the P550e for the 2024 model year.
The P400e and P440e models were rated to tow up to 5,500 pounds, but the P550e Autobiography has significantly more power at 542 hp and 590 lb-ft of torque, allowing it to tow up to 8,200 pounds.
Electric-only range for the P400e was limited to an estimated 19 miles, but the P440e and P550e have massively improved it to roughly 50 miles per charge.
The smaller and less expensive Range Rover Sport PHEV also has the same hybrid powertrains and tow ratings.
Standard towing features for all Range Rover and Range Rover Sport models include Trailer Stability Assist and trailer wiring.
A tow hitch receiver and Advanced Tow Assist, which helps you counter steer when backing up with a trailer, are available as options.
Both models also come with Dynamic Air Suspension with Dynamic Response Pro which should keep the rear of the truck level even with a heavy trailer in the back.
9. Lincoln Aviator Grand Touring PHEV (5,600 Pounds)
The Lincoln Aviator Grand Touring Plug-in Hybrid boasts an impressively luxurious cabin, sophisticated styling, and seating for up to seven people.
Its hybrid powertrain, which has a combined output of 494 hp and 630 lb-ft of torque, offers an exhilarating 0 to 60 time of just 5 seconds. A full charge can also get you up to 21 miles of EV range.
The Grand Touring and the top of the line Black Label Grand Touring Plug-in Hybrid have a maximum towing capacity of 5,600 pounds.
This is more than enough for towing average sized campers, horse trailers, cars and small boats.
The non-hybrid variants of the Aviator have less power, but have a higher tow rating of 6,700 pounds.
The optional Class IV Trailer Tow package also adds a Class IV hitch, wiring connectors, blind spot monitoring with trailer coverage, Smart Trailer Tow, and Trailer Sway Control.
10. Volvo XC90 Recharge Plug-in Hybrid (5,000 Pounds)
The Volvo XC90 Recharge Plug-in Hybrid is a three-row luxury SUV that first debuted in 2016 as the T8 model.
It has seen a few upgrades since its introduction, with power going from 400 to 455 hp and torque increasing from 472 to 523 lb-ft. EV range has also more than doubled from 14 to 32 miles.
Its sophisticated looks and clean interior have also withstood the test of time, and it's still widely regarded as one of the better looking SUVs in its class.
Towing capacity has remained the same throughout the second generation XC90's range at 5,000 pounds for both the plug-in hybrid and mild hybrid variants. A retractable trailer hitch is available as an option for around $1,600.
Being Volvo's flagship vehicle, the XC90 is loaded with safety features and driver assists like Volvo's Pilot Assist, blind spot monitoring, lane assist, park assist, and adaptive cruise control, among many others.
11. Lexus RX 350h Hybrid (3,500 Pounds)
The Lexus RX has always been a crowd favorite because of its outstanding levels of comfort, luxury features, and long-term reliability.
The RX 400h was also the first luxury SUV offered with a hybrid powertrain when it debuted as a 2006 model.
With the introduction of the fifth generation Lexus RX for the 2023 model year, it finally ditched the 3.5-liter V6 for more fuel efficient yet similarly powerful four-cylinder engines.
The RX 350h and the more powerful RX 500h F-Sport hybrids have the same tow rating of 3,500 pounds.
Different models and generations of the Lexus RX have had the same towing capacity for more than a decade.
To put it in perspective, the Toyota Highlander is also rated for 3,500 pounds while the RAV4 Prime is rated for 2,500 pounds. The smaller Lexus NX Hybrid is only rated for 2,000 pounds.
Gas mileage for the RX 350h is close to what you'd get in a more affordable compact SUV at 36 mpg combined, while the more powerful RX 500h gets 27 mpg. A plug-in hybrid variant is expected to join the fray soon.
Older models of the RX Hybrid used Toyota's bulletproof eCVT gearbox which used a planetary gearset instead of steel or rubber belts. The fifth generation RX uses Toyota's new Direct Shift transmission which should be just as reliable.
With all this mind, the Lexus RX 350h offers a really unique combination of luxury, roominess, fuel economy, towing capacity and reliability in the Toyota/Lexus lineup.