Although most hybrid SUVs aren't really designed for extreme off-roading, all you'll really need to get to most camping sites and tackle light trails is decent ground clearance, tires, and all-wheel drive.
Many hybrid SUVs will also let you run the air conditioning and heat all night off the battery while others even come with power outlets that will let you run small appliances, making them ideal options for car camping.
In this article, we'll take a look at some of the best hybrid SUVs for camping and enjoying the great outdoors.
1. Toyota Highlander Hybrid
The Toyota Highlander Hybrid was the one of the first hybrid vehicles to feature a third-row seat when it debuted in 2006. It's had two more generations since then with the latest one coming out in 2020.
The Highlander Hybrid has pretty good ground clearance for a family SUV at 8 inches and has optional all-wheel drive so you can easily take it off the beaten path even in bad weather.
With the third-row seats folded down, it can hold a lot of camping gear at almost 50 cubic feet. The second-row seats also fold flat so you can easily fit a mattress inside and sleep comfortably even if you're a taller person.
If you're using it for car camping, the Highlander Hybrid will also run the A/C off the hybrid battery and periodically start the engine to charge it back up.
In cold weather, you'll need to run the engine more to heat up the cabin because it still uses a traditional heater core.
The Bronze, Limited and Platinum trim levels of the current generation Highlander Hybrid also feature a 1,500-watt inverter and two 120-volt outlets that will let you power all sorts of electronics using the hybrid system.
Towing capacity for the Highlander Hybrid is lower than the non-hybrid at 3,500 lbs. but this is good enough for a pop-up camper or hauling your toys around, like a jet ski or even a side by side UTV, on a small trailer.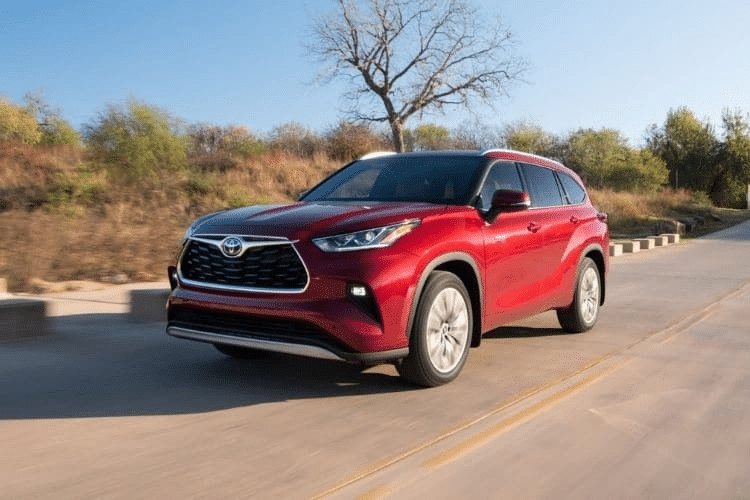 2. Toyota Grand Highlander Hybrid
The Toyota Grand Highlander, which is new for the 2024 model year, is slightly bigger and more luxurious than the regular Highlander.
The Grand Highlander's third-row seat is more usable and can fit adults comfortably.
Behind the third row, you get more cargo capacity at 20.6 cubic feet compared to the regular Highlander's 16 cubic feet.
With the second and third-row seats folded down, there's a total of 98 cubic feet in the Grand Highlander versus the Highlander's 84 cubic feet. This lets you really stretch out your legs if you plan on sleeping inside.
The top trim levels have a more powerful Hybrid Max powertrain that ups the Grand Highlander Hybrid's towing capacity to 5,000 lbs.
Like the regular Highlander Hybrid, the Grand Highlander lets you run the A/C off the battery and use the 120-volt outlet for your electronics.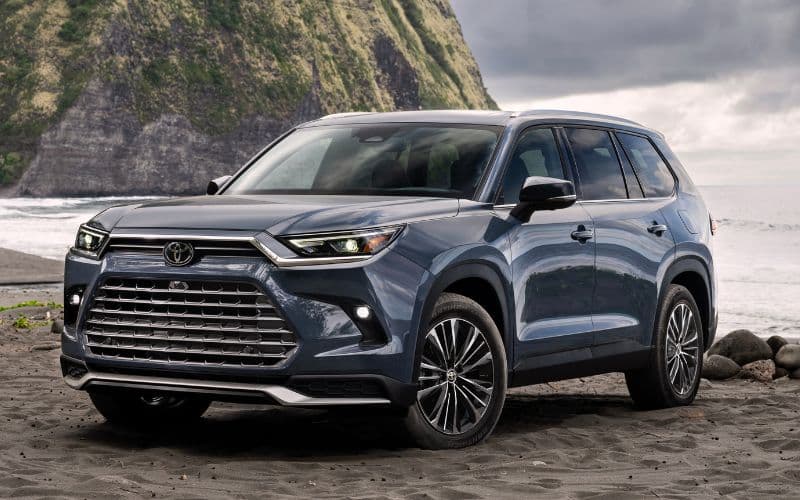 3. Mitsubishi Outlander PHEV
The Mitsubishi Outlander PHEV flies under most people's radar, but it's an excellent off-grid camping vehicle.
The Outlander's PHEV model has been sold in the U.S. since 2018, but it was updated from the ground up in 2023, boasting up to 38 miles of electric-only range and comes with third-row seats.
The current generation Outlander PHEV also sports an electric heat pump so you can warm up without having to turn on the engine. The engine will still turn on from time to time to recharge the battery, just like when using the A/C.
The 120-volt 1,500 watt AC outlet in the rear cargo area is also carried over from the previous generation, which lets you enjoy more modern conveniences in far-flung areas.
Both the second and third-row seats fold completely flat to give you up to 66 cubic feet of cargo and sleeping space.
Ground clearance is around 8 inches and is typical for this class of vehicle. Standard on the SEL 40th Anniversary and Ralliart models is the Super-All Wheel Control (S-AWC) all-wheel drive system, which makes it a more capable off-roader.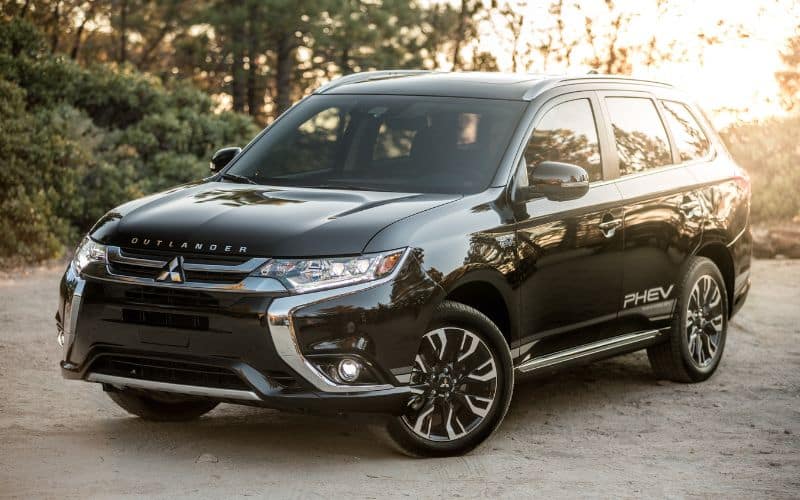 Related: 11 Best Hybrid SUVs for Towing (With Pictures)
4. Jeep Grand Cherokee 4xe
Although the Grand Cherokee 4xe is more luxurious and technologically advanced than previous generations, it hasn't lost its amazing off-road capabilities.
Aside from being a very comfortable daily driver, the Grand Cherokee 4xe gets up to 25 miles in electric-only mode so you'll hardly use any gas if you're just driving around town. It will also take you to far-flung camping sites that only real four-wheel drive trucks can reach.
In the Trailhawk, Overland, Summit and Summit Reserve trim levels, you get the Quadra-Lift air suspension which can increase the ground clearance to over 11 inches.
The Trailhawk is the most trail-ready model and comes standard with all-terrain tires and tow hooks.
The Grand Cherokee's second-row seat also folds flat and gives you 70 cubic feet of space, so you can easily fit a mattress in the back if you don't want to pitch a tent.
However, the truck will usually turn itself off after roughly 30 minutes so you might not be able to use the HVAC all night while sleeping inside.
A 115-volt 150 watt AC outlet comes standard in all trim levels of the Grand Cherokee which will let you power many modern day conveniences.
The Grand Cherokee 4xe is able to tow up to 6,000 lbs, so you'll have more options as far as campers and trailers go.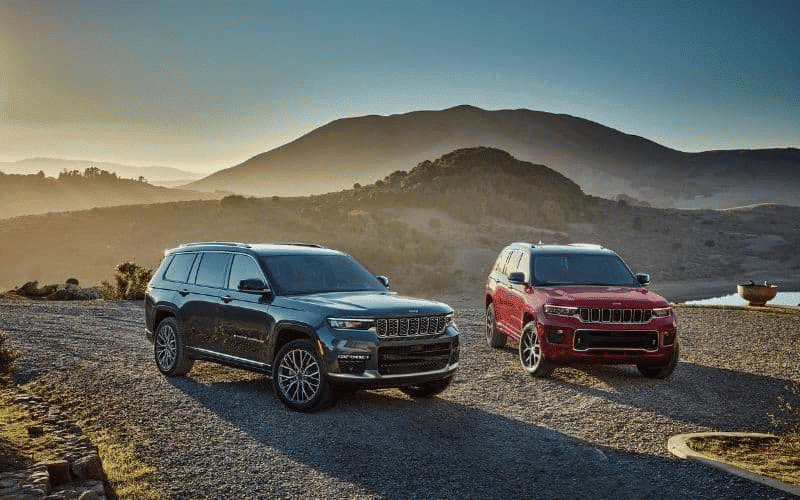 5. Jeep Wrangler 4xe
The Wrangler is one of the best vehicles you can get for extreme off-roading, which not only makes it popular among hardcore enthusiasts, but also those who admire its fun and adventurous image.
With the Wrangler 4xe plug-in hybrid, you get a rugged off-road machine that can also go up to 21 miles in electric-only mode.
Although the Wrangler 4xe is already very capable out of the box, the Willys and Rubicon models are the only ones that come standard with bigger off-road tires and trail-ready suspension.
The only caveat with the Wrangler 4xe is that the rear seats protrude out of the floor when you fold them down. If you plan on sleeping inside the truck while camping, you'll have to put in a wooden platform or shelf in the back so that your mattress lays down evenly.
The Wrangler 4xe has an automatic shutdown feature if you leave in 'Ready' mode after 30 minutes. You can disable this by disconnecting the driver's door wiring harness (similar to when you remove the doors), so you can run the HVAC indefinitely.
The Wrangler 4xe also has a 115-volt 150 watt AC outlet that you can use to power fans and small appliances. Starting with the 2024 model, it also comes standard with a power box that plugs into the charging port that has 4 AC outlets.
If you need to bring along extra gear or some of your off-road toys, the Wrangler 4xe is also rated to tow up to 3,500 lbs.
6. Toyota Sequoia
The latest Toyota Sequoia now only comes with a hybrid powertrain but is still very capable off-road.
Like the new Toyota Tundra, the Sequoia now uses the same platform as the latest generation Land Cruiser, which is regarded as one of the best off-road vehicles on the planet.
The hybrid powertrain, however, adds some compromises and bumps up the truck's base price significantly, making it Toyota's most expensive model.
First off, the battery sits in the back which makes the third row seats protrude from the floor when you fold them flat. Toyota solves this by providing a shelf system to make the floor completely flat without you having to rig up something out of wood.
There's also less cargo space overall compared to the previous generation, and the space behind the third-row seats is really cramped considering how big the vehicle is.
Despite this, you still get 86.9 cubic feet of space with all the seats folded down, making it roomier than the Wrangler 4xe and Grand Cherokee 4xe which only have around 70 cubic feet of total cargo space.
Ground clearance is not outstanding at only 8.6 inches, but the off-road spec TRD Pro model bumps this up to 9.1 inches. It does get rear solid axles, so it can handle ruts and rocky terrain more easily.
The Sequoia Hybrid comes standard with two 120-volt AC outlets that are rated for 400 watts so you can power your tools and appliances even if you're in the middle of nowhere.
You'll also have no problem running the A/C all night if you want to use it for car camping. The engine will only turn on from time to time to top up the battery just like in other Toyota hybrids.
Related: Best Hybrid SUVs for Mountain Driving (With Pictures)
7. Toyota RAV4 Hybrid and RAV4 Prime
The RAV4 Hybrid and Prime plug-in hybrid are very popular options for camping because of their affordability, practicality, reliability and rugged good looks.
The RAV4 Hybrid and RAV4 Prime also have 69.8 cubic feet with the seats folded down. This lets you carry plenty of camping gear and gives you lots of space for a mattress.
The cargo area has a small incline with the seats folded down, but not as much as the older 2016 to 2018 RAV4 Hybrid.
If you're bothered by this, another option is the Venza Hybrid which has the same powertrain as the RAV4 Hybrid, but is more luxurious and has a pretty flat, but slightly smaller, cargo area.
Ground clearance for both models is 8.1 inches which is plenty high for most trails. All-wheel drive is standard on the Prime, Hybrid Limited and Woodland Edition, but optional on other trim levels.
The Woodland Edition is the top trim level for the RAV4 Hybrid and is the only model that comes with a 120-volt 100 watt AC outlet. It's also the only hybrid model that has TRD off-road suspension and all-terrain tires.
The RAV4 Prime XSE plug-in hybrid has an optional 1,500 watt 120-volt AC outlet. It also has an electric heat pump so the engine doesn't have to run as much if you want to heat up the cabin while sleeping inside.
With the regular RAV4 Hybrid, you can keep the A/C running all night off the battery with the engine only occasionally starting up from time to time to keep the battery charged up.
As far as towing goes, the RAV4 Hybrid is rated for 1,750 lbs while the Prime goes up to 2,500 lbs.
Related: 10 Most Fun to Drive Hybrid SUVs (With Pictures)
8. Kia Sorento Hybrid
The Kia Sorento transitioned from looking more like a minivan to an aggressively designed SUV for the 2021 model year.
The current generation Sorento also received a hybrid and plug-in hybrid powertrain for the very first time.
It still doubles as a minivan inside since it retains the third row seats. Base models come with second row bench seats while higher trim levels have really comfortable captain's chairs.
All the seats fold down completely flat, giving you a pretty massive 75.5 cubic feet of cargo space and lots of room for sleeping.
It doesn't have an AC outlet though, which means you'll have to stick to 12-volt accessories.
All-wheel drive performance in Kia and Hyundai hybrids isn't exceptional though, so you should avoid taking it too far off the beaten path. Ground clearance also isn't particularly impressive at around 7 inches.
It does get pretty good gas mileage for its size at 37 mpg, giving you up to 650 miles of range on a single tank of gas. The plug-in hybrid model also gets up to 32 miles of EV range.
9. Ford Explorer Hybrid
The Ford Explorer is largely responsible for sparking the family-friendly SUV craze we have today.
When the sixth generation Explorer debuted for the 2020 model year, it also got a hybrid powertrain for the very first time. Although Ford has lots of experience with hybrids dating back to the 2005 Escape Hybrid which borrowed lots of tech from Toyota.
With all the rear seats folded down flat, there's around 87.8 cubic feet of space behind the front seats, so even taller persons can lounge around comfortably inside.
Like other Toyota hybrids, you can run the Explorer Hybrid's A/C off the battery and barely run the engine at all.
The Platinum trim level comes standard with a 110-volt 150 watt AC outlet, but you can also get it as an option on the Limited model.
Ground clearance is a respectable 8 inches and all-wheel drive is available as an option on all hybrid models.
Towing capacity is another plus for the Explorer Hybrid and is rated at 5,000 lbs which puts it in line with the Toyota Grand Highlander Hybrid.
10. Honda CR-V Hybrid
The first CR-V Hybrid came pretty late in 2020 but it has been quickly replaced by the 2023 model which sports a bolder and more outdoorsy look.
Fuel economy remains very good with the current generation CR-V Hybrid at around 40 mpg and ground clearance is the same at roughly 8 inches.
All-wheel drive comes standard on the top of the line Sport Touring model but is available as an option on the lower trim levels.
Total cargo space with the seats folded down is improved in the sixth generation CR-V Hybrid at 76.5 cubic feet compared to the older model's 68.7 cubic feet.
However, when you lay down the seats, there's a small hump in the middle of the cargo area which you'll have to find a work around for if you want to sleep inside while camping. The previous CR-V Hybrid didn't have this issue.
You can run the A/C using the hybrid battery if you want to escape the heat, and the CR-V's engine will only start up from time to time to top up the battery.
Another issue with the current and older CR-V Hybrid is that it doesn't come with a spare tire because the hybrid battery sits below the cargo area.
This can be an issue if you blow out a tire that can't be fixed by a repair kit and where there's no roadside assistance nearby. You can always get a spare tire and just dump it in the back for emergencies or mount it on a roof rack, but these solutions will force you to make some compromises.
The CR-V Hybrid also lags behind the RAV4 when it comes to towing capacity because it's only rated for 1,000 lbs.
Related: 10 Best Hybrid SUVs for Long Distance Driving (Explained)