Midsize SUVs are not only roomier than compact crossovers, they're also comfier and better equipped for not a lot more money.
They still have just the right amount of ground clearance, so getting in and out isn't as physically taxing as trying to climb up a full-size truck.
Compared to larger trucks, they also get much better gas mileage and are much easier to maneuver for older drivers.
In this article, we'll take a look at some of the best midsize SUVs for seniors and check out their standard safety tech and driver assists.
1. Hyundai Santa Fe
The Hyundai Santa Fe offers a lot of value for money when it comes to space, comfort and features.
It has the lowest starting price for a midsize SUV, but if you get it with all the bells and whistles, it will cost you well over $40,000. The top of the range plug-in hybrid variant is also just shy of $50,000.
Lower trim levels have a 2.5-liter 4-cylinder engine that gets pretty decent fuel economy at 26 mpg. More expensive models get a turbocharged engine that still returns a decent 24 mpg combined.
The hybrid variants are the cheapest to run with gas mileage estimated at 34 mpg combined while the plug-in hybrid model adds around 30 miles of EV range.
It's also got one of the longest basic warranties in the business at 5 years/60,000 miles, and an even longer powertrain warranty of 10 years/100,000 miles.
All this should put elderly owners' minds at ease if they plan on keeping their vehicles for a long time and don't want to worry about expensive repairs and running costs.
The Santa Fe has good ground clearance at 8.2 inches which makes getting in and out very easy. A hands-free power liftgate also comes standard with the SEL and higher trim levels.
Although it's filled with modern tech, there's still loads of physical knobs and buttons for all the primary controls, so older drivers won't have to waste their time fiddling with the touchscreen all the time.
Standard driving assists that will make driving easier for older people include smart cruise control, driver attention warning, forward collision avoidance, rear cross-traffic alert, and lane keep assist.
An advanced Highway Driving Assist that uses radar, camera and GPS information to essentially let the car drive by itself on selected roads to reduce driver load is standard on all models except the base SE model.
All models also have a backup camera while higher trim levels add a 360 camera as standard. Traditional front and rear parking sensors are also standard on the Limited model.
Although the Santa Fe already has pretty good outward visibility, the additional Blind-Spot View Monitor on higher trim levels shows you a live image of the side of the car on the digital instrument cluster whenever you use your turn signals.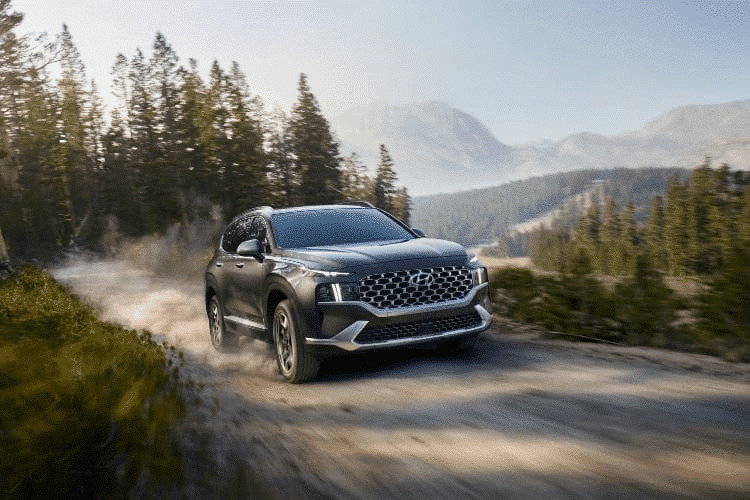 Related: 18 Best & Worst Hyundai Santa Fe Years (With Facts & Stats)
2. Toyota Venza
The Toyota Venza is built on the same chassis and uses the same engine as the RAV4 Hybrid, but is a lot more stylish, luxurious and comfortable.
Its body is only slightly longer than the RAV4's, so it doesn't have as much space inside as many of its rivals in the midsize SUV segment.
However, if you want something that's more refined and comfortable than a RAV4, but a little more affordable and practical than a Lexus, the Venza is an outstanding choice.
It's not much more expensive than the RAV4 Hybrid with the base model starting at around $35,000 and the top of the line Limited model at just over $40,000. All-wheel drive also comes standard.
With Toyota's track record for reliability, the Venza will easily last a decade and surpass 100,000 miles with nothing more than basic maintenance.
The Venza's hybrid powertrain is also very fuel efficient with its estimated 39 mpg combined, letting you save lots of money on gas in the long run — especially as fuel prices continue to rise.
Ground clearance is pretty standard for an SUV at 8.2 inches, so elderly drivers and passengers can easily slide in and out of the seats with very little effort. All models also have a hands-free power liftgate.
Once inside, you'll be treated to high quality interiors and an extremely quiet cabin. It's also got great build quality, so you'll end up with basically the same comfortable vehicle even after many years of use, and won't have to deal with things falling apart or annoying squeaks and rattles.
The base LE model has a more basic infotainment system with a smaller screen, but has lots of physical knobs and buttons.
You get a larger screen in the higher trim levels along with more touch-sensitive buttons, which just don't have the same responsiveness and tactile feel as mechanical buttons and knobs.
Standard safety and driving assists include automatic braking, lane assist, radar cruise control, road sign assist, backup camera, and blind spot monitoring with rear cross-traffic alert.
All models except the LE have front and rear parking sensors and parking assist.
The Limited trim level adds more useful features like a 360 camera and a head-up display.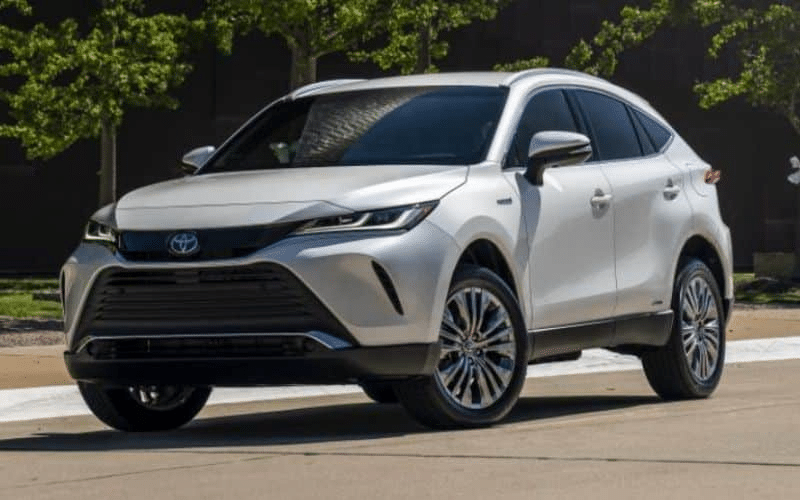 3. Subaru Outback
The Outback is actually a station wagon based on the Subaru Legacy midsize sedan with the space and features of an SUV all rolled into one.
In Subaru's model lineup, the Outback sits between the compact-sized Forester and the larger three-row Ascent.
It's extremely spacious and quiet inside and the ride quality is very soft and supple. Outward visibility is also very good, so it's very easy to park and drive.
It has large door openings and 8.7 inches of ground clearance, so seniors will have no issues getting in and out of the vehicle.
The base engine delivers almost the same fuel economy as the Forester at 28 mpg combined. The more powerful turbocharged engine in the XT models also returns better gas mileage than the larger Ascent at 25 mpg combined.
Subaru's symmetrical all-wheel drive system performs extremely well both on and off road. It provides loads of traction in all sorts of conditions so you don't have to worry about getting stuck in the snow or sliding out of control when the roads become slippery.
Safety is also one of the Outback's major strengths. It received the highest marks in safety and crash tests conducted by the Insurance Institute for Highway Safety (IIHS) and is one of the few midsize vehicles to get their Top Safety Pick+ award.
On top of its solid body construction, all trim levels of the Outback come with Subaru's EyeSight Driver Assist Technology which includes adaptive cruise control, lane keep assist, pre-collision braking and pre-collision throttle management, which will help elderly drivers avoid fender benders and high speed accidents.
Additional driver assists that are extremely helpful to drivers of all ages include blind-spot detection, lane change assist, rear cross-traffic alert, and Reverse Automatic Braking (RAB). All these come standard on the Limited and higher trim levels.
The DriverFocus distraction mitigation system is standard on the Touring, Touring XT and Limited XT models. It's also an option on the Limited.
All models come with a rear backup camera as standard. The Touring, Wilderness and XT models have an additional 180-degree front-view camera which makes parking in tight spaces extremely easy.
A hands-free power liftgate is standard on the Limited and higher trim levels so you don't have to strain yourself when opening and closing the back. It's also available as an option on the Premium model.
Although it's got a huge touchscreen in the center console, it still has physical knobs and buttons for the volume, radio tuner, temperature settings and defroster.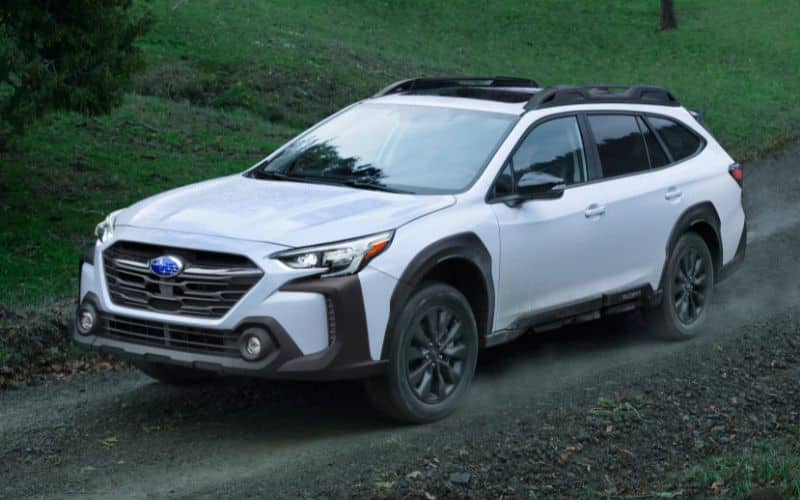 4. Honda Pilot
The fourth generation Pilot sheds its minivan looks for a more truck-like exterior, but it still has loads of space inside and a very capable all-wheel drive system that can get you out of really tricky situations.
If you're not quite an empty nester yet and you need to haul around grandkids and family members, as well as their gear, the Pilot is one of the largest in the midsize segment and is a very versatile choice.
If you need more comfort and easy access to the third row, the higher trim levels can easily be converted from the standard 8-seat configuration to a 7-seater by taking out the middle section of the second-row bench seat to quickly turn them into captain's chairs.
It's also a great choice if you like taking long road trips and adventures that end up off the beaten path since its updated all-wheel drive system not only has improved on-road handling, but also has good traction on slippery and rough terrain.
The Pilot's ground clearance isn't too high at 7.3 inches, but this makes it very easy to get in and out of.
The slightly lower ride height also makes loading stuff in the back less physically taxing. A power tailgate is standard on all trim levels except for the LX and Sport models.
The TrailSport model adds an extra inch of ground clearance, all-terrain tires, underbody skid plates, and more off-road modes for those who need a more rugged SUV.
Compared to other three-row midsize SUVs in its price range, the Pilot also manages to find a good balance between ride quality and driving dynamics.
Its V6 engine is a little thirsty and only manages to get 22 mpg combined, but it's very reliable and produces a fairly hefty 285 hp.
All trim levels come with Honda Sensing which is a suite of safety and driver aids that includes automatic braking, adaptive cruise control, lane assist, traffic jam assist, traffic sign recognition, and driver attention monitor.
Blind spot monitoring with rear cross-traffic alert is standard on the Sport and higher trim levels. The EX-L and higher models add low speed braking and parking sensors.
The Pilot's center console also has lots of physical buttons and knobs for the climate control and radio.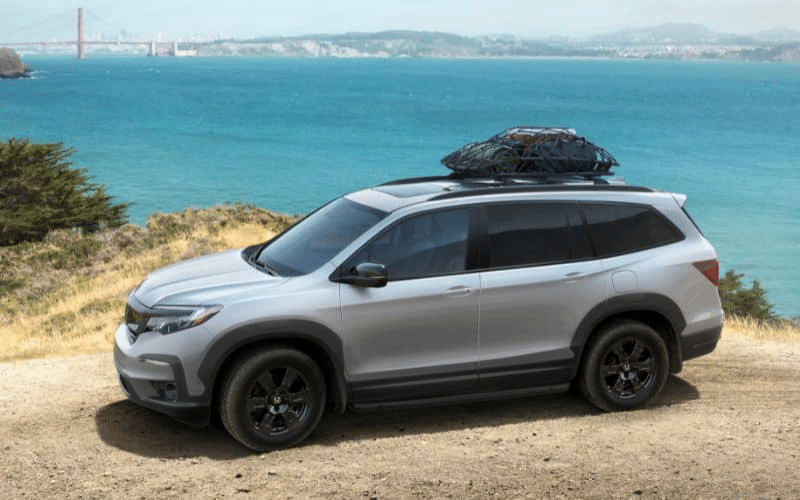 Related: 13 Best Midsize SUVs for Snow (With Pictures)
5. Kia Telluride
The Kia Telluride offers near-luxury levels of comfort and features for a budget-friendly price.
It's larger than the Sorento, so it has lots more room for passengers in the second and third rows.
Seniors will appreciate the extremely plush leather interiors of the mid to higher trim levels, but even the base model has lots of premium materials, a very quiet cabin, and a compliant ride.
Kia also has an even longer basic warranty than Hyundai which lasts for 7 years/100,000 miles. The powertrain warranty is similar to Hyundai's at 10 years/100,000 miles.
All models are powered by a 3.8-liter V6 that produces 291 hp, giving the Telluride pretty decent highway passing power and acceleration off the line. Fuel economy is pretty typical for the midsize segment at 22 mpg.
The Telluride is also filled with an impressive amount of tech. Once inside, you'll be greeted by a wide display that spans two-thirds of the dashboard.
Although the tech may look intimidating, elderly drivers can still control all of the car's primary functions using the numerous physical buttons and knobs on the center console and on the steering wheel.
Standard driving aids include automatic braking, adaptive cruise control, driver attention warning, blind spot warning, rear cross-traffic alert and lane assist.
Highway Driving Assist is also standard on all models, but the SX trim comes with an updated version that uses machine learning to adapt to the environment and better predict what's going on around you.
All models have a backup camera and rear parking sensors, but the SX models add front parking sensors, a 360 camera, and a blind spot view monitor.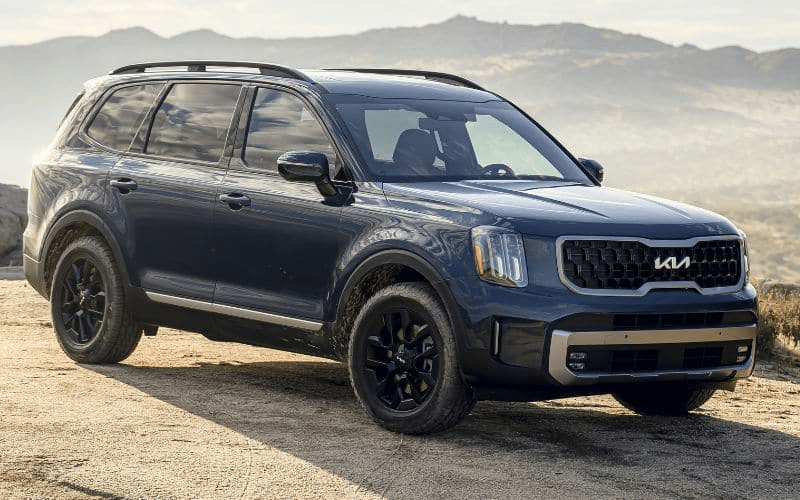 6. Volkswagen Atlas Cross Sport
The Volkswagen Atlas Cross Sport is more spacious than the Tiguan, but is a bit smaller and sportier than the three-row Atlas.
Aside from its lower starting price, it's about 5 inches shorter than the Atlas, so it's much easier to maneuver in tight spaces.
The 2.0-liter turbocharged engine gets about 23 mpg combined which is comparable to other midsize SUVs.
At 7.1 inches of ground clearance, the Atlas Cross Sport has an ideal step-in height which lots of older drivers and passengers will appreciate.
The hands-free power liftgate feature is standard on all trim levels except the base SE model.
Once inside the Atlass, you'll be impressed by the refined premium cabin that's quiet, comfortable and has very good build quality.
Since it doesn't have a third row, the Atlas Cross Sport has a lot more cargo room in the back with the rear seats up compared to the regular Atlas. It also has slightly more legroom in the back.
Older models have lots of physical knobs and buttons for the HVAC and radio, but starting with the 2024 refresh, many of these have been replaced with touch sensitive buttons.
Standard driving assists include automatic braking, adaptive cruise control, lane assist, rear cross-traffic alert, and driver alert monitor.
The standard Travel Assist actively keeps proper distance to the car in front and keeps you centered in your lane while driving on the highway.
All models come with a backup camera, and all trim levels except for the base model come with front and rear parking sensors that will help you avoid fender benders while parking.
Higher trim levels will also have a head-up display and 360 camera as standard.