Midsize SUVs offer lots of room for passengers and cargo, and get better gas mileage than full-size trucks.
However, just because they're a little bigger doesn't necessarily mean they can fit really tall drivers.
In this article, we'll take a look at some of the best midsize SUVs for drivers who need a lot of headroom and legroom to feel comfortable.
1. Kia Telluride (Headroom: 40.9 inches, Legroom: 41.4 inches)
The Kia Telluride has received lots of rave reviews since it was released in 2020.
It often gets the top spot in Car and Driver's and Edmunds' midsize SUV rankings for its attractive styling, roomy interior, and the amount of luxury features it offers for its price.
The Telluride's interior dimensions are pretty good for tall drivers with its headroom measuring at 40.9 inches and legroom at 41.4 inches.
Lots of taller drivers who are closer to 7 feet tall also find that they fit better in the Telluride compared to the Hyundai Palisade, which is built on the same platform.
Here is how a few owners described their experience on the TellurideForum.org forum:
"I'm 6'7" tall and find my Telluride to be very comfortable."
"6'7″ here as well, so as you can guess, there are very few cars I can sit up straight in, ESPECIALLY with a sunroof."
"I'm about 6'6" and generally very happy with the fit of the Telluride."
If the Telluride is over your budget, there's also the slightly smaller Kia Sorento, which also offers third-row seats and has hybrid powertrain options.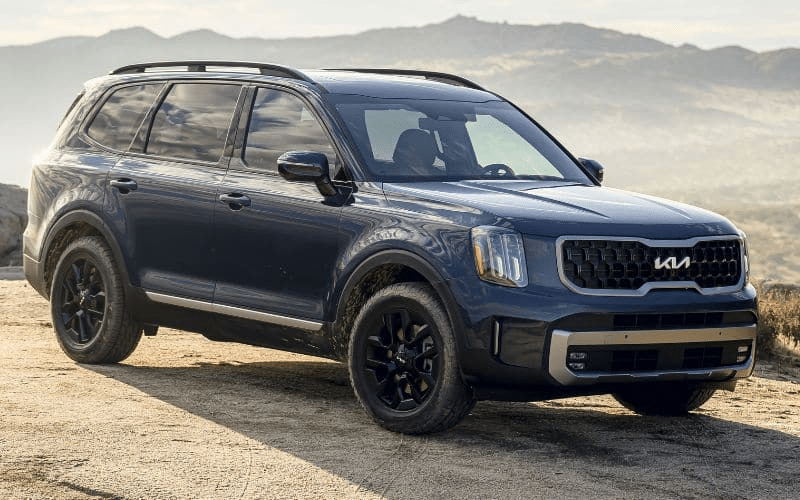 2. Subaru Ascent (Headroom: 41.2 inches, Legroom 42.2 inches)
The Ascent is the largest vehicle in Subaru's lineup and is the only model that has third-row seats.
It can accommodate up to eight passengers, but can also be configured with second-row captain's chairs which brings the seating capacity down to seven.
Headroom in the front seats is among the best in its class at 41.2 inches and legroom is also pretty generous at 42.2 inches.
In addition to these impressive numbers, it's one of the most recommended vehicles for tall drivers on the Internet.
Here are a few testimonials from different owners on AscentForums.com:
"I'm 6'7" and found that the Ascent has more leg room than most other cars and trucks. I just finished a 4000 mile driving vacation in it with no complaints."
"I'm 6'5″ and was blown away by how much head and leg room the Ascent provides. It's the first car I've ever sat in that I didn't have the driver's seat moved to the far back position."
Being a Subaru, it has a very capable all-wheel drive system and great ground clearance at 8.7 inches, so it can easily handle different road conditions and a bit of off-roading.
It's also got excellent safety ratings and an array of driver assists, making it a very versatile family vehicle.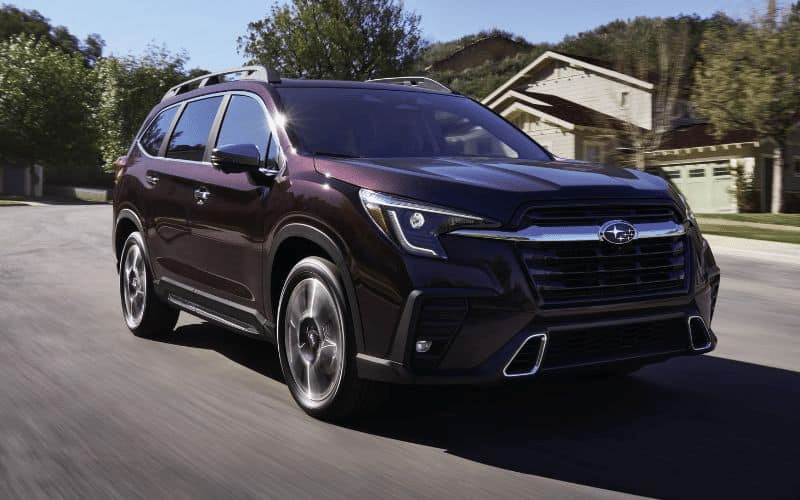 3. Subaru Outback (Headroom: 40.1 inches, Legroom 42.8 inches)
The Subaru Outback predates the Ascent by a few decades and has been a very popular choice for lots of tall drivers for about the same amount of time.
It started out as a station wagon version of the Subaru Legacy, but has transitioned to a more SUV-like body style since its fourth generation model was introduced in 2010.
It uses the same chassis that the Ascent is built on so its interior dimensions are similar.
Although it's not as tall as the Ascent, front headroom isn't affected too much at 40.1 inches and it actually has slightly more legroom at 42.8 inches.
A few tall drivers on the SubaruOutback.org forum had this to say:
"I am 6'4" tall and absolutely love the interior of my Outback. Subaru did a fantastic job of making a car this size so roomy inside. My knees don't rub on the bottom of the steering wheel and my legs are straight. The tilt telescopic steering column is great for both me and my wife."
"At 6′ 9″, I have very limited choices when it comes to vehicles. The salesman suggested I try on the Outback. One thing I have noticed with multiple brands is that a power seat often gives a greater range of legroom and headroom adjustment than a manual seat. That is the case with the Outback as well. I have racked up 41,000 miles in the past 22 months. Most of it is highway driving and I have found the Outback to be quite comfortable."
The Outback may lack the Ascent's third row seats, but its station wagon roots give it more car-like driving characteristics.
Lower trim levels of the Outback have less power than the Ascent, but the XT and Wilderness come with the same 260 hp 2.4-liter turbocharged engine.
It also comes standard with Subaru's symmetrical all-wheel drive system and has the same 8.7 inches of ground clearance, so it's just as competent on trails as the Ascent, and does better than most other midsize crossovers from other brands.
Smaller Subarus like the Forester and Crosstrek also get good reviews from lots of taller drivers.
4. Volkswagen Atlas (Headroom: 41.3 inches, Legroom 41.7 inches)
The midsized Atlas is Volkswagen's largest SUV and replaces the Touareg which was discontinued in the U.S. after the 2017 model year.
Volkswagens are usually very good at accommodating tall people even with its smaller vehicles like the Golf, Jetta and Tiguan.
The Atlas has even more room and even has third-row seats that allow it to carry up to seven passengers.
It offers some of the best headroom in the midsize SUV segment at 41.3 inches while legroom measures 41.7 inches.
But the interior dimensions only tell half the story as lots of tall drivers have been really impressed with the amount of space the Atlas offers.
Here's how a few owners on Reddit described their experience with the Atlas:
"We have a VW Atlas. Hubby is 6'6-7" and can drive it while I sit behind him at 5'10" to be next to kiddo in car seat."
"I'm 6'6″ and the VW Atlas can comfortably hold 7 of me at the same time. I sat in every seat without moving them. I love my Atlas."
"2.13m here with long legs for my height. I have a VW Atlas that has great room for my head."
The sportier Atlas Cross Sport has a lower roofline and less headroom, so it might be a tighter fit for those who are closer to 7 feet tall, but it offers similar levels of comfort and refinement as the Atlas.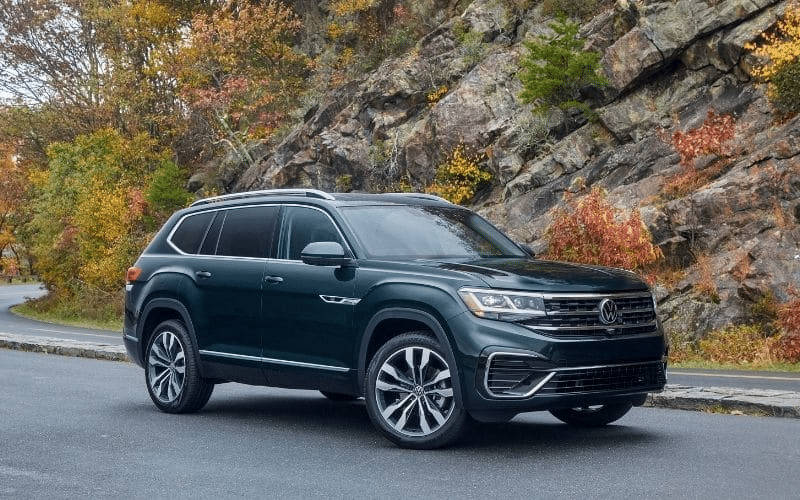 5. Nissan Pathfinder (Headroom: 42.3 inches, Legroom 44.3 inches)
The Nissan Pathfinder has been around since the mid 1980s and used to be built on a pick-up chassis.
Since its fourth generation model, it became a true crossover and began using the same platform as the Altima, which also made it significantly roomier and more refined inside.
The Pathfinder leads all other midsize SUVs when it comes to headroom and legroom, which measures at 42.3 inches and 44.3 inches respectively.
Even when equipped with a sunroof, which usually reduces headroom by an inch or two, the Pathfinder still has around 41.1 inches of headroom.
Here's how one Pathfinder owner on Reddit described their experience:
"I'm 6'8 and I drive a 2020 Nissan Pathfinder. I find it super comfy."
The Infiniti QX60, which is a more luxurious version of the Pathfinder, also fits tall drivers quite well.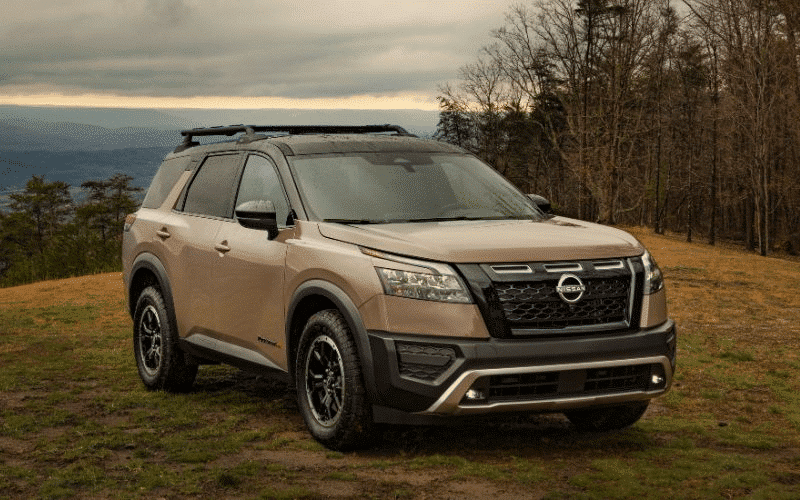 6. Ford Explorer (Headroom: 40.7 inches, Legroom 43 inches)
The Ford Explorer is one of the most popular vehicles on the road and is one of the largest SUVs in the midsize segment.
It offers good value for money when it comes to space, seating capacity, and versatility.
It also has a range of powertrain options, that include a 400 hp twin-turbo V6 and a gas sipping hybrid.
The sixth generation Explorer's headroom is pretty decent at 40.7 inches but long-legged drivers will really appreciate the generous legroom of 43 inches.
Here's how one Reddit user described their experience with their fifth gen Explorer which has similar interior dimensions as the current model"
"I am also 6'9″, and I've been driving my 2015 Ford Explorer for years, and I love it."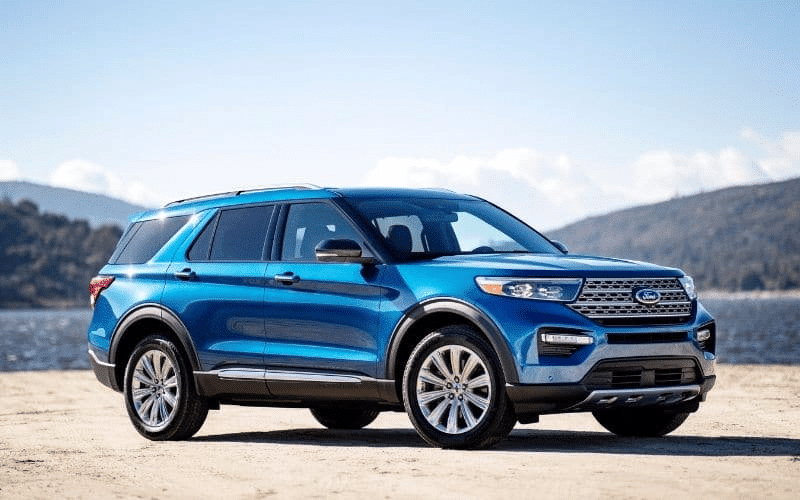 7. Ford Bronco (Headroom: 41 inches, Legroom 43.1 inches)
The new Ford Bronco is an excellent choice for tall drivers who want a highly capable off-road vehicle that still has very good on-road manners.
Similar to its main rival, the Jeep Wrangler, the Bronco also has removable doors and roofs.
The Bronco's headroom measures 41 inches and it's got plenty of legroom at 43.1 inches.
It's not as cramped as the Wrangler and tall people have no trouble driving the Bronco for long periods.
Tall drivers also have concerns about hitting their head on the Wrangler's roof cross bar, which the Bronco doesn't have.
Here's how a few users on the Bronco6g.com forum described their experience:
"6'5 here, 330 lbs, 32in inseam, 44in waist, size 15 shoes. Sat in a 4 dr OBX with power leather seats last friday. Much more room than expected. Also perfect windshield visibility for me, not too close to the roof as it is for me in a Wrangler."
"6'7" here and find the seats in my OB very comfortable. Very good support but not too stiff."
The smaller Bronco Sport which is built on the Escape chassis is also a great option for taller drivers.
It has similar interior dimensions in the front as the bigger Bronco with 41.5 inches of headroom and 42.4 inches of legroom.
Here's what a few owners had to say on BroncoSportForum.com:
"My son is 6'6″ and while I don't have the sunroof…he has more than enough headroom and legroom."
"I'm 6'5" tall and 340lbs and I have no issues with space. I can fit 4 fingers between my head and the ceiling and I have tons of room between my knees and the dash."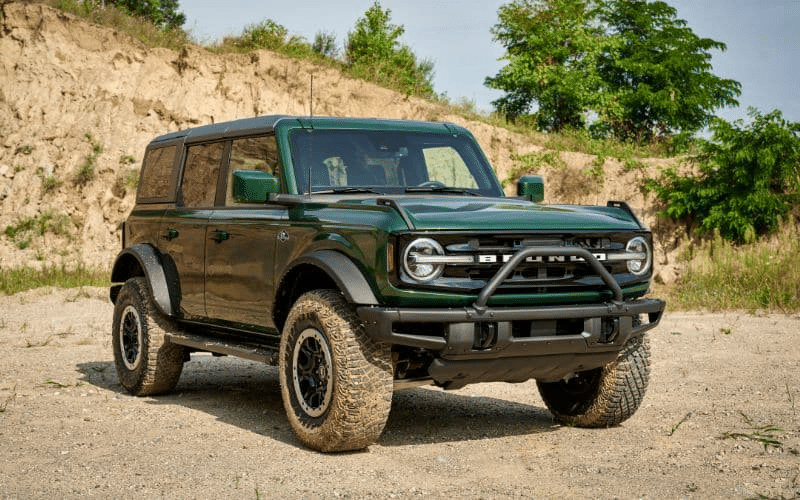 8. Toyota Highlander (Headroom: 41.2 inches, Legroom 39.4 inches)
The Toyota Highlander is an outstanding vehicle for those looking for a high-riding SUV that has third row seats and will last a long time.
It has also had a hybrid powertrain since the mid 2000s for people who want to save a bit on gas.
The Highlander fits tall drivers quite well. Its headroom stands at 41.2 inches without a sunroof and 39.4 inches with a sunroof. Legroom is also pretty generous at 42 inches.
If you want even more room in the front and back seats, there's also the Grand Highlander which is more luxurious and spacious.
Here's what one user on ToyotaNation.com forum had to say about their fourth gen Highlander:
'I used to have a 2020 Platinum, but now I have a 2022 Platinum. I am 6'7″ tall. And the only thing I didn't find comfortable with my 2020 was the seat. After driving for a few hours my tailbone would start to hurt. In my 2022 I don't have that problem. The sun roof doesn't bother me, I still have lots of clearance."
Other Highlander owner on Reddit also had similar sentiments:
"I'm 6'8 and found the Highlander comfortable – certainly didn't feel impinged any, but I'm pretty slim."
"I'm 6'7 and I test drove one about 2 weeks ago. I couldn't fully stretch out my legs but the driving position was very comfortable. I have driven vehicles with loads of leg room and I still need to stretch out my legs every couple hours no matter what. I'm picking mine up on Saturday and driving back home 10 hours."
"6'2" mom to 6'7" & 6'9" sons here driving a '21 Highlander Hybrid. We all fit well in driver's, passenger's, and rear captain's seats; but not the 3rd row."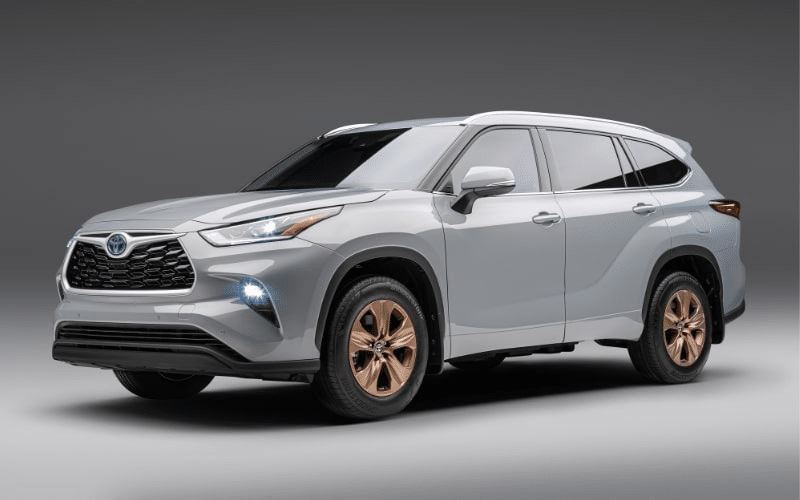 9. Honda Pilot (Headroom: 40.5 inches, Legroom 41 inches)
The Honda Pilot first debuted as a 2003 model year and was built on the same chassis as the Honda Odyssey minivan.
Now in its fourth generation, the Pilot has always been praised for its generous headroom for the past two decades.
The fourth gen Pilot's headroom stands at 40.5 inches and the legroom is also quite good at 41 inches.
Older models have almost the same interior dimensions at the front seat and lots of tall drivers have had no trouble using them as daily drivers.
Here's how one owner of a first gen Pilot described their experience on the Piloteers.org forum:
"At 6'6″, and having trouble fitting in a lot of vehicles, I have no problem with the Pilot. Plenty of leg room. You just have to adjust the seat correctly, and it'll work for you."
Another good option is the newly revived Honda Passport midsize SUV, which gets rid of the Pilot's third row seats but is still very roomy and comfortable for tall drivers.
Related: 13 Best Midsize SUVs for Snow (With Pictures)