Older people often prefer comfort and convenience when it comes to choosing vehicles.
Small hybrid SUVs are ideal for elderly drivers because they not only have great gas mileage, but their higher ground clearance makes getting in and out of the car much easier.
In this article, we'll take a look at some of the best small hybrid SUVs for seniors and take a look at the features that make them stand out.
1. Lexus UX 250h Hybrid
Lexus is popular among older individuals because it has stellar reliability coupled with a very luxurious and quiet cabin.
The UX 250h is the brand's smallest and most affordable model. It's also the only true hybrid in the luxury subcompact crossover segment.
Its fuel economy is very impressive at around 42 mpg combined, so owners will be able to stretch their retirement dollars and spend it on things that really matter.
The UX 250h's smaller size, low running costs, lower ground clearance, and assortment of driver assists make it an excellent choice for elderly people and empty nesters.
It's only around 6 inches off the ground, which is around an inch higher than a typical sedan or hatchback, but also much lower than a full-blown SUV.
The front seats have good height adjustability which makes it easy for older drivers and passengers with limited mobility to simply slide in and out of the car.
Although it's filled with lots of modern tech, the UX still uses a lot of physical buttons for common radio and climate controls which a lot of older people prefer since touchscreens and capacitive buttons can become frustrating even for the younger generation.
A power liftgate with a kick sensor is standard on the most expensive Premium model to make loading stuff in the back easier, but it's also available as an option on the lower trim levels.
Lexus also packs the UX with lots of driver assists as standard which includes automatic braking, radar cruise control, lane keep assist, blind spot monitoring, rear cross traffic alert, and road sign assist.
There's also the optional Intuitive Parking Assist that can warn you of obstacles and prevent fender benders when parking or moving at really low speed, even though it's already very easy to drive thanks to its smaller dimensions.
On some of Lexus' more expensive models, like its best selling Lexus RX, there's also a Driver Monitor Alert system that warns you if you take your eyes off the road or doze off while driving.
2. Toyota Corolla Cross Hybrid
If you don't need the extra luxury of the Lexus UX 250h, the Corolla Cross Hybrid, which was introduced in 2023, uses the same platform and provides better value overall.
As the name implies, the Corolla Cross also shares platforms with the regular Corolla, but it has significantly more cargo space.
With the rear seats still up, the Corolla Cross has 21.5 cubic feet of cargo space — way more than the sedan's 13.1 cubic feet and the hatchback's 17.8 cubic feet.
Folding down the rear seats reveals a whopping 61.8 cubic feet of storage which is just a few digits short of the larger RAV4's carrying capacity.
The Corolla Cross and Corolla sedan's cabin look and feel exactly the same, which isn't really a bad thing since Toyota interiors hold up really well even after one or two decades.
The center console has a large touchscreen but there are also knobs for the radio volume, fan speed and temperature control, as well as physical buttons for the different climate control settings.
It has more ground clearance than the regular Corolla and the Lexus UX at 8.1 inches and all-wheel drive comes standard, making it better suited for rough roads.
The slightly higher ride height means you won't have to bend down to get in, but it's also less cumbersome than a larger SUV where you need to use grab handles to climb inside.
Its fuel economy is similar to the Lexus UX at 42 mpg combined, but it's not as good as the Corolla Hybrid which gets up to 50 mpg combined.
Combine all of these characteristics with its lower price point, and you get one of the best vehicles for older owners looking for something that's practical and will last a very long time.
Although it may seem a little basic and boring compared to many of its rivals, the Corolla Cross still has lots of safety and driver assists.
Toyota's Safety Sense 3.0 comes standard with automatic emergency braking, lane assist, radar cruise control, road sign assist, and a blind spot monitor.
All trim levels also have hill start assist but only the top of the line Hybrid XSE has front and rear parking sensors, as well as nicer upholstery, heated seats, dual-zone climate controls, a digital gauge cluster, and a sunroof.
3. Kia Niro Hybrid
The Kia Niro is a subcompact crossover that looks deceptively small but is actually quite roomy inside.
It's been sold since 2017 and a plug-in hybrid model was added in 2018. By 2023, the second generation Niro with its bold and modern look was unveiled.
Both generations of the Niro Hybrid have great gas mileage and can return around 50 mpg combined. With the PHEV model, you can get up to 33 miles of EV range.
The interior and dash of the second generation Niro is very futuristic compared to the Corolla Cross, but it still has two dials on the dash to make controlling the radio and climate controls easier.
However, it uses capacitive touch buttons in place of physical ones for all the other center console controls.
Ground clearance for the Niro is 6.3 inches and the doors also open up really wide so elderly people with limited range of motion can easily get in and out.
This also makes loading cargo and equipment inside the passenger compartment much easier.
All trim levels of the Niro come with an array of driver assists and safety tech which includes automatic braking, blind spot monitoring, rear cross-traffic alert, lane assist, speed limit assist, hill start assist, and downhill brake control.
A driver attention warning, which helps drivers stay focused on the road, is also standard on all models.
The EX and SX models also come with parking sensors, highway driving assist, and navigation based smart cruise control which makes the car very easier to drive at low speeds and for longer distances.
The SX trim levels come with both front and rear parking sensors, as well as a power liftgate, as standard.
Kia also has an industry-leading 10-year/100,000-mile powertrain warranty, so owners don't really have to worry about repair costs for a very long time.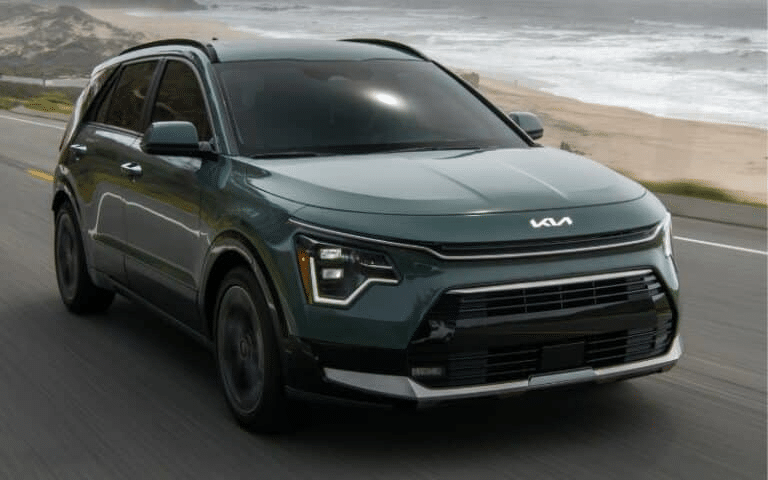 Related: 10 Best Small Hybrid SUVs for Towing (With Pictures)
4. Toyota Venza Hybrid
The Toyota Venza is a more upscale version of the RAV4 Hybrid, but with less of an upcharge compared to the Lexus NX, which is also built on the same platform.
The first generation Venza was basically the SUV version of the Camry, which is a very popular choice among older people, and the second generation model doesn't stray too far away from the formula.
Compared to the RAV4, the Venza has a much nicer interior and is much more insulated from road and environmental noises.
Power adjustable seats with lumbar support and hands-free power tailgate are also standard on all trim levels.
The base LE model has a lot of buttons and knobs on the center console which is what older drivers prefer.
Higher trim levels have a larger screen, but replaces most of the physical controls on the center console for touch-sensitive buttons, which some may find frustrating to use.
The 2023 model year improves the control layout a bit by adding more physical buttons and lots of basic functions are no longer hidden behind menus on the touchscreen.
The Venza is also loaded with safety features and driver assists like automatic braking, lane assist, radar cruise control, road sign assist and blind spot monitoring, All models except the LE have front and rear parking sensors.
All-wheel drive is also standard on all models and fuel economy is estimated at 39 mpg combined.
5. Toyota RAV4 Hybrid
The RAV4 has been one of America's best selling vehicles for several years because it ticks all the right boxes for those looking for a reliable and practical daily driver.
It's also quite popular among older people because it's easy to drive due to its smaller size and has good visibility thanks to its higher ride height.
The RAV4 Hybrid's 8.1 inches of ground clearance is slightly lower than the gas models, but it's more than adequate for rougher roads, while also allowing easier entry and exit.
All-wheel drive is also standard on all RAV4 Hybrids, including the RAV4 Prime plug-in hybrid, giving it better grip on dirt roads and when driving in slippery conditions.
Its fuel economy is also very good at 40 mpg combined, which is just slightly lower than the Corolla Cross Hybrid, but you also get more space inside and better off-road capability.
Unlike lots of hybrid compact SUVs, the RAV4 comes with an actual spare tire instead of a repair kit, so you don't have to worry about getting stuck in the middle of nowhere all because of a flat.
The RAV4's infotainment and climate control also uses physical knobs and buttons, so you don't have to constantly use the touchscreen just to get basic things done.
If you want more comfortable seats, you'll need to start looking at the Hybrid SE and higher trim levels which come with 8-way power-adjustable seats and lumbar support. The power liftgate is also only available in these more expensive models. Go up to the range topping Limited model and you get ventilated front seats.
Standard safety features include automatic braking, adaptive cruise control, lane assist and road sign assist. All models except the base Hybrid LE come with blind spot monitoring and rear cross-traffic alert. The Limited model also comes standard with front and rear parking assist.
6. Hyundai Tucson Hybrid
People often choose the Tucson because you get a lot more standard features for your money compared to similarly priced rivals.
In 2022, Hyundai released the fourth generation Tucson sporting a daring new look that makes it stand out better, unlike the older models which leaned more toward safe yet boring designs.
The Tucson also got a hybrid and plug-in hybrid version for the very first time.
The hybrid model gets around 38 mpg combined while the PHEV model adds around 33 miles of EV range.
Seniors will also appreciate the Tucson's comfortable ride, roomy interior and long warranty.
Inside, the Tucson is very modern and upscale looking. All models come with power adjustable seats with lumbar support for added comfort.
One drawback however is that newer models rely entirely on touch-sensitive buttons instead of physical knobs and buttons.
Older versions of the Blue Hybrid trim level did have two physical scroll wheels on the center console, but this seems to have been completely eliminated for the 2024 model.
For those who absolutely can't deal with modern capacitive buttons, the Kia Sportage Hybrid is a good alternative because it still has traditional knobs.
A power tailgate is standard on all models, which makes loading shopping, luggage and other cargo much easier.
All-wheel drive is also standard on all models which is important if you'll be driving it through snowy winters.
Standard safety features and driving assists include automatic braking, blind spot monitoring, lane assist, driver attention warning, and adaptive cruise control.
A 360 camera, parking sensors and parking assist is only available on the top of the line Limited model.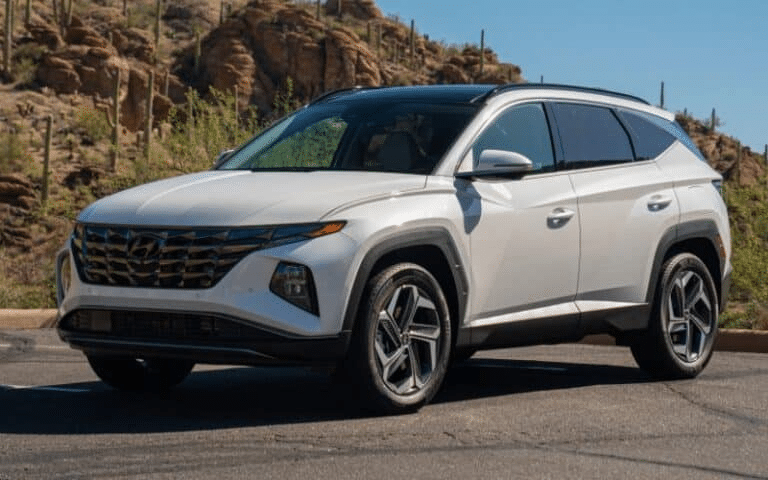 7. Honda CR-V Hybrid
Honda first released the hybrid version of its very popular CR-V compact SUV in 2020.
For 2023, the sixth generation CR-V was introduced with a more aggressive and truck-like exterior.
The interior is also a lot sharper looking compared to the previous generation with a design that's carried over from the current generation Civic.
The center console has several large dials to control the radio volume and HVAC settings which older folks will really appreciate.
10-way power-adjustable seats with lumbar support are also standard on all CR-V Hybrid models.
Seniors will also have an easier time getting in and out of the vehicle with its 8 inches of ground clearance and doors that open up really wide.
A power tailgate is also standard on all trim levels of the hybrid which makes loading groceries and cargo less of a chore.
Not much has changed with the hybrid powertrain compared to the previous generation as it still gets around 40 mpg combined with the front-wheel drive model.
It's also very easy to drive with Honda Sensing's suite of safety tech and driver assists which includes automatic braking, lane assist, blind spot monitoring, traffic jam assist, traffic sign recognition and a driver attention monitor.
Front and rear parking sensors are standard on the Sport-L and Sport Touring Hybrid models.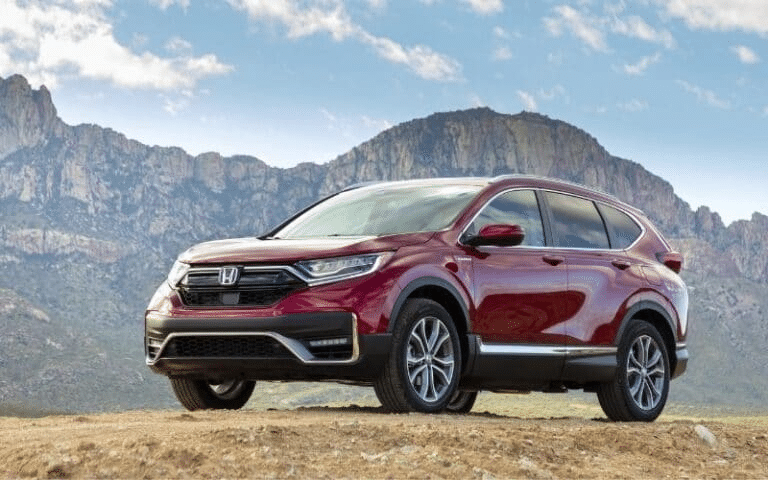 8. Audi Q5 Plug-in Hybrid
The Audi Q5 is a luxurious and refined compact SUV that's had a plug-in hybrid version since 2020.
It's one of only a handful of hybrids in the small luxury SUV segment and it's an excellent option for older owners who want a bit more prestige from a European marque.
Compared to the Volvo XC60 plug-in hybrid which uses Android Automotive and is highly reliant on the touchscreen, the Q5's infotainment is much easier to use and navigate.
The Q5 PHEV's center console still has knobs and physical buttons for the climate controls so you don't have to fiddle around with touch-sensitive buttons or the touchscreen just to get basic things done.
It's still loaded with lots of cutting edge tech, but everything has been well engineered and very intuitive to use.
It doesn't have the best EV range at only 23 miles, but it's good enough for errands and city driving.
In EV mode, it's going to be very silent and with Audi's excellent build quality and interior materials, the Q5 is going to provide a very comfortable and serene driving experience.
When you push the car closer to its limits or if you find yourself driving on slippery roads, Audi's legendary Quattro all-wheel drive system will keep everything under control.
It also comes with a lot of driving assists such as adaptive cruise control with traffic jam assist, automatic braking, front and rear parking sensors, lane assist, Audi pre-sense, and Audi's Virtual Cockpit in place of a traditional gauge cluster.
The higher trim levels also come with a 360 camera as standard to make parking and maneuvering in tight spaces much easier.