The Chevy Bolt is a quirky small electric hatchback that made its debut for the 2017 model year.
It's the least expensive EV sold in the US and is praised for its competitive driving range and surprisingly spacious cabin.
In this article, we'll take a look at the Bolts best and worst years…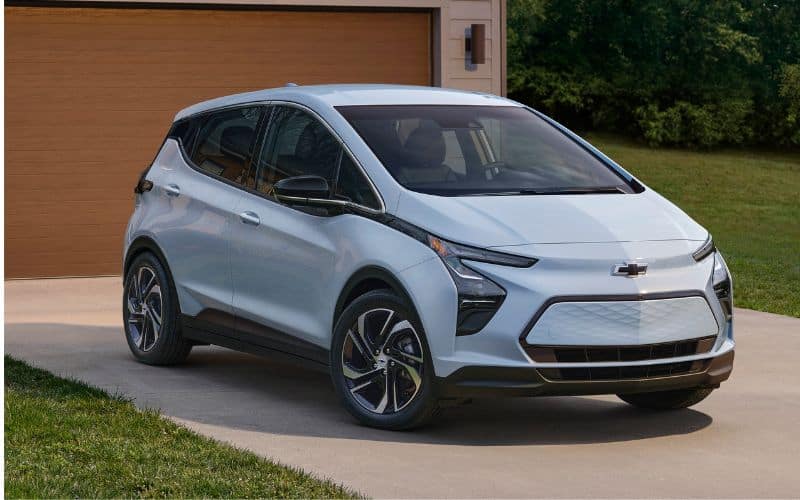 Here's The Short Answer To What The Best And Worst Years For The Chevrolet Bolt Are:
The best Chevrolet Bolt model years are 2023, 2022, 2021, 2020, and 2018. The worst model years of the Bolt are 2019 and 2017. This is based on auto industry reviews, NHTSA statistics, reported problems, and consumer feedback.
What Are The Best Years For The Chevrolet Bolt?
The Bolt hasn't been around very long, however some years are certainly better than others.
2023 Chevrolet Bolt
The 2023 Bolt is a great choice for buyers looking for a compact EV – it's big on value, boasts a good driving range and lots of standard features.
Like previous models, it sends 200 horsepower and 266 pound-feet of torque to the front wheels, providing quick-off-the-mark acceleration.
The most significant change to the 2023 Bolt was its massive price drop.
Chevy decided to reduce the price by approximately $6,000 compared to the previous model year.
Edmunds: 4.2 / 5.0
Kelley Blue Book: 4.7 / 5.0
JD Power: NA
2023 Bolt, Edmunds review:
"I couldn't be more impressed overall with this car. I've had it for 2000 miles, and have grown to prefer it to the Tesla 3 that my wife drives. Yeah, it lacks premium interior feel and self-driving tech, but it's somehow a bit more fun to drive. Not plush seating, but not uncomfortable either — I don't have any issue with seats, and I've done days where I use up the 200+ miles…"
2022 Chevrolet Bolt
For 2022 the Bolt was thoroughly redesigned, including revamped interior and exterior styling, and an enhanced infotainment interface.
While the motor and drivetrain components remain virtually the same, the vehicle now comes with a dual-level charging cord and an increased Level 2 (240-volt) maximum charging capacity.
To add to this, the model was priced approximately $5,500 cheaper than its immediate predecessor. 
Edmunds: 4.2 / 5.0
Kelley Blue Book: 4.7 / 5.0
JD Power: NA
2022 Bolt, Edmunds review:
"If shopping for an EV don't miss at least trying the Bolt out. It is a much bigger car inside than out and does the job and more! Drives well. Interior is not luxurious but roomy. Excellent visibility. Easy to park. Superior turning radius. Range delivers as advertised and further. I routinely get 280 miles on single charge with city driving…"
2021 Chevrolet Bolt
If you're not too concerned about having the most up-to-date styling, then the 2021 Bolt is a solid choice.
It still offers an impressive range (approximately 259 miles) and nimble handling.
There were not too many changes for 2021 and it was essentially a carryover year.
However, it is worth noting that the previously optional DC fast charger is now a standard for the Premier trim.
Edmunds: 4.2 / 5.0
Kelley Blue Book: 4.7 / 5.0
JD Power: NA
2021 Bolt, Edmunds review:
"The EPA rates my Bolt EV at 259, but I have been consistently hitting 270 miles per charge with a mix of 70 highway miles and 40 urban miles. The car is comfortable, cool looking in my opinion and a wonderful, reliable vehicle. Best of all, I enjoy passing by gas stations."
2020 Chevrolet Bolt
From a performance perspective, the 2020 Bolt made notable improvements, increasing its range from 238 miles to 259 miles.
While it may not seem like much, this upgrade means that its driving range is markedly ahead of industry rivals such as the Kia Soul EV, Hyundai Kona Electric, Hyundai Ioniq, and the Standard Range Plus trim of the highly-touted Tesla Model 3. 
For 2020 the Bolt also had its rearview camera upgraded to high-definition.
Edmunds: 4.1 / 5.0
Kelley Blue Book: 4.7 / 5.0
JD Power: 77 / 100
2020 Bolt, Edmunds review:
"I just bought a 2020 Bolt Premier and am loving it! I am 5 foot 8 and hubby is 6 foot 2 inches and we both have plenty of head room and leg room. The visibility is great. Owning numerous Corvettes in the past, we can't stand cars with no zip. This car is very fast! The back seats lay down flat, and because the hatchback door opens up really high, you don't hit your head when loading items…"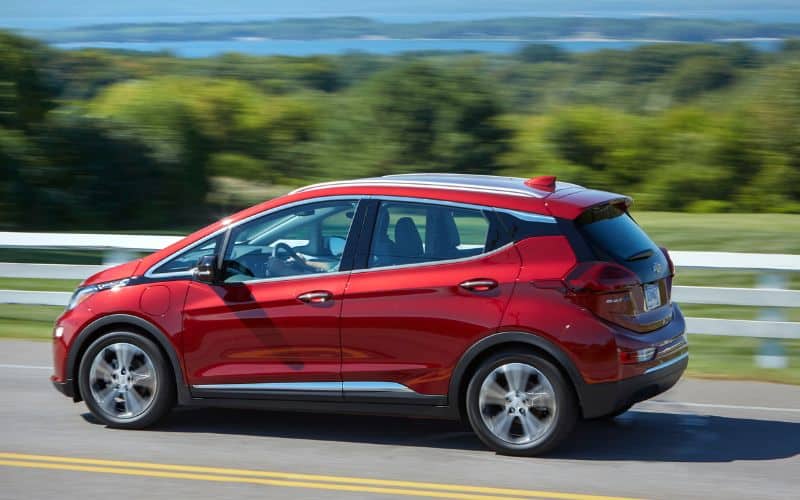 2018 Chevrolet Bolt
The 2018 Bolt may not have the enhanced range or revised styling of the newer models, however it is a great choice if you're on a tight budget.
It was widely praised by owners for its fun-to-drive manners, big touchscreen and spacious cabin.
In its sophomore year, the 2018 Bolt did not do much in terms of updates or revisions.
Minor changes, however, include an automatic heated steering wheel (as part of the Comfort and Convenience package for the LT Trim and standardized for the Premier trim) and revised sun visors for added flexibility and glare reduction for all versions across the board. 
Edmunds: 4.4 / 5.0
Kelley Blue Book: 4.7 / 5.0
JD Power: 81 / 100
2018 Bolt, Edmunds review:
"I wanted to replace my Ford Escape Hybrid with a Volt but did not like the tight feeling of the Volt. But the Bolts were in the Dealership and I found that it was a much better choice for me. The car is very comfortable although it is a subcompact. It seemed roomier than the Ford Escape. The 200 Hp engine seemed almost too powerful…"
Consumer Scores For Best Chevrolet Bolt Years
Below is a table that presents all the consumer ratings of the best Bolt model years from reputable vehicle websites:
Model Year
Edmunds 
Consumer Rating
Kelley Blue Book
Consumer Rating
JD Power
Consumer Rating
2023 Chevrolet Bolt
4.2 / 5.0
4.7 / 5.0
NA
2022 Chevrolet Bolt
4.2 / 5.0
4.7 / 5.0
NA
2021 Chevrolet Bolt
4.2 / 5.0
4.7 / 5.0
NA
2020 Chevrolet Bolt
4.1 / 5.0
4.7 / 5.0
77 / 100
2018 Chevrolet Bolt
4.4 / 5.0
4.7 / 5.0
81 / 100
Related: 7 Most Common Chevrolet Bolt Problems (Explained)
What Are The Worst Years For The Chevrolet Bolt?
Despite its relative infancy in the automotive scene, the Bolt has had a couple of controversial model years due to the number of complaints and problems received.
Be cautious of the model years listed below.
2019 Chevrolet Bolt
The 2019 Bolt received a large number of complaints, most of which were related to problems with the battery. The batteries were recalled as they could potentially catch fire.
The recall affected 2017 to 2020 model years although the 2017 and 2019 Bolts received, by far, the most complaints for this issue.
Here's what the owners had to say:
"GM keeps sending me letters saying that they still don't have the parts to fix my vehicle, the only solution that they provided till now is to park and charge my car in the driveway in the event that the car catches fire it won't burn the house down!"
"Chevy bolt finished changing and then started to smoke from under the car. The sound of popping noises were heard and then 10 minutes later the car was engulfed in flames. The car's battery pack started popping then exploded in flames."
The 2019 Bolt had a total of 9 complaints at CarComplaints.com and 181 problems at CarProblemZoo.com.
Common problems:
Electrical drive failure
Information screen issues
Not fully charging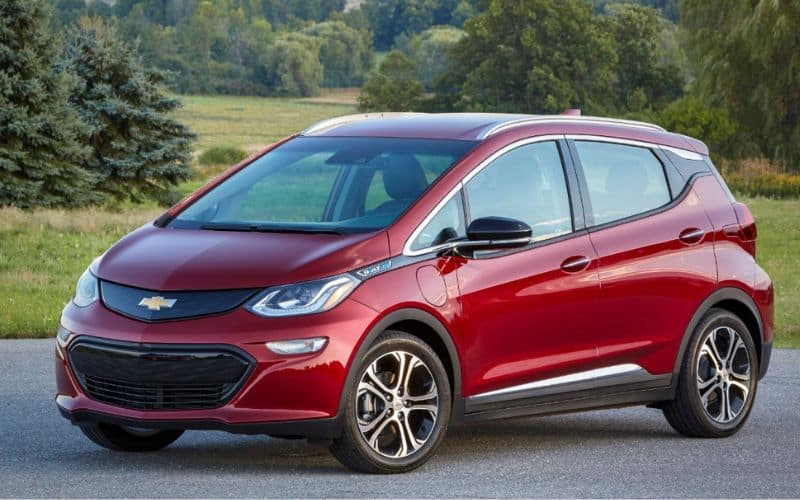 2017 Chevrolet Bolt
Among all the Chevy Bolt years produced, the 2017 model is considered to be the most problematic of the bunch. This was the very first iteration and it is somewhat expected to have teething issues.
Much like the 2019 model year that was previously discussed, the biggest issue with the 2017 Bolt was that its battery could potentially catch fire, and was subsequently recalled.
There were also widespread reports from owners who lost power whilst driving which was accompanied by the warning message "loss of propulsion".
Here's one owners account:
"On June 1, 2020, 1-yr old vehicle (4000 miles on odometer) with 55% battery charge lost full propulsion power on a gentle curve on a country road at 40mph in l-drive setting. Propulsion gone, steering stiff, warning bells, service-vehicle-soon warning messages. I coasted barely off the road onto the shoulder. Car was towed to dealer. Dealer now says it is a manual service disconnect fault and is waiting for a back-ordered replacement part."
The 2017 Bolt had a total of 11 complaints at CarComplaints.com and 321 problems at CarProblemZoo.com.
Common problems:
Rear axle failure
Propulsion power reduced
Battery range decreased
Software issues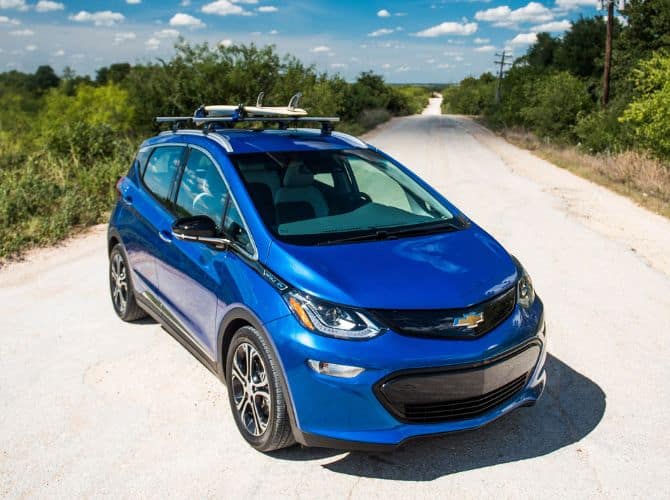 Related: Chevy Bolt: 9 Common Problems (Solution Guide)
What Years Have The Most Complaints?
As an potential owner of the Bolt, it is important to know the statistics behind each model year in terms of complaints and problems.
Listed below are the number of reported complaints and problems for each model year of the Bolt.
| | | |
| --- | --- | --- |
| Model Year | Complaints (CarComplaints.com) | Problems (CarProblemZoo.com) |
| 2023 Chevrolet Bolt | NA | 2 |
| 2022 Chevrolet Bolt | 0 | 51 |
| 2021 Chevrolet Bolt | 1 | 58 |
| 2020 Chevrolet Bolt | 2 | 88 |
| 2019 Chevrolet Bolt | 9 | 181 |
| 2018 Chevrolet Bolt | 3 | 73 |
| 2017 Chevrolet Bolt | 11 | 321 |
What Problems Do Chevrolet Bolt Have?
Rear axle failure
Propulsion power reduced
Electrical drive failure
Battery range decreased
Information screen issues with control placement
Engine died
What Are The Best Alternatives To The Chevrolet Bolt?
There are a lot of electric and hybrid vehicles in the market today, but when it comes to small hatchback EVs, the Bolt can be considered as a top-ranked model in this niche segment.
The Bolt secured a good score of 8.4 out of 10, with a fuel economy rating of 127 miles per gallon for city driving and 108 miles per gallon for highway driving.
Take a look at how it fares against direct competitors in the current market in terms of fuel economy, pricing, and overall score.
| | | | |
| --- | --- | --- | --- |
| Make & Model | Score | MSRP | Fuel Economy (MPG) |
| Chevrolet Bolt | 8.4 | $31,500 – $34,700 | City: 127 / Highway: 108 |
| Nissan Leaf | 7.4 | $27,800 – $35,800 | City: 121 – 123 /Highway: 98 – 99 |
| Mini Electric Hardtop | 7.2 | $29,900 – $33,900 | City: 119 /Highway: 100 |
Source: cars.usnews.com, edmunds.com
Related: How Long Does the Chevy Bolt Last? (Complete Guide)
References
https://www.caranddriver.com/chevrolet/bolt-ev
https://cars.usnews.com/cars-trucks/chevrolet/bolt
https://www.carcomplaints.com/Chevrolet/Bolt/
https://www.carproblemzoo.com/chevrolet/boltev/
https://www.edmunds.com/chevrolet/bolt-ev/
https://www.kbb.com/chevrolet/bolt-ev/