The Chevy Bolt is a small EV hatchback that was released in 2017 and its the best-selling EV in the U.S. that's not a Tesla.
It's one of the more affordable all-electric vehicles on the market today, and it comes with good performance and excellent range.
For 2022, the Bolt was redesigned both inside and out, and a slightly larger crossover version, the Bolt EUV, was introduced.
If you're thinking about buying a Bolt as your next vehicle, you might be wondering about its durability and average lifespan.
We'll cover all that in this article, read on to find out…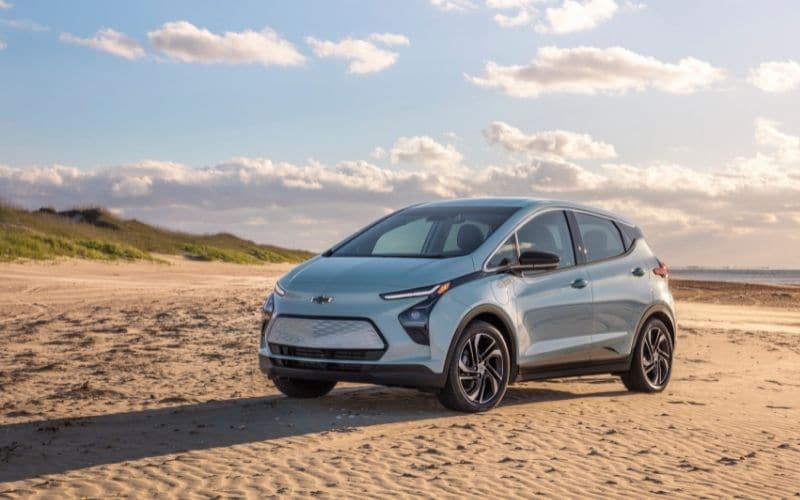 Here is the short answer to how long the Chevy Bolt lasts:
The Chevy Bolt is estimated to last between 300,000 – 400,000 miles before significant battery degradation affects its range and performance. Based on annual mileage of 15,000 miles, this equates to 20 – 26 years of service when properly maintained, charged correctly and driven conservatively.
How Many Miles Can You Expect from a Chevy Bolt?
The Chevy Bolt has only been out a few years so theres no hard evidence yet on how long they can really last, however we've made an educated projection based on industry data and what we know about electric vehicles.
During our research we dived into various owner forums such as MyChevyBolt.com and ChevyBolt.org and we came across numerous reports from owners who have crossed the 100,000 miles mark, many of which are reporting well under 10% of battery capacity loss, which is a good early sign for longevity.
Many owners agree, they can't see any reason why their Bolt won't live to see 300,000 miles.
The durability of the Bolt becomes more apparent when looking at earlier models on used car websites such AutoTrader and Car Gurus where many are listed with around 100,000 miles and still going strong.
In comparison to the more premium EVs from the like of Tesla and Ford, the Bolt uses a slightly smaller 66 kWh battery, this means it will go through more charge cycles to cover the same distance.
Every time you use the equivalent of your battery's maximum capacity, you go through one complete charge cycle.
For example, if you run the car from 80% to 30% two times in a row, you'll be using up one charge cycle.
With all this in mind, and taking into consideration that batteries also degrade over time we predict that the Chevy Bolt can last 300,000 – 400,000 miles or 20 – 26 years.
The life of your Chevy Bolt can be maximized by:
Minimizing exposure to high weather temperatures when parked
Avoid using fast charging as much as possible
Avoid leaving your Bolt parked or stored with an empty or full battery
The Bolt's battery comes with an 8-year/100,000-mile warranty and will be replaced or repaired if it falls below 60% of its original capacity within this period.
Does the Chevy Bolt Rust Easily?
The Chevy Bolt does not have any widespread corrosion or rust issues. A lot of its body panels, such as the doors, hood and rear hatch, are made out of aluminum which don't rust at all. Aluminum does corrode but it doesn't rot away like rusted out steel.
The Bolt's brake rotors have a tendency to rust because they don't get used too much since the car's regenerative braking is usually adequate enough to slow the vehicle down in normal driving situations.
But brake rotors are fairly easy and inexpensive to replace, and you just have to remember to use the brakes from time to time to prevent this from happening.
Tips to protect your Chevy Bolt from rust:
Regularly wash and dry your car: This includes its underside (especially during the winter) to remove the salt, dirt and grime that causes rust. We recommend having a detail shop wash everything underneath at the end of each winter.
Repair paint damage and scratches: Exposed metal will oxidize. If it's beyond a DIY fix, speak to your local body repair shop.
Garage: Store your Chevy Bolt in a garage to protect it from harsh weather and bird droppings.
Waxing: Wax your car twice a year. Not only will this give your Chevy Bolt a nice shine, it also gives it a protective coating against rust.
Rustproofing: If you're planning on keeping your Chevy Bolt for a very long time, you might want to consider a rustproofing treatment; popular choices are Krown and Rust Check.
Ceramic Coating: A popular choice for those who want to add an extra layer of protection to the paint job.
The Chevy Bolt also comes standard with a 3-year/36,000-mile corrosion warranty, as well as a 6-year/100,000-mile corrosion perforation warranty in case any premature corrosion or rust problems appear.
Related: 7 Most Common Chevrolet Bolt Problems (Explained)
What is High Mileage for a Chevy Bolt?
A Chevy Bolt with 100,000 miles on the odometer is considered high mileage. Although the battery will likely have many more years of service it will have degraded to some degree from being charged and discharged and will therefore be less efficient and will not have the same capacity as when it was new.
Its also important to consider the wear and tear accumulated on other parts of the car, at 100,000 miles parts like the shocks, wheel bearings, brakes, and A/C may need some attention.
However, if the vehicle is in very good condition and has been well taken care of, you won't really have to worry about the electric powertrain giving you headaches as much as an ICE (Internal Combustion Engine) vehicle would.
When buying a used Chevy Bolt, consider the following:
Maintenance history. Check that the car was properly serviced and the owner can provide evidence of this and check to see if any recall work has been carried out.
Check tires and brakes for wear: This is becuase all electric cars are heavy, also listen for any untoward noises coming from the suspension.
Get a second opinion. Take it to an independent auto repair shop or at least have it inspected by a mechanic you trust.
Examine the interior. The condition of the interior tells the story of how well the car was maintained and cared for. Does the steering wheel, pedals, or shifter look suspiciously new? If so theres a good chance that the car was very heavily used, and those parts were just replaced before sale.
Number of previous owners. As a general rule, less is better. More owners usually means more wear-and-tear. If one family owned it and drove the full mileage and serviced the car, then you can almost guarantee they took good care of it throughout their ownership.
How long you are planning on keeping the car. If you're planning on keeping the car for a long time, you should evaluate whether the short-term savings outweigh spending a bit extra on something more reliable.
How Long Does the Chevy Bolt Last Compared to its Rivals?
In this section we'll compare the Chevy Bolt to some of its rivals.
Chevy Bolt vs. Nissan Leaf
The Nissan Leaf is the Chevy Bolt's closest competitor when it comes to price and size, its been sold since 2010 and its second generation was released in 2019.
The standard version of the Leaf has significantly less range than the Bolt and you'll have to pay more for the Plus version to get close to Bolt's range.
Due to the Nissan Leaf's smaller battery and lower range, its predicted lifespan is only around 200,000 – 300,000 miles.
Kelley Blue Book's consumer rating index gave the Nissan Leaf a reliability rating of 4.4/5 which is slightly lower than the Chevy Bolt's score of 4.7/5.
Edmunds consumer reviews gave the 2020 Leaf an overall score of 3.6/5 which is much lower than the 2020 Bolt's 4.1/5.
RepairPal gave the Nissan brand an overall reliability rating of 4/5 which is higher than Chevy's rating of 3.5/5.
Car and Driver ranked the Leaf as the 11th best EV while the Bolt was ranked 7th when it compared the 2022 model years of both vehicles.
The Nissan Leaf's standard battery is about 30% smaller than the Bolt's but the Plus version comes a little closer. Both will go through more charge cycles to cover the same distance which will affect its longevity.
The max range of the Leaf is 159 to 226 miles depending on which battery pack you go with, both of which are still lower than the Bolt's 259-mile range.
The Nissan Leaf's batteries aren't liquid cooled which means it will degrade quicker than the Bolt's especially if it spends a lot of time in moderately hot climates.
The Leaf is more car-like than the Bolt which Chevy tries to market as a small crossover. The Leaf is also quieter and offers better handling compared to the Bolt.
As far as reliability is concerned, owner reviews seem to tilt towards the Bolt, professional reviewers also seem to favor the Bolt more.
You may also be interested in our article: How Long Will a Nissan Leaf Last?
Chevy Bolt vs. Tesla Model 3
The Model 3 has been the best-selling EV in the U.S. since it was first released in 2017.
It features some of the most advanced EV and driving tech in the industry that many top manufacturers are still trying to replicate.
It's more expensive than the Bolt, but also comes with more premium features.
A Tesla Model 3 has an expected lifespan of 300,000 – 500,000 miles. The Standard Range Model 3 and the Bolt are likely to have similar lifespans, but the Extended Range battery will last a lot longer — especially since the Model 3 uses very efficient motors.
Kelley Blue Book's consumer rating index gave the Tesla Model 3 and Chevy Bolt the same reliability score of 4.7/5.
Edmunds consumer reviews gave the 2020 Model 3 an overall score of 4.4/5 which is slightly higher than the 2020 Bolt's 4.1/5.
RepairPal hasn't rated Tesla yet due to insufficient data, though Tesla's build quality issues are widely known. Chevy was given a reliability rating of 3.5/5.
Car and Driver ranked the Model 3 as the 2nd best EV while the Bolt was ranked 7th when it compared the 2022 model years of both vehicles.
The Model 3's Standard Range battery is smaller than the Bolt's but offers the same range due to the efficiency of its drive units. The Extended Range battery is a little larger at 75 kWh compared to the Bolt's 66 kWh.
The max range of the Model 3 is 353 miles which is much higher than the latest Bolt's 259 miles.
The Tesla Model 3 is a premium vehicle while the Chevy Bolt is more about practical transportation.
The Model 3 also has better range and a network of Tesla Superchargers all across the country, making it more ideal for long trips.
Consumer reviews for both vehicles are about the same. But with GM's long history in auto manufacturing and the Bolt's simplicity, we predict the Bolt is going to be cheaper to maintain in the long run.
Consumer Reports gave the 2021 models of both vehicles the same overall score, with both ranking highest in its EV comparison. But the Chevy Bolt got a higher predicted reliability rating of 5/5 vs. the Model 3's rating of 3/5.
You may also be interested in our article: How Long Do Tesla Model 3 Last?
Chevy Bolt vs. Hyundai Kona Electric
The Hyundai Kona Electric is a subcompact crossover that was first sold in 2019.
It has basically the same performance, battery capacity and range as the Bolt, but is a little more expensive.
The Kona Electric does still qualify for Federal tax credits, unlike the Bolt, which should offset the difference.
The Hyundai Kona Electric's expected lifespan is around 300,000 – 400,000 which is similar to the Bolt's.
Kelley Blue Book's consumer rating index gave the Hyundai Kona Electric a reliability rating of 4.4/5 which is slightly lower than the Chevy Bolt's 4.7/5.
Edmunds consumer reviews gave the 2020 Kona Electric an impressive overall score of 5/5 which is much higher than the 2020 Bolt's 4.1/5.
RepairPal gave the Hyundai brand a higher reliability rating of 4/5 while Chevy got a slightly lower 3.5/5.
Car and Driver ranked the Kona Electric as the 3rd best EV while the Bolt was ranked 7th when it compared the 2022 model years of both vehicles.
The Kona Electric and Bolt have similar battery capacity and range, so they'll consume roughly the same number of charge cycles to cover the same distance.
Hyundai has significantly improved its reliability in the last decade or so, and is often considered just as reliable as a Toyota or Honda.
The Kona and Bolt will likely have the same reliability and lifespan considering they have the same battery sizes and range.
Although the specs of both vehicles are roughly the same, the Kona Electric looks more like a traditional yet modern small crossover. It also has a better interior than the Bolt.
The choice will ultimately come down to personal preference and budget.
In the used market, you're going to find more Chevy Bolts around since they've been around longer and have outsold the Kona Electric by a significant amount.
Comparison Chart
| | | | | |
| --- | --- | --- | --- | --- |
| | Chevy Bolt | Nissan Leaf | Tesla Model 3 | Hyundai Kona Electric |
| KBB Consumer Rating | 4.7/5 | 4.4/5 | 4.7/5 | 4.4/5 |
| Edmunds Consumer Rating (2020) | 4.1/5 | 3.6/5 | 4.4/5 | 5/5 |
| RepairPal Brand Reliability | 3.5/5 | 4/5 | NA | 4/5 |
| Car and Driver Ranking (2022) | 7th | 11th | 2nd | 3rd |
| Battery Size (kWh) | 60 – 66 | 40 – 62 | 50 – 75 | 64 |
| Electric Range (miles) | 259 | 149 – 226 | 263 – 353 | 258 |
| Expected Lifespan (miles) | 300k – 400k | 200k – 300k | 300k – 500k | 300k – 400k |
Is the Chevy Bolt Reliable?
The Chevy Bolt has already been out for a few years and it has proven to be a very reliable vehicle by all accounts. As the Bolt is an Electric Vehicle it has less moving parts than a tradtional ICE (Internal Combustion Engine) vehicle and this mechanical simplicity leads to greater reliability.
The Bolt also benefits from GM's extensive experience in auto manufacturing which has helped reduce build quality issues.
Across various Chevy Bolt internet forums most owners have reported very few problems after several years of ownership.
Thats not to say the Bolt is infallible and, as with all cars, you can expect the occasional fault.
The biggest reported issue the Bolt has faced is quite severe; deffective batteries have led to fires and an increased risk of fire, Chevy has since recalled all model year 2017-2022 Bolt and Bolt EUV vehicles to replace their battery modules. This is expected to cost to GM about $1 billion and they have temporarily paused production.
Auto review sites have given the following reliability scores:
Kelley Blue Book's consumer rating index gave the Chevy Bolt a very high reliability rating of 4.7/5.
Edmunds consumer reviews gave the 2020 Chevy Bolt an overall score of 4.1/5 while the 2021 Bolt got an even higher score of 4.6/5.
Consumer Reports gave the 2021 Chevy Bolt a predicted reliability rating of 5/5.
The Best and Worst Years for the Chevy Bolt
We've analyzed data from Car Complaints and Car Problem Zoo to give you a better idea of the Bolt's good and bad years.
Worst Model Year
The 2017 Chevy Bolt is the worst model year, it has received the highest number of complaints and highest number of reported problems.
According to Car Problem Zoo, the most common issue for the 2017 Bolt was related to its Electrical System, specifically its faulty battery which was a fire risk.
Car Complaints didn't have as many complaints on file however they too noted the 2017 Bolt as the most problematic model year, the worst complaints were:
Rear axle failure, costing $4000 to fix at an avergae mileage of 37,000 miles
Propulsion Power Reduction, covered under warranty at an average mileage of 3,000 miles
You may also be interested in our article: How Long Will a VW ID.4 Last?
Best Model Year
The 2022 Chevy Bolt is the best model year. Its had the lowest number of reported complaints and benefits from comprehensive interior and exterior updates, it's also notably cheaper than previous model years.
Despite its aesthetic upgrades, the 2022 Bolts electrical and mechanical components remain the same as before.
It's important to note, early builds of the 2022 Chevy Bolt are still included in the battery recall that affects all Chevy Bolts sold so far.
Related: 7 Best & Worst Chevrolet Bolt Years (With Facts & Stats)
Model Year and Number of Complaints
Model Year
No. of Complaints
Car Complaints
No. of Problems
Car Problem Zoo
2022
NA
11
2021
0
30
2020
2
44
2019
3
137
2018
3
57
2017
7
261
What About Recalls for the Chevy Bolt?
The Chevy Bolt has had a total of 16 recall campaigns since 2017. It's important to note, there's a battery recall for all Chevy Bolts up until the 2022 model year due to a handful of cases of batteries catching fire.
New battery replacements will come with their own 8-year/100,000-mile warranty.
You can check if your Chevy Bolt has been subjected to a recall campaign by entering your VIN (Vehicle Identification Number) on the GM Recall Center site or the NHTSA recall database.
Recalls are manufacturing faults repaired at no charge to the consumer.
Here is the total number of recall campaigns for every model year of the Chevy Bolt:
2022: 2
2021: 1
2020: 4
2019: 4
2018: 3
2017: 2
Chevy Bolt Model Year List
GM started selling the Chevy Bolt in late 2016. These were all sold as a 2017 model.
First Generation:
2017 Chevy Bolt EV
2018 Chevy Bolt EV
2019 Chevy Bolt EV
2020 Chevy Bolt EV
2021 Chevy Bolt EV
2022 Chevy Bolt EV (facelift)
Is the Chevy Bolt Expensive to Maintain?
The Chevy Bolt's running costs are very affordable. Most model years of the Bolt have proven to be reliable so you should only need to take it to the dealer for routine maintenance.
Aside from not needing any gas, you also won't need to take it in for oil changes or have to replace parts like the water pump, alternator, timing belt/chain, spark plugs and ignition coils.
The Bolt does require a new cabin filter every 22,500 miles and a complete fluid replacement every 150,000 miles.
Edmunds has given the following repair and maintenance costs of the Bolt during the first 5 years:
| | | |
| --- | --- | --- |
| Year | Repair Costs | Maintenance Costs |
| 1 | $0 | $138 |
| 2 | $0 | $366 |
| 3 | $107 | $189 |
| 4 | $254 | $491 |
| 5 | $370 | $1452 |
How Long Do the Brakes Last?
It's possible to go over 100,000 miles in the Chevy Bolt EV on your original brake pads especially if you avoid driving aggressively.
The Chevy Bolt features regenerative braking and one-pedal driving so you don't even have to step on the brakes to slow down the vehicle.
This lets you get significantly more life out of your brake pads and rotors.
We recommend using your brakes every so often so that the brake rotors don't rust too quickly.
How Long Do the Tires Last?
The lifespan of the Chevy Bolt's tires seem to largely depend on the owner's driving style.
Some Chevy Bolt owners report needing new tires at 20,000 to 30,000 while others can get over 50,000 miles out of a set of tires.
Although the Chevy Bolt is a small vehicle, it's much heavier than other subcompact hatchbacks powered by an internal combustion engine.
This extra weight adds more strain on the tires when you corner, accelerate and brake which wears them out faster.
The instant torque and response that the electric motors are able to deliver also contributes to more tire wear.
Tire wear is also dependent on various factors such as driving habits, climate, and road conditions.
Here are a couple of tips that will help you preserve the life of your tires:
Rotate tires every 5,000 miles to ensure even wear.
Check your tire pressure every few weeks to make sure they're at the correct pressure.
Check your tires every so often for uneven wear and have it addressed quickly.
Check your wheel alignment every 6 months.
How Long Do the Transmissions Last?
The Chevy Bolt doesn't use a traditional transmission with multiple gears but instead uses what is essentially a single-speed transmission.
The gears that transfer power from the motors to the drive wheels don't deal with as much friction or stress as a traditional transmission because it doesn't need to constantly change from one gear ratio to another.
The power that's sent to the wheels and the speed at which the wheels rotate is controlled directly by the electric motors.
How Long Will the Chevy Bolt's Electric Motor Last?
GM and Chevrolet have been working with electric motors for a long time and started working on the EV1 in the mid to late 1990s.
They also introduced one of the first plug-in hybrid vehicles, the Chevy Volt in 2010 — which later went on to become the best selling plug-in hybrid in U.S. history.
With all this knowledge and experience, we wouldn't be surprised if the Bolt's drive unit/electric motor lasts 300,000 miles.
According to the Renault Group, an electric motor can last 15 to 20 years in optimal conditions.
How Long Do the Spark Plugs Last?
The Chevy Bolt doesn't use any spark plugs and relies entirely on battery power.
Related: Chevy Bolt: 9 Common Problems (Solution Guide)
How Long Do Chevy Bolt Batteries Last?
The Chevy Bolt's battery should last 300,000 to 400,000 miles before its capacity and range becomes unusable.
The Chevy Bolt uses Lithium-ion batteries which are similar to the ones found in laptops and smartphones although they are significantly larger which not only makes them last longer but they also degrade much slower.
The Bolt's batteries use active liquid cooling to prevent excessive degradation in different driving environments and conditions.
In addition, the Chevy Bolt uses advanced Battery Management Systems to keep owners from fully draining and charging their batteries which increases degradation.
When the Chevy Bolt was first launched, it came with a 60 kWh battery, this was increased to 66 kWh in 2020.
Its battery size is fairly average when compared to other EVs in the market although it's still larger than the batteries you'll find in the standard range versions of the Nissan Leaf and Tesla Model 3.
This means that you'll go through fewer charge cycles to travel the same distance which helps prolong the battery's lifespan even more.
The batteries in laptops and phones typically wear out at around 500 to 1,000 charge cycles because they're constantly charged to 100% and drained to near 0% to get the most life out of them.
But with all the battery protection that's built into the Bolt, it should last for at least 1,500 charge cycles and even up to 3,000 cycles if the charge/discharge cycles are properly managed.
How to Prolong Your Bolts Battery Life
Avoid using or storing the vehicle in extremely hot temperatures
Don't let the vehicle sit unused for long periods of time
When storing the Bolt, occasionally slow charge it to avoid battery degradation
Avoid regularly draining the battery to 0% or charging it to 100%
Charging up to 80% is recommended
Minimize the use of DC fast chargers at public charging stations
What is the Range of the Chevy Bolt?
When the Chevy Bolt was first introduced it had an EPA-estimated range of 238 miles. This was increased for the 2020 model year to 259 miles.
How Long Does the Chevy Bolt Take to Charge?
| | | |
| --- | --- | --- |
| Charger Type | Range per Hour of Charge (miles) | 0 to 100% Charge |
| Level 1/120V | 4 | 2 to 3 days |
| Level 2/240V | 25 | 9 to 10 hours |
When you connect to a DC fast charger, you can get 90 to 100 miles of range in 30 minutes.
The charging rate slows down significantly once it reaches 50% and then again at 80% to protect the battery from premature degradation.
This makes it hard to predict how long it will take to fully charge to 100% when using a fast charger.
What About Insurance Costs?
According to Finder, the average cost of full comprehensive coverage for a Chevrolet Bolt is $2,171 per year or around $180 per month. Insuraviz estimates the Bolt's insurance to be around $1,544 per year or roughly $129 per month.
Insurance costs can vary from person to person, so be sure to shop around to find the best possible deal for your Chevy Bolt.
Tips to Prolong the Life of Your Chevy Bolt
Adopt smooth driving habits.
Use regenerative braking to extend range and battery life.
Charging every couple of days is better than charging every day to keep it topped up.
Keep up to date with factory-recommended maintenance.
Use quality parts and fluids.
Keep on top of repairs to prevent them from developing into larger problems.
Regularly wash your Chevy Bolt to remove dirt and grime to protect the paint and prevent rust.
Keep your Chevy Bolt stored in a garage to help protect it from extreme heat.
Read the owner's manual to learn the location of important components, what your Chevy Bolt needs and what quantity, and to understand the symbols and dashboard warning lights.
Resources
https://www.chevrolet.com/electric/bolt-ev
https://www.consumerreports.org/car-recalls-defects/chevrolet-bolt-recalled-again-due-to-fire-concerns-a3566085147/
https://www.caranddriver.com/news/a37552121/chevy-bolt-battery-recall-deep-dive-details/
https://www.chevrolet.com/content/dam/chevrolet/na/us/english/index/owners/warranty/02-pdfs/2018-chevrolet-limited-warranty-and-owner-assistance-information.pdf
https://www.kbb.com/chevrolet/bolt-ev/2020/
https://www.edmunds.com/chevrolet/bolt-ev/2020/consumer-reviews/