The Chevrolet Malibu is one of the longest-standing names in the car industry, having first launched in 1964.
The popular mid-size sedan is known for its great ride and handling, handsome styling and efficient engine.
However, it's also a car that's racked up thousands of complaints.
In this article, we'll take a closer look at the Malibu's most common problems…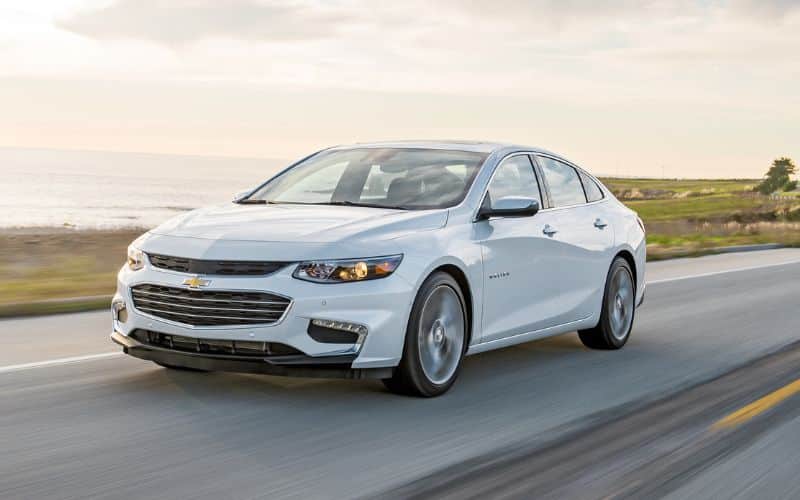 1. Engine Power Reduced
One of the most commonly reported Chevy Malibu problems is that the car deaccelerates or stalls and displays an "Engine Power Reduced" notification.
This problem has been widely reported on 2018, 2017, 2016, 2015, 2014, 2013, 2012, 2011, 2010, 2009, 2007, 2006, 2005 models.
Here's what the owners had to say:
"The 'Engine Power reduced' notification came on the dashboard and car deaccelerated down to less than 25 miles an hour on the highway on multiple occasions. On the last occasion about 2 months ago the notification came on again, the car stalled and would not start up again. This was in ongoing traffic and I could have been seriously injured if people behind me were unable to stop in time. I sat in the middle of traffic for 45 minutes until fire and rescue came and pushed my car out of the road and onto the shoulder until the tow truck came."
"This has happened a few times to me now. I was heading home on the highway with the cruise control set on about 67 mph and all of a sudden the engine lost power and the car starts coasting. "engine power reduced" came across the computer display."
Solution
The "Reduced Engine Power" conundrum was at its peak for the 2016 – 2018 models, with thousands of customers affected.
The vehicles allegedly have a defective electronic throttle control and accelerator pedal position sensor.
A class action lawsuit was filed as GM reportedly knew about the defect but failed to inform consumers and recall the vehicle parts.
In the end, the class action lawsuit was dismissed.
For the other model years affected from 2005 – 2015 the cause of the reduced engine power has been linked to various issues including faulty starters, bad fuse blocks and defective engine control modules.
There are no recalls specifically for "Reduced Engine Power" problems.
2. Steering Problems
According to Car Problem Zoo, a site that records car owner feedback, the most commonly reported Malibu problem falls under the "steering" category, with a total of 5,648 complaints. The most common steering issue was a complete loss of power steering.
Steering problems were at their worst on the 2004 – 2010 models, and to a lesser extent the 2011 – 2013 models as shown in the table below.
Chevy Malibu
Model Year
Steering Problems
Reported
2013
172
2012
162
2011
174
2010
415
2009
687
2008
428
2007
653
2006
942
2005
655
2004
994
Steering problems plagued the Malibu for a decade, here's what owners had to deal with:
Complete loss of power steering
Steering wheel locked up whilst driving
The vehicle loses power steering at random moments while driving
Unable to steer
Solution
The Malibu has had a lot of steering problems, fortunately, there have also been recalls to remedy the issues.
One of the most high-profile recalls involved 1.3 million General Motors vehicles including 2004 and 2005 and some model-year 2006 and 2008-'09 Malibus.
The NHTSA pointed out that "If power steering assist is lost, greater driver effort would be required to steer the vehicle at low speeds, increasing the risk of a crash."
In most cases, GM will replace either the power steering motor, the steering column, the power steering motor control unit or a combination of the steering column and the power steering motor control unit.
Customers who previously paid for repairs of these parts would be eligible for reimbursement.
To see if you have been affected by a recall, run a VIN check on the NHTSA website.
3. "Shift to Park" Problem
A very common problem with the Chevy Malibu is that the car fails to recognize that the shifter is in park and displays the message "Shift to Park", subsequently the owner is unable to shut off the vehicle (headlights, radio, etc) leading to battery draining issues.
The "Shift to Park" issue has plagued the Malibu over the years and across the internet you will find no shortage of disgruntled customers.
This problem has been mostly reported on the 2018, 2017 and 2016 models and to a lesser extent the 2019, 2015 and 2014 models.
Here's how a few owners describe the problem:
"When I put the transmission in park, the indicator screen on the dash notifies me to put gear in park. I'm able to shut down the engine but not turn off the electrical system which ends up draining the battery. The gear is in park, but a switch in the steering column isn't operating properly."
"For the past almost year, my vehicle states to shift to park but it is in park. This is happening on a regular basis. I should not have to sit there and wrestle with the transmission shifter to get this to turn off. This has caused my battery to die and now my transmission is slipping. This is a known issue for several models and is becoming a serious issue for me."
Solution
A class action lawsuit was filed against GM as they allegedly refused to fix a defect affecting hundreds of thousands of its vehicles affected by the "Shift to Park" error – this includes the Malibu, Volt and Blazer.
The quick fix solution for this is to wiggle the shifter back and forth until the car recognizes that it is park or force it from low to park multiple times until it is recognized.
Chevrolet has released a Technical Service Bulletin for this issue, stating that the issue is caused by an electrical disconnect between the shifter and the vehicle's Body Control Module.
The correction dealerships will need to carry out includes adding an In-line Shifter Wire Harness Jumper.
The TSB also states that after this repair, if the "Shift to Park" message is still displayed, the dealership should replace the shift control assembly.
Some owners have also paid out of pocket for repairs, which included replacing the shift assembly.
Note: The TSB is a guide for mechanics to fix the problem but it is not a free fix by itself, unlike a recall.
4. Fuel Pump Relay Failure
A common problem with the 2011 and 2012 Chevy Malibu is the failure of the fuel pump relay.
The fuel pump relay's main function is to provide the fuel pump with enough power, if the fuel pump relay isn't working, then the fuel pump cannot either.
The failure of the fuel pump relay caused lots of drivers to stall whilst out driving, unable to start the car back up.
Solution
We were unable to find any concrete solutions to this issue although it has been linked to wiring issues that cause the fuse box in the trunk to get hot and also the fuel pump relay to overheat and fail.
5. Transmission Failure
According to CarComplaints.com the worst Chevy Malibu problem is transmission failure which occurred at approximately 100,000 miles.
Typically you would expect a transmission to last at least 200,000 miles.
The premature failure of transmission was widely reported on the following Malibu model years:
Owners have reported that they were driving along and that the car suddenly loses power, here's one owner's account:
"A car with 91000 miles on it and the transmission completely self-destructs. Could not be repaired due to the damage. This is a KNOWN issue with this vehicle and transmission. Had to be replaced by my local Chevy dealer."
Solution
In most instances, owners will be forced to pay for a transmission replacement or rebuild which can upwards of $3000.
GM did issue a recall in September 2012 to address issues with a faulty transmission cable although the transmission issues weren't solely due to the flimsy cable.
In most cases, the problem is caused by excessive shifting putting undue stress on the wave plates.
Some owners have avoided transmission failure by replacing the plates before they've reached 90,000 miles on the odometer – which can be done relatively cheaply.
6. Low-Beam Headlights Not Working
Most commonly reported on the 2009, 2010, 2011 and 2012 Chevy Malibus, thousands of owners lodged complaints about faulty low-beam headlights.
The problem is made worse due to the design of the car whereby you have to almost completely take off the entire front end (bumper) of the car in order to replace the headlights.
Listed below is what owners have experienced:
"Low beam headlights keep going out even after they have been replaced"
"Headlights burn out repeatedly! Happens randomly, on either side after the car has been off. I am averaging 1 to 6 months between headlight changes."
"Passenger side low-beam head light keeps going out, and have to replace every six months or less. Very costly due to design."
Solution
In some instances, the headlight problems have been linked to a short in the headlight harness and this is accompanied by the low beam fuse being blown.
However, some owners have reported replacing the entire harness, only for the problems to return a month or so later.
Replacing the headlights is only a short-term fix.
On ChevyMalibuForum.com one premium member shared his thoughts on this very common issue:
The problem is almost always with the headlamp housing harness.
Corrosion builds up on the metal contacts which increases the resistance to current flow.
It doesn't take much resistance in a high current circuit like the headlamps to create a LOT of localized heating which results in melting of the plastic connectors & poor electrical conductivity.
You can get high temp pigtails that won't melt so easily but most importantly use dielectric silicone gel on the metal contacts to displace water.
Same thing will likely happen to the other headlamp.
Also, the fuse DOES NOT open because the circuit is not being overdrawn.
7. Car Won't Start & Anti-Theft Light Is On
Owners complained about problems with the anti-theft system which was accompanied by ignition and engine troubles. This has been widely reported on Malibu models from 1999 – 2004.
Essentially the anti-theft system prevents the car from starting which has left many owners stranded or late for work etc.
Here's what the owners had to say:
"Tired of having to wait ten minutes to start my car, and now it acts like it doesn't even want to start at all, this is soooo dam annoying, there should be a recall!"
"The car does not start often. It happens more when I'm out running errands. I will run in a store or post office, come back out and the car won't start. I will have to sit and wait for a few minutes, then try to restart the car. It's been a real pain and could be a safety issue."
Solution
In many cases, replacing the ignition lock cylinder, the ignition switch and the passlock sensor fixes the problem.
8. Can't Disable Auto Stop/Start Feature
Although not a problem per se, for a number of Malibu owners the engine Auto Start-Stop feature is particularly frustrating and annoying.
The feature automatically shuts down and restarts the engine to reduce the amount of time the engine spends idling, in order to reduce fuel consumption and emissions.
One of the main complaints with the A.S.S is that it cannot be disabled permanently.
Solution
There are some hacks to disable the A.S.S although they may impact the warranty of the vehicle so do so at your own risk.
For the 2016 – 2019 Malibus:
Turn car off
Pop the hood
Right next to where the hood latch is, there is an electrical connector
Unplug this connector
Protect both the female and male ends to prevent water damage
Close the hood
Other owners have had success with the "Autostop Eliminator" which is a plug & play device.
The device remembers when you turn the auto start-stop feature off and works to retain your preference for this functionality, automatically.
9. Poor Visibility
Auto critics and owners alike have criticized the Malibu for its constricted visibility, both out the front and the rear.
Despite having a good size cabin with lots of room for passengers, in comparison to most competitors, the Malibu has poor outward visibility.
This has been partly attributed to the A-pillars which have been made thicker and moved slightly further forward for better crash safety scores.
This has been a topic of debate on models made since 2011 all the way up to the most recent models.
Solution
Sadly, there is nothing that can be done about this.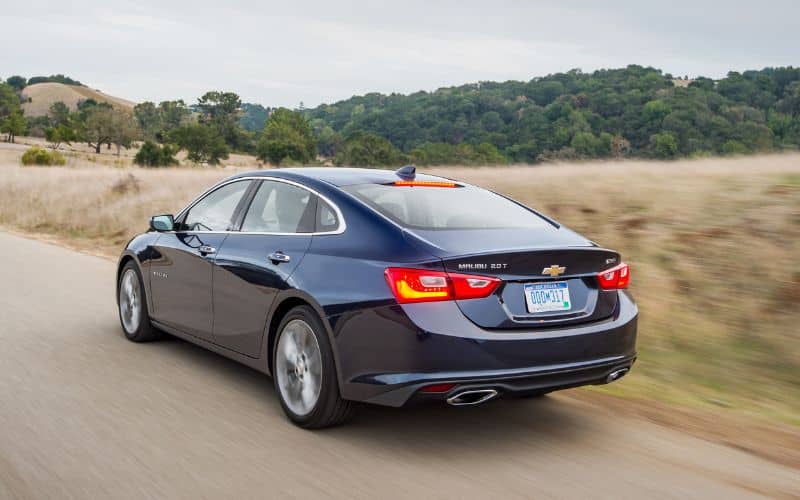 Related: 23 Best & Worst Chevrolet Malibu Years (With Facts & Stats)
Chevrolet Malibu Pros and Cons
If you're considering a Chevrolet Malibu as your next car you might be wondering what its strengths and weaknesses are…
Pros
Comfortable interior
Nice driving demeanor
Spacious cabin
Good safety equipment
User friendly infotainment system
Large trunk
Handsome exterior design
Cons
Not as well equipped as some of its competitors, especially on lower trims
Underwhelming engine
Driver aids cost extra
Poor rear visibility
Base model is very basic
Unrefined Auto Start/Stop
Inside looks and feels cheaps
Chevrolet Malibu Reliability Compared to Similar Cars
Consumer Reports ranks the Chevrolet Malibu in 7th place with a score of 21/100.
| | |
| --- | --- |
| Make & Model | Consumer ReportsReliability Score |
| Toyota Camry | 86 |
| Honda Accord | 84 |
| Mazda6 | 65 |
| Ford Fusion | 47 |
| Hyundai Sonata | 45 |
| Kia Optima | 45 |
| Chevrolet Malibu | 21 |
Source: Consumer Reports
Chevrolet Malibu Used Value
We've taken a look on Car Gurus to gauge the resale value of a Chevrolet Malibu, below are typical asking prices for each model year.
According to Car Edge, a Chevrolet Malibu will depreciate 27% after 5 years and have a 5 year resale value of $20,345.
Note: Used model prices will vary depending on trim level.
| | | |
| --- | --- | --- |
| Model Year | Mileage (miles) | Resale Price |
| 2021 | 49,276 | $20,796 |
| 2020 | 64,374 | $19,461 |
| 2019 | 58,632 | $19,988 |
| 2018 | 70,918 | $18,777 |
| 2017 | 45,058 | $17,997 |
| 2016 | 76,612 | $18,990 |
| 2015 | 77,064 | $14,900 |
Source: Car Gurus
What Do Owners Like and Dislike About the Chevrolet Malibu?
Based on owner feedback from the Kelley Blue Book site here are what real-life owners love and hate about the Chevrolet Malibu.
Likes
Fun to drive
Reliable car
Safety features
Minimal maintenance requirements
Roomy interior
Stylish
Dislikes
Not as responsive
No side view camera
Relatively small engine size
Minor mechanical issues
Owners Reviews
"Excellent car with power when you need it! Great gas mileage! I'm averaging 39 miles per gallon. Very smooth ride spacious interior and I just love the infotainment screen! The car handles very well."
Source: Kelley Blue Book
"Strong Crash Numbers, Light Weight (3100 lbs.), responsive 1.5 L. Engine, Great basic sedan with the flexibility to meet every driver's demands."
Source: Edmunds
"Outstanding fit and finish, I got the LT version and the gas mpg comes right to spec."
Source: Edmunds
Related: How Long Do Chevrolet Malibu Last? (11 Important Facts)
How Reliable Are Chevrolet Cars?
According to a recent report from Consumer Reports, Chevrolet are ranked the 14th most reliable car manufacturer out of 28 brands, with a score of 48/100.
| | | |
| --- | --- | --- |
| Rank | Brand | Score |
| 1 | Lexus | 76 |
| 2 | Mazda | 75 |
| 3 | Toyota | 71 |
| 4 | Infiniti | 69 |
| 5 | Buick | 66 |
| 6 | Honda | 66 |
| 7 | Subaru | 66 |
| 8 | Acura | 64 |
| 9 | Nissan | 63 |
| 10 | Mini | 60 |
| 11 | Hyundai | 56 |
| 12 | Chrysler | 54 |
| 13 | Porsche | 52 |
| 14 | Chevrolet | 48 |
| 15 | Audi | 47 |
| 16 | Cadillac | 47 |
| 17 | BMW | 45 |
| 18 | Ford | 44 |
| 19 | Kia | 43 |
| 20 | Volvo | 42 |
| 21 | Ram | 40 |
| 22 | GMC | 37 |
| 23 | Mercedes-Benz | 34 |
| 24 | Volkswagen | 31 |
| 25 | Genesis | 30 |
| 26 | Jeep | 26 |
| 27 | Tesla | 25 |
| 28 | Lincoln | 18 |
Source: Consumer Reports
Sources
https://www.consumerreports.org/cars/chevrolet/malibu/
https://www.carcomplaints.com/Chevrolet/Malibu/
https://www.carproblemzoo.com/chevrolet/malibu/
https://www.kbb.com/chevrolet/malibu/
https://www.edmunds.com/chevrolet/malibu/
https://caredge.com/chevrolet/malibu/depreciation