The 3/4 ton Chevrolet Silverado 2500 is the heavy duty version of the half-ton 1500 pickup truck that's better suited for towing.
It features more powerful engines, stronger transmissions, beefier suspension and bigger axles to handle heavy loads.
In this article, we'll take a look at some of the most common issues and problems of the Silverado 2500HD across its different generations.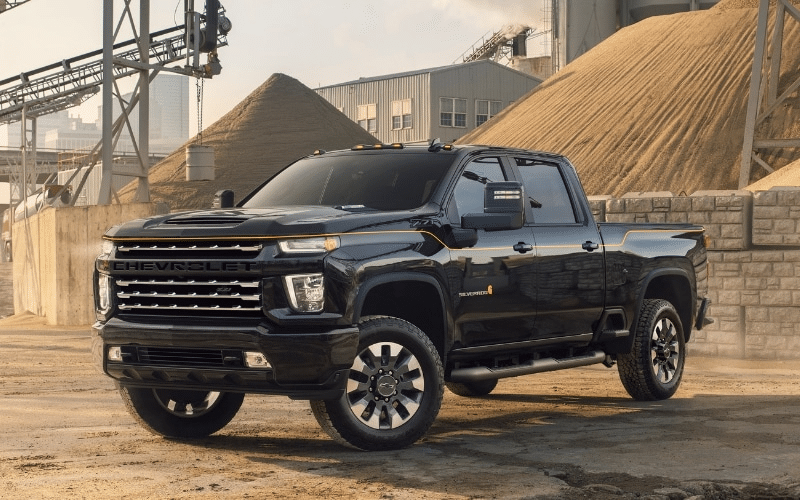 1. Fuel Pump Failures
The Duramax diesel engines in the second and third generation Silverado 2500HD have had many reports of fuel pump failures which can lead to expensive repair bills.
This problem only affects the 2011 to 2016 model years of the Silverado 2500 and 3500, as well as the GMC Sierra.
The 6.6-liter V8 LML Duramax engine in these trucks used a Bosch CP4 high pressure fuel pump that had a tendency to send metal bits through the entire fuel system when they failed.
When the fuel pump fails, you'll also need to replace lots of components like the fuel lines, fuel rail, and injectors to make sure the metal shavings don't damage the engine.
It's also worth noting that some Ford and Dodge diesel trucks also use the CP4 pump and suffer from the same issues.
Symptoms of a failing fuel pump include:
Reduced power
Shuddering
Hard starting
Stalling
Here is how a few owners described their experience on DuramaxForum.com:
"I have a 2012 2500HD with 67k miles and the CP4 pump just failed. The bill looks like it will be $9-10k."
"My 2016 2500HD CP4 just went out at 75K miles. This is actually the 2nd CP4 that my truck has gone through in less than 5K miles. The GM dealer before I owned it replaced the 1st grenaded CP4 at 68K Miles, but didn't flush the metal debris from the fuel system properly."
Chevy Silverado owners typically use a fuel additive to make sure the fuel pump is properly lubricated at all times. Avoiding dirty diesel fuel that could wear out the pump prematurely is also important.
Many Silverado 2500 and 3500 owners also modify their fuel system by adding a lift pump or using the older and more reliable CP3 fuel pump. However, this may cause you to fail emissions in some states.
2. Fuel Injector Issues
Early model years of the Silverado 2500 equipped with the 6.6-liter Duramax diesel engine have a history of fuel injector failures.
This issue affects the 2001 to 2004 model years of the Silverado 2500HD and 3500HD which used the LB7 Duramax engine.
The original injectors had a tendency to crack and their seals also leaked. When this failures occurred, fuel would get into the crankcase and mix with the oil.
Symptoms of faulty injectors include:
White smoke from exhaust at idle
Fuel smell from dipstick
Hard starting
Rough idling
Misfires
Here is how a few owners on DuramaxForum.com described their experience:
"I bought a used 2004 2500hd 6.6 LB7 4×4, 180,000 miles in April. The weekend I bought it it started blowing a white haze. I ran an oil sample and came back 67% diesel content in my oil. 3 hours into the drive I checked my dipstick and smelled diesel. Almost home diesel fuel smell filled my cab."
"I also own a 2001 Chevy Duramax. I have had injector problems and other things. I have 155,000 miles and the problems started around 100,000."
"I also had injector failed on #1 and # 7 on 2002 Chevy Duramax 98000 miles."
Due to the number of reported failures, GM eventually offered an extended 7-year/200,000-mile warranty for the injectors.
Replacing the injectors can easily cost up to $3,000. A single injector costs around $200, and it's often recommended to replace all 8 at the same time to avoid future problems. Labor also won't be cheap as the injectors are hard to get to.
Fortunately, aside from this injector issue, the Duramax LB7 has proven to be a very stout and reliable motor.
3. Corroded Brake Lines
Chevy Silverados from the early to mid 2000s used steel brake lines that had a tendency to corrode and fall apart over time.
When the brake lines go, the braking system will leak brake fluid and lose hydraulic pressure, making it very difficult to come to a stop.
This problem also affects lots of GM trucks from the same era such as the GMC Sierra, Chevy Tahoe, Chevy Suburban and Cadillac Escalade.
It's also more common in areas that use a lot of road salts during the winter. But considering the age of these vehicles, the brake lines will likely have some sort of corrosion even in relatively dry environments.
Here is how a few owners described their experience on the SilveradoSierra.com forum:
"I have got a 2003 Chevy 2500 4×4 with the 6.0L in it. Last weekend while trying to stop I lost all brakes. After looking at the truck I believe that I have what many people have had as in rusted out brake lines."
"I am planning to replace all the lines on my 2500HD after seeing how badly they are rusted."
"I lost the brakes on the Silverado 2500hd. Had the 16 ft trailer on with a 5k load and was doing around 40. Came up an intersection and pushed the brakes to the floor, pumped them to the floor, I reached down and turned the power up on the trailer brakes. Turned missed the car in front of me."
Complete brake line kits for the Silverado 1500, 2500 and 3500 cost around $200. Most mechanics charge around $700 to $1,000 to replace all the brake lines because it tends to be a lot of work, especially if there's a lot of rust under the truck.
4. Instrument Cluster Issues
Chevrolet Silverados from the early 2000s had lots of issues with faulty instrument clusters.
It's common to see inaccurate readings for the fuel gauge, oil pressure, tachometer or speedometer. It's also common to see different warning lights coming on intermittently or the entire instrument cluster not working at all.
These problems are more common on the 2003 to 2004 model years, but they can also affect older trucks, as well as trucks made up to the mid 2000s.
Here is how one owner described their issue on GMTruckClub.com:
"2003 Silverado Instrument Cluster issues. I have a 2003 2500 X-cab 4×4 LS non HD. Currently, my instrument cluster randomly works. If I knock on the cluster or pop the dash, it normally starts up. I have removed the cluster and when loose it works every time. Reinstalled, it may or may not. Truck was bought new and has 142K."
Other Silverado 2500 owners of CarComplaints.com had this to say:
"I own a 2003 Chevy 2500HD crew cab long box 4×4 and I love the truck to death, but around 86,000 miles I went outside to start my truck and the gauges wouldn't turn on."
"Silverado 2500 LT 6.6L. I bought this truck new and it's been a good truck for the most part. This time, it's the Instrument Cluster. First, it started with the alternator gauge reading 24 or more volts when the engine is running, 19 volts with the engine stopped. Next I noticed the engine temp gauge reading lower than normal and suspected a bad thermostat. I decided to wait on that because it's more than likely the gauge itself. Now, a week later, the Tachometer is reading 100 rpms with the engine idling and 1,000 rpms at 60 mph. I've always been suspicious of the oil pressure gauge reading low, but blew it off because it's always over 60 psi when the engine is cold."
The instrument cluster problems are usually caused by bad solder connections and faulty stepper motors which are responsible for moving the needles on the gauges.
A mechanic or auto electrician might be able to fix the solder joints behind the cluster and swap out the stepper motors for you, but you can also just replace it with a remanufactured unit for around $200 to $400.
If you replace the entire instrument cluster, you'll also have to get the new one reprogrammed to work with your truck.
5. Power Steering Issues
Some newer model years of the Chevy Silverado 2500 have had power steering issues such as clunking noises or lots of play in the steering wheel.
The 2016 model year of the Silverado 2500HD had lots of owners complaining about looseness or excessive play in the steering wheel.
Here's how one owner on GM-Trucks.com described their experience
"Bought new 2500hd 2016 LTZ in April. Just turned 7,500 miles and now I've got 2 to 3 inch of play in the steering."
Some owners also observed that power steering fluid would start leaking out.
"I have a 16′ 2500hd. My steering gear went out around 7,500 miles. It was bad enough that it started leaking fluid."
This problem was caused by a loose steering gear pitman shaft lash adjuster stud which needed to be tightened down according to a TSB (Technical Service Bulletin) released by GM.
In some cases, dealers had to replace the steering box completely because the bolt would come loose again after several thousand miles.
The 2020 Silverado 2500HD also had lots of reports of clicking or clunkiness especially when turning at slow speeds.
Here is how a few owners on GM-Trucks.com described their issues:
"I have a 2020 2500HD Duramax. at 15,000 the steering wheel started to produce a clicking or play in the system."
"I have a 2020 Chevy 2500 diesel. Mine makes the same clunking noise. When the ignition is in acc mode, you can move the steering wheel back and forth and it clunks. No power going to it at all. This has been a problem for 11,000 miles."
To get rid of the clicking and clunking, the steering column's upper intermediate shaft has to be replaced as outlined by the TSB that GM released.
Related: 22 Best & Worst Chevrolet Silverado 2500 Years (Pictures & Stats)
6. Power Tailgate Issues
A number of fourth generation Chevrolet Silverado 2500HD owners have had issues where their power tailgate opens on its own.
Here's how a few owners described their problems:
"2022 Silverado 2500. One day we were standing outside the truck, which had been parked for about 20 minutes, keys were in the cup holder, and I heard a bunch of clicks from the latch and it just opened."
"I am also having an issue with my "new" 2022 Chevy Silverado's tailgate randomly opening. Just found myself yet again picking stuff off a busy road in traffic because the tailgate randomly decided to open while I was making a left onto the street."
"My tailgate on my 2021 HD Gas just started to drop whenever."
The tailgate opening on its own is caused by a faulty tailgate switch. Most dealers will replace both the upper and lower switches at the same time.
However, there have been cases where owners have had to replace the switches more than once.
The switches often go bad when they get wet. Using a tonneau cover also causes more water to get into the switches.
Some owners have opted to plug up the drain holes on the top of the tailgate handle to protect the switches from excess water.
7. Rear Window Leak
Fourth generation Chevy Silverado 2500s equipped with a sliding rear window are prone to water leak issues.
The plastic frame around the rear glass can develop small cracks over time which causes water to leak through during heavy rains and car washes.
Signs of water leaks include:
Stained headliner
Wet carpets
Water on the rear seats
Here's how one owner described their experience:
"I own a 2020 Silverado 2500 LTZ. I noticed white rings on my headliner above the rear slider. At first the dealer resealed the window. Still leaking. Second try the found stress cracks in the slider and it needed replacement. Window replaced and I actually saw water running down my C post."
Different generations of the Silverado also develop leaks in the following areas:
Rear cab vents
Sunroof drain
Window seals
Spoiler
Shark fin antenna
Dealers will usually replace the window frame and the glass to get rid of the leaks in the back. However, the new frame might still end up with cracks.
To permanently get rid of the leaks, some owners just apply more sealant around the frame or even replace the sliding rear glass with a fixed one.
Applying sealant or getting new gaskets will also fix the leaks around the third brake light, antenna and spoiler.
8. Cracked Dashboard
Older Chevy Silverados tend to develop cracks in the dashboard after several years of use.
This issue is more common in the 2008 Silverado 2500, but it can also happen to newer model years up to 2014.
Here is how a few owners described their experience:
"I have a 2008 Chevy 2500HD. I just bought it a few months ago. The dash has cracked in a few places since I have gotten it."
"Bought my 2008 a few months ago, and its dash has huge cracks in it, from one side to the other. Enough so that I could probably lift large pieces of it out."
"Purchased my 07.5 2 almost years ago. One thing I made sure of was no cracks were in the dash. Just recently found a crack on the passenger side from defrost vent to airbag. Always put a sunscreen up to help protect the dash from direct sunlight."
If the crack isn't too bad, you can use a dashboard cover or a dash mat to cover it up and protect it from future damage. Some owners have also glued it back together using JB Weld or epoxy to keep the dash from falling apart.
You can also just replace the dashboard altogether. OEM and aftermarket dashboards for the first generation Silverado cost around $400. You might also find a used dashboard in good condition online or at a junkyard.
9. Transfer Case Problems
Older Chevy Silverados are prone to developing holes in the transfer case which causes the fluids to leak out.
This can affect Silverados and other GM trucks from 2001 to 2007 equipped with 4WD since the transfer case is responsible for sending power to the front wheels.
Holes can form in the rear of the transfer case due to the continuous rubbing of the fluid pump inside it.
If left unchecked, all the fluid in the transfer case can leak out and cause it to seize up completely.
Here is how a few owners described their issues:
"My first T-case developed the infamous hole at 5K past the warranty. (2004 2500HD Duramax). $2200 later I had a new case installed and hoped that I would be fine for a while."
"I just purchased a 2001 2500HD with the 6.0 gas engine. I found a .187″ hole in the rear tail shaft of the transfer case."
"I have a 2004, 2500HD (140K miles) which just digested the mode fork last week due to lack of lubrication."
If your Silverado's transfer case has a small pinhole in it, you can still weld it to prevent the fluids from leaking out.
However, due to the pump rubbing against the case, it will likely end up cracking again in the future.
If the transfer case is still working properly and you just want to fix the hole, you can get a new transfer case housing for around $200.
At the same time, you should also install an aftermarket 'pump rub' fix kit which prevents the new housing from getting banged up all the time.
10. Chevy Shake
Many examples of the Chevy Silverado 2500 have vibration issues when driving at highway speeds.
This problem is often referred to as the 'Chevy Shake' and affects other GM trucks as well such as the GMC Sierra.
It seems to be more common in the 2015 to 2016 models, but older Silverados can have vibrations as well.
Here is how a few owners described their dilemma:
"I have a 2007 2500HD single cab, long bed, 2wd, 6.0 V8 with about 28k miles on it. I have experienced a vibration since the truck was purchased new. Starts at about 40mph and gets darn right unbearable at 65mph thru 75 mph starts to dissipate around 80mph."
"I have a 2015 2500 HD Crew cab that I purchased at the end of July. Since then I have been back to the dealerships 3 times (2 different dealers) to have this vibration problem fixed."
"Had a vibration problem with this 2015 Silverado 2500hd since new at differing speeds, felt in the seat and center console. Vibration is on city streets, highways, all roads. Center console has a very noticeable shake to it. Vibration at times is moderate, at other times more severe."
There is no official fix from GM for this issue, but many owners suspect that it's caused by the driveshaft.
Getting the factory driveshaft rebalanced or upgrading to an aftermarket unit can help minimize the shaking, but there are no guarantees that these solutions can completely eliminate it.
You can also have your tires road force balanced to eliminate some of the high speed vibrations.
Related: 12 Common Chevrolet Silverado 1500 Problems (Explained)
Chevrolet Silverado 2500HD Pros & Cons
Pros
Excellent towing capacity
Large bed
Durable powertrain options
No AFM (Active Fuel Management) issues
Reliable transmissions
Lots of standard tech and features
Four-wheel drive with 4Lo
Roomy cabin
Cons
Fuel economy
Ride quality compared to rivals
Tall hood affects visibility
Dated interior design
What Do The Reviews Say?
Built on a sturdier frame with beefier suspension components and more powerful engines, the 2500 is bigger, stronger and harder-working than its light-duty sibling.
To suit any buyer's needs, Chevy offers the Silverado 2500 with three different cabs, two bed lengths, and the choice of two- or four-wheel drive. There are also two engine options, a 6.6-liter gas V-8 with gobs of power and a 6.6-liter diesel V-8 with "careful where you point that thing" power.
The 2023 Silverado 2500 can manage up to nearly two tons of people and cargo depending on configuration, about a full ton more than the Silverado 1500 is rated for. Load your goods onto a trailer and the 2500 can tow more than 18,500 pounds when properly equipped, which is about 5,000 pounds more than what the 1500 can manage.
While the Silverado 2500's specs generally align with those of its chief competitors, it lags in one important arena. Compared to the F-250 and the Ram 2500, its interior looks dated.
We've also found that the Silverado's prominent hood inhibits forward visibility, which can be an issue when you're parking in tight spaces.
Still, trucks like this aren't about comfort. They're about capability. If you need a truck to work, the Chevrolet Silverado will do a lot of it.
2023 Chevrolet Silverado 2500 | Edmunds
What's the Resale Value of a Chevrolet Silverado 1500?
Here's a quick look at the Silverado 2500 LT Crew Cab's used pricing on Edmunds at the time of writing.
| | | |
| --- | --- | --- |
| Year | Mileage | Price |
| 2022 | 10,100 | $62,000 |
| 2021 | 21,751 | $59,992 |
| 2020 | 35,811 | $53,211 |
| 2019 | 42,208 | $46,946 |
| 2018 | 52,178 | $40,995 |
| 2017 | 61,097 | $39,988 |
| 2016 | 66,162 | $37,138 |
| 2015 | 69,011 | $34,658 |
| 2014 | 79,984 | $30,595 |
| 2013 | 96,625 | $26,890 |