The Chevy Sonic is a bargain-priced subcompact car that was for the 2012 – 2020 model years.
It's a great choice for anyone looking for practicality, efficiency, and agility in the form of basic transportation.
In this article, we'll examine its best and worst years.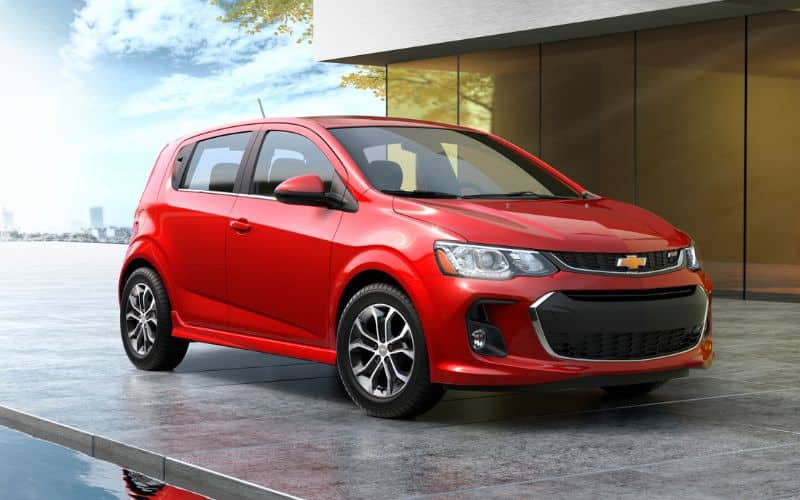 Here's The Short Answer To What The Best And Worst Years For The Chevrolet Sonic Are:
The best Chevrolet Sonic model years are 2020, 2019, 2018, 2017, and 2016. The worst model years of the Sonic are 2015, 2014, 2013, and 2012. This is based on auto industry reviews, NHTSA statistics, reported problems, and consumer feedback.
What Are The Best Years For The Chevrolet Sonic?
Some Sonic models were much better than others, we've listed the best ones below.
2020 Chevrolet Sonic
The 2020 Sonic is arguably the best, it's one of the least problematic models and also the most advanced in terms of features and safety equipment.
It comes with a built-in 4G LTE hotspot and Android Auto and Apple CarPlay connectivity.
Despite being a small car, it's spacious for its class and the engine provides ample power.
For 2020 two new paint colors were introduced and the six-speed manual transmission was dropped.
Edmunds: 4.1 / 5.0
Kelley Blue Book: 4.1 / 5.0
JD Power: 82 / 100
2020 Sonic, Edmunds review:
"Bought it and have not regretted it. It is an inexpensive car, but has great technology and drives well for a small car. I also think it is a good looking car."
2019 Chevrolet Sonic
The 2019 Chevrolet Sonic is another safe choice, this model amassed barely any complaints which is partly attributed to its simplicity but also because many of the problems with earlier models had been rectified.
Auto critics praised this model for its sporty looks, zippy engine and good storage space.
For 2019 the base 1.8-liter engine was discontinued and the turbocharged 1.4-liter engine became standard.
Chevy also dropped the Fun and Sun package (17-inch alloy wheels,1.4-liter turbo engine, sunroof) and remote start was made optional as part of the LT Convenience Package.
Edmunds: 4.0 / 5.0
Kelley Blue Book: 4.1 / 5.0
JD Power: 76 / 100
2019 Sonic, Edmunds review:
"LT with RS package is great. It's fun to drive, has good acceleration, handles well – very responsive. It's surprisingly quiet and comfortable, even on bumpy roads. Fuel economy is not great – 17mpg around town, 24mpg on non highway trips, 32mgp on highway trips averaging about 70mph. After 2 years with this car, I would suggest the sedan over the hatchback. The hatchback is just too small and it has a very small gas tank."
2018 Chevrolet Sonic
The 2018 Chevy Sonic gets two thumbs up, it's another reliable rendition with a generous amount of standard and available features.
This model year comes with a base 1.8-liter engine that lacks the zip of the available turbo engine which became standard for 2019 and 2020.
It also boasts strong crash test safety scores.
The 2018 Sonic received an upgraded version of the MyLink infotainment system and a second USB port.
Edmunds: 3.6 / 5.0
Kelley Blue Book: 4.1 / 5.0
JD Power: 76 / 100
2018 Sonic, Edmunds review:
"Acceleration sucks, fuel economy in the city not so great, hwy mileage ok as long as you keep your foot out of it. Would probably go for the turbo version since it has more low end power. Overall safe, easy to zip in and out of small areas."
2017 Chevrolet Sonic
The 2017 Sonic is affordable and has a reasonably comfortable cabin. Its certainly worth a look for anyone who wants basic transportation.
For 2017 the Sonic received a major refresh that involved a revised hood and front fascia, a slightly smaller grille, modernized headlights, an improved rear fascia, and updated tail lights.
New wheel design and package options were also introduced with features such as a power driver's seat adjustment, keyless entry, remote start, heated steering wheel, and heated seating.
Edmunds: 3.4 / 5.0
Kelley Blue Book: 4.1 / 5.0
JD Power: 78 / 100
2017 Sonic, Edmunds review:
"I've had my Sonic for around three years. The seats are comfortable, the dash is modern. It is equipt with an infotainment center which poweres some lacking, but alright, sounding speakers. It has a smooth ride, as well as a very well build set of struts and shocks. The brakes are more than adequate, even when you decide to drive it more aggressively than usual…"
2016 Chevrolet Sonic
If you're on a tight budget and you're not too concerned about having the latest updates then the 2016 Chevy Sonic is a good choice.
Auto review sites praised this model for its fun-to-drive nature and comparatively roomy interior.
The 2016 Sonic came equipped with a Chevy MyLink infotainment system as standard (only for the LT, LTZ, and RS trims).
The manual transmission for the top-spec LTZ trim was dropped as was the CD player across the lineup. However, three new exterior colors were added.
Edmunds: 3.3 / 5.0
Kelley Blue Book: 4.1 / 5.0
JD Power: 80 / 100
2016 Sonic, Edmunds review:
"First of all, for what you get, the Sonic is priced exceptionally competitively. I paid just over $11,000 for my LS Hatch, brand new. True, it didn't come with a lot of bells and whistles, but it's an American built car that is a top safety pick, had Bluetooth and Onstar, and looks stylish to boot…"
Consumer Scores For Best Chevrolet Sonic Years
Below is a table that presents all the consumer ratings of the best Sonic model years from reputable vehicle websites:
Model Year
Edmunds
Consumer Rating
Kelley Blue Book
Consumer Rating
JD Power
Consumer Rating
2020 Chevrolet Sonic
4.1 / 5.0
4.1 / 5.0
82 / 100
2019 Chevrolet Sonic
4.0 / 5.0
4.1 / 5.0
76 / 100
2018 Chevrolet Sonic
3.6 / 5.0
4.1 / 5.0
76 / 100
2017 Chevrolet Sonic
3.4 / 5.0
4.1 / 5.0
78 / 100
2016 Chevrolet Sonic
3.3 / 5.0
4.1 / 5.0
80 / 100
What Are The Worst Years For The Chevrolet Sonic?
While the Sonic is both affordable and easy to drive, some models racked up more problems than others.
2015 Chevrolet Sonic
The 2015 Chevy Sonic is the least problematic model on the worst list, however it did garner a number of complaints.
A widely reported problem was that the car would have electrical glitches, such as the lights turning on and off, the doors locking and unlocking, lights on the dash going on and off and loss of power steering.
Engine stalling was also reported by a number of owners which was linked to antifreeze leaking.
Some owners also reported that the airbags did not deploy when they were in a collision.
The 2015 Sonic had a total of 27 complaints at CarComplaints.com and 146 problems at CarProblemZoo.com.
Common problems:
Engine died
Electrical glitches
Water leaking from doors
Driver's side mirror will not adjust
2014 Chevrolet Sonic
The 2014 Sonic had a wide range of electrical issues.
Here are some of the most common ones:
Passenger seat light comes on and goes off on its own
Vehicle started on its own with no other manual input
Car not responding to fob sporadically
Can't get key fob out of ignition
Owners also reported engine problems, here's one owner's take:
"My engine light remains on most days which has been a concern but sometimes it is not lit (while car is on). A local mechanic told me my 2014 Sonic engine light is 'nothing to worry about', and that it is a common GM fault and I should put a piece of tape over it and forget about it. But lately I have noticed my gas pedal is sticking a bit and worse than that my acceleration is sluggish especially when going up even a small hill. Someone told me to GOOGLE 'Catalytic Converter' problems and it seems to fit the description."
The 2014 Sonic had a total of 50 complaints at CarComplaints.com and 202 problems at CarProblemZoo.com.
Common problems:
Air conditioning not working properly
Unintended acceleration
Hard shifts
2013 Chevrolet Sonic
The 2013 Chevy Sonic was known to have engine problems.
Owners reported a wide range of issues including leaking coolant, radiator fan failure, catalytic converter problems and thermostat failure.
Odometer issues were widely reported with owners stating that the mileage on their Sonic just disappeared and was replaced with dashes.
Air conditioning problems were common also with owners complaining that the car would blow hot air instead of cold.
The 2013 Sonic had a total of 85 complaints at CarComplaints.com and 305 problems at CarProblemZoo.com.
Common problems:
Engine will not turn over
Engine stalls
Engine dies while driving
Coolant leak
2012 Chevrolet Sonic
CarComplaints.com bestows upon the 2012 Sonic the unfortunate title, "Beware of the Clunker." We believe that this notorious demerit is justified.
This was the first iteration of a budget car and it should come as no surprise that statistically it is the most problematic model.  
Owners reported unintended acceleration, sudden jerking or shifting, and jammed gears (unable to shift gears).
An owner mentioned this in his report:
"I have a 2012 chevy Sonic giving a p2138 error code. I have replaced the throttle position sensor and the accelerator pedal sensor and the problem is not going away. I have spent over $700 on this repair and they cannot fix it. It is a known problem with this vehicle…"
This model was notorious for its subpar transmission which was prone to premature failure.
The 2012 Sonic had a total of 181 complaints at CarComplaints.com and 487 problems at CarProblemZoo.com.
Common problems:
Bad transmission
Shifter button sticks / breaks
Hesitates when shifting
Uncomfortable seats
Related: 14 Best & Worst Toyota Yaris Years (With Facts & Stats)
What Years Have The Most Complaints?
Despite coming from a reliable vehicle manufacturer, the Sonic still has its faults.
Listed below are the number of reported complaints and problems for each model year of the Sonic.
Model Year
Complaints
(CarComplaints.com)
Problems
(CarProblemZoo.com)
2020 Chevrolet Sonic
0
4
2019 Chevrolet Sonic
0
1
2018 Chevrolet Sonic
0
20
2017 Chevrolet Sonic
6
35
2016 Chevrolet Sonic
10
62
2015 Chevrolet Sonic
27
146
2014 Chevrolet Sonic
50
202
2013 Chevrolet Sonic
85
305
2012 Chevrolet Sonic
181
487
What Problems Do Chevrolet Sonic Have?
Bad transmission
Engine will not turn over
Engine will not start
Engine stalls
Engine dies while driving
Hesitates when shifting
Uncomfortable seats
Coolant leak
Air conditioning not working properly
Unintended acceleration
Hard shifts
What Are The Best Alternatives To The Chevrolet Sonic?
The Sonic slots itself into the competitive subcompact car scene by being affordable, reliable, and American-made.
Take a look at how it fares against direct competitors in the current market in terms of fuel economy, pricing, and overall score.
| | | | |
| --- | --- | --- | --- |
| Make & Model | Score | MSRP | Fuel Economy (MPG) |
| Honda Fit | 8.8 | $20,570 – $23,816 | City: 29 – 33 /Highway: 36 – 40 |
| Chevrolet Sonic | 8.4 | $17,210 – $19,929 | City: 26 /Highway: 34 |
| Hyundai Accent | 8.2 | $16,732 – $20,206 | City: 29 – 33 /Highway: 39 – 41 |
| Kia Rio | 8.2 | $18,499 – $19,140 | City: 33 /Highway: 41 |
| Nissan Versa | 8.2 | $17,452 – $19,398 | City: 27 – 32/Highway: 35 -40 |
| Toyota Yaris | 8.1 | $18,176 – $20,732 | City: 30 – 32 /Highway: 39 – 40 |
| Mini Cooper | 7.9 | $23,625 – $35,427 | City: 25 – 28 /Highway: 33 – 36 |
| Mini Cooper Clubman | 7.6 | $30,580 – $39,563 | City: 23 – 26 /Highway: 31 – 34 |
| Chevrolet Spark | 7.5 | $15,413 – $18,354 | City: 29 – 30 /Highway: 37 – 38 |
| Mitsubishi Mirage | 6.1 | $15,120 – $17,048 | City: 33 – 36 /Highway: 40 – 43 |
Source: cars.usnews.com, edmunds.com
Related: How Long Do Chevrolet Sparks Last? (12 Important Facts)
References
https://www.caranddriver.com/chevrolet/sonic
https://cars.usnews.com/cars-trucks/chevrolet/sonic
https://www.carcomplaints.com/Chevrolet/Sonic/
https://www.carproblemzoo.com/chevrolet/sonic/
https://www.edmunds.com/chevrolet/sonic/2020/review/
https://www.kbb.com/chevrolet/sonic/