The Toyota Yaris is an accomplished subcompact car that was sold in North America for the 2011 – 2020 model years.
It impresses with enjoyable handling, excellent maneuverability and frugal fuel economy.
In this article, we'll take a close look at its best and worst years.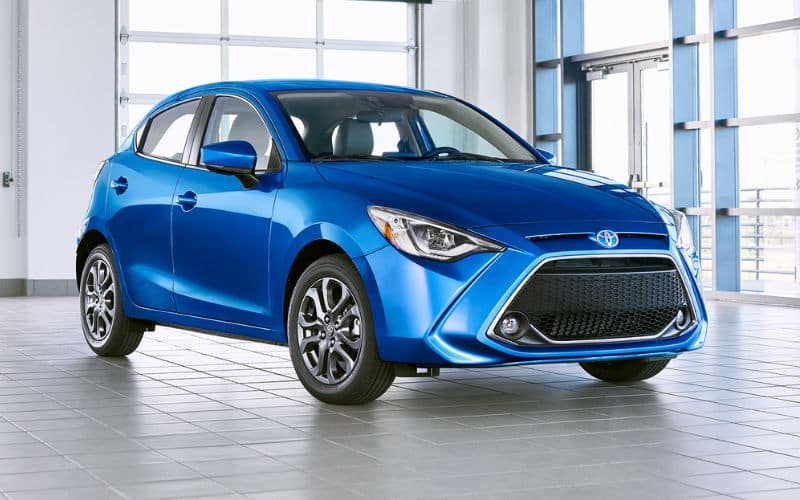 Here's The Short Answer To What The Best And Worst Years For The Toyota Yaris Are:
The best Toyota Yaris model years are 2020, 2019, 2018, 2017, 2016, 2015, 2014, 2013, 2012, and 2011. The worst model years of the Yaris are 2010, 2009, 2008, and 2007. This is based on auto industry reviews, NHTSA statistics, reported problems, and consumer feedback.
What Are The Best Years For The Toyota Yaris?
Detailed below are the cream of the crop years for the Yaris.
2020 Toyota Yaris
The 2020 Yaris is our top pick, it's the most refined of all the models and features the most up-to-date tech and safety features.
It makes a great choice for city slickers, individuals on a tight budget, or youthful drivers.
For 2020 Apple CarPlay & Android Auto compatibility was added as standard.
Edmunds: NA
Kelley Blue Book: 4.3 / 5.0
JD Power: NA
2020 Yaris, Kelley Blue Book review:
"I was in need of a vehicle and I had never owned a Toyota before. My credit was lacking so the salesman took me to this little car and I was very pleased at the appearance and the way it drove. I drove off the lot when it had 3 miles on it and have had no issues except the tire pressure regulator goes off once in a while for no reason and it could have a little bit more giddy-up!! My monthly payments are good and I love my Toyota!!"
2019 Toyota Yaris
The 2019 Yaris is another great choice offering a stylish design inside and out, go-kart-like handling and an impressive list of standard tech features.
There were no significant changes for this model year, but it did receive an updated grille design
It's available as a sedan body style only, and comes in three trim levels, L, LE, and XLE.
Edmunds: 3.4 / 5.0
Kelley Blue Book: 4.3 / 5.0
JD Power: 78 / 100
2019 Yaris, Edmunds review:
"After owning the car for a little over a month, I'm an extremely pleased I went with the Yaris over a Chevy Sonic. I am a huge stickler when it comes to a feeling of quality, and this little car does just that. The interior is trimmed out very nicely for a subcompact. Nothing feels cheap, although the center console is a little flimsy. Even the hard plastics feel nice to the touch, and soft touch materials are abundant throughout the cabin. Controls are basic, but nice…"
2018 Toyota Yaris
The 2018 Yaris is another strong contender, boasting excellent reviews and strong reliability scores.
For 2018 the Yaris received a sporty style update, including a new headlight and grille design, wider taillights and a lower rear bumper.
On the inside, the L and LE trims received an updated instrument panel with an LCD display.
Across the line-up, a backup camera and audio controls on the steering wheel were made standard equipment.
Edmunds: 4.0 / 5.0
Kelley Blue Book: 4.6 / 5.0
JD Power: 77 / 100
2018 Yaris, Edmunds review:
"It's a small car but perfect for me! It handles well and easy to drive. I love it!"
2017 Toyota Yaris
Easy to drive and affordable to buy, the 2017 Yaris is a firm favorite with owners and auto critics alike.
New and fitted as standard for 2017 was Toyota Safety Sense-C, a suite of features aimed to warn of and even prevent an accident, including:
Automatic high beams
Lane-departure warning
Automatic emergency braking
Pre-collision warning
We'd advise going for a 2018 model if possible though, simply because it comes with a rearview camera.
Edmunds: NA
Kelley Blue Book: 4.6 / 5.0
JD Power: 78 / 100
2017 Yaris, Kelley Blue Book review:
"For the price, this car has most everything anyone could need. It is well-featured, looks nice, has aluminum wheels, good sound system, and has a good motor that's paired well with its transmission. You can travel almost 350 miles on one 10 gallon tank of gas. I would recommend this car to anyone who doesn't have the need for speed."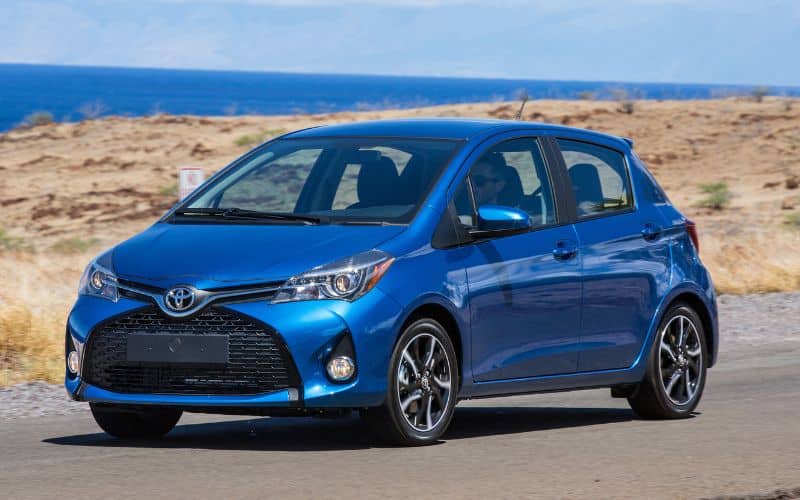 2016 Toyota Yaris
Picking up a 2016 Yaris could be a very wise decision if you're looking for a vehicle with easy-to-park manners and a very affordable price.
The 2016 Yaris carried over unchanged from 2015 although there were some new color combos added.
It makes our best list for its excellent reputation and good resale value.
Edmunds: 3.3 / 5.0
Kelley Blue Book: 4.6 / 5.0
JD Power: NA
2016 Yaris, Edmunds review:
"It was fun to drive. I was looking for a subcompact car. I had a Nissan verse note before so this was similar, it's really cute. Gas is pretty good , acceleration is a little slow but it's good and zippy, overall I really like!"
2015 Toyota Yaris
Economical and well-built, the 2015 Yaris is another safe bet.
The 2015 Yaris received a mid-cycle refresh, including revamped front and rear styling and better-quality materials for the interior.
On top of this, every trim featured a new, intuitive touchscreen infotainment system.
Edmunds: 3.5 / 5.0
Kelley Blue Book: 4.6 / 5.0
JD Power: 77 / 100
2015 Yaris, Edmunds review:
"I bought this car a week ago to replace a 2007 Kia Rio sedan. First positive impressions: nice dark grey color and body style, motor sounds better and back passenger spaces are roomier than some other economy cars test driven. Initial negative impressions: Speedometer only indicates 20-40-60 with numerical markings, 10-30-50 with hashes, and no markings at all on the fives. The side mirrors are so small and poorly shaped that if they are the slightest bit out of adjustment (or if the driver leans forward an inch) rear view is severely compromised which is made worse by the fact that the center rear view is mostly blocked by huge back seat headrests…"
2014 Toyota Yaris
Small and fuel-efficient, the 2014 Yaris is a nimble and agreeable companion around town.
No major changes or revisions were made for the 2014 Yaris compared to the 2013 model year.
However, daytime running lights were fitted as standard across the lineup.
Edmunds: 4.3 / 5.0
Kelley Blue Book: 4.6 / 5.0
JD Power: 74 / 100
2014 Yaris, Edmunds review:
"My 2014 Yaris hatchback has been flawless for seven years now and counting. It's a comfortable fit for my 6'2″ body, is economical with gas and drives well (I have the manual transmission; don't know about the automatic). Not a fancy car, but solid and reliable. Highly recommended"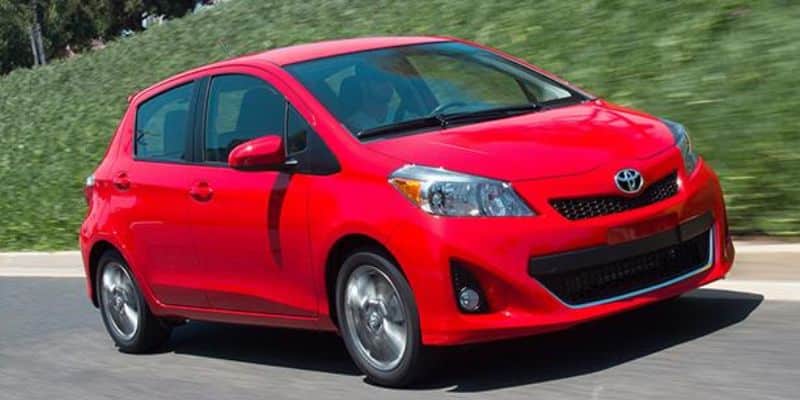 2013 Toyota Yaris
The 2013 Yaris boasts a very affordable purchase price, stellar fuel economy and low operating costs, not to mention an iron-clad reputation for reliability.
This model also comes with a decent suite of audio and communications features,
For 2013 the Yaris was essentially unchanged following its complete makeover in 2012.
Edmunds: 3.9 / 5.0
Kelley Blue Book: 4.6 / 5.0
JD Power: 82 / 100
2013 Yaris, Edmunds review:
"Limited Cargo room, but if you are smart you can get everything in. I hauled 4 different people's sets of camping gear and luggage down to the Keys, and got everything in. Easy to find Parking because it fits in small spaces. This car has a lot of pep for a 4 cylinder car and great on gas! I have driven it to NY and back to FL several times now, and it is a very reliable car. I get about 35-37 MPG Hwy and about 27 City. It's a great commuter car. It is a snap-together vehicle made with some plastic parts, but it has 9 air bags…"
2012 Toyota Yaris
The 2012 Yaris is a sensible subcompact that goes about the business of getting you from Point A to Point B.
For 2012 the Yaris was fully redesigned, including:
Sharper sheet metal
A longer wheelbase
A new interior
Upgraded suspension
More cargo room
These updates helped bolster its standings in the small car hierarchy.
Edmunds: 4.4 / 5.0
Kelley Blue Book: 4.6 / 5.0
JD Power: 85 / 100
2012 Yaris, Edmunds review:
"After 12 years I have left Ford and selected a Toyota Yaris. I test-drove the Fiesta and loved it but after researching problems with their transmissions I decided to look at the Kia Soul which i really liked, but then I researched them and found it was a nightmare with customer neglect and warranty drama. So I researched the Yaris and found mostly positive info. I read and watched every review on YouTube so I decided to test-drive it and fell in love. Yes, it's not a Ford Mustang but the engine in that car speeds like you can't imagine on the freeway. The ride is super soft and coming from Ford that's a gift from god. so I bought it!"
2011 Toyota Yaris
If you're shopping for a Yaris we wouldn't advise anything prior to the 2011 model simply because the reliability from 2011 onwards was much improved.
The 2011 Yaris is a good pick for those on a tighter budget, just make sure that the car has been properly maintained and the owner can provide documented evidence.
While there were no major changes for 2011, it did receive an extension added to the sun visor.
Edmunds: 4.4 / 5.0
Kelley Blue Book: 4.7 / 5.0
JD Power: 83 / 100
2011 Yaris, Edmunds review:
"I have owned a 2011 Yaris from new. I will say without a doubt the best car I owned in 24 yrs. I travel to work 1 way 35 miles and the mpg on this car does what it says, meaning I pay no more than $7 a day round trip. I`m 6`6 235, yes it`s a clown car for me, BUT this car works exactly how I wanted, fuel efficient! This is my FIRST "non-American" car and IF Toyota and their warranty hold it won't be my last. Toyota I`m impressed."
Consumer Scores For Best Toyota Yaris Years
Below is a table that presents all the consumer ratings of the best Yaris model years from reputable vehicle websites:
Model Year
Edmunds
Consumer Rating
Kelley Blue Book
Consumer Rating
JD Power
Consumer Rating
2020 Toyota Yaris
NA
4.3 / 5.0
NA
2019 Toyota Yaris
3.4 / 5.0
4.3 / 5.0
78 / 100
2018 Toyota Yaris
4.0 / 5.0
4.6 / 5.0
77 / 100
2017 Toyota Yaris
NA
4.6 / 5.0
78 / 100
2016 Toyota Yaris
3.3 / 5.0
4.6 / 5.0
NA
2015 Toyota Yaris
3.5 / 5.0
4.6 / 5.0
77 / 100
2014 Toyota Yaris
4.3 / 5.0
4.6 / 5.0
74 / 100
2013 Toyota Yaris
3.9 / 5.0
4.6 / 5.0
82 / 100
2012 Toyota Yaris
4.4 / 5.0
4.6 / 5.0
85 / 100
2011 Toyota Yaris
4.4 / 5.0
4.7 / 5.0
83 / 100
Related: 9 Most Common Toyota Yaris Problems (Solved & Explained)
What Are The Worst Years For The Toyota Yaris?
Even though Toyota produced a lot of great Yaris model years, there are still some that you should be cautious of.
2010 Toyota Yaris
The 2010 Yaris was considered to be a good vehicle in many aspects except one – airbags.
It was fitted with the infamous, exploding, shrapnel-shooting Takata airbags.
A rupture in the airbags inflator had the potential to send metal fragments flying through the car resulting in serious injury or death.
Due to the widespread nature of the issue, owners were left waiting unreasonable amounts of time for repairs.
The 2010 Yaris had a total of 18 complaints at CarComplaints.com and 117 problems at CarProblemZoo.com.
Common problems:
Electric Power Steering (EPS) warning light on
Takata recall
Clear coat peeling
Car will not start
2009 Toyota Yaris
Much like the 2010 model year, the 2009 Yaris was affected by the exploding Takata airbags, which were recalled.
There were also a number of owners who reported that the airbags did not deploy when they were involved in an accident.
Aside from airbag issues some owners complained that the clear coat paint was peeling, here's one owner's account:
"The clear coat on my Toyota Yaris has been peeling off, and there is apparently nothing I can do to stop it. It is especially annoying because I just paid it off, and very quickly my car went from perfectly normal to looking like a POS. The dealership said they've never seen that problem and shrugged, then quoted me a crazy amount to repaint. So, basically, the best fix is to get rid of this car."
The 2009 Yaris had a total of 17 complaints at CarComplaints.com and 142 problems at CarProblemZoo.com.
Common problems:
Clear coat peeling
Brake failure
Takata recall
2008 Toyota Yaris
The 2008 Yaris was widely affected by the Takata airbag recall, and there were also reports that the airbags did not deploy when they were supposed to.
There were also a number of complaints regarding the brakes, some owners reported that the brakes failed completely whilst driving, here's one owner's account:
"Vehicle in front of me stopped. I applied brakes and the car did not stop as usual, it just slid. I attempted to avoid the vehicle and rolled over. The airbags did not deploy and I was slammed into the steering wheel and against the door. Causing chest pain and shoulder pain."
On a less serious note, many owners complained about the paint peeling, many of which were amazed that there wasn't a recall.
The 2008 Yaris was also a victim of airbag safety recall campaigns.
The 2008 Yaris had a total of 49 complaints at CarComplaints.com and 314 problems at CarProblemZoo.com.
Common problems:
Clear coat peeling
Paint peeling
Lost control at highway speed
Engine shuts down when idle
2007 Toyota Yaris
Of all model years on this list, the 2007 Yaris was, by all accounts, the most complained about and problematic model year.
Owners reported numerous cases of collisions and accidents wherein the airbags failed to deploy.
It was also recalled for exploding Takata airbags.
It had numerous reports of the Anti-lock braking system failing, with owners stating the warning lights would come on and off at random whilst other reports state the brakes failed to work properly.
Another widespread complaint was that the clear coat paint would peel off which typically cost owners $1500 to repaint the car.
Clear coat is the final coat of paint applied to the car, it's a transparent, glossy coating.
The 2007 Yaris had a total of 94 complaints at CarComplaints.com and 367 problems at CarProblemZoo.com.
Common problems:
Clear coat peeling
Check engine light is on
Paint peeling
Related: Toyota Yaris: 12 Common Problems (Solution Guide)
What Years Have The Most Complaints?
For any vehicle, especially those purchased used, it is important to know the ailments and frequency of problems and complaints logged online.
Listed below are the number of reported complaints and problems for each model year of the Yaris.
Model Year
Complaints
(CarComplaints.com)
Problems
(CarProblemZoo.com)
2020 Toyota Yaris
5
10
2019 Toyota Yaris
2
34
2018 Toyota Yaris
2
7
2017 Toyota Yaris
8
20
2016 Toyota Yaris
0
8
2015 Toyota Yaris
4
19
2014 Toyota Yaris
4
2
2013 Toyota Yaris
8
12
2012 Toyota Yaris
11
43
2011 Toyota Yaris
3
29
2010 Toyota Yaris
18
117
2009 Toyota Yaris
17
142
2008 Toyota Yaris
49
314
2007 Toyota Yaris
94
367
2006 Toyota Yaris
2
9
What Problems Do Toyota Yaris Have?
Clear coat and paint peeling
Lost control at highway speed
Check engine light is on
Engine shuts down when idle
Car caught on fire
Brake failure
Electric Power Steering (EPS) warning light on
Car will not start
What Are The Best Alternatives To The Toyota Yaris?
As far as subcompact cars go, the Toyota Yaris is definitely a keeper. This car placed 6th and bagged a great score of 8.1 out of 10. It beat the likes of Mini Cooper, Chevrolet Spark, and Mitsubishi Mirage.
| | | | |
| --- | --- | --- | --- |
| Make & Model | Score | MSRP | Fuel Economy (MPG) |
| Honda Fit | 8.8 | $20,072 – $23,868 | City: 29 – 33 /Highway: 36 – 40 |
| Chevrolet Sonic | 8.4 | $17,920 – $20,608 | City: 26 /Highway: 34 |
| Hyundai Accent | 8.2 | $17,839 – $20,643 | City: 29 – 33 /Highway: 39 – 41 |
| Kia Rio | 8.2 | $18,693 – $19,470 | City: 33 /Highway: 41 |
| Nissan Versa | 8.2 | $18,340 – $21,079 | City: 27 – 32 /Highway: 35 – 40 |
| Toyota Yaris | 8.1 | $19,242 – $21,652 | City: 30 – 32 /Highway: 39 – 40 |
| Mini Cooper | 7.9 | $24,336 – $36,557 | City: 25 – 28 /Highway: 33 – 36 |
| Mini Cooper Clubman | 7.6 | $32,148 – $40,955 | City: 23 – 26 /Highway: 31 – 34 |
| Chevrolet Spark | 7.5 | $15,947 – $19,936 | City: 29 – 30 /Highway: 37 – 38 |
| Mitsubishi Mirage | 6.1 | $14,625 – $17,326 | City: 33 – 36 /Highway: 40 – 43 |
Source: cars.usnews.com, edmunds.com
Related: How Long Do Toyota Yaris Last? (12 Important Facts)
References
https://www.caranddriver.com/toyota/yaris
https://cars.usnews.com/cars-trucks/toyota/yaris
https://www.carcomplaints.com/Toyota/Yaris/
https://www.carproblemzoo.com/toyota/yaris/
https://www.edmunds.com/toyota/yaris/2019/review/
https://www.kbb.com/toyota/yaris/