The Chevrolet Volt is a plug-in hybrid car produced for the 2011 – 2019 model years.
It is known for its efficiency, simple design, and maneuverability.
In this article, we'll separate its good years from the bad.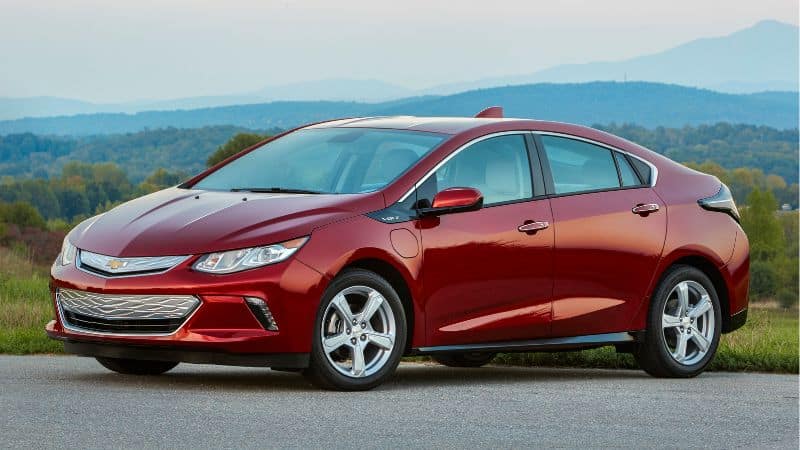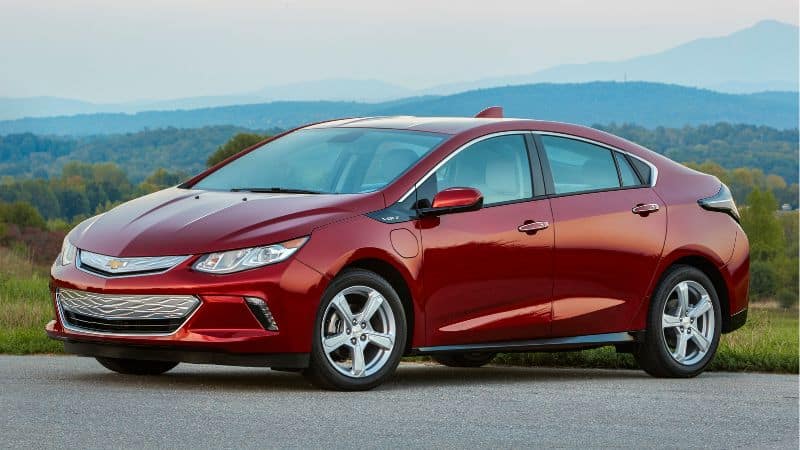 Here's The Short Answer To What The Best And Worst Years For The Chevrolet Volt Are:
The best Chevrolet Volt model years are 2019, 2018, 2016, 2015, 2014, and 2011. The worst model years of the Volt are 2017, 2013, and 2012. This is based on auto industry reviews, NHTSA statistics, reported problems, and consumer feedback.
What Are The Best Years For The Chevrolet Volt?
The Volt may have only had a relatively short production run, however some years are notably better than others.
2019 Chevrolet Volt
The 2019 Volt is the latest and most refined model with an impressive all-electric range; it is one of the best plug-in hybrids on the market.
For 2019 a built-in charger was introduced which cuts charging time by up to 50% and the regenerative-braking system was upgraded, meaning less use of the brake pedal.
The heating system was also enhanced which has improved engine performance and the all-electric range in low temperatures.
Across the lineup, a HD 8-inch touchscreen and upgraded driver-assistance features were introduced.
Edmunds: 4.0 / 5.0
Kelley Blue Book: 4.6 / 5.0
JD Power: 81 / 100
2019 Volt, Edmunds review:
"I traded a 13 volt for a 19 volt . The 13 was a great commuter car, flashy interior and had respectable acceleration. The gas generator made it a great all-around car. Now the first drive in the 19 proved to show me the volt I always wanted! Great acceleration much longer range (62 mi and its still cold where I live) better fuel mileage and lots of safety equipment and it doesn't scrape the front spoiler as much as my previous car. Too bad GM dumped this car it's a winner"
2018 Chevrolet Volt
The 2018 Volt is another great choice thanks to its class-leading range, everyday practicality and peppy acceleration.
It can provide 53 miles of gas-free driving before using the engine to charge the battery.
This model year carries on unchanged from 2017, however it is notably more reliable.
Minor changes include a new driver-assistance package, which is an optional add-on for the entry-level LT trim.
It offers blindspot monitoring, rear parking sensors, and rear cross-traffic alert.
New exterior paint colors were added, namely Green Mist Metallic, Cajun Red Tintcoat, and Satin Steel Metallic.
Edmunds: 4.5 / 5.0
Kelley Blue Book: 4.6 / 5.0
JD Power: 78 / 100
2018 Volt, Edmunds review:
"After driving the car for a year with 4 long distance (1200+ miles) drives, while as a retirement car mostly local driving, I found it an excellent choice. The car is not for highway use on the battery, but can be switched off with mode control. The small battery drains quickly. Having the built-in generator for running in hybrid mode allowed me to make these long-distance trips without having to plan overnight charging stops, while at home all my drives were well within the charge limit of the battery…"
2016 Chevrolet Volt
Another safe bet is the 2016 Volt, boasting a smooth and efficient powertrain, an affordable price tag and stylish looks.
As the first entrant of the second-gen, the 2016 Volt received a number of upgrades.
This included:
A significantly improved hybrid drive system, delivering more power and an additional all-electric range
Updated styling inside and out
New driver information and infotainment controls and excellent Apple CarPlay iPhone integration
5-passenger capacity
The 2016 Volt, according to Edmunds is one of the best-used cars.
Edmunds: 4.3 / 5.0
Kelley Blue Book: 4.6 / 5.0
JD Power: 80 / 100
2016 Volt, Edmunds review:
"This is simply an excellent vehicle. For most people it should yield sufficient EV range that they'll never need to use the gas engine; for the remainder the occasional dip into the gas tank will get them wherever they need to go in comfort. For those who own one of the originals, the extra range will help to reduce that odd range anxiety that you get when even though you know you could go anywhere you'd still rather not use gas…"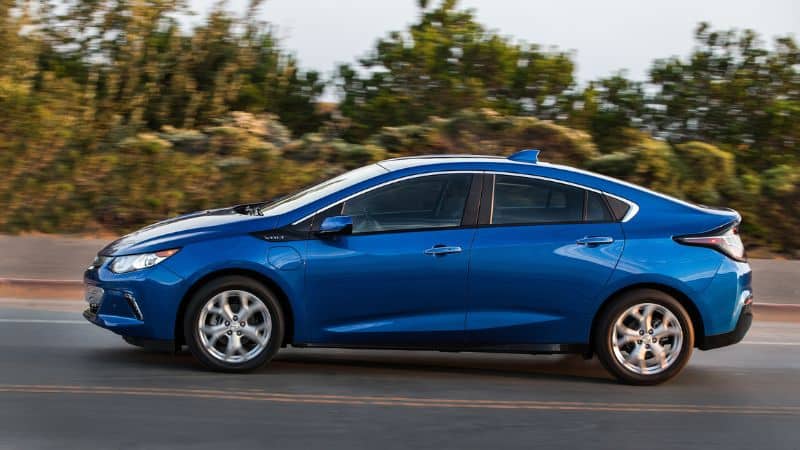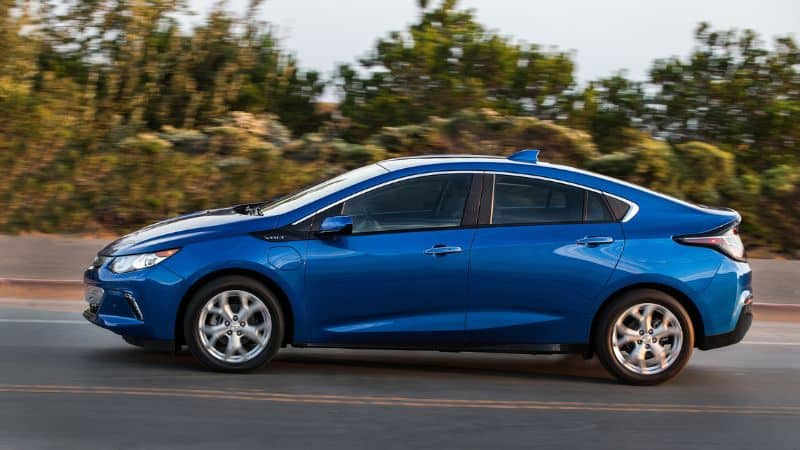 2015 Chevrolet Volt
If your on a tighter budget then the best choice from the first generation is the 2015 Volt, although it might be worth spending a bit more to get the revised 2016 model.
The 2015 Volt has a slightly increased battery capacity compared to previous models although on paper the official range is the same.
The navigation system and premium audio package were bundled together for 2015 otherwise it carried over unchanged from 2014.
Edmunds: 4.8 / 5.0
Kelley Blue Book: 4.7 / 5.0
JD Power: 80 / 100
2015 Volt, Edmunds review:
"I have had this car for 5 months (purchased new in May 15) and now have 8000+ miles on it. So far the car has been mechanically flawless (some software issues). Only after owning a car like this, do you begin to understand all of the considerations that need to be taken into account when purchasing an EV. One of the most amazing things about the Volt that is overlooked, but is incredibly significant, is the range of the battery."
Related: How Long Do Chevrolet Sparks Last? (12 Important Facts)
2014 Chevrolet Volt
The 2014 Volt came with a pleasing number of standard features, excellent crash test scores and a 30 – 40 mile range on pure electric mode.
With the gasoline engine running, the Volt's estimated range is 380 miles with a fuel economy estimated to be about 40 mpg.
While there were no big changes worth noting for the 2014 Volt, the pricing of this vehicle was significantly reduced which caught the attention of owners and auto critics alike.
Edmunds: 4.6 / 5.0
Kelley Blue Book: 4.7 / 5.0
JD Power: 81 / 100
2014 Volt, Edmunds review:
"I absolutely love my Volt. I was looking for a car that could get me to work and back on all electric power, but still have the ability to do road trips without relying on the battery. The Volt is perfect for my daily 40 mile round trip commute to work. I charge the car at home and have plenty of power to drive to work and back. The Volt is fun to drive and has plenty of power to maneuver the LA freeways. In full Hybrid mode, I'm averaging about 38 to 40 actual miles per gallon, which is good…"
2011 Chevrolet Volt
The 2011 Volt was the all-new, four-seat, four-door plug-in hybrid and was widely praised for its high efficiency and low emissions.
It sports an electric-only mode with a 38 mile range, a high-tech cabin and a host of appealing standard features.
Despite being the first model released, it proved to be more reliable than some of its successors which racked up notably more complaints.
Edmunds: 4.7 / 5.0
Kelley Blue Book: 4.7 / 5.0
JD Power: 88 / 100
2011 Volt, Edmunds review:
"Now in my second month and still have not used more than 2 gallons of gas. The car is surprisingly responsive, feels solid and has had no bugs, defects or annoyances that sometimes accompany new purchases. My average battery range is about 42 miles, but with the range extending on-board generator, there is no anxiety whatsoever about "getting there" as the range is essentially the same as a traditional gas-powered vehicle. Moving from my prior Mercedes S 430, I find the Volt to be a remarkably well-engineered product. Clearly someone is paying attention to the quality at the end of the production line."
Consumer Scores For Best Chevrolet Volt Years
Below is a table that presents all the consumer ratings of the best Volt model years from reputable vehicle websites:
Model Year
Edmunds
Consumer Rating
Kelley Blue Book
Consumer Rating
JD Power
Consumer Rating
2019 Chevrolet Volt
4.0 / 5.0
4.6 / 5.0
81 / 100
2018 Chevrolet Volt
4.5 / 5.0
4.6 / 5.0
78 / 100
2016 Chevrolet Volt
4.3 / 5.0
4.6 / 5.0
80 / 100
2015 Chevrolet Volt
4.8 / 5.0
4.7 / 5.0
80 / 100
2014 Chevrolet Volt
4.6 / 5.0
4.7 / 5.0
81 / 100
2011 Chevrolet Volt
4.7 / 5.0
4.7 / 5.0
88 / 100
Related: 17 Best & Worst Toyota Prius Years (With Facts & Stats)
What Are The Worst Years For The Chevrolet Volt?
The Volt has had its fair share of ups and downs, and while it may have had more good models than bad, there are still some notoriously problematic model years that need to be discussed.
2017 Chevrolet Volt
According to NHTSA data, the 2017 Volt is the most problematic model year ever produced and it was plagued by various issues.
The biggest problem owners faced was the failure of the battery control module – when this happens the car is no longer driveable.
The problem was so widespread owners were left waiting extended periods of time due to the backorder of parts.
Another common complaint was the "Shift to Park" message appearing on the dash.
Here's how one owner described the issue:
"I will get a "shift to park" message on the dash when parking the car and trying to turn it off. When it happens, the car will not turn off and claims it is not in park. The shifter is physically in the park position, but the car does not recognize it. I have to shift it in and out of park multiple times to get it to recognize that it is in park. On a few occasions, I have had to leave it on and lock the doors because it just would not recognize that the car was in park."
The 2017 Volt had a total of 31 complaints at CarComplaints.com and 560 problems at CarProblemZoo.com.
Common problems:
Lost power steering while driving
BECM (battery energy control Module) issues
Excessive engine noise
Shift to park warning message
2013 Chevrolet Volt
The 2013 Chevrolet Volt received a large number of complaints due to its airbags.
When a passenger would sit in the front seat a faulty presence sensor would trigger a warning chime and airbag warning light on the dash.
This left owners fearing that the airbag system was faulty and wouldn't deploy in a crash.
Some owners reported paying in excess of $1000 to have it fixed.
The 2013 Volt also had a number of complaints regarding "Shift to Park" errors.
As previously mentioned, the car would fail to recognize that the shifter was in the park position.
The 2013 Volt had a total of 15 complaints at CarComplaints.com and 379 problems at CarProblemZoo.com.
Common problems:
Brakes stopped working
Died while driving
Shift to Park error
Display screens not working properly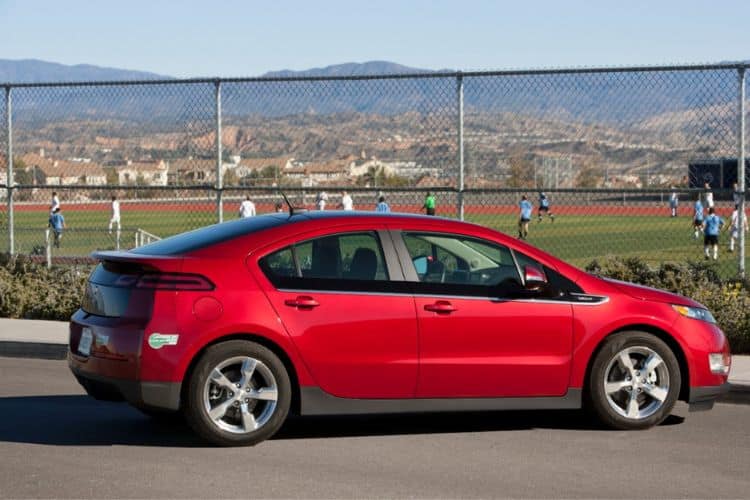 2012 Chevrolet Volt
The 2012 Volt suffered from a wide range of electrical-related issues, the most common of which was the instrument cluster would go blank.
This posed a serious safety risk as drivers were unable to see the gauges for fuel, speedometer and battery charge.
According to owners, the only remedy Chevy proposed was to replace the entire assembly and reprogram the system.
The 2012 Volt also had airbag problems much like its 2013 successor.
Here's one onwers testimony:
"The "service airbag" light started coming on. I took the car to the dealership and they said that the harness in the driver's seat has a bad sensor or plug and cannot be replaced because GM no longer makes this part. They suggested that I might try to find a replacement seat in a junkyard. This means I have a car that is less than 10 years old with a driver's side airbag that may or may not deploy in an accident. The dealership does not have a solution."
The 2012 Volt had a total of 34 complaints at CarComplaints.com and 318 problems at CarProblemZoo.com.
Common problems:
Transmission whining noise
Paint flaws
Display screen goes blank
Wobbling
What Years Have The Most Complaints?
The Volt has received a handful of complaints and problems through the years. It is important for prospective owners to know the statistics.
Listed below are the number of reported complaints and problems for each model year of the Volt.
Model Year
Complaints
(CarComplaints.com)
Problems
(CarProblemZoo.com)
2019 Chevrolet Volt
2
33
2018 Chevrolet Volt
10
138
2017 Chevrolet Volt
31
560
2016 Chevrolet Volt
6
113
2015 Chevrolet Volt
6
48
2014 Chevrolet Volt
10
97
2013 Chevrolet Volt
15
379
2012 Chevrolet Volt
34
318
2011 Chevrolet Volt
3
54
What Problems Do Chevrolet Volts Have?
Lost power steering while driving
Intermittent brake failure
Transmission failure
Main control unit failed
Excessive engine noise
Transmission whining noise
Paint flaws
Wobbling
Brakes stopped working
Died while driving
Display screens not working properly
What Are The Best Alternatives To The Chevrolet Volt?
Out of 17 models, the Volt ranked 14th with a decent score of 7.5 out of 10, edging out the Toyota Prius c, Ford Fusion Energi, and Honda Clarity.
| | | | |
| --- | --- | --- | --- |
| Make & Model | Score | MSRP | Fuel Economy (MPG) |
| Toyota Camry Hybrid | 8.7 | $29,512 – $32,711 | City: 44 – 51 /Highway: 47 – 53 |
| Toyota Avalon Hybrid | 8.5 | $30,515 – $35,405 | City: 43 /Highway: 44 |
| Chevrolet Malibu Hybrid | 8.3 | $25,207 | City: 49 /Highway: 43 |
| Chevrolet Bolt | 8.2 | $28,081 – $31,015 | City: 128 /Highway: 110 |
| Honda Accord Hybrid | 8.2 | $27,057 – $32,404 | City: 48 /Highway: 48 |
| Kia Optima Hybrid | 8.1 | $24,826 – $31,692 | City: 39 /Highway: 45 |
| Hyundai Ioniq | 8.0 | $22,962 – $28,543 | City: 55 – 57 /Highway: 54 – 59 |
| Ford Fusion Hybrid | 7.9 | $24,831 – $26,908 | City: 43 /Highway: 41 |
| Honda Insight | 7.9 | $24,374 – $27,992 | City: 51 – 55 /Highway: 45 – 49 |
| Hyundai Sonata Hybrid | 7.8 | $24,844 – $28,809 | City: 39 – 40 /Highway: 44 – 46 |
| Nissan Leaf | 7.7 | $24,560 – $31,982 | City: 114 – 124 /Highway: 94 – 99 |
| Toyota Prius Prime | 7.7 | $29,377 – $32,711 | City: NA /Highway: NA |
| Toyota Prius | 7.6 | $27,090 – $31,589 | City: 52 – 54 /Highway: 48 – 50 |
| Chevrolet Volt | 7.5 | $28,242 – $31,435 | City: 43 /Highway: 42 |
| Toyota Prius c | 7.4 | $23,982 – $24,978 | City: 48 /Highway: 43 |
| Ford Fusion Energi | 7.1 | $28,165 | City: NA /Highway: NA |
| Honda Clarity | 6.9 | $31,020 – $33,687 | City: 126 /Highway: 103 |
Source: cars.usnews.com, edmunds.com
Related: 7 Most Common Honda Clarity Problems (Explained)
References
https://www.caranddriver.com/chevrolet/volt
https://cars.usnews.com/cars-trucks/chevrolet/volt
https://www.carcomplaints.com/Chevrolet/Volt/
https://www.carproblemzoo.com/chevrolet/volt/
https://www.edmunds.com/chevrolet/volt/2019/review/
https://www.kbb.com/chevrolet/volt/