When people think of high-status vehicles, the Range Rover will often spring to mind.
It boasts a classic yet modern style and delivers impressive off-road performance as well as plenty of luxury features.
It's no secret though that the Range Rover has faced some reliability issues over the years.
In this article, we'll uncover the most commonly reported problems.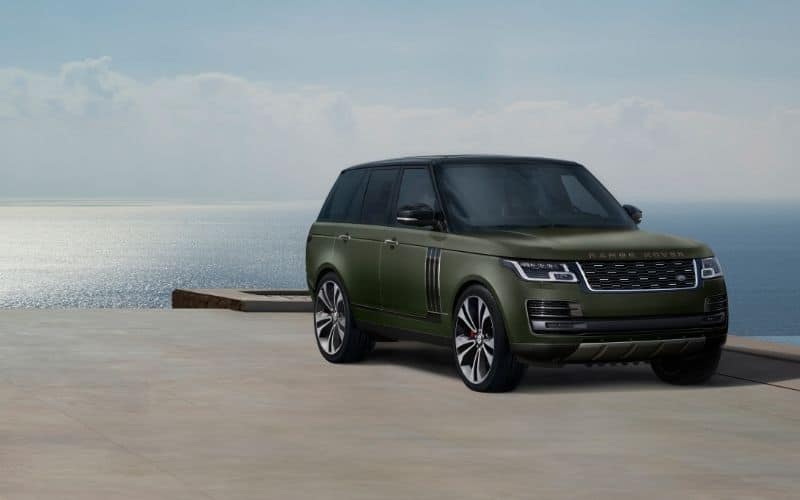 1. Power Train Problems
We found numerous complaints about the Range Rovers power train that have been logged online.
On CarProblemZoo.com, a site dedicated to car owner feedback, the Range Rover has accumulated 272 complaints pertaining to power train issues alone.
Outlined below are the details.
Differential Unit Problems
The most common issue owners had is related to the differential unit.
The differential is a set of gears that transmits engine power to the wheels.
Owners have reported that whilst driving their Range Rover the differential unit locked up without warning.
This is particularly hazardous and at the very least has left a number of drivers stranded although some were involved in accidents.
These reports were much more common with early 2000 models although there have been some reports from 2018 models too.
Here's what one driver had to say:
"Front end differential locked up on the interstate without warning. Front tires will not turn and are completely locked up. This would have been a wreck if there were other drivers on the road at the same time. Had it towed to a service shop, and a mechanic said the front end differential is completely blown up and should be a factory recall."
Driveshaft Problems
Some Range Rover owners have reported that the driveshaft disengaged from the transmission whilst driving.
This is incredibly dangerous and some owners have experienced this same problem more than once even after repairs.
The driveshaft is the longitudinal shaft that runs from the front to back.
Owners often report there was a grinding sound coming from the transmission before the driveshaft went out.
This problem has been reported most commonly in models from 2006 – 2010.
Power Train Issues
A few owners have reported that their Range Rover would go from park to reverse by itself.
There are some shocking accounts from owners who have seen their Range Rover mysteriously drive off resulting in crashes, one owner was dragged away by the vehicle as they tried to stop it, another was run over.
Some owners have also reported their Range Rover would suddenly accelerate whilst they were slowly reversing into a parking space.
Possible Causes & Solutions
Powertrain issues have plagued the Range Rover, and it's always good to have an idea of what might be causing the issue.
Worn carrier bearings: A carrier bearing keeps the driveshaft firmly in place and when its worn out it can cause a whirring or grinding noise.
Loose pinion-bearing preload: A Range Rover with a loose pinion-bearing preload will often make a howling like noise as gears are being changed, often when decelarating.
Worn U-joints: A universal joint, is a component that connects the driveshaft to the differential, when these go bad the vehicle is incapable of moving anymore.
Solutions
Replace the U-joints
Replace the carrier bearings
Due to the technical nature of these problems, your first port of call should be your dealership.
It's a good idea as well to run your Range Rovers VIN on the NHTSA database to see if your vehicle has been recalled.
Related: How Long Do Range Rovers Last?
2. Engine & Engine Cooling Problems
On Carproblemzoo we found a total of 103 engine and engine cooling related problems.
Below we'll take a closer look at these issues.
Timing Chain Problems
Some Range Rover owners have reported problems with the timing chain.
These problems are quite widespread apparently on models from around 2010.
Owners have reported strange noises and the engine failed to turn over.
Check Engine Light On
Range Rover owners also complained about a Check Engine Light that stays on.
Some owners have reported that the light comes on even when there is no other apparent problem with the vehicle.
Others have said their Range Rover would shake violently and stall.
Radiator Problems
There have also been reports about Range Rover radiator problems.
Owners say the check engine light would come on and this was accompanied by a radiator leak.
Possible Causes and Solutions
Below are possible reasons for Range Rovers engine issues.
Leaky hoses: The most common cause of radiator leaks is leaky hoses, but you can also have leaks in the radiator itself, too, which is a bigger problem.
Rust: If your radiator becomes too rusted, it can end up with holes and leak.
Defective Piston Rings: If your piston rings are worn out then your car will struggle to control oil pressure and regulate engine oil consumption, a common sympton of damaged piston rings is loss of power for acceleration.
Faulty oil pump: If an oil pump fails it will starve the engine of necessary lubrication. Its important to ensure that the engine oil you use in your engine is of correct viscosity, making it light enough to flow fast through the pump.
Failed Oxygen Sensor: If your check engine light comes on intermittently or has stayed constantly, it may be due to a failed oxygen sensor.
Defective Starter: If you're starter is going bad then you will often here clicking or whirring sounds and the although the starter may engage the engine will fail to turn over.
Solution
Engine-related issues may be resolved by replacing hoses, piston rings, oil pumps, starters, the radiator or some other components.
If the issue is serious you may need a new engine.
If you're not mechanically inclined, we advise taking your Range Rover to the dealership.
3. Electrical Problems
Electrical problems are the third most commonly reported problem of the Range Rover.
This covers a wide range of issues, such as:
Faulty display unit, showing a blank screen
Fuel and temperature gauges showing false information
Vehicle AC not working
System failure codes
Possible Causes & Solutions
Having electrical problems can be quite hard to diagnose, although there is usually a logical reason.
Electrical shorts: Sometimes wires become damaged or disconnected and when they touch exposed metal it creates a short circuit which can damage the equiment.
Defective Electrical Components: If the display unit is not working it can be due to failed or defective electrical parts. It could also be that the electrical components were poorly installed or did not meet the specification.
Battery About to Die: If the vehicles 12V battery is on the brink of failure, this can cause a number of electrical faults
Solution
Have your vehicle looked at by a trained mechanic or someone who specializes in Range Rovers.
General Pros And Cons
Here are the general advantages and disadvantages of the Range Rover:
Pros
Below are some of the positives of owning a Range Rover.
1. Luxurious interior: The inside of a Range Rover is modern and elegant, and the high-quality materials that are used don't go unnoticed.
2. Stylish Exterior: The Range Rover will undoubtedly turn heads as it oozes with class and style. Its exterior design is reminiscent of military vehicles whilst looking ultra-modern at the same time.
3. Safety Features: The Range Rover comes with state-of-the-art safety features, this is partly why it's earned a 5-star safety rating from the NHTSA.
Its safety features include:
Emergency Braking
Lane Departure Warning
Front and Rear Parking Aid
Cruise Control with Speed Limiter
4. Driver Assistance Package upgrades: The Range Rover can be upgraded to suit your needs with various packages available, such as:
Drive Package – including Driver Condition Monitor and Blind Spot Monitor
Drive Pro Package – including Lane Keep Assist and Intelligent Emergency Braking
Park Package – including 360° Parking Aid and Clear Exit Monitor
Park Pro Package – featuring Park Assist to aid with parallel parking
5. Technology: The Range Rover comes equipped with a huge amount of tech goodies, from the Voice-Recognition Technology to the HD touchscreen displays, there is no shortage of features.
Cons
Now let's look at the downsides of owning a Range Rover. Below are some of them:
Histroy of power train issues
Engine problems
Electical faults
High starting price
Related: 11 Best & Worst Range Rover Years (With Facts & Stats)
Range Rover Problems Per Model Year
As you would expect some models have received more negative reports than others, the 2003 Range Rover has the most on file.
Source: Carcomplaints
| | |
| --- | --- |
| Model Year | No. of Problems |
| 2021 Range Rover | 1 |
| 2020 Range Rover | 5 |
| 2019 Range Rover | 5 |
| 2018 Range Rover | 24 |
| 2017 Range Rover | 23 |
| 2016 Range Rover | 10 |
| 2015 Range Rover | 24 |
| 2014 Range Rover | 48 |
| 2013 Range Rover | 28 |
| 2012 Range Rover | 20 |
| 2011 Range Rover | 21 |
| 2010 Range Rover | 19 |
| 2009 Range Rover | 6 |
| 2008 Range Rover | 30 |
| 2007 Range Rover | 25 |
| 2006 Range Rover | 70 |
| 2005 Range Rover | 42 |
| 2004 Range Rover | 115 |
| 2003 Range Rover | 167 |
| 2002 Range Rover | 25 |
| 2001 Range Rover | 7 |
| 2000 Range Rover | 32 |
| 1999 Range Rover | 38 |
| 1998 Range Rover | 28 |
| 1997 Range Rover | 27 |
| 1996 Range Rover | 50 |
What Do the Reviews Say?
"I bought a brand new 2018 HSE full-size Range Rover, it has been in the dealer 3 times and was in for over 2 months, it has computer problems and they have no idea how to fix it. It was there for 2 months I picked it up last week when they claimed it was fixed I had it for 3 days and it broke again.."
"It's incredible how this fairly large SUV handles like a luxury sports car. Every time I drive it I am blown away at the smooth ride, the perfect handling, and exceptional acceleration (supercharged V8) and incredible breaking. Simply the best!"
"I Love the car in so many ways but it's been in the shop 5x in 2020."
Source: Edmunds
What Is the Resale Value of a Range Rover?
| | | |
| --- | --- | --- |
| Model Year | Mileage | Price |
| 2014 Range Rover | 52,783 miles | $45,575 |
| 2015 Range Rover | 72,245 miles | $41,599 |
| 2016 Range Rover | 55,000 miles | $51,995 |
| 2017 Range Rover | 59,704 miles | $57,900 |
| 2018 Range Rover | 39,474 miles | $75,100 |
| 2019 Range Rover | 28,817 miles | $90,990 |
| 2020 Range Rover | 15,423 miles | $110,000 |
Read more: Range Rover In Snow & Winter Driving (Explained)
How Reliable Are Land Rovers?
According to a recent report from Consumer Reports, there was insufficient data to rank Land Rover's reliability, however outlined below is how other car manufacturers performed.
| | | |
| --- | --- | --- |
| Ranking | Brand | Score |
| 1 | Lexus | 76 |
| 2 | Mazda | 75 |
| 3 | Toyota | 71 |
| 4 | Infiniti | 69 |
| 5 | Buick | 66 |
| 6 | Honda | 66 |
| 7 | Subaru | 66 |
| 8 | Acura | 64 |
| 9 | Nissan | 63 |
| 10 | Mini | 60 |
| 11 | Hyundai | 56 |
| 12 | Chrysler | 54 |
| 13 | Porsche | 52 |
| 14 | Chevy | 48 |
| 15 | Audi | 47 |
| 16 | Cadillac | 47 |
| 17 | BMW | 45 |
| 18 | Ford | 44 |
| 19 | Kia | 43 |
| 20 | Volvo | 42 |
| 21 | Ram | 40 |
| 22 | GMC | 37 |
| 23 | Mercedes-Benz | 34 |
| 24 | Volkswagen | 31 |
| 25 | Genesis | 30 |
| 26 | Jeep | 26 |
| 27 | Tesla | 25 |
| 28 | Lincoln | 18 |