When we talk convertibles, it's easy for the mind to drift to breezy, coastal drives in a classic two-seater. Perhaps you picture the iconic Mazda Miata or the sleekness of a European sports car.
However, the automotive world's evolved. Today's drop-top motoring pleasures come as convertibles with 5 seats, from 2 doors to 5 doors and sporty cars to SUVs.
Convertibles with 5 seats promise the thrill of open-air motoring while ensuring no one gets left behind. We've compiled a list of convertibles with 5 seats available in North America.
#1: Hummer EV
The return of the Hummer nameplate brings with it not just a modern twist but a revolutionary shift. No longer the gas-guzzling giant of yesteryears, the Hummer EV comes electrically charged and ready to conquer terrains in silence with seating for five.
One of its standout features is the Infinity Roof, bringing an innovative approach to open-air driving.
Comprising of modular sky panels, the Infinity Roof design allows passengers to customize their overhead views. Each panel can be removed individually.
The Hummer EV doesn't compromise on its rugged DNA, either. Equipped with an array of off-roading capabilities, it is ready to tackle any challenge that wilderness throws its way.
From rock-strewn trails to muddy meadows, the Hummer EV remains unyielding, all while maintaining an eco-conscious footprint.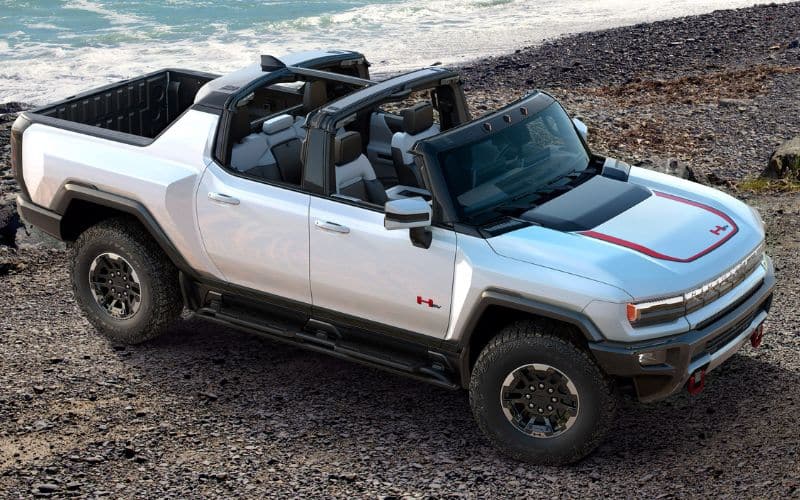 #2: Ford Bronco Raptor
The Ford Bronco Raptor variant turns the base Ford Bronco's adventure and performance dial up to the maximum, introducing a level of power and capability that leaves a lasting impression on both on-road and off-road terrains.
Its removable roof and doors mean you can truly immerse yourself in the wilderness. That's the spirit of true American open-air motoring adventure!
Inside, the cabin mixes ruggedness with luxury: high-quality materials, clever tech interfaces, and a spacious layout for 5 occupants.
Of course, it also features state-of-the-art infotainment and safety features that ensure you don't need to compromise on modern conveniences.
#3: Land Rover Range Rover Evoque Convertible
In a world where automakers continually push the envelope in terms of design and functionality, the Land Rover Range Rover Evoque Convertible stands out as a genuinely unique proposition. This is a convertible with 5 seats unlike any other on this list.
This convertible exudes an aura of sophisticated ruggedness – think of it as a pair of Gucci hiking boots. It is all premium materials and has excellent fit and finish, exactly as you'd expect from a Range Rover model.
Underneath lies the heart of a true Range Rover. It's equipped with Land Rover's renowned all-terrain capabilities, ensuring that the Evoque Convertible isn't just for city cruising.
It has a bevy of off-road technology to make it a fun and fancy SUV.
#4: Jeep Wrangler Unlimited
The Jeep Wrangler Unlimited embodies American ruggedness and adventure – but with a touch of convertible excitement for occupants.
Recognizable from miles away, the Jeep Wrangler Unlimited's 4-door silhouette is an unmistakable design that carries with it a legacy of off-road prowess.
Unique in the convertible realm, the Wrangler Unlimited offers a multi-configuration roof system. Whether you opt for the Sunrider soft top or the Freedom Top hardtop, occupants are promised an immersive open-air experience.
With easy-to-remove doors and fold-down windshield, it takes convertible experiences to unmatched heights, making every journey an adventure in itself.
The 5-seater Jeep Wrangler Unlimited ensures all occupants experience comfort, even on the toughest terrains. The interior cleverly balances ruggedness with modern amenities, infotainment systems, and safety features.
Powering the Wrangler Unlimited is a range of robust engines, each promising the torque and grunt necessary to overcome any obstacle in your path.
Related: 9 Convertibles With The Best Ground Clearance (Sorted By Size)
#5: Jeep Gladiator
When you blend the ruggedness of a Jeep with the practicality of a pickup truck and the joy of open-air driving, you get the Jeep Gladiator.
Distinctive in its class, the Gladiator is a 5-seater convertible truck, a blend of workhorse duty and leisurely drives.
The open-air freedom synonymous with Jeep is well-presented here; with a removable roof and doors, it ensures every drive is an unparalleled experience, be it on bustling city streets or remote off-road trails.
The Gladiator's 5-seater configuration ensures roomy comfort for all passengers, making it perfect for family getaways, camping trips, or hauling gear for your next adventure.
#6: Ford Bronco Soft Top
The Ford Bronco Soft Top offers an exhilarating open-air experience for those who yearn for more adventurous open-top driving.
Its design is as iconic as its hard top sibling, with the flexibility of a soft-top roof that can be quickly and easily retracted.
With the roof down, this convertible with 5 seats isn't just for the urban jungle. It is built with leading off-roading capabilities, legendary toughness, and a do-it-all attitude as standard.
The interior doesn't skimp on comfort despite its off-roading bent. High-quality materials and myriad tech features ensure that even when you're out in the wild, you're never too far from modern comforts.
#7: Jeep Wrangler
Few vehicles possess a lineage as iconic as that of the ever-popular Jeep Wrangler.
The Jeep Wrangler is unmatched in its ability to bring the outdoors in. It sports the same convertible options as the Jeep Wrangler Unlimited, the Sunrider soft top, and the Freedom hardtop.
Beneath its rugged exterior, the Jeep Wrangler is engineered to tackle wild America. Its 4×4 capabilities allow it to traverse terrains that would leave most vehicles in its wake.
Inside, it is adorned with modern amenities and tech features, such as the latest infotainment systems and advanced driver assistance features.