Not every convertible made today is designed to be a sleek, low-slung, 2-door, 2-seater.
The rule of thumb is that low ground clearance usually means more performance, but not everyone aims to set lap records on track days.
We've investigated, researched, and compiled a list to figure out the convertible with the highest ground clearance.
#1: Ford Bronco: 8.4 Inches
The Ford Bronco, a nameplate with a storied past, made a triumphant return in 2021 and didn't disappoint. An iconic off-roader at its heart, the Bronco was designed with a clear intention: to reclaim its legacy and challenge other 4x4s in its category.
Why is it on a list of convertibles with the highest ground clearance? In both its Hard Top and Soft Top configurations, the Ford Bronco has a whopping 8.4 inches of ground clearance – and qualifies as a convertible. This isn't just impressive for a convertible; it's commendable for an SUV.
For comparison, many standard SUVs measure around the 7 to 8-inch mark. The Bronco's raised stance is crucial for its off-roading prowess, allowing it to easily navigate over rocky terrains, through muddy trails, and across shallow streams.
Under the hood, the Ford Bronco offers a choice between a turbocharged four-cylinder and a V6, providing ample power for both off-road escapades and city driving. The Bronco's suspension, paired with the significant ground clearance, is tuned for rough trails and a comfortable drive on highways and city streets.
The Ford Bronco's design, both in Hard Top and Soft Top versions, pays homage to its predecessors while incorporating modern design cues. It strikes a balance between retro charm and contemporary styling.
What truly stands out about the Ford Bronco is its versatility. The 8.4 inches of ground clearance isn't just a number – it's a testament to the Bronco's capability and the freedom it offers its drivers.
#2: Land Rover Range Rover Evoque Convertible: 8.3 inches
The Range Rover Evoque Convertible must be one of the strangest convertibles ever. What's even weirder is that it makes for a fantastic convertible.
Beneath its sleek and stylish exterior and luxurious interior lies a heart of capability: the brand's legacy is for off-road dominance, and the Evoque doesn't disappoint.
With a ground clearance of 8.3 inches, the Evoque stands just a tad shorter than the Ford Bronco. However, this doesn't mean the Evoque compromises on its off-road credentials.
It comes packed with an array of advanced off-roading technologies, such as Terrain Response, Hill Descent Control, and All-Terrain Progress Control. These enable the Evoque to traverse challenging landscapes with confidence.
However, the Evoque is designed with urban landscapes firmly in mind. Its compact size and sleek design mean it's as much at home on city streets as it is on dirt tracks.
The Range Rover Evoque's combination of city elegance and off-road tenacity makes it an enticing choice for those who desire a luxury SUV that won't balk at the idea of a weekend adventure.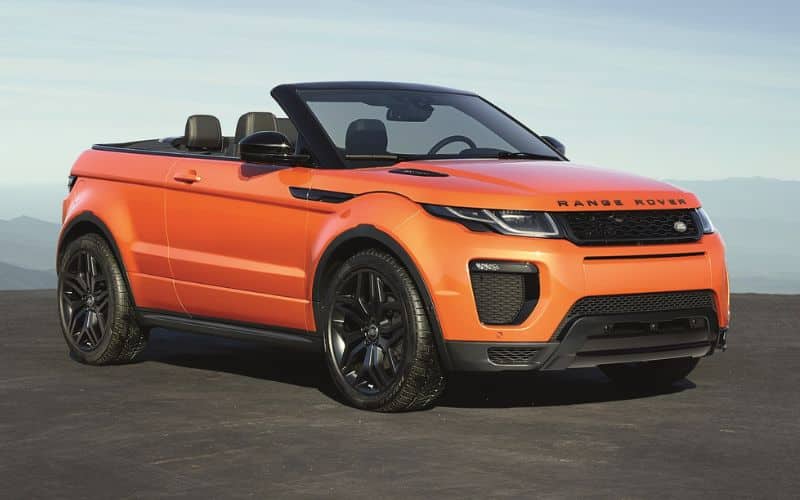 Related: 7 Convertibles With 5 Seats (With Pictures)
#3: Ford Mustang Convertible: 5.7 inches
The Ford Mustang is one of the Blue Oval's most popular models. It is a muscle car in the traditional sense: big engine, big performance, and big curbside appeal.
With a maximum of 5.7 inches of ground clearance, the Ford Mustang Convertible claims the third spot on our list of convertibles with the highest ground clearance.
For reference, a standard midsize sedan offers a ground clearance of approximately 5.1 inches.
As we mentioned, having a high ground clearance doesn't necessarily mean a compromise in performance. The 2.3-liter Ecoboost and 5.0 V8 engines certainly make for quick cars.
That high ground clearance helps to make the Ford Mustang Convertible a well-rounded vehicle for daily driving. Auto journalists commend the suspension of the Ford Mustang Convertible (and its coupe brethren) for their compliance and smoothness.
#4: Mini Cooper Convertible: 5.3 inches
Just looking at the Mini Cooper Convertible, you'll imagine its fun factor. Bringing smiles to many hundreds of thousands of owners around the world, this is the epitome of a small convertible for the young-at-heart.
Mini isn't a British-owned brand anymore, but since BMW bought the company in the early 2000s, the Mini name is once again as popular as it was in its heyday in the 1960s.
With its convertible design, the fun factor of the conventional hatchback shape is taken to the next level. This is a 2-door convertible designed for the urban landscape and beachside days.
The Mini Cooper Convertible has 5.3 inches of ground clearance, making it the convertible with the fourth-highest ground clearance in our research.
To put that into perspective, a standard hatchback has a ground clearance of approximately 6.0 inches.
#5: Lexus LC Convertible: 5.2 inches
The Lexus LC Convertible claims the fifth spot on our list of convertibles with the highest ground clearance.
Lexus builds vehicles renowned for their excellent quality, refinement, reliability, and driveability. The Lexus LC Convertible is an elegant convertible with high ground clearance that's also packed with performance and luxury.
With a ground clearance of 5.2 inches, the Lexus LC Convertible stands fifth on our list but should not be considered an average vehicle.
For comparison, the average ground clearance for luxury coupes and convertibles typically hovers around 4.8 inches, putting the Lexus LC Convertible ahead of many of its peers in this regard.
That added ground clearance helps to make the suspension more cushy, comfortable, and responsive. You certainly won't have a sore back after a few hours of traveling in this grand tourer convertible.
What that raised ground height does is it also speaks to Lexus's intention of creating a convertible that's both performance-oriented and practical for everyday use.
Owners and automotive writers alike consistently praise the Lexus LC Convertible for its comfortable ride quality, further accentuated by its adaptive suspension system.
With the top down, cruising in the LC Convertible is nothing short of a relaxing affair.
#6: BMW 4-Series Convertible: 5 inches
BMW proudly advertises itself as creating "The Ultimate Driving Machine" – and we're not going to argue with that when looking at the BMW 4-Series Convertible.
The 4-Series is the perfect blend of sportiness, luxury, and practicality: it is a convertible with 5 seats, after all.
It sports a ground clearance of 5 inches, which means it can glide over everyday road imperfections while still maintaining its sporty stance and handling dynamics.
The average ground clearance of convertibles of this size and price point is 5.1 inches, the BMW 4-Series Convertible's ever-so-slightly lower ground clearance does make it driveable over city streets and country roads with comfort and composure.
Under that sleek hood lie an array of turbocharged powerplants that are fuel-efficient and punchy. When paired with the 5 inches of ground clearance and suspension setup, the BMW 4-Series Convertible is enhanced for all-weather, all-seasons, and all-day driving pleasure.
Of course, BMW engineers have not only focused on the suspension and driveability of the 4-Series Convertible. Inside, it seats 5 occupants in luxury, with high-quality materials and the latest tech offerings. Top-down or up, this convertible promises an immersive driving experience that's hard to match.
Related: 10 Cheap Convertibles with Good Gas Mileage (With Pictures)
#7: Mazda MX-5 Miata: 4.9 inches
The Mazda MX-5 Miata, affectionately dubbed the world's favorite roadster, has long been synonymous with pure, unadulterated driving pleasure.
Its lightweight design and impeccable balance make it a favorite among driving enthusiasts and auto journalists alike.
While 4.9 inches of ground clearance might seem modest in terms of the average compact sedan in North America, for a sports car – especially a convertible one – the Mazda MX-5 Miata's 4.9 inches of ground clearance is quite an accomplishment.
This ground clearance ensures the Miata can confidently manage city streets without drivers' constant worrying about scraping the undercarriage on a speed bump or uneven road. The Miata's higher-than-average ground clearance adds to the car's daily usability.
As we mentioned, the Miata is an exercise in lightweight design – and for that, it is equipped with a 2.0-liter gasoline engine that delivers 181 horsepower. That keeps the weight lower over the front suspension and produces more than enough power to propel the slim 2,341 pounds through corners.
Inside the cabin, the Miata offers a driver-focused layout. Every button, switch, and dial is placed with purpose, ensuring the driver can focus on what this car does best: driving.
In a world of increasing complexity and assisted driving, the Mazda MX-5 Miata is a reminder of the joys of simple, well-engineered 2-seater sporty cars.
The 4.9 inches of ground clearance simply adds to its charm, making it an enjoyable convertible for all roads and occasions.
#8: BMW 8-Series Convertible: 4.6 inches
The BMW 8-Series Convertible seamlessly blends performance, luxury, and open-top driving. Few cars come close to this German masterpiece.
It boasts 4.6 inches of ground clearance, which is just enough raised ground clearance to confidently navigate city streets and the occasional steep driveway without scraping the front bumper and other undercarriage sections.
Considering the car's size and performance pedigree, this ground clearance is impressive and ensures its daily usability remains uncompromised.
Under the hood, the BMW 8-Series is nothing short of a powerhouse. Whether you opt for the straight-six or the V8 variant, there's abundant power and torque available for exhilarating performance at your right foot.
The engine's growl and the open sky above accentuate the driving experience to a whole new level. That's the allure of drop-top motoring!
Despite its performance and 5-seater convertible configuration, the 8-Series Convertible doesn't compromise on luxury.
The interior is sumptuously designed with premium materials, class-leading driver assistance, and infotainment technology, and comfort features that make long drives a pleasure.
As with the Lexus LC Convertible, the BMW8-Series is also equipped with adaptive air suspension to make for a smooth and composed drive no matter the road imperfections under the tires.
The 4.6 inches of ground clearance ensures it is capable as a daily driver and doesn't compromise its sportiness.
#9: Fiat 124 Spider: 4.5 inches
The Fiat 124 Spider is the Italian brother of the Japanese Mazda MX-5 Miata. These two convertibles share the same underpinnings, but each has a distinctive appeal that sets them apart.
The Fiat 124 Spider has 0.1 inches less ground clearance than its Mazda counterpart, with 4.5 inches. This marginally lower ground clearance still highlights its everyday drivability.
Still, that slight difference also gives the Fiat 124 Spider a stiffer suspension profile aimed at more spirited driving than the Mazda does.
Its ground clearance remains elevated enough to manage the challenges of daily driving scenarios, ensuring practicality doesn't take a backseat to passionate driving on tight and twisty canyon curves.
Powering the Fiat 124 Spider is a turbocharged 1.4-liter engine that produces fantastic pops and bangs while matching the engaging driving appeal of the Mazda MX-5 Miata upon which it is based.
The Fiat 124 Spider's styling, both inside and out, is a nod to its Italian heritage. The iconic silhouette of a 2-seater convertible from the 1960s is charming, welcoming, and sexy.