The Dodge Avenger was originally a 2-door coupe that was sold from 1995 to 2000.
In 2008, it was reintroduced as a 4-door sedan that looked like a smaller version of the Dodge Charger, but used the same chassis as the Chrysler Sebring and Chrysler 200.
In this article, we'll take a look at some of the more common problems and issues that owners of the Dodge Avenger have encountered over the years.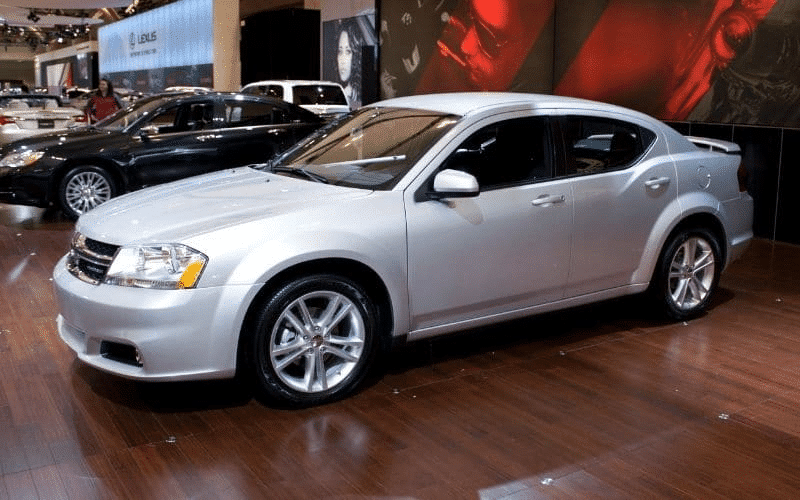 1. Shifter Stuck in Park
Lots of owners of early model years of the second generation Dodge Avenger have encountered problems where the shifter gets stuck in Park.
This issue has caused owners to get stuck because they're unable to shift into Drive or Reverse.
It usually only affects the 2008 to 2010 model years of the Avenger with the 2008 model having the highest number of complaints.
The Chrysler Sebring and Chrysler 200 can also have similar shifter problems.
Here's how a few owners on AvengerForumz.com described their experience:
"2008 Avenger SE, 29.364 miles. Got stuck in park and had to have it replaced."
"Well, mine just gave up the ghost today, 2008 Avenger, 51,185 miles trying to leave work. Heard a small cracking sound this morning when I left for work but didn't think anything about it."
"All of my Avengers & Sebrings (I have 2 Sebrings 2007 & 2010, 2 Avengers 2009 & 2014) are driven hard & put away wet (I own and operate a Driving School), and I FINALLY just had a shifter break on the 2007 Sebring at 157,000 miles."
Dodge announced a recall in 2010 to preemptively fix this problem in affected vehicles.
What actually breaks is the pink plastic piece that disengages the shift lock mechanism when you move the lever to the right to get it into gear.
Dealers would add some reinforcement to this plastic piece so that the spring that hooks to it has less chances of getting disconnected.
New shifter parts cost around $50 and can be replaced by an experienced mechanic in a few minutes. It can also be done at home if you're mechanically inclined.
You can also temporarily shift out of Park yourself without replacing anything by removing the shifter bezel and pushing the pink plastic piece down and then backwards while moving the shift lever out of Park at the same time.
Many owners also just take out the plastic piece with the broken hook and drill a new hole in it, then use a small "S" hook from the local hardware store to attach the spring.
2. Transmission Issues
The second generation has a tendency to suffer from transmission issues and failures at higher miles.
Problems can affect both the 4-speed and the 6-speed automatic transmissions equipped in the Avenger from 2008 to 2014, but the 6-speed tends to be more problematic.
Common symptoms of a failing transmission include:
Transmission goes into Limp mode
Won't shift into higher gears
Certain gears act like it's in Neutral
Jerkiness
Hard downshifts
Clunking noises when shifting out of Park
Whining noises
Transmission trouble codes
Here's how a few owners on AvengerForumz.com described their transmission woes:
"I have a 2010 Dodge Avenger r/t, 2.4L, 144K miles. I haven't had any major issues with this car until now. My transmission is stuck in limp mode & my mechanic offered to rebuild it for $2400."
"So the worst thing happened with my car. It's now got 8 neutrals lol. I drive a 2013 dodge avenger RT. Trans shop quoted almost 5k for a reman transmission install."
"My 2014 Dodge avenger rt just broke down 5 days ago, I took it into a transmission shop and they said I need to overhaul the whole transmission 62TE."
Rebuilding the transmission or getting a new one installed can easily cost $3,000 to $5,000.
But before you spend thousands of dollars, it's best to have your car checked out by a transmission specialist.
You can also get a used transmission for much less but there's no telling how long it will last. But this is a great option if you just need to get the car running and driving for a few more years.
Lots of Dodge and Chrysler vehicles use the same gearbox, so you can usually fit a transmission from a Dodge Caravan, Chrysler Town & Country, or Chrysler 200 into the Avenger.
Many transmission issues can also be fixed by simply draining and filling the transmission fluid up to three times within a short period. This gets out most of the old transmission fluid and ensures that the gearbox is properly lubricated.
Ideally, the fluid should be replaced every 60,000 miles to keep the transmission in good shape.
A defective input speed sensor, shift solenoid and hydraulic pump are some of the other more common causes of transmission issues in the Dodge Avenger, but these can be replaced without having to rebuild the entire transmission.
3. Throttle Body Issues
A common issue on the second generation Avenger is a malfunctioning throttle body.
This problem typically only affects Dodge Avengers equipped with 2.4-liter 4-cylinder engine and can occur in all model years from 2008 to 2014.
Common symptoms of a faulty throttle body in the Avenger include:
Lightning bolt symbol on dash for Electronic Throttle Control (ETC) issue
Goes into limp mode and can't get to higher speed
Engine stalling problems
Rough idle
Check engine light
Here is how a few owners on AvengerForumz.com described their experience:
"I've got a 2014 Avenger with the 4 cylinder. In the last week or two, when I get on it some, like leaving the ramp to get on the freeway, it will stumble after it shifts ( almost like you turn the key off and back on very quickly). Then it runs OK after that. But today, after it did that one time, the ETC light came on. We stopped to get groceries, and when we got back on the road again, the light was off again."
"My 2010 Avenger SXT 2.4L recently started showing the dash light lightning bolt and then it went into limp mode and I could only go 20 mph. It now also idles very rough when you turn it on."
"Recently my Avenger started throwing up an ETC light and my car would go into almost a "limp-mode". In this mode I could only go around 35mph max, and my foot would be to the floor. It would happen at random times throughout the year and a half I have owned it. Usually restarting the car would fix it. Finally, this past week it has been giving me the ETC light constantly and it is in a constant limp-mode."
The throttle body in the Avenger's 2.4-liter engine can get clogged up with gunk and oil from the PCV (Positive Crankcase Ventilation) system.
When it gets too dirty, the butterfly valve can start to bind and start causing engine running problems.
Over time, the plastic gears that turn the valve can wear out and break due to the binding.
A lot of Avenger owners were able to fix their engine stalling and limp mode issues by cleaning out the throttle body using a fuel system cleaner or something like Sea Foam Spray.
You can also replace the throttle body which costs $200 to $300 at an auto parts store.
After replacing the throttle body, you'll also need to recalibrate it using these steps:
Turn the ignition to the "ON" position
Wait for most of the dashboard lights to go out
Slowly step on the gas pedal and hold it down for 20 seconds
Slowly release the gas pedal
Switch the ignition to "Off"
In some cases, Avenger owners have also had to replace their ECU to fix their stalling and limp mode problems.
Related: 9 Best & Worst Dodge Avenger Years (With Facts & Stats)
4. Alternator Issues
Alternator failures are a fairly common problem with the second generation Dodge Avenger.
Although alternators are considered a wear and tear item that eventually needs to get replaced, they seem to go out more often in the Dodge Avenger.
The alternator's decoupler pulley is also known to go bad and cause a very loud and constant noise as it starts to reach 80,000 to 100,000 miles.
Common symptoms include:
Battery light on dash
Dead battery
Car won't start
Grinding noise
Squeaking bearing noise
Random electrical issues
Here's how a few owners on AvengerForumz.com described their experience:
"It's a 2011 Avenger Heat. I've been getting the battery charging system light coming on, so I called the dealer and dropped it off today. They called about 1.5hours later and told me they're ordering me an alternator and it should be in tomorrow morning. Car only has 12,200 miles on it and is less than 1 year old."
"In the last 4 years, my 2012 dodge avenger has 3 Alternators replaced, YES 3 from dodges dealership. No one seems to know why. Completely stock with the exception of aftermarket rims."
"My '08 has a ridiculous rattling sound when running. It seems to sound slightly better at higher RPMs. I had someone look at it today and he thinks it is a bad pulley."
A new alternator costs around $150 for an aftermarket or remanufactured unit or up to $400 a new OEM one. The alternator decoupler pulley goes for around $100.
Any competent mechanic should also be able to install these parts in about an hour.
5. Heater Doesn't Work
A blocked heater core is a very common problem on lots of second generation Dodge Avengers.
It affects all model years of the second gen from 2008 to 2014.
When the heater core starts acting up, you'll only get hot air from some of the vents or no hot air at all.
Here's how a few owners described their situation:
"I have got a heater problem with my 2008 dodge Avenger R/T. It blows hot on the driver's side and cold on the passenger side. Cold air includes passenger vents, defrost and floor. I've taken it to dodge and they flushed my coolant which did nothing. They ran diagnostics and said all the dampers and everything are operating as they should. Now they want to change my heater core which they did the previous year and i thought it fixed the problem but the weather was somewhat warm after that repair."
"I have a 2013 Avenger se just blows cold air. I have replaced the blend door actuator under the glove box that is on the blower motor."
"I had problem of blowing cold on passenger side in my 2008 Avenger RT 3.5L also; 181k mi."
A new aftermarket heater core costs around $100 while an OEM one goes for around $200.
The Dodge Avenger's heater core is just under the driver side dash and isn't very difficult to replace.
It can usually be done in about an hour and lots of DIY mechanics have no problem doing it in their garage by themselves.
6. Thermostat Housing Failures
The Avenger's plastic thermostat housing eventually gets brittle and breaks over time which results in coolant leaks.
A noticeable coolant smell also indicates that there's coolant leaking at the thermostat or in one of the coolant lines.
This issue is especially common in the 2.4-liter engine and affects all model years from 2008 to 2014.
Other issues that may appear when the thermostat itself actually breaks include:
No heat
Check engine light
Overheating
Engine temperature doesn't go up
Here is how a few owners described their experience:
"My son's 2013 Dodge Avenger (2.4L) blew the upper radiator hose today. We towed it home, replaced the hose and refilled the coolant. When we started the car coolant began leaking out of the side of the motor at a connection."
"I noticed a "fluid" leaking, wasn't sure what it was (at first)… my car will randomly blow cold air at seemingly sufficient temperatures, and then proceed to suddenly get too warm/risk overheating."
"I have a 2012 Avenger 3.6 SXT Plus, went to work and the check engine light came on. Stopped at Advance Auto and got the code. It read P0128 – thermostat, car is running a tad cooler than normal. Which has to be the thermostat."
A new thermostat only costs around $100 and is very easy to replace.
If there are no cracks or leaks in the housing, but you suspect that you have thermostat related issues, you can also just replace the thermostat itself.
Keep in mind that the 2.4-liter engine also has a secondary thermostat located just below the primary one that you might also need to replace.
7. Brake Wear
The second gen Dodge Avenger's brake rotors have a tendency to wear out and warp much earlier than in other cars.
Owners often report having to need new rotors every 40,000 to 50,000 miles.
For comparison, most brake rotors last up to 70,000 miles with some vehicles only needing new rotors at well over 100,000 miles.
Signs of a worn brake rotor include:
Vibration in steering wheel when braking
Pulsing in brake pedal
Squealing or grinding noises
A few Avenger owners had this to say:
"I don't know if there is some other underlying issue on my car but I continually have an issue warping rotors. Last time I got some drilled and slotted rotors thinking maybe that would cut down on some of the heat, but they are having the issue now also."
"I put a lot of miles on my 08 R/T. It would need fronts every 40K miles and rears every 50K. Replacing the rotors each time (not worth turning them). I believe the dealership used the OEM brakes on each time, around $300 for each axle."
"I have a 2008 SXT. When I brake my steering wheel shakes back and forth very quickly and the brakes don't work as well as they used too.I only have 48000 km on my car as well."
New brake rotors cost around $50 to $100 a piece and are fairly easy to replace even for a novice mechanic.
The fronts will also go out much sooner than the rears but this is common in all vehicles.
8. Gas Cap Warning on Dash
Many owners have reported seeing a "Gas Cap" message on the Dodge Avenger's instrument cluster
This normally appears if the gas cap isn't tightened properly.
However, if the gas cap is securely in place, its rubber seal may have worn down or there might be a leak somewhere in the car's EVAP system.
Here is how a few owners described their experience:
"Every couple weeks I get a gas cap notification, and I've noticed when I take a rag, and clean the gas cap and the spot you put the gas cap the warning goes away."
"On my (new to me) 2012 Avenger 2.4L— on day 3 the check engine light came on and the words "gas cap" appeared. So, I purchased a new gas cap…. and it does fit a lot tighter."
Some owners were able to get rid of the gas cap message by simply wiping down the inside of the gas cap and the fuel filler tube.
Applying some Vaseline or petroleum jelly around the gas cap's gasket after cleaning it out has also worked for a lot of people.
A new gas cap also only costs around $30 and the warning message should eventually go away after a few drives.
If the issue persists, it's best to take it to a mechanic who can perform a smoke test to find the leak in the EVAP system.
9. Water Leaks in Trunk
Water getting into the trunk is a fairly common issue in the second generation Avenger.
The shape of the trunk lid makes it for water to build up on it. If the trunk is opened too quickly, the water slides off and drains into the trunk itself.
Over time, the excess moisture will eventually cause the trunk floor to rust out.
Here is how a few owners described their experience:
"After it rains or a car wash, when you open the trunk lid. The water runs down the paint,towards the rear window, but instead of going into the gutter around the body of the car it runs off into the trunk and gets anything in there wet."
"My 2010 R/T has same issues. But open it up slowly until you get to about 45 degrees and all is good."
The best way to avoid water getting into the trunk when it's wet is to open the trunk lid slowly. This allows the water to flow into the drain channels around the trunk area more effectively.
To prevent sheets of water from forming on the trunk lid, you can remove the rubber plugs on the inside of the trunk lid to make the water drain off more effectively.
Many owners have also found that water gets into the trunk due to a faulty seal around the third brake light.
To fix this, you can either replace the seal or apply silicone sealant all around the edges of the housing.
Related: How Long Do Dodge Avengers Last? (12 Important Facts)
10. Suspension Issues
The first generation Dodge Avenger had a recall for the front suspension's lower control arm ball joints which had a tendency to wear out prematurely and completely separate.
When the ball joints let go, the car's body can completely drop to the ground.
Before it fails completely, the faulty suspension components can also cause clunking or rattling noises when going over bumps.
The same problems also affect the Mitsubishi Eclipse and Chrysler Sebring from the same era.
Here's how one owner described their experience:
"I was easing out of my subdivision tonight to grab a bite to eat and my front left suspension completely gave out and dropped my 95 Avenger to the concrete. Turns out, it is the lateral ball-joint separation problem that was issued a recall back in '99."
If the recall hasn't been performed yet, it's going to be difficult to source the correct parts for the car due to its age.
11. Blend Door Actuator Issues
Faulty blend door actuators are a fairly common problem in the second generation Dodge Avenger.
The most common issue is that the actuators will make a constant clicking sound because the electric motor's gears are worn down and stripped.
The air coming from the vents will also be inconsistent since the blend doors manage the airflow of the HVAC system.
These problems can affect all model years of the second gen Dodge Avenger from 2008 to 2014.
Here's how a few owners described their experience on AvengerForumz.com:
"I have a 2010 Avenger, I have had it since 4/2011. Every few months I have had to change the Door actuator on the far right, above the glove box."
"I have a 2008 R/T. Has 233000 miles on it. The blend door actuator was clicking so I replaced it. It still clicks. It will start clicking when the car is off even. You could walk by it and you'll hear it clicking, BUT the moment you open the door any door it will quit."
A new blend door actuator costs around $30. But the Avenger has three actuators, so you'll have to figure out which one is defective.
It's not uncommon for multiple actuators to fail at roughly the same time.
Getting to the blend doors is a little difficult since they're located behind the dash, but a lot of owners have been able to do it at home.
Once the blend doors are replaced, you may also need to have it recalibrated at the dealer.
12. Plastic Interior
Early model years of the second gen Dodge Avenger used lots of hard and shiny gray plastic on the interior, especially on the dash and center console.
This makes the car look and feel a bit cheaper and outdated, especially when compared to modern car interiors.
The interior was updated during the 2011 model refresh. It used more soft-touch plastics which had a higher quality feel to them.
The seats upholstery was also upgraded and the available 6.5-inch navigation screen made the interior look a lot more modern.
Dodge Avenger Pros & Cons
Pros
Muscle car looks
Affordable price
Excellent overall reliability
Comfortable and quiet ride
Decent fuel economy
Available all-wheel drive
Powerful V6 engine option
Sporty handling from R/T model
Cons
Poor resale
Outdated interior and tech
Sluggish base engine and 4-speed
What Do The Reviews Say?
"Taken on its own, the 2014 Dodge Avenger is pleasant enough. This front-wheel-drive midsize sedan looks pretty cool thanks to aggressive styling that mimics Dodge's larger, rear-drive Charger sedan. There's also a powerful available V6 and a starting sticker price that undercuts most of the superstars in the midsize car class. Beyond this, though, the Avenger pretty much runs out of gas."
"On the road the 2014 Dodge Avenger delivers strong performance when equipped with the 3.6-liter V6, an engine that also delivers livable fuel economy. The 2.4-liter four-cylinder is underwhelming, but is probably good enough to meet the needs of most buyers as long as you get the six-speed automatic transmission."
"Overall, the SE and SXT models are enjoyable to drive, with the suspension delivering a comfortable ride and decent handling. Folks looking for a sportier driving experience can opt for the R/T, which benefits from a firmer suspension, albeit with some loss of ride comfort. The crisp, nicely weighted steering is a plus, even though it's still not quite as sharp as the steering in a competitor like the Mazda 6."
"The Avenger's interior design is rather unremarkable, but overall materials quality is respectable. Most controls are straightforward and easy to use, although the optional touchscreen's design and menu structure is outdated and unintuitive. Furthermore, commonplace technology like a rearview camera and rear parking sensors aren't even offered as options here, a definite negative in a car with thick rear roof pillars that hamper visibility."
"Up front, the seats are comfortable, though the seating position feels unusually elevated, a trick designers used to gain a little more legroom. The backseat is a tad cramped, a byproduct of the Avenger's more compact overall dimensions."
What's the Resale Value of a Dodge Avenger?
Here's a quick look at the Dodge Avenger's used pricing on Edmunds at the time of writing.
| | | |
| --- | --- | --- |
| Year | Mileage | Price |
| 2014 | 58,990 | $9,593 |
| 2013 | 72,929 | $8,799 |
| 2012 | 82,404 | $7,995 |
| 2011 | 99,400 | $7,398 |
| 2010 | 104,910 | $6,995 |
| 2009 | 117,000 | $6,499 |
| 2008 | 125,605 | $5,950 |