The Ducati Scrambler is a naked or standard V-Twin motorcycle with a classic style.
This easy-to-ride roadster has been on sale in the US since 2016 and is available in a variety of trims.
In this article, we'll take a closer look at its reliability and average lifespan.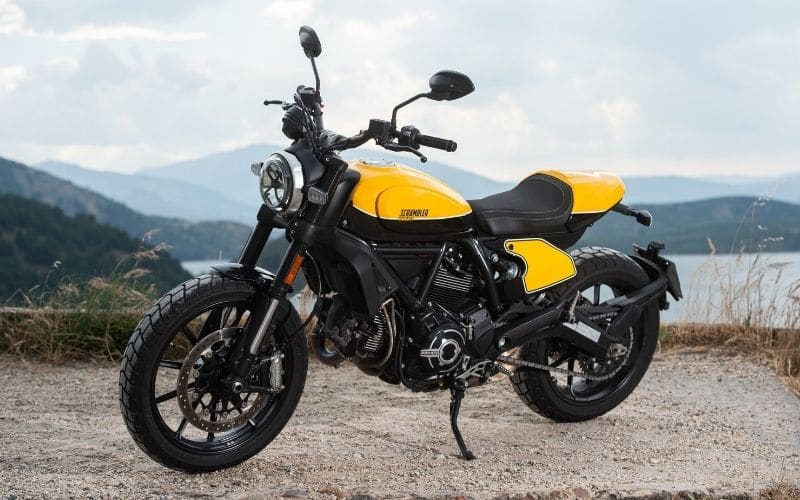 Here is the short answer to are Ducati Scramblers reliable:
The Ducati Scrambler is generally quite reliable if you don't treat it like a sportbike and maintain it properly. It is geared perfectly for urban use, will go all day at a comfortable 65MPH and handles low speeds well thanks to its tried and tested 803cc, air-cooled, L-Twin engine.
How Reliable Are Ducati Scramblers?
Ducati bikes aren't best known for their reliability and they can be quite temperamental, although the Ducati Scrambler shouldn't pose too many problems and is considered by many to be their most reliable model if you use it responsibly, which includes:
Ridden regularly
Stored properly
Serviced according to the owners manual
Not ridden aggresively
Sure the base models could use some component upgrades over stock, but pound for pound it's an excellent overall bike and very dependable. Not the best at anything but does most things quite well.
Although the Scrambler uses the same engine as its big brother, the Monster, it's considered more reliable.
It's setup to be a standard bike for daily commuting rather than an aggressive speedster.
With a lighter weight and a leisurely riding style that's not conducive to race rocketing down the roadways, the Scrambler's motor should see less wear and tear.
But don't take our word for it, here are a few quotes from some real-life Scrambler rippers:
"I bought [my Scrambler at a Ducati] dealership and have had zero problems. I find the mechanics are knowledgeable and do good work (based on my scheduled services). I just had my 12k service and have had several oil and filter changes with no leaking issues. I have popped in to have some minor issues taken care of, like chain tightening, and they dropped everything and took care of it right away, with no charge."
"With my last Ducati (a 748), I found that it was great when it was getting ridden regularly. If I garaged it for a while, I always had issues. That was in the UK, where I did that fairly often, sometimes for months. I now live in Australia, so I get out a lot more frequently on the Scrambler and touch wood, no issues at all."
"7K miles and no issues.. not a damn issue. Bike is still stock, and still awesome!"
If you are the proud owner of a Scrambler set-up for dual-sport off-roading, appropriate care after dirt, dust and grime exposure is key for dependable performance – the build-up of dirt can cause the components of a motorcycle to break down much faster.
And as with any bike, the more you use and tend to your Scrambler, the more reliable it will be.
That said, no bike is perfect; here are a few common complaints about the Ducati Scrambler's reliability:
Side Stand Failure (Solved By Recall)
The Ducati Scrambler employs a sensor switch to prevent the bike from starting if the side stand or kickstand is still down.
If the sensor fails, the bike thinks the kickstand is extended even when it isn't, causing the engine to stall out.
Clutch System Failure (Solved via Recall)
In 2016, Ducati techs noted a problem with faulty clutch plates. Some Scramblers shipped from the factory had less than ideal free-play in the clutch cable, causing clutch plate failure.
If you have a faulty clutch faulty you may have problems starting the bike or shifting gears.
Dealership inconsistencies
Some Ducati dealerships are known to be better than others. Make sure you go to a trusted, reputable Ducati-trained mechanic – check online reviews and ask around.
We recommend a valve inspection at least every 15,000 miles by a mechanic with Ducati engine experience to keep it on the road and out of the shop for the majority of the time.
How Many Miles Can a Ducati Scrambler Last?
A Ducati Scrambler can last over 60,000 miles if its owner maintains, rides and stores it according to Ducati's suggestions. A simple cafe-style roadster like the Scrambler will last for a long time if you keep its air filter and fluids fresh and have it serviced at the correct intervals.
Scroll through the Scrambler-enthusiast forums, and you'll find no shortage of bikes with over 50,000 miles.
That said, there are multiple variables at play, including ownership habits, climate, style of ridings and even which dealership you use for maintenance.
Below are some testimonials that showcase just how many miles a well-kept Ducat Scrambler will last.
My previous Ducati [had the same engine and] went to 120,000 km in 12 years. I rode 100,000 km in the first five years, and then, I stopped riding a lot for personal reasons. This bike is still running well with a lot more km with its new owner. So, I'm not all afraid about the engine longevity of our Scramblers.
I know a guy with a Scrambler [and his] 803cc engine has done over 120,000 miles here in Scotland. I also know a few older Monster and SS bikes[which have the same motor] with over 100,000 miles if they are serviced regularly; these engines last a long time.
Keep in mind, a Ducati Scrambler can last a long time but you'll undoubtedly have a few issues along the way:
"Issues: I had the bolt of the side-stand come off (I didn't realize there was a recall, so I just bought a new bolt). The battery has recently started to act up – despite riding almost every day (so I might have to get a new battery). Nothing else except a bit of self-maintenance like bleeding the front brakes etc."
"At 24,000 miles. Issues: 4 oil leaks (one major, three minor from oil filter). Extremely long repair time–parts can take 2+ months to arrive from Italy even though they have a factory here. Clutch burned out because of the wrong adjustment by Ducati. Warped front rotor. Rusting bullets on the tank and rear exhaust pipe. Two small rubber pieces from the holes holding that little black front fairing piece to the tank fell out."
"Regarding the kickstand: I brought the bike to the dealer, who also told me there was a recall. Nobody tried to tell me beforehand, and if I hadn't got the bike there, I would never know that there was a recall. Oh, and the 24k service will take three full days, and they don't give loaner bikes."
What is Considered High Mileage for a Ducati Scrambler?
A Ducati Scrambler is considered high mileage at 30,000 miles. After so many miles, it will have developed wear and tear on components and may have some signs of rust, however you should not judge a bike by its odometer reading alone.
To be clear, all naked bikes are considered high-mileage past 30,000 miles, not just the Scrambler.
Mileage helps give a better idea of the bikes overall value but shouldn't be used exclusively when making any purchase decisions.
A Scrambler is often deemed 'high mileage' after 30k because:
Naked bikes like the Scrambler are popular among new riders on a learning curve.
Standard roadsters are popular choices for heavy aftermarket customization, a practice that negatively affects longevity.
Naked bikes like the Scrambler are popular for stunt riding; stunt bikes incur wear-and-tear faster than usual.
Despite this, a Scrambler with 30k miles could very well be a wiser investment than one with half the mileage that's been neglected and had multiple owners.
When purchasing a used Scrambler:
Create a checklist ahead of time: Bringing a list of things to check and questions you have will make sure you don't forget anything while you are under conversation pressure.
Request service logs: Ask for any receipts and reports on anything from general maintenance to upgrades and repairs. A well-kept record is a promising sign the seller valued their bike.
Run the VIN: Searching the VIN will not only bring up any crash reports, but it'll also let you know if you're looking at buying a stolen bike.
Take it for a test ride while it's cold: You'll likely have to give the seller some collateral, but a test ride is a quick way to investigate for abnormalities and see how well it starts up on the fly.
What Are the Best Model Years to Buy and Avoid?
Best Years: 2019 Ducati Scrambler Icon (or any of the 2022 Scrambler Line)
While the latest Scrambler is generally the greatest, the 2019 Scrambler Icon saw a number of updates, including a retuning of its desmo engine.
The 2019 Icon came stock with a Termignoni 2-into-1 exhaust.
Ducati also gifted it with a hydraulic clutch cable and a LED headlight upgrade.
Featuring repositioned footpegs and tweaked seat padding, the 2019 Scrambler Icon is a choice model with tricked-out features at a lower price.
Worst Years: 2016
The 2016 year model Ducati Scrambler is the worst year as it had the most significant problems. The 2016 Ducati Scrambler suffered from maladjusted clutch cables which caused rough shifting and clutchplate failures and over 5,000 were recalled for side stand failure resulting in power loss and stall-outs.
If you're in the market for a 2016 Scrambler, ask the seller if its side stand sensor has been upgraded with the proper 17mm pivot bolt, which according to some sources, was enough to fix the problems.
What Usually Breaks First on a Ducati Scrambler?
Valves and cambelts are the first things to break on Ducati Scramblers, especially on neglected models or used models that have sat unused for long periods. Valve inspection and adjustment is a critical part of responsible Scrambler ownership; its highlighted by Ducati as standard maintenance.
It's critical to service your Scrambler's valves at Ducati's spec recommendation of 15,000-18,000 miles.
You may also like: How Long Do Yamaha MT-07 Last? (Complete Guide)
Ducati Scrambler Maintenance Costs
Ducati Scrambler Maintnece cost is higher than the average motorcycle service due to the complexity of its desmo engine design. It requires a technical retune service every 7,500 miles that costs over $1,000, depending on the region.
Other general ownership costs include:
Padded Off-Roading Jacket = $200
Off-Roading Gloves = $100
Winter riding gear = $200-$500
Rain gear = $75-$300
Helmets = $100-$500
Fuel = $15 a tank
Storage =$?
Insurance =average cost of adventure bike motorcycle insurance is $721 a year.
4 Tips to Make Sure Your Ducati Scrambler Lasts Long
Ride your Scrambler often and responsibly and properly prep it for storage before long periods of inactivity.
Have your Scrambler serviced by a Ducati dealership per the spec service intervals at a dealership with a trustworthy reputation.
Keep it stored indoors, under a carport, or a rugged bike tarp that fits appropriately to protect it from the elements.
Keep it clean – Generally speaking, clean bikes last longer and are more reliable.
What Are Some Alternative Options?
| | | |
| --- | --- | --- |
| Make & Model | Base Model MSRP | Fuel Economy |
| Ducati Scrambler | $8,895 | 43 mpg |
| Triumph Scrambler | $11,000 | 44 mpg |
| Yamaha XSR700 | $8,499 | 58 mpg |
| Yamaha MT07 | $7,599 | 65.7 mpg |
| Ducati Monster | $11,895 | 49.7 mpg |
You may also be interested in our article: Is the Ducati Monster Reliable?