Electric cars are not only great for reducing your carbon footprint, they also come packed with the latest tech features.
If you're in the market for an EV (Electric Vehicle), and you're a fan of Apple products then this guide is for you.
Listed below is a selection of EVs that have Apple Carplay…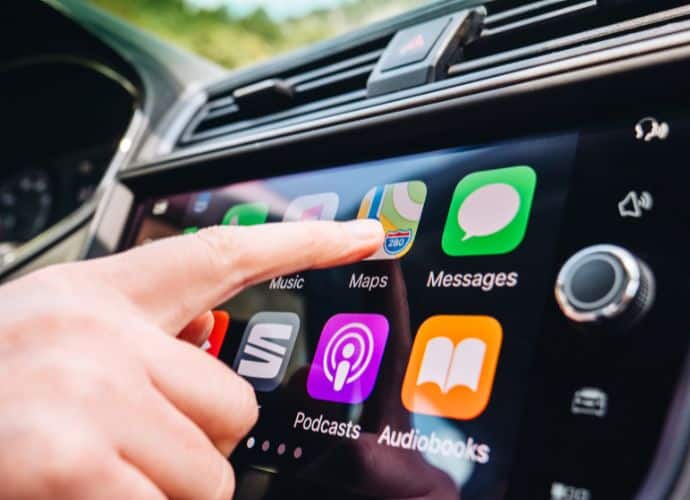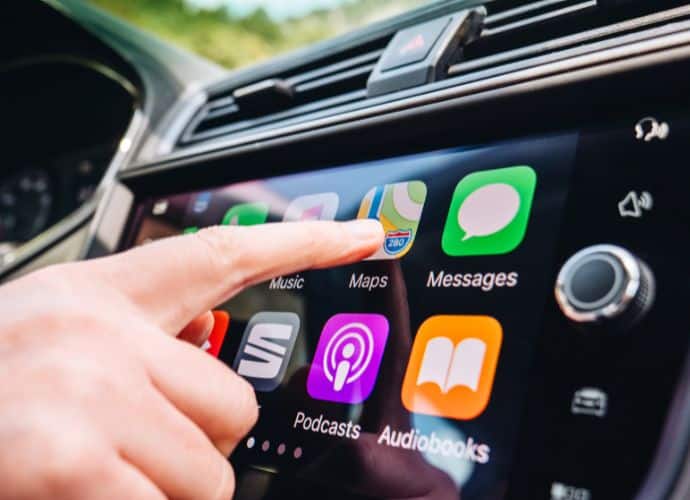 1. Mini Cooper Electric
The Mini Cooper Electric made its debut for the 2020 model year and it has proven to be a hugely popular choice.
It should come as no surprise why either – it's one of the most affordable EVs, its fun to drive and comes loaded with standard features.
One of its standout tech features is of course the integration of Apple CarPlay which allows your Apple iPhone to interface with the Mini's built-in infotainment system.
Mini is owned by BMW, and this German automaker is known for producing high-quality gadgetry in their vehicles so you can expect a seamless experience.
Since its debut the Mini Cooper Electric has had Apple CarPlay integrated, so whichever model you chose you will be kept suitably entertained.
The standard touchscreen size ranges from 6.5-inch to 8.8-inch depending on the model year you buy, the newer model have the biggest screens.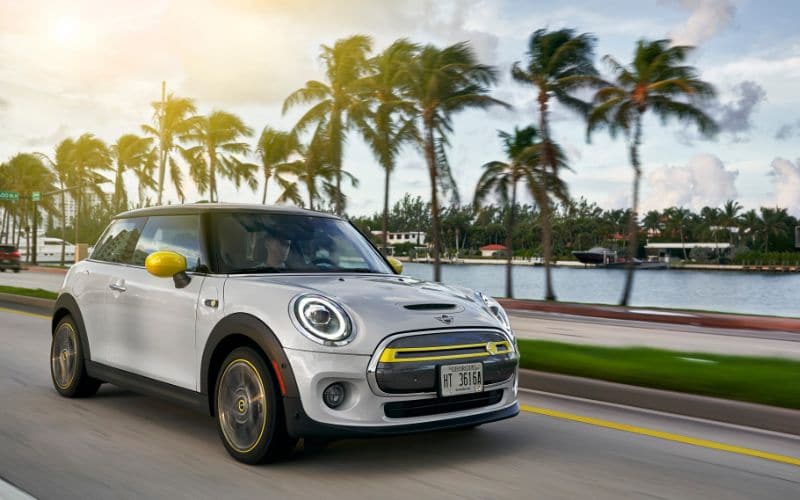 2. Nissan Leaf
The Nissan Leaf might be a small car but it still has plenty of space and offers riders comfortable seating.
It's not got the best range in the EV market but it is a cheap and cheerful option making it a great entry car for those on a tighter budget who are looking to reduce their carbon footprint.
The Leaf comes equipped with a variety of tech features including none other than Apple CarPlay.
This feature is great as it minimizes the desire to handle your phone whilst driving and you will have access to the essential applications on your dashboard screen.
Nissan Leaf models made from 2018 onwards come with Apple CarPlay keeping you and your passengers connected on your adventures.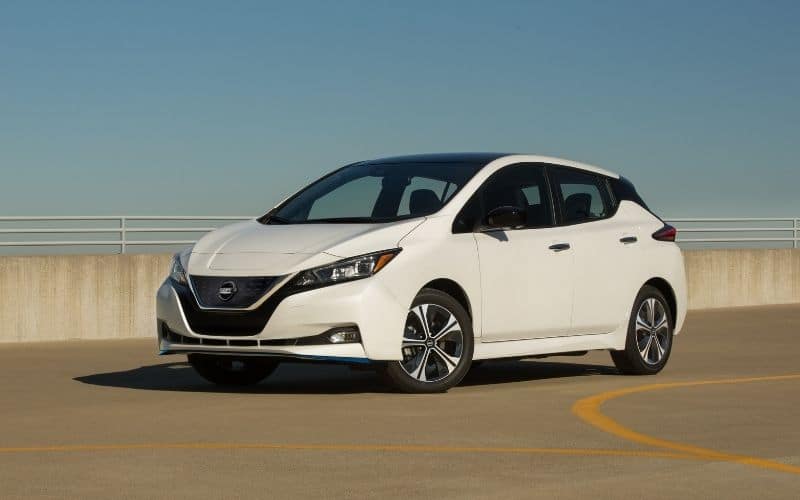 3. Volkswagen ID.4
The VW ID.4 is a great choice for those looking for a practical electrical alternative to a gas-powered SUV.
Its infotainment system isn't particularly user-friendly and will take some getting used to however we can report that since the car's inception in 2021, it has supported Apple CarPlay.
The ID.4 comes with a standard 10-inch infotainment touchscreen display that can be upgraded to a slightly bigger 12.0-inch display.
Regardless of display size, you'll be suitably entertained with your Apple device.
The main functions owners use are GPS navigation, audio or entertainment, phone calls, text messaging, and even calendaring.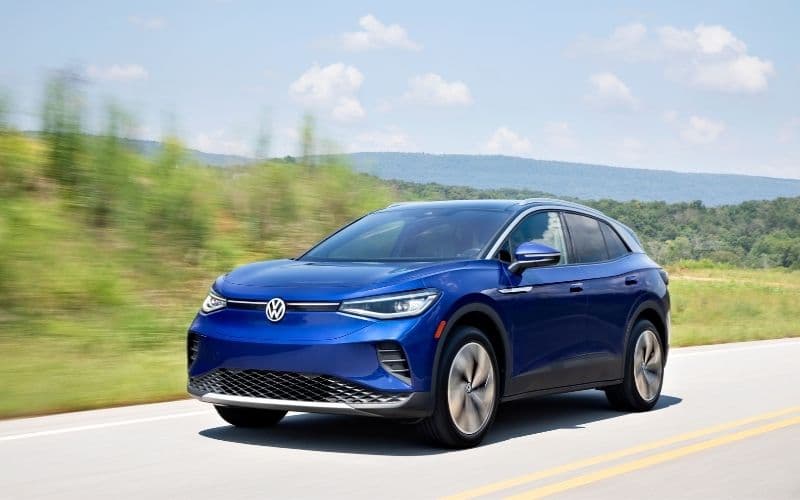 4. Hyundai Kona Electric
The Kona Electric is an eco-friendly alternative to its gas-only counterpart.
This model in particular has an air of exclusivity as it's only available in 26 states, although we're not entirely sure why.
Standard across all trim levels since its introduction in 2019, is Apple CarPlay compatibility, which is great news for smartphone lovers.
The Kona will take the apps of your iPhone and beam them onto its infotainment system.
All models of the Kona Electric come with a touchscreen infotainment system and a six-speaker audio system.
However, if you opt for the pricier Limited trim, then the car is fitted with a crisp eight-speaker Infinity audio system.
Related: 15 Electric Cars with Sunroofs That Open (With Pictures)
5. Ford Mustang Mach-E
The Mustang Mach-E may lack the ferocious engine roar of the original pony cars however it still turns heads with its handsome design.
Owners have praised this model for its quiet cabin and surprisingly quick acceleration.
This all-electric crossover was launched for the 2021 model year and comes loaded with the latest tech features.
Aside from its array of safety and driver assistance features, every model of the Mach-E includes Apple CarPlay.
This feature works seamlessly with Ford's next-generation SYNC infotainment system which offers hands-free connectivity to your device.
This means you will be much safer on the road as you are less likely to be playing around with your phone whilst driving.
And if you're a music lover, one of the best features about the Mach-E Premium is its Bang & Olufsen sound system.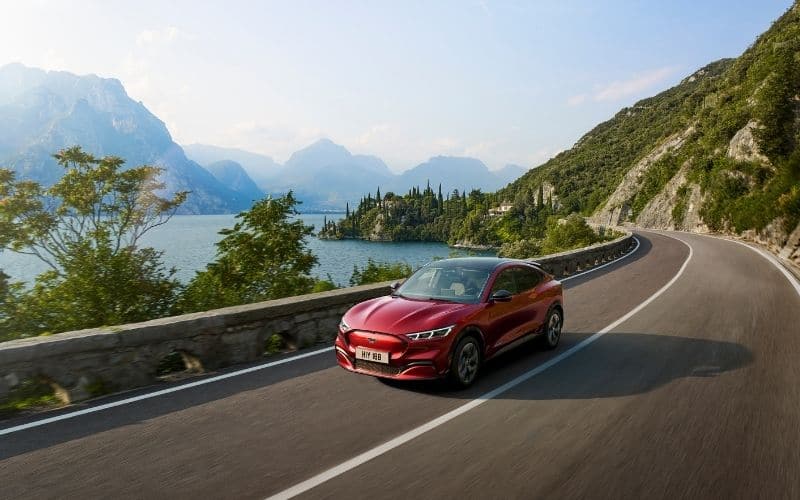 6. Subaru Solterra
The Subaru Solterra, whose name combines the Latin words for sun "sol" and "terra" meaning earth, made its debut for the 2023 model year.
Every model comes with wireless Apple CarPlay as standard which can be utilized via the 12.3-inch infotainment display.
Owners will need to make sure that the WiFi on their iPhone is turned on and also that Auto-Join is turned on also.
The addition of Apple Carplay is a welcome one as it reduces the need to handle your phone whilst driving allowing you to use all your favorite apps, make phone calls and listen to your favorite tunes.
As you might expect from a Subaru, All-Wheel-Drive is fitted as standard and it is the first EV offered in Subarus lineup.
It's a great choice for the adventurous type although it is a little bit lacking in the cargo space department.
7. Polestar 2
The Polestar 2 looks like something out of a science fiction movie, it's not known for offering the longest range but there's no denying it offers solid handling and quick acceleration.
In 2022 much to the delight of Polestar 2 owners, an update was released to enable wire-connected Apple CarPlay.
The USB port on the Polestar 2 that you need to use is highlighted with a white rim around it so you know which one to use.
Once you're plugged in you will have access to all your iPhone essentials.
The Polestar 2 comes with iPad looking touchscreen display that measures 11.2 inches and runs Google's Android Auto.
Other valuable standard features include blind-spot monitoring, adaptive cruise control and automated emergency braking with pedestrian detection.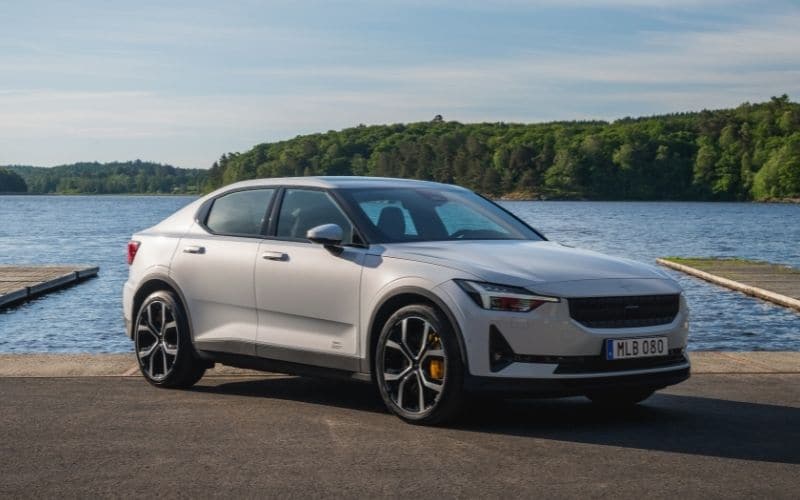 8. Chevy Bolt
The Chevy Bolt is an attractive purchase simply because of its super low sticker price.
Although it is a budget alternative it still offers a reasonable driving range and plenty of space inside for a small car.
It also comes with a 10-inch-screen infotainment system with wireless Apple CarPlay integration across all trim levels.
Since its inception in 2017, the Chevy Bolt has come equipped with this feature.
Every Bolt EV features a 10.2-inch touchscreen infotainment system supplied by LG.
The interface is crisp and intuitive and can be controlled via voice, touch and controls mounted on the steering wheel.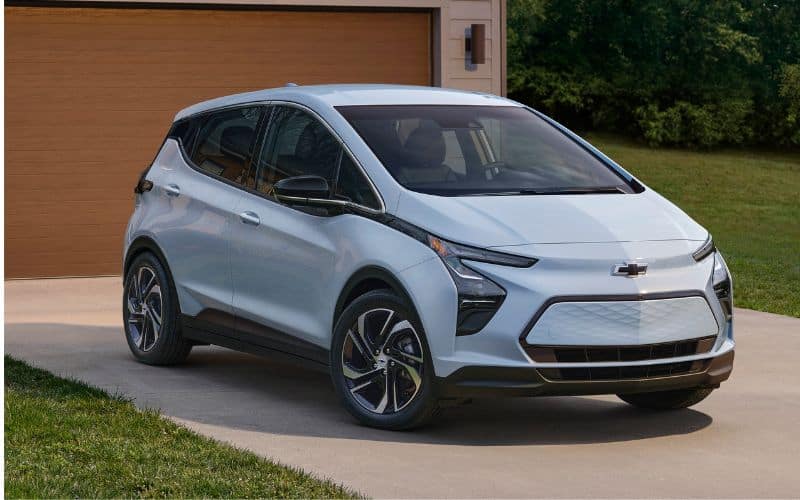 9. Audi E-Tron
Audi's entry into the Electric vehicle space showcases the brand's luxury although lacks the range of some of its rivals.
This all-electric crossover is almost silent when driving and boasts a well-appointed, high-end cabin.
As you might expect with a high-ticket item such as the E-Tron, its infotainment system is second to none.
It features dual touchscreens, with a 10.1-inch display on top and an 8.8-inch unit underneath.
The upper display supports access to Apple Carplay, ideal for smartphone lovers.
Since it was launched for the 2019 model year, Audi E-Trons have had Apple CarPlay Compatability.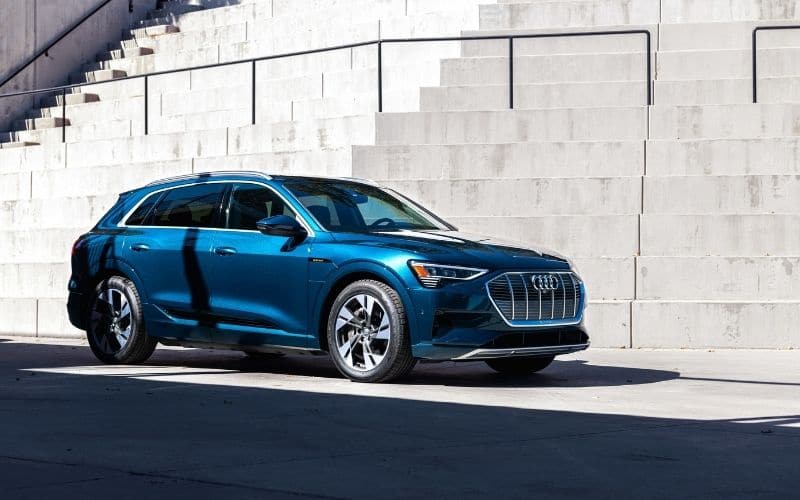 10. Toyota bZ4X
It's not the cheapest Toyota model by any stretch of the imagination, but the bZ4X is a top contender in the world of EVs.
One of the big draws of this model is its plethora of connectivity features, including of course Apple CarPlay.
Wireless Apple CarPlay can be enjoyed via the car's large, standard 12.3-inch infotainment touchscreen.
With the latest updates to Apple CarPlay, the bZ4X is able to closely mirror the functionality of an iPhone.
This model also comes with a six-speaker sound system with SiriusXM satellite radio, however, there is also the option for a premium JBL sound system with a total of nine speakers.
Other great features fitted as standard are driver assists such as automatic emergency braking, pedestrian and cyclist detection, and lane-keep assist.
11. Kia EV6
The Kia EV6 was introduced for the 2022 model year and it has been praised for its super cool aesthetics.
Despite its futuristic looks its infotainment system has been described by some as a bit retro.
However, it does still support Apple CarPlay among many other popular features.
This means you'll be able to safely enjoy your iPhone whilst on the road.
Its standard display is 12.0-inch although its performance is not on par with rivals when it comes to menu structure and navigation.
Don't let this put you off though, the EV6 is a stellar EV that does almost everything right.
It's quick on acceleration, has lots of space for cargo and passengers and the cabin is very suave too.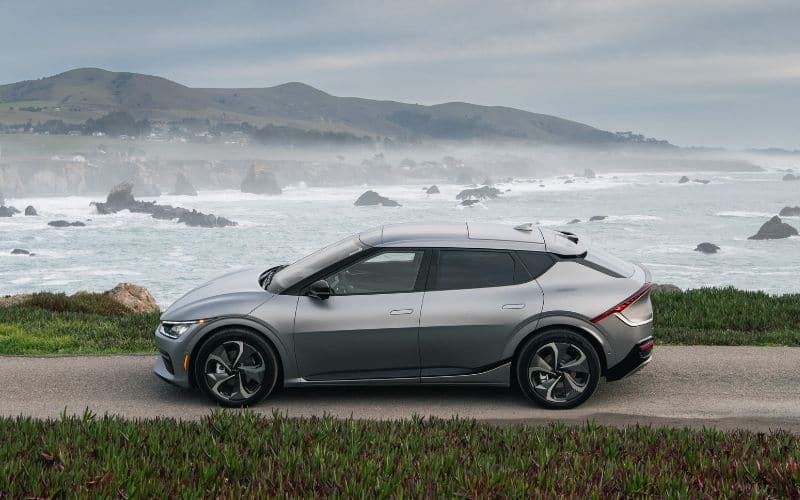 Related: 15 Electric Cars with the Best Visibility (With Pictures)
12. Hyundai Ioniq 5
The Hyundai Ioniq 5 has one of the most unique designs in the car market.
It's praised for its rapid charging abilities as well as its fun driving manners.
It was launched in 2022 and does support Apple CarPlay.
However much to the disappointment of many, it does not offer wireless Apple CarPlay.
This means you'll have to connect using wires – however, the up side to this is that your iPhone will get charged whilst you're driving.
The Ioniq 5 has a wide range of infotainment features and boasts a good-sized 12.0-inch touchscreen for all things related to entertainment.