Powered sunroofs that open up and let fresh air in are not a common feature you'll find in a lot of EVs on the market these days.
Most brands have instead gone with trendier panoramic glass roofs for their EV models, which do let more light in, but are usually fixed in place.
This helpful guide lists all the EVs that can be equipped with sunroofs that can be opened, so you can save time researching if this is on your must-have list.
1. Audi Q4 e-tron
Audi followed up its flagship e-tron models with the more affordable Q4 e-tron in 2022.
The compact-sized Audi Q4 e-tron uses the same platform and EV tech as the Volkswagen ID.4.
It's a bit more expensive than the ID.4 but it's also more luxurious and well-appointed.
All trim levels of the Q4 e-tron and Q4 e-tron Sportback have a large panoramic sunroof that can tilt and slide open.
The ID.4 also comes with a huge panoramic roof, but it's just a single piece of glass that's fixed in place.
2. BMW i4
The BMW i4 is a 5-door luxury liftback that first went on sale in late 2021 alongside the BMW iX SUV.
Except for its electric drivetrain, the i4 is basically a 3-series EV that uses the 4-series Gran Coupe's design so it has a hatch in the back.
Due to the BMW i4's more traditional design roots, it's equipped with a power tilt-and-slide sunroof that opens up at the touch of a button.
The sunroof is standard on all trim levels which include the i4 eDrive35, eDrive40 and M50.
With the BMW iX SUV, you get a panoramic electrochromic glass roof that turns opaque and blocks out light at the push of a button, but it's fixed in place and doesn't open up at all.
3. F-150 Lightning
America's best selling vehicle recently got its first EV model in 2022.
The Ford F-150 Lightning looks similar to the current gen F-150 (released a year earlier), but electrification gives it impressive numbers like 0 to 60 mph in 4 seconds, towing up to 10,000 lbs, and up to 320 miles of range.
The Lariat and Platinum trim levels of the F-150 Lightning come standard with a huge dual-panel panoramic glass sunroof that opens up in the front.
It also has a powered sunshade that completely hides the sunroof at the push of a button. The sunroof is not an option on the lower models.
The F-150 Lightning's only rivals so far are the Rivian R1T, which has a fixed glass roof, and the Hummer EV SUT, which has detachable roof panels.
Both trucks are not only more expensive, but also feature bolder designs that definitely make you stand out in a parking lot and in traffic.
Related: 11 Most Common Ford F-150 Lightning Problems (Explained)
4. Chevy Bolt EUV Premier
The Chevy Bolt EUV debuted in 2022 and introduced many changes to the original Bolt EV hatchback's design.
Compared to the Bolt EV, the Bolt EUV has more legroom in the back, a much better ride, and more options like a dual-panel panoramic sunroof that opens in the front.
You can get the sunroof if you add the $2,500 Sun and Sound package to either the Premier or Premier Redline models.
This package also adds built-in navigation and an upgraded 7-speaker Bose sound system.
Related: 15 Electric Cars With the Best Visibility (With Pictures)
5. Hyundai Kona Electric
The subcompact Hyundai Kona Electric is a couple of years old now and has been outshined by the more futuristic Ioniq 5.
The Kona EV will get a completely new model in 2024, but until then, you can still get a powered sunroof in the current generation.
The power tilt-and-slide sunroof is standard in the Limited trim level. In 2023, it also became standard in the SEL trim.
The compact Ioniq 5 EV crossover is slightly larger and has many significant improvements over the Kona EV; but its much larger panoramic glass roof can't be opened up.
6. Hyundai Ioniq 6
Hyundai is poised to release the radically designed Ioniq 6 EV sedan in 2023.
Its retro-futuristic exterior is a definite head turner, but will definitely be polarizing for a lot of people.
The Ioniq 6 also packs a healthy 310 to 340 miles of range depending on the configuration, which is just as good as the Tesla Model 3's estimated range.
Upon release, the Hyundai Ioniq 6 will be available with a large powered sunroof that lets in a lot of light and can also be opened.
However, there's no information yet if the sunroof will be a standard feature or if it's limited to the higher trim levels.
7. Kia Niro EV
The second generation Kia Niro EV debuted for the 2023 model year and received a significant redesign and lots of updates.
Like in the previous model, the new Niro EV still features a similarly sized traditional power sunroof.
The sunroof comes standard in the Wave trim which adds almost $5,000 to the price tag, but also adds features such as:
Harman Kardon sound system
Heated steering wheel
Heated and ventilated seats
Digital key
Remote Smart Parking Assist
LED interior lights
LED projector lights
You can also still get the Kia Niro as a regular hybrid or as a plug-in hybrid if you're not ready to go full EV yet and just want an affordable vehicle that gets great gas mileage.
8. Kia EV6
The Kia EV6 uses the same platform as the Hyundai Ioniq 5 so it's got similar interior dimensions, but it's got better handling and performance numbers that can rival most sports cars.
Although the base model EV6 only gets 167 hp, the more expensive models get anywhere from 320 hp to 577 hp. The range-topping GT model can go from 0 to 60 mph in 3.2 seconds.
Inside, the EV6 also looks like a traditional driver-focused sports saloon while the Ioniq 5 is more minimal and Tesla-like with its design choices.
On the Kia EV6's GT-Line and GT models, you get a large powered sunroof in the front that opens with the press of a button.
With Hyundai's Ioniq 5, you get a panoramic glass roof that doesn't open, but it comes with a retractable shade.
9. Volvo XC40 Recharge
Volvo added the XC40 Recharge model to its lineup in 2021; two years after the gas-powered versions were first introduced.
If you don't count the Polestar cars, the XC40 Recharge and the sloping-roof C40 model are the only Volvo-branded EVs at the moment.
The Volvo XC40 Recharge can be equipped with a huge dual-panel sunroof that opens up in the front when you choose the Plus and Ultimate trim levels.
This isn't the same as the fixed panoramic glass roof that's standard in all models of the C40 Recharge.
Other standard upgrades you get with the higher trim levels of the XC40 include a 360-camera, park assist, a powered passenger seat and a 12-volt power outlet in the back.
With the XC40 Recharge Ultimate, you also get a Harman Kardon sound system, heated steering wheel and rear seats, 20-inch wheels, and Volvo's Pilot Assist.
The mild hybrid variants of XC40 also have similar trim level upgrades.
10. Mercedes Benz EQB
The Mercedes Benz EQB was introduced in 2022 as one of the first few offerings in MB's EV stable.
It's basically an electrified version of the best selling GLB SUV, so it's quite roomy inside and is very versatile with its optional third-row seats.
Depending on the model, the Mercedes Benz EQB delivers between 227 to 250 miles of range.
With the more expensive EQB 350, you get a panoramic roof that opens up in front as standard.
In the lower models, like the EQB 300, the sunroof is only available with the Pinnacle trim level and can't be added as an option, which puts it at the same price as the base EQB 350.
However, with the Pinnacle trim, you also get a premium Burmester sound system and a 360 parking camera.
Related: 15 Electric Cars with Panoramic Sunroof (With Pictures)
11. Mercedes Benz EQS
Mercedes Benz led off its EV lineup with the introduction of the flagship EQS sedan in 2022.
As you can expect from a Mercedes with an 'S' in its name, the EQS is a tech powerhouse with an opulent interior and excellent build quality.
The EQS can produce between 316 to 529 hp depending on the configuration, and an impressive 340 to 350 miles of range.
All models and trim levels of the Mercedes Benz EQS are equipped with a panoramic sunroof that opens up in the front.
The EQS SUV, which was released in late 2023, also features a panoramic sunroof that opens, but also adds a third row for extra seating capacity.
The midsize EQE sedan also has a similar panoramic sunroof design.
12. Nissan Ariya
Nissan led the charge to make EVs more mainstream with the Leaf over a decade ago.
Although Nissan hasn't contributed much to the evolution of EVs since then, they're now back with the more contemporary and upscale Nissan Ariya.
The Ariya competes in the hotly-contested crossover segment which has the likes of the Hyundai Ioniq 5, Kia EV6, VW ID.4 and Tesla Model Y.
Aside from the Nissan Ariya's improved range, high-tech interior, and optional all-wheel drive, one of its distinctive features is its panoramic roof that also slides back to let the air and sun in.
The sunroof is included in the Nissan Ariya's more expensive Evolve+ and Platinum+ trim levels.
The only other EV in the compact crossover segment that has a powered sunroof is the EV6. But the EV6's sunroof isn't panoramic and just goes over the front of the cabin.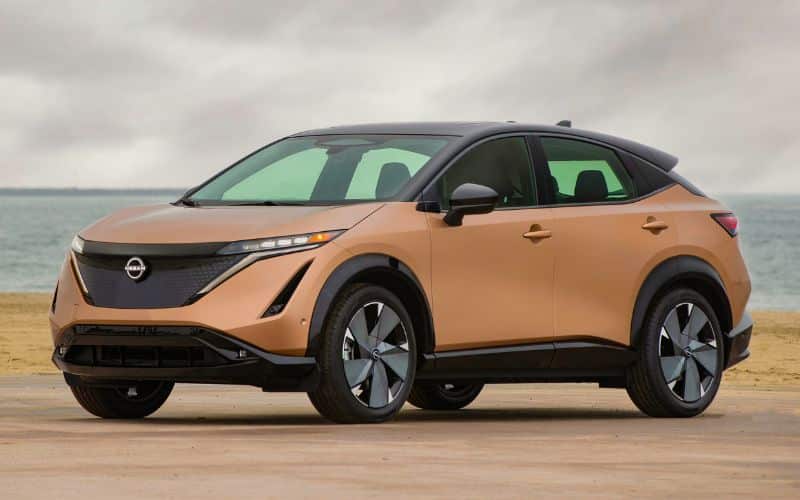 13. Mazda MX-30
Despite Mazda's growing popularity, they've been late to develop an EV model.
In 2022, Mazda finally introduced the MX-30 which is a subcompact crossover EV that's built on the CX-30's platform — although with lots of significant design differences.
One of the MX-30's more distinctive features is its rear suicide doors which was last seen on the Mazda RX-8 over a decade ago.
All trim levels of the Mazda MX-30 also come with a power sliding-glass moonroof that you can open with the push of a button.
Mazda's first EV offering is a bit lackluster, compared to the Chevy Bolt, Nissan Leaf, and Hyundai Kona, with its 143 hp and 100 miles of range. Sales are also limited to California at the moment.
Mazda plans on introducing a hybrid MX-30 that uses a rotary engine to help extend its usable range, but there's no word yet if it's coming to the U.S.
14. Mini Cooper SE Electric
The two-door Mini Cooper Electric was first introduced in 2020 with just over 100 miles of range.
Not much has changed since then, but it carries over a lot of features from the gas-powered Mini Cooper.
All new Mini Cooper SE Electrics come with a two-piece panoramic sunroof as standard. The front glass can slide back if you want to let more air and light in.
If you don't mind the Mini's short range, the EV model is still an affordable and zippy little go-kart that stays true to its retro roots.
Related: 12 Electric Cars With Apple Car Play (With Pictures)
15. Tesla Model S
Due to the lack of current options, it's worth mentioning that the Tesla Model S used to be available with a powered sunroof.
Aside from the BMW i4 and the upcoming Ioniq 6, it's the only other EV sedan that's been equipped with a sunroof that opens.
Starting in 2019, however, Tesla removed the sliding sunroof option and stuck to the fixed panoramic glass roof which is what it offers for the rest of its lineup.
If you want a Model S with a sliding panoramic sunroof, you should look at used models from 2012 to 2018.