The Fiat 500 is an iconic, fun-size car that made its US debut in 2011 following the merger of Fiat and Chrysler.
Sadly it was discontinued for the 2020 model year although its legacy lives on through its SUV sibling the 500X.
Despite its charm the Fiat 500 has had its fair share of problems over the years and we'll cover those in detail in this article.
1. Faulty Clutch Pressure Plate
The worst problem the Fiat 500 faced was a bad clutch pressure plate. The clutch diaphragm spring was prone to fracture and failure, causing an inability to change gears. This problem was mostly linked to the 2012 – 2016 models.
According to Car Complaints, a site dedicated to owner feedback, this typically occurred around 35,000 miles and costs roughly $1,250 to fix.
Owners who experienced this problem reported the following symptoms:
Difficulty in engaging the clutch pedal
No pressure on the clutch pedal
Unable to shift gears
Difficulty shifting gears
This was a widely reported problem and you can find many unhappy customers venting their frustrations on the fiat 500 USA forum.
Here's what one driver had to say:
"2012 Fiat 500, less than 16,000 miles and the clutch starts to slip under acceleration. I've owned a dozen sticks over my life, never burned up a clutch. Even rebuilt stick shifts before. My diagnosis (and the dealer agreed), the clutch leaf springs that hold it against the flywheel are weak, allowing the clutch to slip under load. Fun car, what a disappointment. Out of warranty of course."
Solution
In most cases, the clutch assembly will require replacing, and this was due to a design defect. Fiat did eventually issue a recall for certain 2012-2016 Fiat 500 cars equipped with a manual transmission.
To be on the safe side, run a VIN check on the NHTSA database to confirm whether or not you have been affected by a recall.
The 2012 model received more complaints than any other year which isn't surprising really as it was the first model year of the car, these tend to have a higher incidence rate.
2. Steering Problems
There have been a number of complaints for the Fiat 500 regarding steering problems, these issues are commonly accompanied by a clunking, popping or knocking noise while turning the steering wheel.
On Fiat 500 owners' forums, you'll find many complaints about the dreaded 'steering clunk' issue and it isn't exclusive to US models either.
Drivers describe knocking and clunking noises while turning the steering wheel and that it is most noticeable at lower speeds such as when parking.
This problem is not thought to pose an immediate risk of danger to the driver and is more of an annoyance.
Solution
You might be able to remedy this by spraying white lithium grease in the slip joint of the steering shaft, you should see this directly above the brake pedal. Be sure to rotate the wheel lock to lock a few times to work the grease in good.
In other instances, owners have reported having to replace the entire steering column.
A technical service bulletin (TSB) was issued for this problem for Fiat 500 models built on or after January 1, 2012 and on or before March 24, 2015.
The TSB advises replacing the steering intermediate shaft which is a crucial component that links the gearbox to the steering wheel.
A TSB covers parts that may be faulty but don't compromise the safety of the vehicle, while a recall is issued by a manufacturer for issues that are safety-related.
3. Incorrect Tire Pressure Placard
On certain 2016 Fiat 500 models, the tire placard shows a tire inflation pressure for the spare tire that exceeds its maximum working pressure. This means owners could inadvertently overinflate the tire, which can cause the tire to suddenly fail whilst driving, significantly increasing the risk of a crash.
This issue was also in breach of the Federal Motor Vehicle Safety Standard (FMVSS) number 110, "Tire Selection and Rims" and Fiat was forced to recall affected vehicles.
Solution
Fiat will add an overlay on the tire placard to the correct tire inflation information.
As this was a recall Fiat will do this free of charge, to see if you've been affected by this you can do a VIN check on the NHTSA website.
4. Suspension Problems
The Fiat 500 has received a number of complaints regarding its suspension, according to owners the suspension problems were often accompanied by clanking and clunking noises mostly coming from the front of the car.
This issue has been commonly reported on models years 2012 to 2015.
Posted on the Fiat 500 USA Forum, here's one owner's account:
"Well, since I got the car it makes a clunk sound when I hit small potholes or manhole covers that are not leveled with the road surface. The suspension is mostly quiet and absorbs things well. The clunk sounds in all 4 corners and it's worse when the car is loaded with people."
Solution
This issue has been linked to premature wearing of the strut mounts, this is the component that attaches the suspension strut to the vehicle.
The noise that accompanies a worn mount comes from metal components hitting each other without any insulation.
If this is the cause of the problem the strut mounts will need to be replaced.
Other causes include worn-out shocks, in which case they will need to be replaced.
5. Interior Problems
Across a number of Fiat 500 model years, although most commonly on the 2012 model, owners have complained about interior accessories that seem to break or malfunction too easily. These problems are more of an annoyance than a safety concern.
This has been linked to poor build quality and has included a wide range of issues, including:
Door handles braking
Clock runs fast and doesn't keep an accurate time
Key stuck in the ignition
Mysterious beeping noises
Hands free system not working properly
Phone system not working
Panel lights flashing
Doors fail to unlock with key fob
Odometer blinking
Seats forward recline stops working
The failing seat mechanism was the most commonly reported interior issue.
Solution
If you're experiencing these issues it's best to pay a visit to the dealer as they should be able to remedy them fairly easily.
6. Refuelling Problem
A number of Fiat 500 owners have experienced problems refilling their gas tank.
Owners have reported going to fill up their 500 and the pump constantly clicks off, as if it were full.
Despite trying different gas stations and various gas pump nozzle positions the problem persists.
Owners have had to resort to fill-click tactics until they've got enough gas.
Solution
A number of owners have had success remedying this issue by whacking the top of the rollover valve with a screwdriver handle. The valve is accessed under the rear seat and sometimes these get tripped to block escaping gas or liquid.
Here's one owner's story:
"A local club member has a late 2012 [Fiat 500] & filling has been an issue for a long while. When filling, he could add a neckfull at a time – wait 20 seconds; until the tank is full. I can confirm that tapping the roll-over valve (top of the fuel tank) worked for his car! On the 4th tap, there was a click & that was the valve releasing. He can now fill the tank normally."
Fiat 500 Model Years With the Most Problems
| | |
| --- | --- |
| Fiat 500 Model Year | Problems |
| 2019 | 6 |
| 2018 | 6 |
| 2017 | 11 |
| 2016 | 34 |
| 2015 | 27 |
| 2014 | 33 |
| 2013 | 27 |
| 2012 | 32 |
Source: Car Problem Zoo
Fiat 500 Pros and Cons
If you're considering a Fiat 500 as your next car you might be wondering what its strengths and weaknesses are…
Pros
Iconic, retro styling
Fun to drive
Great for parking in tight spaces
Good fuel economy
Good handling
Great for city commuting
Abarth models are sporty and very fun to drive
Cons
Cramped seating space
Not as fuel-efficient
Cheap interior materials
Low on cargo space
Underwhelming base engine
Related: How Long Do Fiat 500 Last? (Solved & Explained)
Fiat 500 Used Value
We've taken a look on Car Gurus to gauge the resale value of a Fiat 500, below are typical asking prices for each model year.
According to Auto Padre, a Fiat 500 will depreciate 50% after 5 years and have a 5 year resale value of $9,086.
Note: Used model prices will vary depending on trim level.
| | | |
| --- | --- | --- |
| Model Year | Mileage (miles) | Resale Price |
| 2019 | 16,854 | $16,994 |
| 2018 | 68,730 | $13,891 |
| 2017 | 18,970 | $19,988 |
| 2016 | 68,390 | $12,999 |
| 2015 | 95,000 | $5,900 |
| 2014 | 71,075 | $12,480 |
| 2013 | 63,716 | $11,950 |
| 2012 | 5,062 | $8,670 |
Source: Car Gurus
Related: Fiat 500 Tune-Up & Maintenance Costs? (Complete Guide)
What Do Owners Like and Dislike About the Fiat 500?
Based on owner feedback from the Kelley Blue Book site here are what real-life owners love and hate about the Fiat 500.
Likes
Joy to drive
Feels big on the inside
Great quality
Unique
Easy to drive
Great gas saver
Easy to park
Stable driving
Dislikes
Small back seat
Maximum speed is 80 MPH
A little noisy
Limited visibility
Owners Reviews
"I have driven this car for about a year, I really enjoy it. Great price and very reliable. Very easy and smooth to drive."
Source: Kelley Blue Book
"What can I say? My Fiat 500 has been wonderful! She is nine years old now and still drives like a champ. She has never let me down. I love her."
Source: Kelley Blue Book
"What I like best is the feeling of safety. That may seem paradoxical for such a small car. But being able to maneuver quickly whilst using little space is the easiest way to avoid other cars and obstacles."
Source: Edmunds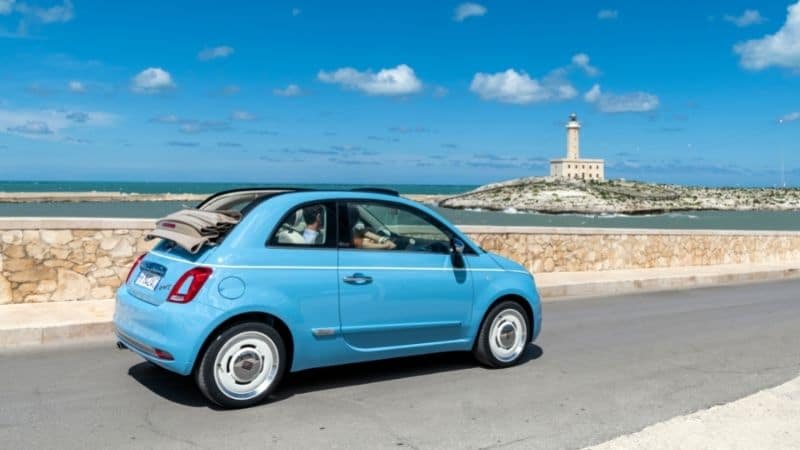 How Reliable Are Fiat 500 Compared to Similar Cars?
According to Repair Pal, the Fiat 500 is ranked 18th out of 21 subcompact cars in terms of reliability.
| | | |
| --- | --- | --- |
| Ranking | Model | Reliability |
| 1 | Toyota Yaris | 4.5 / 5.0 |
| 2 | Toyota Prius C | 4.5 / 5.0 |
| 3 | Mazda2 | 4.5 / 5.0 |
| 4 | Honda Fit | 4.5 / 5.0 |
| 5 | Hyundai Accent | 4.5 / 5.0 |
| 6 | Kia Rio | 4.5 / 5.0 |
| 7 | Mitsubishi Mirage | 4.5 / 5.0 |
| 8 | Mazda MX-5 Miata | 4.0 / 5.0 |
| 9 | Nissan Versa | 4.0 / 5.0 |
| 10 | Chevrolet Spark | 4.0 / 5.0 |
| 11 | Nissan Versa Note | 4.0 / 5.0 |
| 12 | Honda CR-Z | 4.0 / 5.0 |
| 13 | Chevrolet Aveo | 4.0 / 5.0 |
| 14 | Chevrolet Sonic | 4.0 / 5.0 |
| 15 | Ford Fiesta | 4.0 / 5.0 |
| 16 | Smart Fortwo | 4.0 / 5.0 |
| 17 | Nissan Cube | 3.5 / 5.0 |
| 18 | Fiat 500 | 3.5 / 5.0 |
| 19 | Mini Cooper Countryman | 3.5 / 5.0 |
| 20 | Subaru BRZ | 3.0 / 5.0 |
| 21 | Mini Cooper | 3.0 / 5.0 |
| | Avg. Subcompact Car | 4.0 |
Source: Repair Pal
How Reliable Are Fiat Cars?
According to Repair Pal, Fiat are ranked 18th out of 32 car brands in terms of reliability.
| | | |
| --- | --- | --- |
| Ranking | Brand | Score |
| 1 | Honda | 4.0/5.0 |
| 2 | Acura | 4.0/5.0 |
| 3 | Kia | 4.0/5.0 |
| 4 | Hyundai | 4.0/5.0 |
| 5 | Mazda | 4.0/5.0 |
| 6 | Mitsubishi | 4.0/5.0 |
| 7 | Lexus | 4.0/5.0 |
| 8 | Toyota | 4.0/5.0 |
| 9 | Nissan | 4.0/5.0 |
| 10 | Smart | 4.0/5.0 |
| 11 | Chrysler | 3.5/5.0 |
| 12 | Volkswagen | 3.5/5.0 |
| 13 | Buick | 3.5/5.0 |
| 14 | Subaru | 3.5/5.0 |
| 15 | Jeep | 3.5/5.0 |
| 16 | Infiniti | 3.5/5.0 |
| 17 | Volvo | 3.5/5.0 |
| 18 | Fiat | 3.5/5.0 |
| 19 | Dodge | 3.5/5.0 |
| 20 | Chevrolet | 3.5/5.0 |
| 21 | Ford | 3.5/5.0 |
| 22 | GMC | 3.5/5.0 |
| 23 | Ram | 3.0/5.0 |
| 24 | Lincoln | 3.0/5.0 |
| 25 | Mini | 3.0/5.0 |
| 26 | Cadillac | 3.0/5.0 |
| 27 | Mercedes-Benz | 3.0/5.0 |
| 28 | Audi | 3.0/5.0 |
| 29 | Jaguar | 2.5/5.0 |
| 30 | BMW | 2.5/5.0 |
| 31 | Land Rover | 2.5/5.0 |
| 32 | Porsche | 2.0/5.0 |
Source: Repair Pal
Sources
https://www.consumerreports.org/cars/fiat/500/
https://www.carcomplaints.com/Fiat/500/
https://www.carproblemzoo.com/tsb/fiat/500/index.php
https://www.edmunds.com/fiat/500/2019/review/
https://caredge.com/fiat/500/depreciation
https://www.autopadre.com/depreciation-curves/fiat-500