The Ford Escape is a compact crossover that was first introduced as a 2001 model.
It's known for being affordable, comfortable, practical and fairly reliable.
It also consistently ranks as Ford's top-selling SUV year after year.
In this article, we'll take a look at the Escape's most common issues…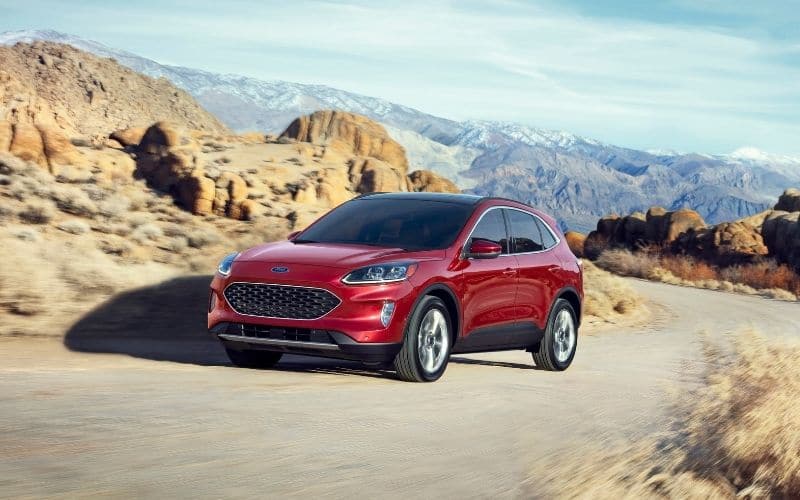 1. Transmission Issues
Transmission issues are a common weakness of older generation Escapes and many have suffered failures once they reach 50,000 to 100,000 miles.
On Car Complaints, a site that collects owner feedback, the 2006, 2008, 2009, 2013 and 2014 model years had the highest number of transmission problems and failures.
The 6-speed 6F35 transmission was used in many second and third-generation Ford Escapes from 2009 to 2019 and were more problematic than the older 4-speed gearbox.
Many owners also noted that they weren't as smooth as the older transmission even when they were working properly.
Some of the transmission issues that people have reported include:
Rough and jerky shifting
Delayed shifting
Shift flares or sudden increase in RPMs when shifting
Won't shift into gear
Leaks and halfshaft failures
Vibrations, rattles, clunks and whining noises
Loss of acceleration
Torque converter failures
Here is how a few Escape owners described their experience:
"At 58,000 miles my transmission failed on my way home from work. Stuck in 1st gear with no reverse."
"I had the transmission replaced 3 years 21 days ago. My car started to squeal and slip. I had it towed to the shop. Told me it was the transmission again."
"My 2017 Ford Escape started shifting weird and trans light came on. Towed it to dealership who says I need a new transmission but won't explain why it failed."
"My dealer informed me this week that my 2015 Escape (2.5L, FWD, SE) has a failed transmission at 65,000 miles. The symptoms are hard shifts between 3rd and 5th gears."
Solution
To minimize the chances of transmission issues, you can replace the transmission fluid every 30,000 miles.
Despite Ford's claims that it uses a lifetime fluid, most transmission issues are caused by improper lubrication and lack of maintenance.
If your Escape is way past 30,000 miles and hasn't had its fluid changed yet, it's a good idea to drain and fill the transmission several times to remove all the old fluids and debris that's built up inside.
Replacing an Escape transmission can cost around $3,000 to $5,000 depending on who you go to. Though many issues can be fixed more cheaply by replacing worn-out parts like the torque converter, shift solenoid, or a transmission valve body.
It's also worth noting that despite the number of reported failures, there are also lots of Escape owners who have managed to reach 200,000 to 300,000 miles on their original transmission.
Ford has sold millions of Escapes in the last 20 years, so it's not unusual to see lots of reports of issues and failures.
2. Rollaway Recall
The third generation Ford Escape is included in a massive recall that affects over 3 million Ford vehicles due to the possibility of a transmission failure that could cause the vehicle to roll away on its own.
An estimated 1.7 million Ford Escapes sold as 2013 to 2019 models are affected by this recall.
According to Ford, there's a possibility that the shifter cable may detach and prevent the gearbox from shifting into park even though the shifter is in the right position.
If the emergency brake is not engaged, the vehicle can move on its own and cause an accident.
So far, there have been a few reports of property damage and injuries associated with this issue.
Solution
To prevent the shift cable from detaching, dealers will replace the shift linkage bushing and place a protective cap on it.
Ford will notify owners of affected vehicles by mail. If you haven't received any notices or aren't sure if the recall has already been performed on your vehicle, you can type your VIN into Ford's recall page to check if you need to bring your car to the dealer.
Recalls are performed free of charge even if the car is out of warranty.
To avoid potential accidents before the repair is performed, you have to be mindful about using the emergency brake every time you park the vehicle.
Related: How Long Do Ford Escapes Last? (11 Important Facts)
3. EcoBoost Engine Failures
The EcoBoost engines in the third (2013-2019) and fourth (2020-present) generation Escape can suffer from catastrophic engine failures due to coolant leaking into the cylinders, causing the car to overheat.
Eventually the coolant loss and overheating damages the cylinder head and engine block, and you'll need a new engine.
In some cases, the coolant leak has also caused engine fires.
The 4-cylinder 1.6-liter and 2.0-liter engines, as well as the 3-cylinder 1.5-liter engine, are all susceptible to this type of failure.
These failures also occur in other Ford vehicles that use the same EcoBoost engines.
Symptoms of coolant loss and cylinder intrusion include:
Low Coolant warning
Overheat warnings
Car goes into limp mode
Check engine light
Misfires
Blue smoke from exhaust
Here is how one Escape owner described their experience:
"I own a 2017 Ford Escape with 51,000 miles on it. I have just been notified that I have coolant intrusion in cylinder 3 and the TSB from Ford says replace the engine. It's 8 months out of the 5yr/60,000 mile warranty, and the dealer wants me to pay $9,000 out of pocket."
Solution
Unfortunately, the coolant leaks and cylinder intrusion is ultimately caused by poor engine design, and there's nothing much you can do to prevent it from happening.
You can avoid a catastrophic engine failure by making sure there's always coolant in the car.
However, topping off the coolant is not enough, since it might all go straight into the cylinders as soon as you start up the engine. So you have to be vigilant about checking your coolant levels until you can take it to a mechanic for a proper diagnosis.
It may be possible to stop the leak by replacing the head gasket, but in most cases, once the coolant starts getting into the cylinders, the problem is too far gone and you'll need a new engine.
Ford has issued recalls, TSBs (Technical Service Bulletin), and extended warranties to address the issue, but many of these typically recommend replacing the engine as well.
4. Rust Issues
Older Ford Escapes often suffered from excessive corrosion problems that can make them unsafe to drive.
It's common to see first generation Escapes with rusty fenders which might seem like a minor cosmetic issue.
But if you look a bit closer, you'll usually see the entire wheel arch and the shock towers are also completely rusted out.
Once the shock towers are weakened by corrosion, they can no longer support the weight of the vehicle and the shock towers can basically go through the body.
There are many first and second-generation Ford Escapes with severely corroded subframes to the point where the control arms and other suspension components don't have anything to hold onto.
Here are accounts from a couple of Escape owners:
"The front subframe rusted out, allowing the passenger side wheel to swing wildly, with damage to components in the vicinity."
"I have an '04 Escape. The left rear shock has completely broken through the wheel well."
"Right rear shock totally detached due to the inner wheel well being totally corroded. Entire wheel well needs replacement. Estimates for repair minimum $2000."
Solution
Ford recalled the 2001 to 2004 model years of the Ford Escape to replace the rust-prone subframes. Unfortunately, the other model years that suffered from the same issue weren't included in the recall.
You can also replace the corroded wheel wells and shock towers using aftermarket panels, but this will require a lot of professional bodywork.
The cost of repair might not be worth it considering the age and current market values of these vehicles.
If your Escape is only showing minor signs of corrosion, you can keep it at bay by using different rust protection products like Fluid Film
5. Power Steering Failures
The second and third-generation Ford Escapes use Electric Power Assisted Steering (EPAS) which are prone to sudden failures.
While electric power steering is lighter and doesn't need any maintenance compared to older hydraulic steering, they can just suddenly go out without warning, usually after a few years.
When the power steering fails, it takes significantly more effort to turn the wheel in either direction.
Looking at the data on Car Complaints, power steering issues are common in the 2008 to 2013 models of the Escape.
Failures are still reported in newer models, although not as often.
Here is how some Escape owners described their issues:
"Power steering quit, Ford says needs a new power steering column, not covered, $1,500."
"The car will be driving along and then jerk one way and then go into manual steering mode. My daughter cannot handle the manual steering at low speeds and went over the curb while trying to correct."
"Power steering failed upon turning on car and backing out. No previous issues until total failure that cost $2,200 to fix."
Solution
Power steering failures can be caused by faulty electric motors, sensors and control units. In a lot of cases, these components cannot be replaced individually and you'll need to replace the entire system which costs around $2,000.
Ford did issue a recall to fix the 2008 to 2011 Ford Escape's steering torque sensor, but not all power steering failures are covered by this recall.
You can probably find a used or remanufactured unit much cheaper online or at a salvage yard which should give you a few more years of service if you're lucky.
6. Door Latch Issues
Early model years of the third generation Escape suffered from door latch problems which caused the doors to randomly open.
The problem occurs when the door latch spring breaks which makes it possible for the door to suddenly swing open even when they appear to be properly shut.
Fortunately, this issue seems to be isolated to the 2013 to 2015 models of the third-gen Escape as it's quite rare in the other model years.
Although it's a known issue, not all Escapes from the affected model years have any door latch problems.
Here is how a couple of Escape owners described their experience:
"This is the 3rd door latch that broke, same problem, cant close door to latch it, it's metal hitting metal when to try to close it. This time it was rear passenger side."
"My rear drivers side door all of a sudden decided to not to latch anymore while driving and opened with my 3 month old son sitting right there in his car seat."
Solution
This door latch problem also occurs in the Fiesta, Focus and Fusion, which prompted Ford to recall over 2 million vehicles which included the 2013 to 2015 Escape.
Recalls are done free of charge as it's considered a safety issue. You can check if your Escape has already had the recall repair by checking your VIN on Ford's recall page.
Ford likely updated the part when they announced the first recall in 2016. They've also updated the recall two more times since then to make sure all the latches were installed properly.
Ford Escape Model Years With the Most Problems
To get a better idea of which Ford Escape has the most problems the fairest way is to compare models based on the number of vehicles sold in relation to the number of reported problems.
We're using Car Complaints PPMY index which means problems reported per thousand vehicles per Year.
For example, newer cars will have fewer complaints simply because they've been around for less time.
Based on this index, the most problematic years are:
2010 – 1.23 PPMY
2009 – 1.22 PPMY
2013 – 1.06 PPMY
And the least problematic years are:
2019 – 0.21 PPMY
2007 – 0.22 PPMY
2003 – 0.23 PPMY
Ford Escape
Model Year
Problems
Sales
Vehicle Age
PPMY Index
2022
14
–
–
–
2021
77
82,685
1
0.93
2020
236
206,357
2
0.57
2019
142
225,475
3
0.21
2018
347
310,804
4
0.28
2017
811
431,227
5
0.38
2016
578
265,762
6
0.36
2015
651
244,083
7
0.38
2014
1,788
370,760
8
0.60
2013
2,958
310,761
9
1.06
2012
682
233,516
10
0.29
2011
1,592
199,523
11
0.73
2010
2,814
189,956
12
1.23
2009
2,089
131,288
13
1.22
2008
2,200
220,837
14
0.71
2007
314
96,744
15
0.22
2006
552
134,421
16
0.26
2005
1,933
244,677
17
0.46
2004
678
106,745
18
0.35
2003
666
152,508
19
0.23
2002
1,171
159,953
20
0.37
2001
1,106
153,854
21
0.34
2000
6
–
22
–
Source: Car Problem Zoo
Ford Escape Pros and Cons
If you're considering a Ford Escape as your next car you might be wondering what its strengths and weaknesses are…
Pros
Affordable
Comes with lots of standard features
Roomy and comfortable cabin
Extremely reliable hybrid models
Larger engines have decent power
Cons
Uninspired driving dynamics
Transmission issues
Lower trim levels have basic interiors and weak engines
Related: 19 Best & Worst Ford Escape Years (With Facts & Stats)
Ford Escape Reliability Compared to Similar Cars
Consumer Reports ranks the Ford Escape in 19th place with a score of 29/100.
| | |
| --- | --- |
| Make & Model | Consumer ReportsReliability Score |
| Kia Sportage | 91 |
| Buick Envision | 90 |
| Audi Q5 | 89 |
| Cadillac XT5 | 88 |
| Hyundai Tucson | 87 |
| Mazda CX-5 | 83 |
| Mercedes-Benz GLC | 81 |
| Honda CR-V | 80 |
| Lincoln MKC | 80 |
| Nissan Rogue | 78 |
| Lexus NX | 77 |
| Volvo XC60 | 73 |
| Subaru Forester | 70 |
| Chevrolet Equinox | 60 |
| GMC Terrain | 60 |
| Infiniti QX50 | 49 |
| Acura RDX | 45 |
| BMW X3 | 35 |
| Ford Escape | 29 |
| Jeep Cherokee | 28 |
| Toyota RAV4 | 24 |
| Volkswagen Tiguan | 18 |
Source: Consumer Reports
Ford Escape Used Value
We've taken a look on Car Gurus to gauge the resale value of a Ford Escape, below are typical asking prices for each model year.
According to Car Edge, a Ford Escape will depreciate 31% after 5 years and have a 5 year resale value of $24,276.
Note: Used model prices will vary depending on trim level.
| | | |
| --- | --- | --- |
| Model Year | Mileage (miles) | Resale Price |
| 2022 | 17,705 | $27,463 |
| 2021 | 21,482 | $26,897 |
| 2020 | 48,052 | $23,665 |
| 2019 | 45,958 | $20,499 |
| 2018 | 68,818 | $18,672 |
| 2017 | 57,269 | $17,359 |
| 2016 | 83,418 | $13,999 |
| 2015 | 85,756 | $14,499 |
Source: Car Gurus
Related: Ford Escape Tune-Up & Maintenance Costs (Complete Guide)
What Do Owners Like and Dislike About the Ford Escape?
Based on owner feedback from the Kelley Blue Book site here are what real-life owners love and hate about the Ford Escape.
Likes
Minimal road and engine noise
Great size
Fuel economy
Great handling
Comfortable
Dislikes
Similar to other vehicles
Blind spots
Small gas tank
Owners Reviews
"Personally like interior trim, smooth ride, and many extra features in the Titanium Hybrid. Added a hitch for small towing needs, installed by Ford. Factory installed would have been ideal but wasn't in stock at time of purchase. I am particularly impressed with mileage."
Source: Kelley Blue Book
"Just purchased 2022 Ford Escape Hybrid AWD. Excellent driving feel and hugs the road. Nicely built with no flaws I can find…"
Source: Edmunds
"I don't know if we happened to just get a lemon, but our 2020 Escape SEL has been in the shop constantly. Various significant leaks. Lost all electricity twice. Have lost all power once again after all those things were 'fixed'. Even the cup holders break constantly."
Source: Edmunds
How Reliable Are Ford Cars?
According to a recent report from Consumer Reports, Ford are ranked the 18th most reliable car manufacturer out of 28 brands, with a score of 44/100.
| | | |
| --- | --- | --- |
| Rank | Brand | Score |
| 1 | Lexus | 76 |
| 2 | Mazda | 75 |
| 3 | Toyota | 71 |
| 4 | Infiniti | 69 |
| 5 | Buick | 66 |
| 6 | Honda | 66 |
| 7 | Subaru | 66 |
| 8 | Acura | 64 |
| 9 | Nissan | 63 |
| 10 | Mini | 60 |
| 11 | Hyundai | 56 |
| 12 | Chrysler | 54 |
| 13 | Porsche | 52 |
| 14 | Chevy | 48 |
| 15 | Audi | 47 |
| 16 | Cadillac | 47 |
| 17 | BMW | 45 |
| 18 | Ford | 44 |
| 19 | Kia | 43 |
| 20 | Volvo | 42 |
| 21 | Ram | 40 |
| 22 | GMC | 37 |
| 23 | Mercedes-Benz | 34 |
| 24 | Volkswagen | 31 |
| 25 | Genesis | 30 |
| 26 | Jeep | 26 |
| 27 | Tesla | 25 |
| 28 | Lincoln | 18 |
Source: Consumer Reports
Related: Ford Escape Beeping Problems? (6 Causes & Solutions)
Sources
https://www.consumerreports.org/cars/ford/escape/
https://www.carcomplaints.com/Ford/Escape/
https://www.carproblemzoo.com/ford/escape/
https://www.kbb.com/ford/escape/
https://www.edmunds.com/ford/escape/
https://caredge.com/ford/escape/depreciation