The Explorer is one of Ford's best-selling SUVs.
But like other vehicles that are kitted out with tech features, it has various beeping sounds, which at times can be mysterious, worrying and just plain annoying.
In this quick guide, we'll help you figure out why your Explorer keeps beeping.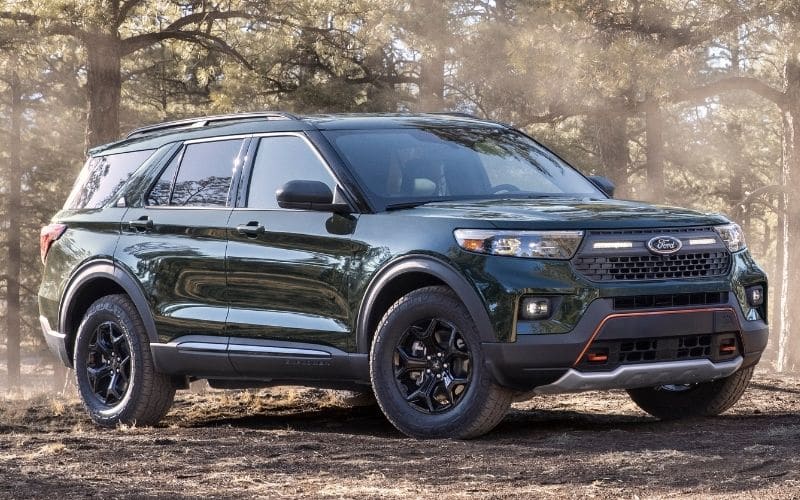 Ford Explorer Beeping
A common cause of beeping on a Ford Explorer is the airbag warning lamp has blown in the gauge cluster. The problem is not necessarily related to the airbags themselves, however if the bulb has blown then the beeping noise is the only way to alert the driver to a light that is no longer working.
There is a quick and simple way to check this:
Turn the key to the 'ON' position.
Observe the gauge cluster
All lamps should illuminate, including the airbag lamp
If it doesn't you will hear the beeping noise
The gauge cluster refers to the collection of driving instruments behind the wheel and includes things such as speedometer, fuel gauge, warning lights and tachometer.
If there is no light for the airbag warning in the dash when you turn the key on, then you'll need to replace the bulb and the beeping should stop, be sure to also check for loose connections.
If changing the faulty bulb didn't do the trick or you're not confident to change the bulb yourself, we recommend contacting your local Ford dealership.
From the Ford Service Content website:
'The SRS (supplemental restraint system aka airbag system) uses a readiness light in the instrument cluster or a tone to indicate the condition of the system.'
It goes on to state, a difficulty with the system is indicated by a series of five beeps.
The tone pattern will repeat periodically until the problem and/or light are repaired.
Ford Explorer Beeps When Driver Door is Open
If your Ford Explorer beeps when a door is open this can be caused by a faulty headlight switch, a faulty ignition switch or damaged wires. Since the headlights being on, or the key being in the ignition will cause the chime to sound, one of these switches may have a loose connection or be faulty.
It is normal to hear beeping when the driver door is open if you have done any of the following:
Left your key in the ignition and the driver door is open
Left you lights on and the driver door is open
If you are experiencing a beep or a ding noise and you have not done any of the above, then it might be caused by a certain blue wire.
One Explorer owner advised the following:
Remove the steering column shrouds
You will see a blue wire that enters the key switch assembly itself
This wire is responsible for causing the 'ding' noise for leaving the key in the ignition
It grounds the wire when the key is inserted thus shutting off the alarm
If the wire comes loose it will never ground out
So the ding will activate when ever the door is open, key or no key.
You can use a small zip tie to make sure its kept firmly in place.
This shouldn't take more than 15 minutes.
Ford Explorer Beeps While Driving
If you are experiencing beeping whilst driving your Ford Explorer this may be caused by a faulty door latch, if you have a 'door ajar' light on the dashboard then this is almost certainly the case.
Faulty latches are quite common – you may need to have it replaced although you should first try spraying it with something like WD-40.
If it's not related to the door sensor/latch then it could be caused by a damaged wire.
A lot of mysterious beeps and electrical problems can be traced back to damaged wire(s) in the boot between the body and the driver's door.
It could also be related to a faulty door ajar switch.
In some instances weight on the passenger seat from a bag, groceries or even a pet dog can cause the seatbelt chime to go off, in which case you can try fastening the passenger seat belt.
You may also be interested in our article: Ford Explorer Tune-Up & Maintenance Costs (Useful Guide)
Ford Explorer Beeps Twice When Locking
If your Ford Explorer beeps or honks twice when you lock it this can be caused by a second set of keys being left in the car, a door being left open or not shut properly, keys left in the ignition or if the hood is open.
It's the car's way of telling you something isn't right.
You may also notice two honks if you leave a phone or iPad or accessory plugged in the charging port and walk away from the vehicle, for example, to a gas station.
It's never a good idea to leave valuables on display especially in an unlocked vehicle.
What Else Could be Causing the Beeping Noise?
Faulty ignition switch: If you have a faulty ignition switch, the car will think the key is still left in the ignition which can trigger a beeping sound.
Leave the key in: Try leaving the key in the ignition, open the driver's door and then turn off your vehicle.
Door chime contact: If the door chime contact next to the ignition cylinder has fallen out of the slot it belongs in, it can be glued back in place.
Fob battery: Make sure your key fob battery has plenty of life left.
Low temperature: Some models have a feature built in whereby when the temperature drops below 39.2°F (4°C ) the car will beep to warn you that there could be ice about and to drive carefully.
Seat belts, door ajar, lights on: These three are often the usual suspects.
Faulty latches: If you've got a door latch that's sticking this will trigger the door ajar alarm, try lubricating with WD-40 if not the latch will need replacing.
Take it to a Ford Dealership: If needed, take the car to a Ford dealership. Tell them you are NOT paying for a check on what the problem might be. Ask them if they will check it for free. Most Ford Dealerships and other places do quick/initial diagnosis for no money as they plan to make money for the repair of your vehicle.
Check for recalls or TSBs: By entering your vehicle's VIN number on Ford's recall page you can determine whether or not there is a recall for your vehicle and if there is you'll want to get it fixed. Similarly, a quick google search will help you determine whether there is a Technical Service Bulletin for your car, these are less serious but may give a reason why your car is beeping.
Diagnosing Beeps With a Scanner
Another possible option if you're hearing a beeping sound is to use an OBD2 diagnostic scanner tool.
These are fairly easy to use, you simply plug them into your car – there's usually an OBD2 port under the steering wheel.
Once you have the scan codes you can research these online specifically for the Explorer.
There are also OBD apps available so you can connect your car straight to your smartphone (either with a cable or Bluetooth) without even needing a scanner.
Related: Ford Explorer Alarm Going Off? (8 Causes & Solutions)
Resources
http://www.fordservicecontent.com/Ford_Content/catalog/owner_guides/00expog1e.pdf
8 Most Common Ford Explorer Problems (Explained)