The Ford Explorer is an extremely popular mid-size SUV that was first sold in 1990.
With three rows of seating and lots of cargo space, it's perfect for family duties and adventure.
In this article, we'll take a look at the Explorer's most common problems and offer practical solutions.
1. Transmission Failure
According to the data on Car Complaints and Car Problem Zoo, websites that are dedicated to collecting owner feedback, the third generation Ford Explorer is the most problematic model with lots of reports of automatic transmission failures.
All model years of the third generation Ford Explorer from 2002 to 2005 used the 5R55 series of automatic transmission which often became very unreliable after around 50,000 to 100,000 miles.
This transmission was also used in the Ford Mustang from the same era, which also had lots of complaints over the years.
Fourth generation Ford Explorers equipped with the V6 engine used the same 5-speed transmission and had similar problems.
The V8 engine of the fourth gen Explorer was mated to a more reliable 6-speed transmission.
The V6 models of the second gen Ford Explorer also came with these flawed transmissions from 1997 to 2003.
Common transmission issues of the second, third and fourth gen Ford Explorers include:
Loss of certain gears
Delayed shifts
Shift flare or slipping (abrupt RPM increase when shifting from one gear to the next)
Overdrive light blinking
Jerkiness or shuddering
Clunking when shifting into gear
Here is how one Ford Explorer described their issue:
"Driving home yesterday, my 2002 Explorer with the 4.6l had the transmission start slipping. With the cruise set at 60, it would run at 1800 rpm, then jump up to 2300, then drop back down."
The most common cause of these issues is that the servo bore or the hole through which the transmission's servo shaft goes through wears out quickly, which causes transmission fluid to leak through it, keeping the transmission from building up enough pressure to engage the gears properly.
Another common cause is a broken solenoid pack which is responsible for controlling the flow of transmission fluid inside the gearbox.
Solution
Several aftermarket solutions address the Ford Explorer servo bore issue by fitting either an O-ring on the servo bore or a sleeve on the servo rod to make a proper seal.
Fixing the servo bore issue and replacing the solenoid pack isn't too difficult and doesn't usually require rebuilding the entire transmission.
However, if the bands have been worn out from slipping too much over time or other components have failed catastrophically, you'll likely need a rebuild which can cost a few thousand dollars.
A cheaper option is replacing the busted transmission with a used one from the junkyard.
2. Timing Chain Failures
The second, third and fourth generation Ford Explorer's V6 engine had widespread timing chain issues.
The 4.0-liter V6 SOHC engine, which was used in the Explorer from 1997 to 2010, had timing chain guides that were prone to breaking after several years.
Ford redesigned and reinforced the timing chain guides at the end of 2003 to address the premature failures. But it's still been known to occur in the newer models of the Ford Explorer and Ford Ranger after they pass 100,000 miles because the guides were still made of plastic.
When the timing chain guide failed, the car would often exhibit what many Ford Explorer owners call a 'death rattle' on startup.
As it gets worse, the rattle will make the car sound like a diesel engine and it will often run very poorly or not at all.
Here is how one owner described their experience:
"The car was traveling at 30 mph from store to school in midday two miles, started ticking and got louder as traveling back home (2 miles). At home popped hood, listened for noise, engine idling smoothly, but ticking or rather hitting noise from top of valve cover, drivers side front, was very prevalent. Turned off car and pulled chain tensioner out and looked inside with snake camera and saw broken plastic parts all around timing chain area."
The older V6 OHV engine in the second generation Explorer, which was used from 1995 to 2000, didn't suffer from these timing chain issues.
Solution
Once the engine starts to rattle, the engine needs to be taken out to replace all the timing chain components in both the front and rear of the engine.
To keep the timing chain components in good condition for as long as possible, it's important to get regular oil changes using high-quality synthetic oil.
Some people with older Explorers simply replace the engine altogether since putting in a used engine can be cheaper and simpler than doing the timing chain replacement.
3. Water Pump Leaks
Both the naturally-aspirated Duratec and the turbocharged EcoBoost 3.5-liter V6 engines in the fifth generation Ford Explorer had internal water pumps that caused massive engine failures when they started leaking.
A leak in the internal water pump can result in the following symptoms:
Coolant keeps running out
Overheating
Heater stops working
Coolant mixes with oil
Head gasket failure
Cracked cylinder head
These engines were offered in the Ford Explorer from 2011 to 2019 which pretty much spanned the entire production run.
Here's how one Explorer owner described their experience:
"My car started to leak coolant. I've had to keep topping off coolant. Took it to a Ford dealership, stated it was my water pump which would cost about $2000 to fix. I am only at 108k miles & I was told by Ford that they do not need maintenance and would last till 150,000 miles."
Solution
Since the water pump is internally mounted and driven by the timing chain, replacing it requires an engine out service and can cost around $2,000.
If the coolant leak damages the engine, you're looking at a more expensive rebuild or engine replacement.
To prevent catastrophic engine damage, you can check for coolant leaks around the alternator area and replace the water pump immediately if you suspect that it is failing.
4. Loss of Power Steering
On Car Problem Zoo, the most common issue associated with the fifth generation Ford Explorer (2011 – 2019) is a sudden loss of power steering.
When the power steering goes, the car becomes difficult to maneuver and is basically undrivable at slow speeds.
Here is how some Explorer owners described their experience:
"While backing out of my driveway, my power steering fault light came on and I lost power steering. The steering became unresponsive. Fortunately I was going slowly and could stop."
"Steering wheel started making a rubbing sound. Then it started loud grinding/scraping noise. Steering wheel 'catches', hard to turn, or locks up. No warning light/s for service were presented. 2 weeks for an appointment by Ford CO. I have had Ford mechanic inspect, & diagnosis is a electronic steering box, steering rack."
"Multiple times throughout the last month, I turned the vehicle on and went to back out of our garage and the dash displayed a warning of "electric power steering assist failed". The steering wheel was extremely hard to turn, so I stopped and placed the vehicle in park, turned it off, waited about 15 seconds and restarted the vehicle with no steering problems. This last time after doing the same, the error did not go away and the issue remains."
There are occasions where potential steering rack issues manifest as grinding or rubbing noises when turning the wheel. Eventually, this will lead to a complete loss of power steering.
Solution
Power steering failures in a fifth generation Ford Explorer usually means you'll need to replace the power steering rack which can cost up to $2,000.
The fifth generation Ford Explorer uses an electric-assisted power steering rack instead of a hydraulic system so it doesn't need any power steering fluid.
When the electric power steering fails, it's either caused by a motor or sensor failure which often requires replacing the entire steering rack.
Related: 21 Best & Worst Ford Explorer Years (With Facts & Stats)
5. All-Wheel Drive PTU Failure
The fifth generation (2011-2019) Ford Explorer is prone to PTU (Power Transfer Unit) failures which is the drivetrain component that's responsible for the vehicle's all-wheel drive system.
When the PTU fails a number of things can happen:
Grinding noises
Loss of all-wheel drive
Burnt transmission fluid or propane smell
Transmission failure
The Explorer uses the same PTU found in other AWD Ford vehicles like the Flex, Fusion, Edge and Escape, which also suffered from similar issues.
Ford advertises that the PTU doesn't need servicing and uses lifetime fluids, but lots of owners have experienced PTU failures at very low mileages.
This is due to the fact that the PTU is located near the engine and the catalytic converter so the PTU fluid gets cooked and degraded quite quickly, and subsequently fails to properly lubricate the PTU's gears and components.
Solution
Since Ford considers the PTU as a non-serviceable unit, the only way to fix a broken PTU is to replace it with a new one which can cost up to $2,000 for parts and labor.
Some PTU units can be fixed by replacing the idler gear. But most of the time, a complete replacement is required.
To avoid premature PTU failures, most mechanics recommend replacing the PTU fluid every 30,000 miles. This ensures that the fluids are always fresh and can properly lubricate the PTU internals.
Ford eventually added drain and fill holes to their PTU units in 2014 to make replacing the fluids much easier.
6. Water Leaks
The fifth generation (2011 – 2019) Ford Explorer had many reports of water leaks entering the passenger compartment.
The most common leak runs down from the third row seat belt, which eventually floods the cargo area, while others have leaks coming into the front passenger area.
Here is how one unhappy owner described their experience:
"I purchased a 2011 Limited 4WD Explorer in July. I was recently on vacation this past weekend and encountered a lot of rain. When my 8 year old sat in the 3rd row and buckled the seatbelt, water started streaming down the webbing and I also noticed water on the speaker grill. This has happened twice so far."
Owners also report that the water leak gets worse if the car is parked at an incline.
Solution
The most common causes of water leaks in the Ford Explorer are:
Clogged Sunroof drain
Gap in sunroof gasket
Cracks in the rear tailgate area
The first thing you should check is if there are any cracks on the vehicle's body near the top of the tail gate. These can be sealed off using silicone and stop any future leaks from occurring.
There could also be gaps in the sunroof gasket that's causing water to leak through. In such cases, replacing the gasket should fix the issue.
Finally, you can check if the sunroof's drain lines are clogged up and need to be cleared. There could also be a disconnected drain line pipe which you just need to reconnect.
7. Hood Paint Issues
Lots of fifth-generation Ford Explorer owners have complained about paint bubbles and peeling on the hood of their car even while they were relatively new.
The Ford Explorer uses an aluminum hood which is lightweight but is also prone to corrosion.
Although aluminum doesn't rust like steel, once corrosion has started, the paint can start bubbling or peeling off making the vehicle look tattered and unsightly.
Here is how some owners described their experience:
"The paint is bubbling all along the front of the hood of my 2013 Ford Explorer XLT. It looks awful."
"Paint is bubbling around the edge of the hood – multiple places. Factory paint – no repaints or damage."
Solution
Unfortunately, there's no quick fix for the hood paint problem aside from getting it sanded down and resprayed by a professional.
Using touch-up paint can slow down the corrosion and progression of the paint bubbles, but it will eventually get worse over time.
The good news is, you don't really have to worry about the hood rusting away over time since aluminum doesn't rust but flakes off the surface rather slowly which only causes minor paint damage.
8. Door Panel Bubble
Many people have complained about bubbles forming on the fifth generation Explorer's door panel where the upholstery is basically separating from the adhesive.
In severe cases, the door panel's upholstery can start splitting and cracking as it gets more brittle with age.
Here is how one Explorer owner described the issue:
"I have a 2014 and both front doors are doing this. The driver's side door also started splitting at the stitches along the interior door handle."
Solution
The best way to fix the door panel bubbles is by completely replacing the door panel which can cost several hundred dollars.
Some people were able to successfully fix it by injecting glue into the gap to get the upholstery to stick back onto the door panel's surface.
Most owners just leave with the problem as it's entirely a cosmetic issue and doesn't affect the vehicle's drivability or any of its functionality.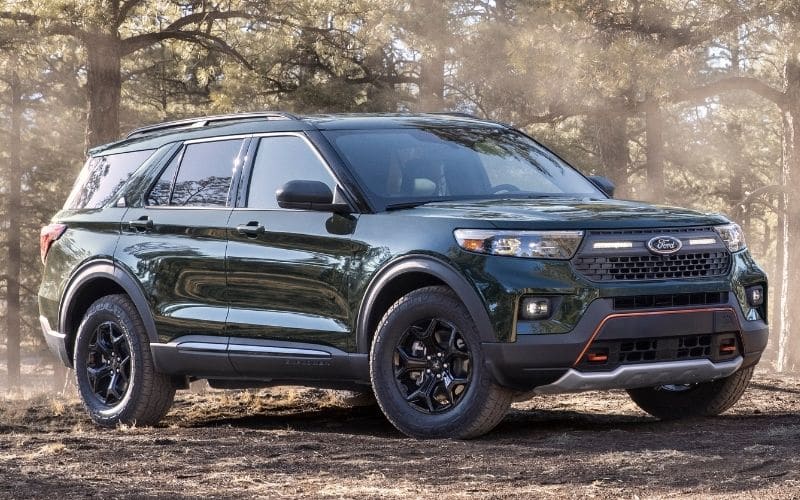 Ford Explorer Model Years With the Most Problems
To get a better idea of which Ford Explorer has the most problems the fairest way is to compare models based on the number of vehicles sold in relation to the number of reported problems.
We're using the Car Problem Zoo PPMY index which means problems reported per thousand vehicles per Year.
For example, newer cars will have fewer complaints simply because they've been around for less time.
Based on this index, the most problematic years are:
2011 – 1.21 PPMY
2016 – 1.00 PPMY
2020 – 0.88 PPMY
And the least problematic years are:
2001 – 0.08 PPMY
2000 – 0.12 PPMY
2009 – 0.14 PPMY
Ford Explorer
Model Year
Problems
Sales
Vehicle Age
PPMY Index
2022
18
–
–
–
2021
75
221,040
1
0.34
2020
468
265,337
2
0.88
2019
73
129,997
3
0.19
2018
228
254,718
4
0.22
2017
770
357,721
5
0.43
2016
1,684
279,387
6
1.00
2015
1,301
224,409
7
0.83
2014
1,274
209,112
8
0.76
2013
1,927
239,413
9
0.89
2012
726
86,916
10
0.84
2011
1,103
82,807
11
1.21
2010
135
72,248
12
0.16
2009
46
25,872
13
0.14
2008
202
89,892
14
0.16
2007
238
107,108
15
0.15
2006
719
177,606
16
0.25
2005
552
197,645
17
0.16
2004
1,429
295,689
18
0.27
2003
1,206
301,251
19
0.21
2002
3,435
492,580
20
0.35
2001
402
227,748
21
0.08
2000
974
378,383
22
0.12
1999
1,362
–
23
–
1998
1,984
–
24
–
1997
1,744
–
25
–
1996
1,469
–
26
–
Source: Car Problem Zoo
Related: Ford Explorer Beeping? (8 Causes & Solutions)
Ford Explorer Pros and Cons
If you're considering a Ford Explorer as your next car you might be wondering what its strengths and weaknesses are…
Pros
Comfortable ride
Powerful engines
Lots of cargo space
Versatile family vehicle
Good towing capacity
Decent amount of tech and driver aids
Cons
Cramped third row seats
Uninspiring interior quality
High price of higher trim levels
Ford Explorer Reliability Compared to Similar Cars
Consumer Reports rankings detailed below is based on the model's last three years, the Ford Explorer sits near the bottom, with a poor score of 18/100.
| | |
| --- | --- |
| Make & Model | Consumer ReportsReliability Score |
| Mazda CX9 | 93 |
| Toyota Highlander | 88 |
| Hyundai Palisade | 82 |
| Kia Telluride | 81 |
| Volkswagen Atlas | 60 |
| Subaru Ascent | 52 |
| Honda Pilot | 44 |
| Ford Explorer | 18 |
| Chevrolet Traverse | 14 |
| Kia Sorento | 5 |
Source: Consumer Reports
Ford Explorer Used Value
We've taken a look on Car Gurus to gauge the resale value of a Ford Explorer, below are typical asking prices for each model year.
According to Auto Padre, a Ford Explorer will depreciate 37% after 5 years and have a 5 year resale value of $30,870.
Note: Used model prices will vary depending on trim level.
| | | |
| --- | --- | --- |
| Model Year | Mileage (miles) | Resale Price |
| 2022 | 4,291 | $46,980 |
| 2021 | 18,484 | $35,126 |
| 2020 | 34,303 | $38,492 |
| 2019 | 49,828 | $34,999 |
| 2018 | 50,681 | $29,994 |
| 2017 | 119,152 | $14,990 |
| 2016 | 97,829 | $18,900 |
| 2015 | 107,825 | $16,339 |
| 2014 | 156,000 | $13,900 |
| 2013 | 135,610 | $11,818 |
| 2012 | 87,400 | $16,000 |
| 2011 | 169,657 | $8,995 |
| 2010 | 124,350 | $6,995 |
Source: Car Gurus
Related: 8 Ford Explorer Locking Problems (Solved & Explained)
What Do Owners Like and Dislike About the Ford Explorer?
Based on owner feedback from the Kelley Blue Book site here are what real-life owners love and hate about the Ford Explorer.
Likes
Drives great
Features
Powerful engine
Cruise control
Smooth ride
Dislikes
Transmission
Infotainment system
Lots of mechanical issues
Numerous defects
Noisy acceleration
Owners Reviews
"I don't think there is another SUV more powerful than this one, I got the platinum version. The technology is amazing you almost don't need to drive. I'm waiting for the electric version to upgrade. I love my car"
Source: Kelley Blue Book
"Best car ever, body style, solid rides smooth Easy on mileage 24mpg in town 28 mpg road. Trying to down grade . I love the car. That's my second Explorer"
Source: Kelley Blue Book
"I got this car a little over a week and a half ago and already have 2000 miles on it. Haven't had any issues and I am already averaging above the window sticker ratings…"
Source: Edmunds
How Reliable Are Ford Cars?
According to a recent report from Consumer Reports, Ford are ranked the 18th most reliable car manufacturer out of 28 brands, with a score of 44/100.
| | | |
| --- | --- | --- |
| Rank | Brand | Score |
| 1 | Lexus | 76 |
| 2 | Mazda | 75 |
| 3 | Toyota | 71 |
| 4 | Infiniti | 69 |
| 5 | Buick | 66 |
| 6 | Honda | 66 |
| 7 | Subaru | 66 |
| 8 | Acura | 64 |
| 9 | Nissan | 63 |
| 10 | Mini | 60 |
| 11 | Hyundai | 56 |
| 12 | Chrysler | 54 |
| 13 | Porsche | 52 |
| 14 | Chevy | 48 |
| 15 | Audi | 47 |
| 16 | Cadillac | 47 |
| 17 | BMW | 45 |
| 18 | Ford | 44 |
| 19 | Kia | 43 |
| 20 | Volvo | 42 |
| 21 | Ram | 40 |
| 22 | GMC | 37 |
| 23 | Mercedes-Benz | 34 |
| 24 | Volkswagen | 31 |
| 25 | Genesis | 30 |
| 26 | Jeep | 26 |
| 27 | Tesla | 25 |
| 28 | Lincoln | 18 |
Source: Consumer Reports
Sources
https://www.consumerreports.org/cars/ford/explorer/
https://www.carcomplaints.com/Ford/Explorer/
https://www.carproblemzoo.com/ford/explorer/
https://www.kbb.com/ford/explorer/
https://www.edmunds.com/ford/explorer/
https://caredge.com/ford/explorer/depreciation