The Honda CB500X is a versatile and reliable adventure bike that can handle both on-road and off-road riding.
It has a smooth and economical parallel-twin engine, a comfortable and ergonomic design, and a range of features and accessories to suit different riders and preferences. However, like any bike, it also has some common problems that owners and potential buyers should be aware of.
This article will look at the most frequently reported issues with the Honda CB500X, including quotes from real-life riders who have experienced these problems first-hand.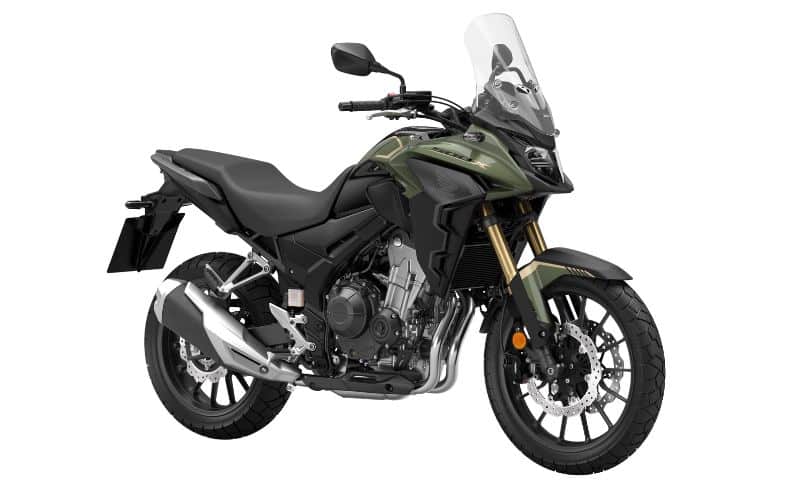 1. Coolant Leaks
One of the most common problems reported by Honda CB500X owners is coolant leaks, especially on earlier models.
If left unchecked, coolant leaks can cause overheating or engine damage. Coolant leaks are usually easy to spot by checking the coolant level or looking for drips under the bike.
"I had a small coolant leak on my 2014 CB500X. It was coming from the water pump. I replaced it, and the problem was solved."
"Just reporting my bike developed a coolant leak on the thermostat while it is warming up on cold days. I used the bike last winter, even around 0F, and didn't have this issue. Once the bike warms up, everything is perfect. The leak is just a couple of drops before it stops."
Finally, other CB500X owners found a coolant leak from the radiator cap. Replacing the faulty cap with a new one solves the problem.
"I had a coolant leak from the radiator cap. It was spraying coolant all over the engine and the fan. I replaced the cap with a new one, and no more leaks."
The fix may involve tightening or replacing the bolts or replacing the water pump seal or gasket.
If you notice any signs of coolant loss, take your bike to a mechanic as soon as possible.
2. Mismatched Exhaust
The exhaust pipe and muffler on the Honda CB500X have different finishes, which some riders find aesthetically unappealing.
The pipe is shiny and chrome-like, while the muffler is matte and black.
The pipe is also prone to rusting over time, especially if exposed to salt or moisture.
The mismatched exhaust does not affect the performance or sound of the bike, but it may bother some riders who care about the looks of their bike.
Some Honda CB500X riders hate how the exhaust looks on their bike. They say the pipe is too shiny, doesn't match the muffler, or looks cheap and tacky.
Other CB500X enthusiasts like how the exhaust looks, as it's different and unique. They embrace the difference in color and polish the chrome portion to add to the contrast to help the bike stand out.
Riders who can't learn to love the black/chrome contrast can either replace the Honda CB500X's exhaust with an aftermarket one or paint or polish the pipe to match the muffler.
3. Soft Front Brake
Some owners report that the front brake on their Honda CB500X lacks bite and feedback, making it less confidence-inspiring in emergencies or off-road riding. Critics say the CB500X's front brake lever feels spongy and requires much pressure to slow down the bike.
"The front brake is adequate but not great. I have EBC HH pads on order."
"I changed my front pads to EBC HH pads, and they are much better than stock."
Some riders say it feels like there's air in their CB500 X's system, as it takes longer to stop the bike than they're accustomed to. A lack of brake instant resistance or brake feedback can lead to accidents like dropping the bike or rear-ending a car.
Other Honda riders report that the front brake on their CB500X does an adequate job, but it could be more responsive. Consumer reports claim that changing the pads to some aftermarket off-roaders makes a noticeable difference, adding a stronger bite and feel now.
Some riders upgraded to braided lines or different pads to improve the braking performance and feel. That said, the CB500X does come with ABS as a standard feature, which is a plus for safety and stability.
4. Awkward Handling; Hard to Balance
Whether Honda reviewers blame the front fork compression, others blame the ADV-style tires on paved roads. Regardless of the cause, the Honda CB500X is sometimes criticized for squirrely handling. This makes the bike harder to maneuver in tight spaces or corners and less fun to ride on twisty roads.
"The 19-inch front wheel rolls over bumps better but also makes on-road handling just a tad slower. The ADV-style tires also compromise on-road handling and grip a bit." — cycleworld.com
"The final drawback to the CB500X is its handling. This has to do with the fork, which seems to compress too much going over bumps. When this happens during a turn, it feels a bit squirrelly, and it makes you want to get upright immediately." — ripsandrides.com/honda-cb500x-review/
Some riders theorize that their Honda CB500X's handling feels dull or slow in the corners and that the lack of power is to blame for the awkward handling and difficult balance.
For example, one rider wrote: "It's easy to ride and comfortable but lacks an exciting throttle response." Another rider wrote: "It feels dull in the corners and slow on acceleration."
It's important to note that the riding physics of any bike changes with the weight and height of its rider, as well as how much gear they're carrying. Plenty of riders celebrate the bike's ergonomics and handling.
Related: 7 Common Problems with the KTM 390 Adventure (Explained)
5. Front Mudguard Too Short
Another common problem with the Honda CB500X is its front mudguard or fender. Many riders find it to be too short and ineffective for stopping dirt, rocks, water, and other debris from hitting the engine or radiator.
"The front mudguard is too short for off-road riding. It lets a lot of dirt and water spray onto the engine and radiator. I had to clean the radiator fins several times to prevent overheating."
"The front mudguard is useless on gravel roads. It does not protect the oil filter or the exhaust pipes from rocks and debris. I had to replace the oil filter cover after it got cracked by a stone."
Some riders have tried to solve this problem by buying aftermarket mudguard extenders or longer mudguards from other models or brands. These accessories can help keep some of the dirt off the bike, but they may also affect the look or aerodynamics of the bike.
"I bought a Puig rear mudguard for my CB500X, and it does a good job of keeping the dirt off the rear shock and undertail. It also looks nice and matches the bike's color."
"I installed a Givi rear mudguard on my CB500X, and it works well, but it does make the bike look a bit bulky from behind. It also adds some weight and drag, which may affect the fuel economy slightly."
Again, this is just a matter of taste. Unhappy CB500X riders can replace their mudguard with a longer aftermarket guard designed for off-road riding for more coverage and clearance.
6. Can't Access Headlight Bulb
The headlight bulb on the Honda CB500X is challenging to reach and replace, requiring the removal of several panels and screws. If the bulb blows out on a long trip or you want to upgrade to a brighter LED bulb, this could be a hassle.
"The headlight bulb is a pain to replace. You have to remove the windshield, the front fairing, the side panels, and the instrument cluster. Then you need a long screwdriver and a pair of needle-nose pliers to unhook the bulb retainer. It took me an hour to do it."
"The headlight bulb access is ridiculous. You have to loosen so many screws and clips that you might as well take off the whole front end. And then, you need a special tool to reach behind the radiator and disconnect the bulb. It's a nightmare."
Other CB500X owners find ways to access their headlights that don't seem too inconvenient.
"The headlight bulb access is not that bad once you get the hang of it. You don't have to remove all the panels; just loosen them enough to create some space. Then you can use a long screwdriver and a pair of needle-nose pliers to remove the bulb retainer. It takes me about 15 minutes to do it."
As you can see, these headlight opinions vary and won't apply to everyone reading. Different riders may have different levels of skill, patience, or preferences when it comes to changing bulbs in the field.
7. Frequent and Costly Valve Adjustment Scheduling
According to the owner's manual, the valve clearance on the Honda CB500X must be checked every 16,000 miles (25,600 km), which is more frequent than some other bikes in this category. This could add to the maintenance cost and time, especially if you clock a lot of miles per year.
Some 500X riders opt for less frequent valve inspections to save money, which we don't recommend.
Other CB500X owners prefer to do their own valve clearance checks and adjustments.
"I did my own valve clearance check and adjustment. It was not that hard, just time-consuming and fiddly. I followed the instructions from the service manual and some online videos. I saved a lot of money and learned a lot about my bike."
Another rider wrote: "I don't trust the dealer to do a proper job on my valves. They charge too much, and they don't care about the details. I'd rather do it myself and make sure it's done right. It's not rocket science, just basic mechanics."
Still, a valve adjustment on a Honda CB500X is not a DIY job for most riders, as it requires special tools and skills. We suggest leaving valve inspections/adjustments to a qualified Honda-moto-mechanic who can do it properly and avoid any damage to your engine.
8. Countershaft Seal Design: Hard-to-Replace Countershaft Seal
CB500X owners report a design flaw with the seal that makes it difficult to replace. They claim the CB500X's countershaft seal has a built-in flange that prevents it from being installed from the outside, requiring a complete engine strip down.
"Finally, a very stupid design flaw on the Honda CB500X. If you replace the countershaft seal, it has a built-in flange, so it can only be installed from the inside… requiring a complete engine strip down. Dumb dumb dumb. Most riders get around this by filing the flange down and just fitting it the way you fit most countershaft seals."
Another rider wrote: "The countershaft seal is a pain to replace. You have to remove the engine and split the cases to do it properly. It has a flange that prevents it from being installed from the outside. It's a stupid design that makes no sense."
The Honda CB500X's manual calls for a countershaft sprocket inspection every 8000 miles (12800 km) or every 12 months, whichever comes first. The sprocket is attached to the countershaft, which is where the seal is located. Therefore, having the mechanic check the seal condition when inspecting the sprocket may be a good idea.
What Are the Pros and Cons of the Honda CB500x Motorcycle?
Pros:
Smooth power delivery
Honda reliability
Low running and maintenance costs
Upright seating position with good wind protection
Low seat height welcomes riders of all heights
New dual-disc front brakes (with standard ABS) and upgraded fork
Great styling
Good stability on the road
Cons:
Seat height might be a tad too high.
Handlebar too low to comfortably accommodate standing off-road.
Windscreen requires tools for height adjustment.
No provisions for fork adjustment
Lack of features
Not an off-roader
Available only through BigWing outlets
Expensive compared to its competitors.
What Do the Reviews Say?
The Honda CB500X is a versatile and reliable adventure bike that can handle both on-road and off-road riding. Here are some quotes from rider reviews that highlight its strengths and weaknesses:
"The first thing you will notice when twisting the throttle is the CB-X's smooth transmission and a mild-mannered 471cc parallel-twin engine. The clutch pull is light, and modulation is easy thanks to the slipper assist function—a perk for navigating the daily stop-and-go."
"On the pavement, the CB-X's 41mm telescopic fork and single shock are soft and don't allow for a planted feel in switchbacks—mid-turn bumps have the rear pogoing over those undulations, causing instability."
"The CB500X's appeal is its lighter, more beginner-friendly approach to the ADV class, and while it does have a commuter background, it can handle a bit of off-road. So go ahead and have fun on it."
What's the Resale Value for a Honda CB500X?
| | | |
| --- | --- | --- |
| Year | Mileage | Used Listing Price |
| 2021 | 5,150 mi | $6,200 |
| 2021 | 10,824 mi | $6,460 |
| 2020 | 16,356 mi | £4,689 |
| 2019 | 7,457 mi | $5,999 |
| 2018 | 3,472 mi | $7,400 |
| 2016 | 17,262 mi | $4,999 |
| 2015 | 6,000 mi | $5,250 |
What Are Some Alternatives to the Honda CB500X?
| | | |
| --- | --- | --- |
| Make/Model | MSRP | MPG |
| Honda CB500X | $7,199 | 71 |
| KTM 390 Adventure | $6,399 | 64 |
| Benelli TRK 502X | $6,399 | 51 |
| Kawasaki Versys 650 | $8,699 | 46 |
| Suzuki V-Strom 650 XT | $9,349 | 54 |
Sources:
Honda Cb 500X Motorcycles for Sale Near Me – Cycle Trader
Honda CB500X Review: The Best Adventure Motorcycle? – RIPS & RIDES.
Honda CB500X on and off-road review | Visordown
2022 Honda CB500X Review [16 Fast Facts: Adventure Motorcycle].
How to check and adjust valve clearance on a Honda CB500X, CB & CBR500r motorcycle maintenance.