The Honda CBR 1000RR-R Fireblade SP is a high-performance superbike based on the Honda RC213V-S MotoGP replica designed to compete in the World Superbike Championship.
However, like any other machine, it is not perfect and may have some problems.
This article covers the common problems owners or reviewers have reported with the Honda CBR 1000RR-R Fireblade SP and tips on troubleshooting them.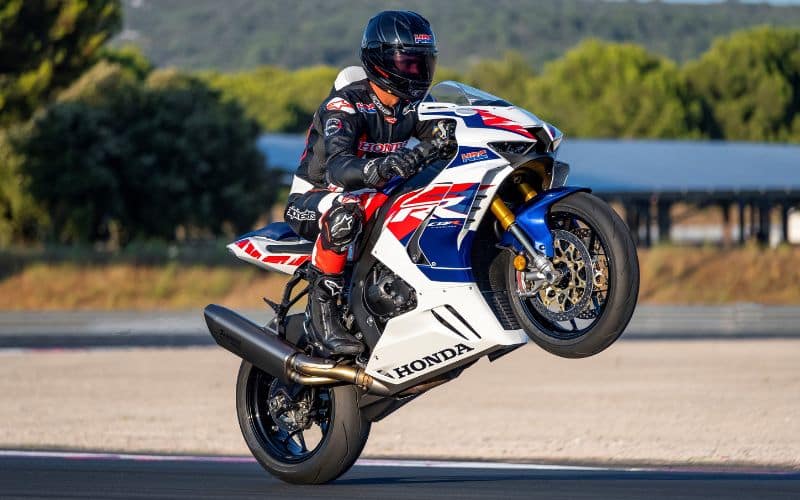 1. Oil Degrades Fast
One of the most frustrating problems with the Honda CBR 1000RR-R Fireblade SP is the excessive oil consumption. Some owners have reported that their bikes burn oil and require frequent top-ups, while others complain the oil wears out too fast.
"[It happens] on my new CBR 1000RRR SP 2021, they asked me to use the original Honda oil 10w30. Not bad oil, but at 8000km with this type of oil, it already doesn't feel smooth. I changed the oil 3000 km ago to Rockoil 5w30 xrp. Love the sound, clutch feel, force, etc., compared to the Honda 10w30. No oil [excessive] consumption after 3000km of use; very, very pleased." -1000RR.net
"What can I say? After just 5000km, the Honda Original oil looks like piss. There is no viscosity. And they recommend to keep it for 12, 000 km……" -1000RR.net
Rapid oil consumption can be due to faulty valve seals or piston rings or a malfunction in the engine that causes oil to leak into the combustion chamber.
That said, the Fireblade SP is a race bike, which means it revs high, runs hot, and consumes more oil than other motorcycles, especially when pushed hard.
To resolve oil consumption problems, check the oil level regularly using dipsticks or the sight glass.
It would be best if you also inspected the exhaust pipe for signs of blue smoke, which indicates oil burning.
If your Fireblade's rapid oil consumption persists, we suggest taking your bike to a Honda dealer for diagnosis and repair.
2. Overheating Issues
Another common problem with the Honda CBR 1000RR-R Fireblade SP is either with the exhaust system or, by proxy, the engine. If the engine temperature rises above 100°C and triggers the warning light, we recommend you try to cool it down before you continue riding.
In fact. Honda issued a safety recall for the 2021 Honda CBR 1000RR-R Fireblade SP.
Honda issued this recall due to exhaust overheating concerns, which could result in oil leaks and engine overheating.
In extreme situations, scorching hot exhaust pipes can melt the oil cooler pipe, leaking oil onto the rear tire.
Affected owners should promptly contact their local Honda dealer if they detect any oil leaks.
An overheating engine affects not only the performance and reliability of the bike but also the comfort of the rider.
The Fireblade SP is a race bike engineered to rev high and run hot, but only in short bursts.
Running the Fireblade at high revs for hours of track riding will naturally cause the bike's internal temperature to rise above the sensor limit.
Other potential causes of the Fireblade SP's engine overheating are a faulty thermostat, a clogged radiator, or a low coolant level.
To troubleshoot the Fireblade SP's overheating issues, check the coolant level and condition using the reservoir tank or the radiator cap.
You should also inspect the radiator for any debris or damage and clean it if necessary. You should also ensure that the cooling fan works properly and that the thermostat opens and closes at the right temperature.
3. Malfunctioning Quick Shifter
A third common problem with the Honda CBR 1000RR-R Fireblade SP is the malfunctioning of the quick-shifter, which usually allows clutchless upshifts and downshifts.
Riders report the SP's quick shifter sometimes fails to function smoothly or consistently and may cause jerky or missed shifts.
This can affect the acceleration and deceleration of the bike, as well as the rider's confidence and enjoyment.
"I have a problem with my QuickShifter CBR1000rr-r 2021 (OEM QuickShifter). My quick shifter in my CBR1000rr-r 2021 can't shift from 1st gear to 2nd gear. (can use the clutch to shift 1 to 2) but I can use the quick shifter from gear 2 to 3 4 5 until 6 with no problem, and I can shift down with the quick shifter from gear 6 5 4 3 2 until 1 with no issue. It only has a problem with using a quick-shifter to shift gear 1 to 2. (shift up only)" -1000RR.net
Some possible causes of quick-shifter problems are a faulty sensor, a loose connection, or a software glitch.
To rectify a malfunctioning quick shifter, examine the wiring and the connector of the quick shifter and make sure they are secure and clean.
You should also check the settings and the calibration of the quick-shifter using the dash or the Honda Smart Key app.
Finally, update the bike's software if available.
4. Dash Display Problem
Another issue that some Honda CBR 1000RR-R Fireblade SP owners have encountered is the dash display, which utilizes a TFT screen.
Many riders have voiced their dissatisfaction with the user-friendliness and readability of the display, particularly in bright sunlight.
In some cases, critical information like fuel levels, gear position, or tire pressure may not be displayed appropriately.
"I have owned my 2019 Fireblade since the end of July 2019 and have encountered some issues with the dash. Honda first replaced the front screen and sealed it under warranty, and then later down the line, the screen had built up condensation. Honda then agreed to replace the unit with a new one. A few months on, the problem arose again. This time, Honda is rejecting the warranty and saying this is completely normal…?! I don't understand how the previous warranty jobs were honored without hesitation if this is now deemed 'normal.' The bike doesn't get ridden in the rain or any wet conditions. I don't use water to clean the bike either, as it has never been dirty enough. -1000RR.net
To address the dash display problem, you can tweak the brightness and contrast settings on the dash using the buttons on the left handlebar.
Customizing the display mode and layout is also an option, which can be done directly on the dash or through the Honda Smart Key app.
Furthermore, it's essential to inspect the bike's sensors and wiring to ensure they are transmitting accurate signals to the display.
5. Faulty Wind Protection
The Honda CBR 1000RR-R Fireblade SP faces another common issue related to wind protection, particularly at high speeds. Some riders have found the windscreen too low or narrow, failing to shield them adequately from the wind's force.
An inadequate amount of downforce and stability from the winglets can lead to increased wind noise and turbulence, necessitating the rider to adopt a more tucked-in riding position behind the fairing.
"I've noticed this spring since I'm getting out on a longer trip on the 1000RR that after an extended period, I'm getting some neck fatigue due to the wind hitting me right in the helmet. I took a nice little road trip on my F4i only a day after getting out on the highway on the RR and noticed right off the bat that while on my F4i; there was no wind hitting me anywhere near as hard in the helmet. I had a nice little 300-mile trip [on my 1000RR] and noticed as the day wore on, so did my neck." -1000RR.net
Options for resolving the bike's poor wind protection include replacing the windscreen with a taller or wider one or adding extensions or deflectors.
You can also fine-tune the angle and positioning of the winglets or consider removing them if they don't effectively mitigate the problem.
Lastly, wearing a helmet with a suitable visor and donning windproof gear such as a jacket and gloves can help enhance wind protection.
Related: 7 Common Honda CBR1000RR Problems (Explained)
6. Suspension Failure
Another prevalent concern with the Honda CBR 1000RR-R Fireblade SP is its suspension, which can impact the bike's handling and comfort. The SP model utilizes electronic Öhlins forks and shock, offering more adjustability and comfort, but it is also prone to malfunctions or loss of settings.
On the other hand, the base model employs conventional Showa forks and shock, which some find too firm and harsh on the road, failing to absorb bumps effectively.
It's essential to inspect the suspension settings and condition, which can be done through the dash or the Honda Smart Key app.
Adjusting preload, rebound, and compression based on your weight, riding style, and road conditions can significantly improve the suspension's performance.
Additionally, thoroughly examining the suspension components for any leaks, cracks, or damage is vital, and any compromised parts should be replaced as necessary.
7. Issue with Expensive Prices and High Maintenance Costs
The seventh and final notable concern associated with the Honda CBR 1000RR-R Fireblade SP is its steep price tag and high maintenance costs. The SP model commands an even steeper price of $32,300 compared to the $28,500 the base model will cost you, which is already expensive.
Such a substantial investment may put this bike out of reach for many riders, and it might not necessarily deliver a clear advantage or value proposition compared to other sport bikes unless you have the skill set to push it on the racetrack.
Furthermore, the Fireblade SP requires frequent and costly maintenance, including oil changes, valve adjustments, tire replacements, and electronic updates.
To address this financial challenge, consider a few troubleshooting steps.
Begin by conducting a thorough comparison of the Fireblade with alternative options available in the market to ensure it aligns with both your preferences and budget.
Additionally, explore opportunities for discounts, special deals, or financing options that could potentially lower the overall cost of the bike.
Maintaining the recommended maintenance schedule is crucial to avoid surprise expenses.
When maintaining your Fireblade, opt for high-quality parts and fluids, as this can contribute to the longevity and overall condition of the bike, potentially reducing long-term maintenance costs.
What Are the Pros and Cons of the Honda CBR 1000RR-R Fireblade SP?
Pros
Powerful and smooth 999cc in-line four engine that produces 214 hp and 83 lb-ft of torque.
Lightweight and rigid aluminum frame and swingarm that enhance its handling and agility.
Advanced electronics package that includes a six-axis IMU, a TFT dash, a quick shifter, a slipper clutch, traction control, wheelie control, engine brake control, launch control, ABS, and riding modes.
Electronic Öhlins suspension that offers excellent damping and adjustability.
Aerodynamic winglets that generate downforce and stability at high speeds.
Stunning and aggressive MotoGP-inspired design and styling.
Cons
Oil Consumption Problem
Overheating Issues
Malfunctioning Quick Shifter
Dash Display Problem
Faulty Wind Protection
Suspension Failure
Issue with Expensive Prices and High Maintenance Costs
What Are Some Alternative Models?
| | | |
| --- | --- | --- |
| Make/Model | MSRP | MPG |
| Honda CBR1000RR-R Fireblade SP | $28,900 | 37.6 |
| BMW M 1000 RR | $32,995 | 35.0 |
| Ducati Panigale V4 R | $40,000 | 32.0 |
| Aprilia RSV4 1100 Factory | $25,999 | 34.0 |
| Kawasaki Ninja ZX-10RR | $28,999 | 35.0 |
| Suzuki GSX-R1000R | $17,999 | 38.5 |
| Yamaha YZF-R1M | $26,099 | 34.0 |
| BMW S1000RR | $16,995 | 35 |
What's the Resale Value of a Honda CBR 1000RR-R Fireblade SP?
| | | |
| --- | --- | --- |
| Year | Mileage | Used Listing Price |
| 2021 | 11,480 mi | $25,997 |
| 2021 | 1,800 mi | $25,000 |
| 2021 | 1,500 mi | $24,999 |
| 2021 | 1,200 mi | $24,000 |
| 2020 | 2,000 mi | $23,000 |
| 2020 | 3,000 mi | $21,999 |
What Do the Reviews Say?
"It's still beautifully appointed but is now as single-minded as they come – loud, face-meltingly fast, and a demon in the corners. You'll need the commitment and the skill of a racer to do it any kind of justice, which may limit its broad appeal, but Honda wants to win superbike races, and they might just have the tool to do it…" -MCN
"The 2017 Blade SP was the ultimate evolution of the Fireblade philosophy that dates back to the 1992 original: keep it light and simple, and you won't need an excess of power…" -MCN
"It's still every inch a race bike with lights, but the changes, especially to the engine and intakes, are minor and barely detectable on a 215bhp superbike so fast your eyes are on stalks the whole way around Donington Park, here at its 2022 launch. The extra midrange should be more noticeable on the road where you're lower in the revs, but despite the shorter gearing, the Honda is still much longer geared than its rivals." -MCN.
Sources:
Honda CBR1000RR-R Fireblade SP motorcycles for sale – MotoHunt
CBR1000RR-R Fireblade Sp For Sale – Motorcycles – Cycle Trader
HONDA CBR1000RR-R FIREBLADE SP (2020 – on) Review | MCN (motorcyclenews.com)
Recall: All 2021 Honda CBR1000RR-R SP Fireblades May Develop Oil Leak (rideapart.com)