The Honda CR-Z is a sporty and compact 2-door hybrid that was sold from 2010 to 2016.
As the spiritual successor to the legendary Honda CR-X, the lightweight CR-Z boasts playful handling combined with excellent reliability and great gas mileage from its mild hybrid powertrain.
In this article, we'll take a look at the common complaints…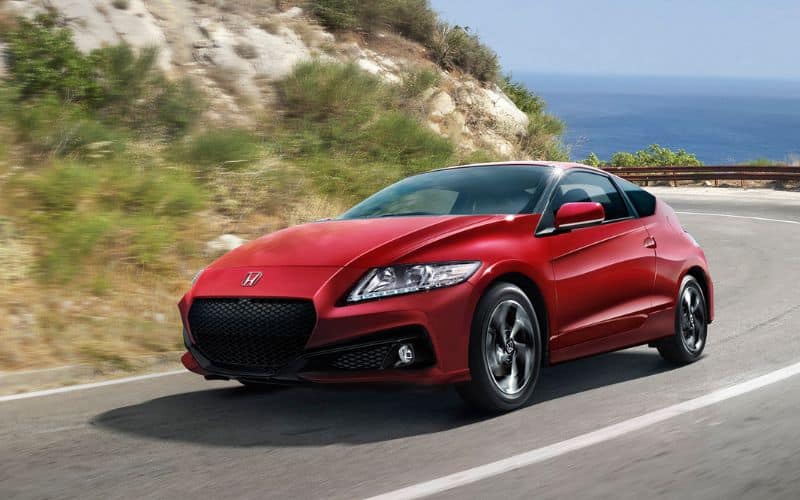 1. Door Handle Issues
The CR-Z's biggest weakness is its exterior door handles which have plastic pieces that will eventually break after a few years.
This problem affects all model years of the CR-Z from 2011 to 2016.
The CR-Z's door handles tend to wear out and break much quicker if they're always exposed to direct sunlight and heat.
In a lot of cases, the handles will start to stick as the plastic deforms and will become harder to use over time before they quit working or just completely break off the door handle base.
Here's how a few CR-Z owners described their dilemma:
"Recently started having problems with door handle sticking, not returning to flush position, and door being difficult to open. I'm afraid the door handle may break off."
"Door handle doesn't open at all under normal use, but will work maybe 50% of the time if I pull very slowly and upwards."
Solution
Replacement door handles for the CR-Z usually cost around $100 to $150. They can be a bit fiddly to replace but there are lots of videos and tutorials online that can show you exactly how to do it.
Getting it done at the dealer can cost you around $300 to $500 for parts and labor, so the DIY route is worth looking at if you're trying to keep the maintenance costs down.
Keep in mind that different door handles are used for cars with keyless entry systems, so make sure to order the right part.
The replacement door handles will eventually break again, so a lot of owners always park in the shade to make the handles last as long as possible.
Cheap aftermarket door handles are not recommended because they have even shorter lifespans.
If your CR-Z door handle isn't completely broken yet but you're already having difficulty opening the door, a common trick CR-Z owners use is to push down on the base while pulling the handle.
To make the door handles last longer just use the door handles to pop the door open then hold on to the door frame to swing it open.
This takes away a lot of mechanical stress from the plastic door handles.
2. 12-Volt Battery Issues
One of the most common problems CR-Z owners have had to deal with is the short lifespan of the 12-volt battery.
Battery issues can affect all model years of the Honda CR-Z from 2011 to 2016 as they all came with small 12-volt batteries that can easily get drained.
When the 12-volt battery is weak, the car will only make clicking noises and lots of dashboard lights will flash whenever you try to start the car.
Normally, the 12-volt battery only powers the car's electronics and it's actually the hybrid battery and motor that starts the engine.
But it still needs the 12-volt battery to power many of the car's electronics and computer systems, including the IMA system.
The backup starter will only use the 12-volt battery if the hybrid battery is too low or if the weather is too cold.
The CR-X also prioritizes charging the hybrid battery first and will only charge the 12-volt battery if the hybrid battery is already fully charged.
Battery problems in the CR-X are usually caused by the following:
Only using the car for short trips
Not using the car for several weeks
Leaving the car parked outside in extreme temperatures
Here is how a few CR-Z owners described their experience:
"My under hood 12-volt battery has needed to be replaced a couple times in 6 years."
"My one complaint is that I've had to replace my 12-volt under hood battery roughly every two years, which seems like a lot."
Solution
If you cannot regularly drive your car for 30 minutes to an hour at least once a week to keep the battery charged, you can hook it up to a battery tender whenever it's parked. It's also a good idea to keep a portable jump pack in the car in case of emergencies.
Another common solution is to replace the small 12-volt battery with a regular-sized battery which you can fit by modifying the battery holder a little bit.
These larger batteries will not only last longer but are also cheaper than the original ones that the car came with.
3. Air Conditioner Problems
Air conditioner issues are fairly common in the CR-Z especially as they get older.
A lot of CR-Z owners report that the A/C will intermittently stop blowing cold air when the outside temperature gets really hot or when the car is not moving.
In the case of the CR-Z, a lot of A/C issues are caused by an out of spec, corroded or worn out A/C compressor clutch.
If the clutch is not engaging properly, the compressor won't turn at all and won't be able to push refrigerant through the A/C system.
Other possible causes of A/C issues include:
System is low on freon or refrigerant
Electrical problems with fuses and relays
Leaks from A/C lines and condenser
Compressor failures
Here is how two CR-Z owners described their A/C problems:
"Mine blows cold while driving at highway speeds. If you get stuck in traffic for long periods of time or park with the systems running, the AC cuts off for the rest of the day. Next day the AC works fine again."
"A/C was super cold but would struggle on really hot days. Then it just stopped blowing cold air at all. Lifted the car and did not see the compressor or any fans turning on."
Solution
Fixing the CR-Z's A/C clutch problem can be as simple as taking out the shim between the clutch plate and coil. This makes the gap between the two parts smaller and allows the clutch to make proper contact with the coil.
If you've already removed the shim and the problem persists, you can get a new clutch kit for less than $100 which comes with a new clutch, coil, pulley and bearing.
This is worth a try since replacing the compressor is significantly more expensive.
4. Broken Fog Lights
The glass lenses of the CR-Z's fog lights are not very strong and can easily crack when they're hit by rocks or road debris.
Early model years of the CR-Z from 2011 to 2012 used oval-shaped fog lights which seem to be more susceptible to cracking. 2013 to 2016 CR-Zs were equipped with round fog lights.
This issue also only affects the higher trim levels of the CR-Z since the base models didn't come with fog lights.
Broken fog lights are more of an unsightly cosmetic issue since the headlamps are powerful enough for most situations.
Here is how two CR-Z owners described their experience:
"I have a 2011 with the driver side fog light lens completely gone. I thought it would be a simple fix to just buy a new lens. But you buy the whole housing, which is expensive."
"Mine cracked a week after I got the car. It was nailed by a rock kicked up from the car in front of me."
Solution
You can't replace just the fog light lenses so you'll have to buy the entire fog light assembly which costs between $100 to $200 per piece.
A bigger problem is the availability of the CR-Z's fog lights. Due to the low sales numbers of the CR-Z, most places don't have the exact part number for the replacement fog light.
Fortunately, the CR-Z uses the same fog lights as other Honda models.
2011 to 2012 CR-Zs use the same fog lights as the eighth gen Civic
2013 to 2016 CR-Zs use the same fog lights as the ninth gen Accord
A lot of CR-Z owners also choose to upgrade the OEM lights to aftermarket LED or HID fog lights which are significantly cheaper than the original part.
5. Rear Blind Spots
The Honda CR-Z's rear visibility is quite bad due to its flat roofline, small rear glass and rear quarter windows, and thick plastic pieces covering the B and C-pillars which create lots of obstructions when you're trying to see what's behind you.
The 2011 to 2012 models did come with parking sensors which warn you if you're about to hit something while the 2013 to 2016 models had backup cameras. Newer cars that weren't equipped with navigation units only have a tiny backup display integrated into the rear view mirror.
Even with these driving aids, it's still difficult to see if there are vehicles approaching from your left or right rear due to the small rear quarter windows and all the plastic pieces that block your view.
Here is how one CR-Z owner described their visibility issues:
"Recently purchased a 2015 CR-Z. Did not realize how poor the rear vision is. The rear view mirror is too small to be useful."
Solution
You can improve the blind spot issue when you're driving by properly adjusting the side mirrors so that they provide maximum visibility and not overlap with what the rear view mirror is showing you.
Ideally, the image that the side mirrors show should start where the rear view mirror's image ends.
Another popular solution is to install a convex rear view mirror that provides a wider view of what's in the back.
A lot of CR-Z owners also stick small convex mirrors on the side mirrors to give them a wider angle.
6. IMA Battery Fan Problems
Although most people are worried about hybrid or IMA battery failures, they are very rare even as many CR-Zs surpass the 10-year mark. Issues with the IMA battery's cooling fan are more likely to occur.
Batteries degrade much quicker when they heat up so the IMA battery needs to be properly cooled by the fan at all times. When the fan stops working, the IMA system will start throwing all sorts of errors.
Symptoms of a faulty IMA battery fan include:
'Check Charging System' error message
'Check IMA System' error message
Check Engine Light
P1148 trouble code
Blown IMA fuse
12-volt battery keeps dying
Here is how a couple of CR-Z owners described their experience:
"Had to get my fan replaced. Died totally on me on the highway. 800 to fix from the dealer."
"Dashboard showed the battery light, IMA service light. Then I got two warning lights: Check IMA system and Check Charging System."
Solution
Replacing the IMA battery fan typically costs around $800 if it's done at a Honda dealership. Although, you can purchase the fan online for around $150.
If you are unable to get a replacement fan for the CR-Z, Civic Hybrid and second gen Insight fans can also be used instead.
Several CR-Z owners were also able to fix their IMA fan issues by troubleshooting the fan's circuit board and replacing faulty components like MOSFETs for a couple of dollars.
Of course, this is best done by someone who is familiar with circuit board repairs.
If you do need to replace the IMA battery, there are cheaper aftermarket options.
The NiMH battery used in the 2011 to 2012 models usually cost around $1,000 while the Li-ion in the 2013 to 2016 models are around $3,000.
Honda CR-Z Pros and Cons
If you're considering a Honda CR-Z as your next car you might be wondering what its strengths and weaknesses are…
Pros
Fun to drive
Extremely reliable
Good on gas
Unique and sporty styling
Cons
No back seats
Low ground clearance
Not very quick
Not as efficient as other hybrids
Related: 14 Best & Worst Honda Civic Years (With Facts & Statistics)
Honda CR-Z Reliability Compared to Similar Cars
| | | |
| --- | --- | --- |
| Rank | Model | Reliability |
| 1 | Toyota Yaris | 4.5 / 5.0 |
| 2 | Toyota Prius C | 4.5 / 5.0 |
| 3 | Mazda2 | 4.5 / 5.0 |
| 4 | Honda Fit | 4.5 / 5.0 |
| 5 | Hyundai Accent | 4.5 / 5.0 |
| 6 | Kia Rio | 4.5 / 5.0 |
| 7 | Mitsubishi Mirage | 4.5 / 5.0 |
| 8 | Mazda MX-5 Miata | 4.0 / 5.0 |
| 9 | Nissan Versa | 4.0 / 5.0 |
| 10 | Chevrolet Spark | 4.0 / 5.0 |
| 11 | Nissan Versa Note | 4.0 / 5.0 |
| 12 | Honda CR-Z | 4.0 / 5.0 |
| 13 | Chevrolet Aveo | 4.0 / 5.0 |
| 14 | Chevrolet Sonic | 4.0 / 5.0 |
| 15 | Ford Fiesta | 4.0 / 5.0 |
| 16 | Smart Fortwo | 4.0 / 5.0 |
| 17 | Nissan Cube | 3.5 / 5.0 |
| 18 | Fiat 500 | 3.5 / 5.0 |
| 19 | Mini Cooper Countryman | 3.5 / 5.0 |
| 20 | Subaru BRZ | 3.0 / 5.0 |
| 21 | Mini Cooper | 3.0 / 5.0 |
| | Avg. Subcompact Car | 4.0 |
Source: Repair Pal
Honda CR-Z Used Value
We've taken a look on Car Gurus to gauge the resale value of a Honda CR-Z, below are typical asking prices for each model year.
According to Auto Padre, a Honda CR-Z will depreciate 33% after 5 years and have a 5 year resale value of $9,480.
Note: Used model prices will vary depending on trim level.
| | | |
| --- | --- | --- |
| Model Year | Mileage (miles) | Resale Price |
| 2015 | 41,733 | $17,499 |
| 2014 | 167,412 | $8,488 |
| 2013 | – | – |
| 2012 | 134,866 | $10,995 |
| 2011 | 89,744 | $11,700 |
Source: Car Gurus
Related: Honda Civic: 11 Common Problems (Useful Guide)
What Do Owners Like and Dislike About the Honda CR-Z?
Based on owner feedback from the Kelley Blue Book site here are what real-life owners love and hate about the Honda CR-Z.
Likes
Fuel economy
Fun to drive
Exterior styling
Cargo space
Agile
Dislikes
Jolting turbo drive
Slow to accelerate
Bumpy ride
Blind spots
Too low
Owners Reviews
"The layout of this car lets you forget you're in a hybrid vehicle and that was what made me notice it in the first place. Different economy modes are fun to play with and make for an enjoyable drive. Build quality is what you'd expect from Honda and attention to detail is evident. Very happy with this car"
Source: Kelley Blue Book
"Great gas mileage and it shuts off the car when u come to a stop, which saves you gas money. It comes with three different engine modes, sport, eco mode and a normal mode…"
Source: Kelley Blue Book
"The CRZ is the only hybrid that comes with a manual 6-speed transmission. It has gears!!! Compared to other hybrids that have CVTs that kill hp, torque and driving fun."
Source: Edmunds
How Reliable Are Honda Cars?
According to a recent report from Consumer Reports, Honda are ranked the 6th most reliable car manufacturer out of 28 brands, with a score of 66/100.
| | | |
| --- | --- | --- |
| Rank | Brand | Score |
| 1 | Lexus | 76 |
| 2 | Mazda | 75 |
| 3 | Toyota | 71 |
| 4 | Infiniti | 69 |
| 5 | Buick | 66 |
| 6 | Honda | 66 |
| 7 | Subaru | 66 |
| 8 | Acura | 64 |
| 9 | Nissan | 63 |
| 10 | Mini | 60 |
| 11 | Hyundai | 56 |
| 12 | Chrysler | 54 |
| 13 | Porsche | 52 |
| 14 | Chevrolet | 48 |
| 15 | Audi | 47 |
| 16 | Cadillac | 47 |
| 17 | BMW | 45 |
| 18 | Ford | 44 |
| 19 | Kia | 43 |
| 20 | Volvo | 42 |
| 21 | Ram | 40 |
| 22 | GMC | 37 |
| 23 | Mercedes-Benz | 34 |
| 24 | Volkswagen | 31 |
| 25 | Genesis | 30 |
| 26 | Jeep | 26 |
| 27 | Tesla | 25 |
| 28 | Lincoln | 18 |
Source: Consumer Reports
Related: Honda CR-Z Alarm Going Off? (12 Common Causes)
Sources
https://www.consumerreports.org/cars/honda/cr-z/
https://www.carcomplaints.com/Honda/CR-Z/
https://www.carproblemzoo.com/tsb/honda/cr-z/
https://www.kbb.com/honda/cr-z/
https://www.edmunds.com/honda/cr-z/2016/review/
https://www.autopadre.com/depreciation-curves/honda-cr-z