The Honda Fit is a popular subcompact that was sold in the US for the 2007 – 2020 model years.
Despite being very reliable, like any car, it's not without its problems.
In this article we'll take a deep dive into the Fit's most common problems and their solutions.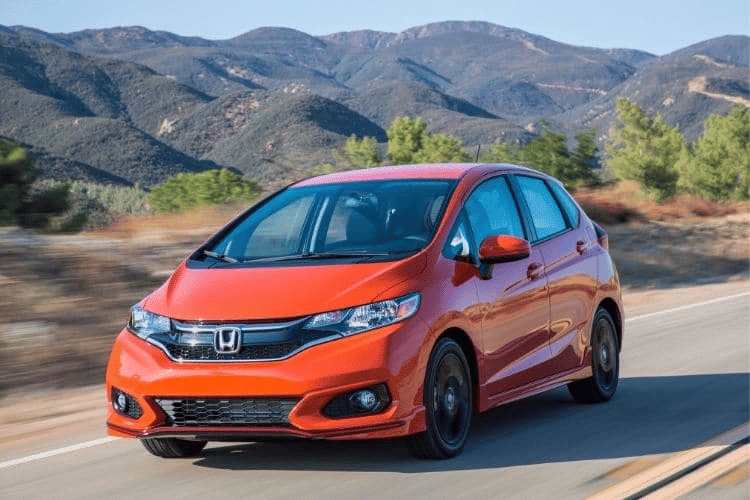 1. Thick A-Pillars
Although more of a design flaw than a mechanical problem, one of the most reported complaints about the 3rd gen Fit is its thick A-pillars that impair visibility.
The A-pillars on many modern vehicles have become thicker in order to house the airbags however the cost of this is reduced forward visibility.
Here is what the owners had to say:
"Thick A-Piller. At a certain angle, sometimes the pillar would block me from seeing people crossing crosstalk." – Reddit.com/r/HondaFit
"For me this is the only thing that really bothers me, I've had scares with three pedestrians who thought I could see them starting to walk into the crosswalk but I had no clue they existed because of the A Pillars. I appreciate the added rollover safety in the 3rd gen but the blind spot is crazy" – Reddit.com/r/HondaFit
"I've complained about this since day 1. It's a horrible design." – FitFreak.net
Solution
There really is very little you can do about this. However, you should take the Fit for a test drive before buying it and see if the A-pillars pose a serious problem for you.
The only workaround for the issue is to lean forward and/or to the side to get a better view.
2. Battery Drain
A widely reported complaint about 2nd and 3rd Generation Honda Fits is battery drain. The general consensus from many owners is that the standard battery isn't big enough for the vehicle.
"This seems to a common fault of many Hondas built in the last decade. Honda has been putting out cars with batteries that are ultra-compact and often underrated for the vehicles they're supposed to be in. The result is that they experience deeper discharging during their service life, shortening the life of the battery, all things equal." – Reddit.com/r/HondaFit
"Battery on my 2016 died within the first year. After looking at how TINY that sucker was I definitely jumped for a bigger battery. There is zero modification required to go up in size. The battery tray is even larger." – Reddit.com/r/HondaFit
"I wish I had known about the battery history before I bought my 2019 Honda Fit last fall. In the last 6 months my brand new, with only has 1700 miles on it, has had a dead battery 3 times. The dealer says it's my fault because I don't drive it daily." – FitFreak.net
There was also a bad batch of batteries issued for the 2010 Honda Fit.
Solution
The simple solution for this is to buy a bigger battery, the most recommended type is a 51R battery.
"I have a 2016. I ran into trouble with my battery last year. Ended up replacing it with a larger battery – I think it was a 51 instead of the 151 if I recall correctly. I didn't need any modification at all. Dropped right in. Much happier now." – Reddit.com/r/HondaFit
"Replacing with a 51R battery is a common fix." – Reddit.com/r/HondaFit
However, you could be experiencing battery drain for other reasons, such as a bad alternator, a parasitic drain or the battery itself.
Many auto parts stores offer a free battery health check where they can diagnose any issues.
3. Power Steering Issues
Intermittent failure of the power steering is a common problem for 2007-2012 Honda Fits, the problem is often accompanied by the ESP (Electronic Power Steering) light coming on, on the dash.
This poses a serious safety risk as the steering wheel becomes extremely difficult to turn.
Below are some complaints taken from the NHTSA.gov website.
"Power steering went out while driving. Was fine after restart, but this is dangerous. Dealer only reset computer. This problem is all over the NHTSA site, and the car needs to be recalled!"
"My wife was driving on a main street at 35 mph. The power steering went out. An indicator light came on the dash board after the steering quit."
"Power steering suddenly shuts off – the event has happened on several occasions over the past 3 years: twice while driving – serious safety risk as car becomes extremely difficult to steer without warning; and three times when starting the car – no power steering immediately upon start."
Solution
According to owners a short term fix to get the power steering working again, is to simply turn the car off and back on again.
The problem is with the Electronic Power Steering control module, which in many cases will need to be replaced as repairing it isn't really an option.
Replacement of the EPS control module should cost in the region of $1000. A TSB was issued for this problem.
4. Air Bag Problems
One of the most commonly reported complaints of the Honda Fit, according to NHTSA data is due to airbag problems. This mainly affected the 2007-2014 model years.
The majority of the airbag complaints are related to the Takata airbag recall.
The recall affected millions of vehicles, not just Honda's, and the issue lies with a defective airbag inflator that was prone to exploding and firing shrapnel into the cabin.
Due to the widespread nature of the recall and the shortage of parts, owners were left waiting unreasonable amounts of time for repairs.
"Takata recall. . . When are my airbags going to be replaced? why do I have to drive day after day knowing my airbags can explode and kill me?" – NHTSA.gov
"Takata recall we received a letter dated March of 2016 and Honda is telling us that the part for the passenger air bag won't be available until this fall and they have no idea when the part will be available for the driver air bag. They advised us to try and drive the car less! this is unacceptable." – NHTSA.gov
Solution
Run a VIN check on your vehicle to see if there are any outstanding recalls that need to be addressed. You can do this on the NHTSA website here.
If you need to have a repair done due to a recall, contact your local Honda dealership as soon as possible. Do not attempt to fix this yourself.
5. Digital Display Goes Blank
A common problem of third-generation Honda Fits is that the digital dash display goes blank –this can be very dangerous as you are unable to see how much fuel you have left. Some owners report this occurs in cold weather and when the car warms up the display comes back on again.
The digital display shows the following information:
Odometer
Fuel level
Speed
Temperature
Ownes on Reddit.com/r/HondaFit shared the following:
"It's a common issue. Mine started doing it right after I bought the car. It only happens when it's cold outside and it turns back on when the car warms up completely. For me anyway"
"Happened to me in my 2015 – literally just had it replaced last week, 2 days before warranty expired"
Solution
The fix for this is simple, you will need to have the dash display replaced.
"Happens to my 2019 when it's cold out, and returns to normal once it warms up. Mine is getting replaced under warranty, which expires in a few months. It is pretty annoying and can be dangerous as you can't see how much fuel you have left."
6. Fuel Injector Failure
A commonly reported problem with Honda Fit models from 2015 – 2019 is faulty fuel injectors.
Owners reported symptoms including:
Rough at idle
Emission system problem warning light on dash
Check engine light on dash
Vehicle misfires
Shuddering
Stalling
Slow acceleration
"I am/was right there with you (2018) Failed at 50k miles. It was about 1600ish for the repair for me. I almost got a new car because of it. Honda has had issues with the FIT injectors, supposedly the '15 and '16 had a recall for the injectors, but that was supposedly fixed on the '17 and up models (fun fact, it wasn't)." – Reddit.com/r/HondaFit
"Fuel injectors failed after 40,000 miles, not covered under powertrain warranty. Honda Fits have a history of defective fuel injectors with tsbs issued years later. Car is no longer running emissions complaint. Honda denied any warranty goodwill coverage." – NHTSA.gov
Solution
In most cases you will need to have the faulty fuel injectors replaced, however, some owners have reported that issues have re-occurred after having the repairs.
"When starting vehicle the vehicle will miss fire causing all warning lights to come on the dash board. The first fix included new fuel injectors. It then happened again a few months later, this time a different one misfired. No long term solution found at this point to the problem." – NHTSA.gov
Honda has issued a warranty extension for this problem although it only covers 2015-2016 models.
7. Low Beam Headlights Not Working
A common problem of 2007 and 2008 1st generation Honda Fits is that the low beam headlights fail.
"Headlights do not work on low beam. . . High beam only. Had a mechanic work on it, but did not fix it. There was a recall on 2007 Honda Fits because of poor wiring rubbing against metal and lights don't work." – NHTSA.gov
"The low-beam lights on my Honda Fit 2007 are not working properly. At times they will work but more often then not, the lights will not work. The high-beam lights always work but the low-beams do not." – NHTSa.gov
Solution
Honda issued a recall for this problem. The faulty headlights are caused by installation errors with the wiring harness.
Run a VIN check on your vehicle to see if it has been affected.
8. Fuel Pump Failure
A commonly reported problem of 2019 Honda Fits is fuel pump failure. This can be quite dangerous should the fuel pump fail whilst driving as the engine will lose power and stall.
"My 2019 Honda Fit only has 61k miles. I was driving on the freeway and the fuel pump went, it almost caused me to get into an accident. Lost all power to the engine and it drastically slowed me down. Got a scanner to scan the problem and the fuel pump came out as the error code. I bought my car brand new. The pump shouldn't of gave out so soon." – NHTSA.gov
Solution
Honda issued a recall for this problem. The fault lies with the impeller, the rotating part of the pump, which could be defective.
Run a VIN check on your vehicle to see if it has been affected.
9. Push Button Start Problems
A commonly reported issue of 2015-2017 Honda Fits is the failure of the push button start. Owners report having to press the button multiple times to get the car to start or being unable to start the car at all.
Owners on Reddit.com/r/HondaFit shared the following
"Start button was going bad on my '15"
"What about it made you suspect it was going bad? With my '15 I have to spam the crap out of the button till ign turns over. Doesn't usually fire up on one button press."
"I had the same symptom as you and had already replaced the actual starter a couple weeks prior, so that narrowed it down to this button being the culprit. It works great now. The start itself was easier to replace than the button"
Solution
In many cases, you will just need to simply replace the push to start button. Some owners have also reported having to replace the starter.
Honda issued a warranty extension (9 years from original date of purchase or 125,000 miles) for the push to start.
Honda Fit Model Years With the Most Problems
| | | |
| --- | --- | --- |
| Model Year | Problems | Sales |
| 2020 | 16 | 34,050 |
| 2019 | 86 | 50,946 |
| 2018 | 81 | 36,658 |
| 2017 | 41 | 38,596 |
| 2016 | 118 | 68,621 |
| 2015 | 313 | 84,424 |
| 2014 | – | – |
| 2013 | 198 | 80,173 |
| 2012 | 125 | 51,426 |
| 2011 | 125 | 41,661 |
| 2010 | 204 | 69,441 |
| 2009 | 328 | 83,649 |
| 2008 | 272 | 74,482 |
| 2007 | 446 | 58,598 |
Source: Car Problem Zoo
Honda Fit Generations
2018 – 2020 3rd Gen Facelift
2015 – 2017 3rd Gen
2012 – 2013 2nd Gen Facelift
2009 – 2011 2nd Gen
2007 – 2008 1st Gen
Honda Fit Pros and Cons
If you're considering a Honda Fit as your next car you might be wondering what its strengths and weaknesses are…
Pros
Cheap to run
Unique looks
Easy to maneuver and park
Fuel efficient
Spacious back seats
Rides well
Comfortable
Well-equipped cabin
Cons
Less fun to drive than rivals
Poor acceleration with CVT option
Subpar infotainment system
Subpar braking performance
Noisy engine
Elevated cabin noise
Related: 13 Best & Worst Honda Fit Years (With Pictures)
Honda Fit Reliability Compared to Similar Cars
How Reliable is the Honda Fit Compared to Other Models?
| | |
| --- | --- |
| Model | Reliability |
| Toyota Yaris | 4.5 / 5.0 |
| Toyota Prius C | 4.5 / 5.0 |
| Mazda2 | 4.5 / 5.0 |
| Honda Fit | 4.5 / 5.0 |
| Hyundai Accent | 4.5 / 5.0 |
| Kia Rio | 4.5 / 5.0 |
| Mitsubishi Mirage | 4.5 / 5.0 |
| Mazda MX-5 Miata | 4.0 / 5.0 |
| Nissan Versa | 4.0 / 5.0 |
| Chevrolet Spark | 4.0 / 5.0 |
| Nissan Versa Note | 4.0 / 5.0 |
| Honda CR-Z | 4.0 / 5.0 |
| Chevrolet Aveo | 4.0 / 5.0 |
| Chevrolet Sonic | 4.0 / 5.0 |
| Ford Fiesta | 4.0 / 5.0 |
| Smart Fortwo | 4.0 / 5.0 |
| Nissan Cube | 3.5 / 5.0 |
| Fiat 500 | 3.5 / 5.0 |
| Mini Cooper Countryman | 3.5 / 5.0 |
| Subaru BRZ | 3.0 / 5.0 |
| Mini Cooper | 3.0 / 5.0 |
| Avg. Subcompact Car | 4.0 |
Source: Repair Pal
Honda Fit Used Value
| | | |
| --- | --- | --- |
| Model Year | Mileage (miles) | Resale Price |
| 2020 | 25,189 | $21,000 |
| 2019 | 8,860 | $22,096 |
| 2018 | 23,684 | $21,097 |
| 2017 | 109,930 | $12,000 |
| 2016 | 79,481 | $15,760 |
| 2015 | 70,727 | $15,598 |
| 2014 | – | – |
| 2013 | 133,080 | $8,499 |
| 2012 | 76,484 | $13,975 |
| 2011 | 91,130 | $8,995 |
| 2010 | 168,403 | $6,990 |
Source: Car Gurus
Related: 9 Common Honda Fit Locking Problems (Solved & Explained)
What Do Owners Like and Dislike About the Honda Fit?
Based on owner feedback from the Kelley Blue Book site, here are what real-life owners love and hate about the Honda Fit.
Likes
Fuel economy
Handling
Cargo capacity
Quiet engine
Reliable
Dislikes
Height
Bland driving
Stiff suspension
Cheap materials
Underpowered
Owners Reviews
"Even at the entry level trim the Fit has a lot of features that I didn't expect like the cruise control, keyless entry, digital readouts for gas mileage and auto headlight control…"
Source: Edmunds
"It is very satisfying to drive and very easy to live with. 6 speed is pretty easy to drive. Gets 40+ mpg no problem just driving normally (keeping speed at 65 and under). It's a bit slow under 3000 rpm but I don't mind at all. It's definitely a driver's car…"
Source: Edmunds
"This has got to be the 'Swiss Army Knife' of sun-compacts! So fun to drive using the paddle shifters! Rear seats fold up multiple ways for various cargo. I have had mine for 7 years and have had no issues!"
Source: Kelley Blue Book
How Reliable Are Honda Cars?
According to a recent report from Consumer Reports, Honda are ranked the 6th most reliable car manufacturer out of 28 brands, with a score of 66/100.
| | | |
| --- | --- | --- |
| Rank | Brand | Score |
| 1 | Lexus | 76 |
| 2 | Mazda | 75 |
| 3 | Toyota | 71 |
| 4 | Infiniti | 69 |
| 5 | Buick | 66 |
| 6 | Honda | 66 |
| 7 | Subaru | 66 |
| 8 | Acura | 64 |
| 9 | Nissan | 63 |
| 10 | Mini | 60 |
| 11 | Hyundai | 56 |
| 12 | Chrysler | 54 |
| 13 | Porsche | 52 |
| 14 | Chevrolet | 48 |
| 15 | Audi | 47 |
| 16 | Cadillac | 47 |
| 17 | BMW | 45 |
| 18 | Ford | 44 |
| 19 | Kia | 43 |
| 20 | Volvo | 42 |
| 21 | Ram | 40 |
| 22 | GMC | 37 |
| 23 | Mercedes-Benz | 34 |
| 24 | Volkswagen | 31 |
| 25 | Genesis | 30 |
| 26 | Jeep | 26 |
| 27 | Tesla | 25 |
| 28 | Lincoln | 18 |
Source: Consumer Reports
Sources
https://www.consumerreports.org/cars/honda/fit/
https://www.carcomplaints.com/Honda/Fit/
https://www.carproblemzoo.com/honda/fit/
https://www.kbb.com/honda/fit/
https://www.edmunds.com/honda/fit/2020/review/
https://caredge.com/honda/fit/depreciation https://www.cargurus.com/Cars/l-Used-Honda-Fit-d744