The Honda Fury is a "factory-built chopper" combining radical style and reliable performance.
But like any other motorcycle, Fury owners have reported some common problems that you should be aware of before you buy or ride one.
In this article, we will discuss some of the most frequent issues that Honda Fury owners have reported and how to fix or prevent them.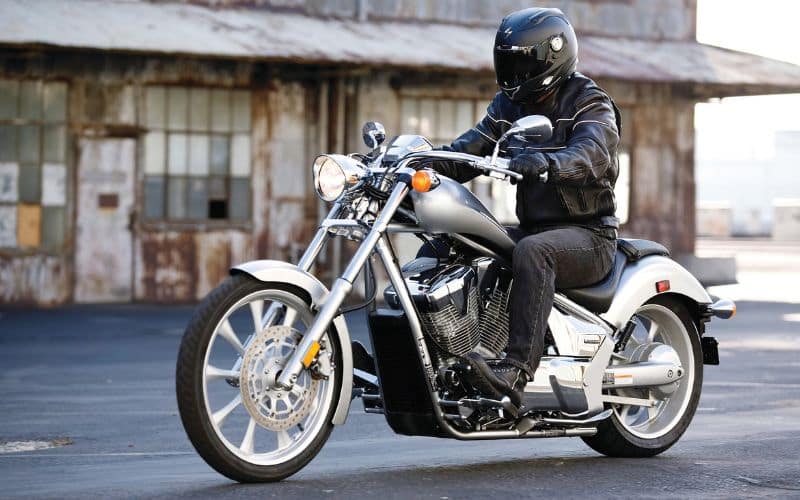 1. Poor Fuel Capacity
One of the common problems with the Honda Fury is its poor fuel capacity. The Fury has a 3.4-gallon tank, smaller than most of its competitors.
A smaller tank means stopping to refill your gas more often, especially if you ride at high speeds or on long trips.
Some riders have reported getting only 100 miles per tank or less.
Riders on furyforums.com had this to say:
"Out here in WA State, gas stations can be 50-60 miles apart, which means you basically have to stop at every gas station – total buzz kill. It looks like the Fury will have the same drawback; one review I read put gas mileage at +/-40mph and a total range of about 137. To add insult to injury, the fury also suffers no fuel gauge."
"The best mileage I got out of mine was 137 and 134 when the light came on. That was very conservative riding, though. But I average 115, give or take on most tanks."
"I've been consistently getting 46 mpg on my Fury, which places me at about 140 miles when I fill up. I let the "low fuel" light come on and just ride until I'm right at 140, and I'm always good.Frankly, 140 miles is probably about 2 hours of straight riding. After about 2 hours, I like to take a break anyway, so it works well for me."
The Solution
You can install a larger aftermarket tank or carry extra fuel. There are some options for custom tanks that can fit the Fury, which can increase your range by almost double.
That said, these tanks are expensive and may require some modifications to your bike. Alternatively, you can carry extra fuel in a [jerry can] or a [fuel bottle].
2. Uncomfortable Seat
Another common problem with the Honda Fury is its uncomfortable seat. Various riders have complained that the stock seat is too hard, narrow, or low for their liking.
Riders report that Fury's seat can cause pain and numbness in the lower back, buttocks, and legs after a short ride, limiting the rider's ability to adjust their position or move around on the bike.
"I'm looking for a seat that could replace the original without changing the mounting points. I do a lot of longer rides (6-10hr days usually), and the seats are becoming uncomfortable for me and the wife." -furyforums.com
"The stock seat sucks, but you have to stop every 100-120 miles for gas anyway so you can give your ass a rest…. I have noticed that my ass seems to get sore a little faster now that there are 3000 miles on it. Anyway, don't be discouraged from long trips, even on a stock saddle. Get a gel pad to go on top of the seat for longer rides." -furyforums.com
The Solution
Replace the stock seat with a more comfortable aftermarket seat.
There are many options for custom seats that can fit the Fury and use high-quality materials such as leather, foam, and gel to contour the rider's body and reduce pressure points.
3. Defective Fuel Tank
One commonly reported problem with the Honda Fury is its defective fuel tank. Some Honda Fury models received a replacement fuel tank due to missing welds around the mounting bracket, causing the bracket to separate from the tank.
In severe situations, this can allow fuel to leak and increase the fire risk in the presence of an ignition source.
The Solution
Contact Honda customer service or your local dealership and check if your bike is affected by this recall. If it is, Honda dealers will inspect the fuel tank welds and, as necessary, replace the fuel tank free of charge.
You should avoid riding your bike until the issue is resolved, as a fuel leak can be dangerous.
4. Lack of Storage Space
Another common problem with the Honda Fury is its lack of storage space. The Fury has a sleek and minimalist design that does not offer much room for carrying luggage or accessories.
The lack of built-in storage compartments, such as a glove box, a trunk, or saddlebags, is inconvenient for riders who want to travel with their personal belongings, tools, or extra gear.
"No argument from me about the way the Fury looks. It's just not practical for my needs, not to mention my size. I sometimes feel like a bear on a bicycle. I sat on a [different bike] yesterday, and it's more my size with plenty of storage space."
The Solution
Add some aftermarket storage options to your Fury.
Various products can provide more space and convenience for the rider, such as:
tank bags
tail bags
sissy bar bags
fork bags
handlebar bags
5. Hot Start Problems
Some Honda Fury owners have reported that their bikes have trouble restarting after a hot engine has been sitting for five or ten minutes, while others say hard starts anytime it's hot outside.
This can be frustrating and inconvenient, especially if you need to get back on the road quickly. The cause of this problem may be a faulty main relay, which controls the fuel pump and the ignition system, or a weak starter system.
Here's what furyforums.com users had to say about their Fury hard starting in hot weather:
"I have read through the other hot start topics but just wanted a fresh set of eyes. 2010 stock, only cobra exhaust. Cold starts great. It started about a few weeks ago. If I stop for gas, it sounds like it does not want to start. But it almost did not start today, even after an hour of riding. It was in the 80's today."
"I have a 2017 Honda Fury, brand new, has about 3600 Miles on it. Got it in late 2017, and it was perfect for the 2018 riding season; this year, 2019, it started to have the hot start issue in mid-2019. Rides fine, pull into a gas station, fuel, try to start, won't turn over, also the Trip Meter will reset."
"There is another issue with the starters not functioning properly either. Honda also changed the part and # but would not comment on why the # change."
The Solution
Test and replace your starter system components and main relay as necessary. To test them, you will need a multimeter and a jumper wire.
6. White Sediment Deposits in Fuel
Other Honda Fury riders reported that their bikes have white substance in their fuel tanks, which can clog the fuel filter and pump. This can cause poor performance, hard starting, or no start.
Fury riders and mechanics have widely debated the cause of this issue. Owners suggest the fuel tank's liner breaks down due to water contamination, rust in the fuel system, or the heat emanating from the fuel pump.
"When I got into the Fuel pump, there were all kinds of little white kernel-like pieces. Some people say this is from Ethanol in the gas crystallizing on hot, humid days, which will clog the fuel pump because the originally designed fuel filter is sucking from the bottom of the pump where gravity causes it to collect. Also, it was a very hot and humid day, which seems to be the trend for this problem." -furyforums.com
"This problem may be more fundamental, simply a poorly designed fuel pump. There is quite a debate on the forums whether ethanol is the cause of the little white crystals; some people say it's the inner walling of the fuel pump itself coming off during hot, humid weather." -furyforums.com
"The problem is the fuel tank liner over the weld seams disintegrating into the white sediment flakes. The filter redesign simply accommodates the tank liner breakdown." -furyforums.com
The Solution
Clean the fuel tank and the fuel system thoroughly. Remove the fuel tank from the bike and drain the fuel into a container. You will also need to remove the fuel pump and filter from the tank and inspect, clean, or replace them as needed.
If the tank liner is breaking down, contact your local Honda dealership ASAP to ask about a replacement fuel tank.
7. Lack of Acceleration
A handful of Honda Fury owners report that their bikes have trouble accelerating, especially in higher gears. This can be frustrating and dangerous, especially if you need to overtake or merge with traffic.
Some riders even note the presence of clunking sounds or backfiring accompanying the faulty acceleration and occasional dip in performance.
The problem can be caused by various factors affecting the engine's air, fuel, or spark.
Here's an example of some users reporting acceleration issues with their Furies on furyforums.com:
"I have a 2020 Fury with 300 miles, bought new. At about mile 295, I started hearing loud clunking on acceleration. Only when I accelerate quickly. At slower acceleration, you don't hear it. Doesn't seem to affect ride performance."
"As soon as the throttle position changed, it began to misfire/ backfire. I took the plugs out and inspected them when I got home. They all had a greyish deposit on the electrode, so they didn't look fouled."
"I put the throttle on and came up through 4th gear still on it and into 5th heard a backfire then accelerating on there was no power and a lot of stuttering backfires under acceleration."
The Solution
Inspect and replace or clean the air filter, MAF sensor, fuel filter, fuel pump, oxygen sensor, throttle body, spark plugs, or catalytic converter as needed.
What Are the Pros and Cons of the Honda Fury Motorcycle?
Pros
Unique and Appealing Design Chopper-Ctyle Design
Powered by a 1,312cc OHC V-Twin Engine
Fuel Injection System Ensures Efficient Fuel Delivery
Front and Rear Disc Brakes Provide Effective Stopping Power
Low Seat Height; Accessible for Riders of Different Sizes
Comfortable Riding Ergonomics Despite Showy Appearance
Cons
Lack of Acceleration
White Sediment Deposits in Fuel
Hot Start Problems
Lack of Storage Space
Defective Fuel Tank
Uncomfortable Seat
Poor Fuel Capacity
What Are Some Alternative Models?
| | | |
| --- | --- | --- |
| Make/Model | MSRP | MPG |
| Honda Fury | $11,499 | 45 |
| Suzuki Boulevard M109R B.O.S.S. | $15,199 | 37 |
| Yamaha VMAX | $17,999 | 27 |
| Harley-Davidson Breakout | $19,949 | 47 |
| Indian Chief Dark Horse | $19,999 | 42 |
What's the Resale Value of a Honda Fury Motorcycle?
| | | |
| --- | --- | --- |
| Year | Mileage | Used Listing Price |
| 2014 | 6,607 mi | $6,999 |
| 2016 | 5,849 mi | $6,500 |
| 2017 | 1,288 mi | $6,999 |
| 2017 | 1,288 mi | $6,999 |
| 2018 | 420 mi | $8,495 |
What Do the Reviews Say?
"As Japanese customs go, the Honda Fury (codenamed VT1300CX) is arguably the best Harley-Davidson clone. Its looks are radical for a Japanese custom, majoring more on a raked-out chopper design than a straightforward custom or cruiser. Honda America's design team should be applauded for this."
"Now add a typical Honda engine – perfect fuelling, gearbox, and gutsy, complete with fuss-free shaft drive – and Honda has a recipe for success."
"Unfortunately, the Fury also comes with the usual Japanese smattering of cheapness in the shape of chromed plastic everywhere. From rocker cover tops to drive cases, all plastic. It's the detailing that knocks points off the Fury's score."
"Reliability is never going to be an issue on the Honda – every mechanical is tried and tested from being used on other models, or derivative of. Quality is arguable in the sense that the paint and coatings are fine, but the amount of cheap chromed plastic and lack of polished metals cheapen it, i.e., painted wheels and side stand. And why only a piddly 12.8lt fuel tank?"
"At £12,071, the Fury was pitched well under the list price of top-flight Harley customs and made for value for money. However, it wasn't a Harley, and you must question the £12k price of a Japanese replica."
"It's hard to believe a bike with a 1805mm wheelbase, 21in front wheel, and a curb weight figure to keep the Goodyear airship anchored could be anything but stable, but that is the Fury." -motorcyclenews.com
Sources:
2017 Honda VT1300CX Fury Motorcycle Recall | Fuel Tank Problems (ultimatemotorcycling.com)
Honda Fury VT1300CX (2010-2013) review and used buying guide | MCN (motorcyclenews.com)