The Dodge Charger is a high-performance sedan that has been a popular choice among car enthusiasts since its debut back in 1964.
The iconic muscle car is currently offered in a wide variety of trim packages, engine sizes, and drive trains.
Before handing over your hard earned cash, you might be wondering how long one of these cars will last you.
In this article we'll take a closer look at the average lifespan of the Dodge Charger, read on to find out more…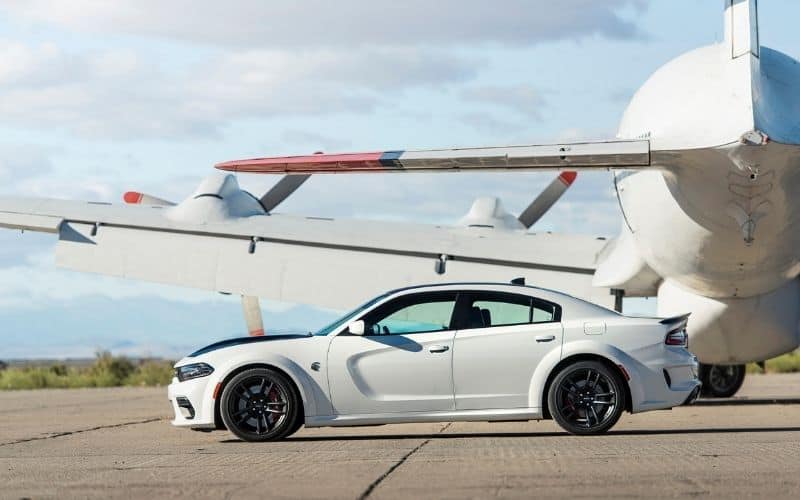 Here is the short answer to how long Dodge Chargers last:
The Dodge Charger can last on average 250,000 miles when properly maintained, this includes regular fluid changes and abiding by recommended service intervals. Based on 15,000 miles driven per year, owners can expect 16 years of service from their Charger before it breaks down or requires expensive repairs.
How Many Miles Can You Expect from a Dodge Charger?
The Dodge Charger is a durable vehicle and it boasts a very healthy lifespan – numerous owner reports testify that they have clocked mileages well over the 150k mark.
There are also anecdotal reports of owners reaching over 300,000 miles however these types of milestones aren't easily attained and shouldn't necessarily be expected.
A conservative estimate would certainly put the lifespan of the Charger within the 200 – 250k range although this will require work on the owner's part.
The lifespan of your Charger is ultimately down to you the owner, and is proportional to to the care you give your vehicle.
Factors that can make a significant impact are:
Keeping up to date with factory scheduled maintenance as well as regular routine maintenance tasks such as checking tire pressures and topping up fluid levels.
Adopting smooth driving habits and not pushing the Charger beyond its limits, this will help reduce wear and tear on components – especially in the transmission.
How Soon Should You Expect Rust on A Dodge Charger?
There is no set timeline when you should expect rust on your Dodge Charger – if it's looked after, it shouldn't be an issue.
Many owners have reported keeping their Chargers rust-free for well over 100k miles.
However if paint is chipped off the vehicle and the metal is exposed to oxygen – rust can set in.
Rust can spread quickly if not taken care of. Contact your local dealer or body shop immediately if you notice rust on your vehicle.
Salt air on the coast and salt put on roads to melt snow can accelerate the rusting process of any vehicle, especially the undercarriage.
If you live in areas where this is an issue such as the Salt Belt, it is recommended to wash your Charger at least once or twice a week – making sure to get the underside blasted.
We recommend the following to avoid the risk of rust:
Wash the vehicle regularly
Use an anti-rust spray
Get undercoating protection
Store the vehicle indoors
Related: 11 Most Common Dodge Charger Problems (Explained)
How Long Do Dodge Chargers Last Compared to Similar Car Models?
Here is how the Charger stacks up to the competition in terms of their durability:
Dodge Charger vs. Ford Mustang
When it comes to raw power, the Dodge Charger and Ford Mustang come to mind.
In terms of their longevity, the Charger has an average lifespan of 250k miles, whereas the Ford Mustang has an average lifespan of 200k miles.
Both sedans have a reliability ranking of 3.5 out of 5.
Accroding to RepairPal, the Dodge Charger is going to be less expensive than the Ford Mustang when it comes to annual repairs.
Annual costs for the Charger are $652 Vs the Ford Mustang's $709 annual repair costs.
Dodge Charger vs. Chevy Camaro
The Chevy Camaro is another popular muscle car in the domestic market.
Our research has found that the Camaro has an average lifespan of 200k miles. This is less than the Dodge Charger that has an average lifespan of 250k miles.
RepairPal gives the Chevy Camaro the same reliability score as the Dodge Charger and Ford Mustang with a 3.5 out of 5.
Average repair costs are slightly less expensive for the Chevy Camaro.
When driven properly, annual repair and maintenance costs are on average $585.
This is $67 less than the annual repair costs of the Dodge Charger.
How Reliable Is a Dodge Charger?
When shopping for a new car you'll want to make sure you don't have the headache of buying an unreliable one.
Fortunately for fans of the Dodge Charger, the car has received impressive reliability reviews in recent years (2018 onwards).
J.D Power gave the 2021 model an overall quality and reliability score of 89/100 and ranked it in 2nd place for top consumer rated sedans.
The scores take into consideration the flaws, defects, and repairs reported by consumers, the higher the rating means fewer reported issues.
Kelley Blue Book's consumer rating index also shows solid reliability scores for the charger, with a score of 4.8/5.0 based on 215 reviews.
You may also be interested in our article: How Long Do Dodge Avengers Last? (12 Important Facts)
Reliability Compared to Other Fullsize Cars
| | |
| --- | --- |
| Model | Reliability |
| Hyundai Azera | 4.0 / 5.0 |
| Chevrolet Impala Limited | 4.0 / 5.0 |
| Toyota Avalon | 4.0 / 5.0 |
| Kia Cadenza | 4.0 / 5.0 |
| Chevrolet Impala | 4.0 / 5.0 |
| Ford Taurus | 4.0 / 5.0 |
| Chrysler 300 | 3.5 / 5.0 |
| Buick Lucerne | 3.5 / 5.0 |
| Nissan Maxima | 3.5 / 5.0 |
| Dodge Charger | 3.5 / 5.0 |
| Ford Crown Victoria | 3.0 / 5.0 |
| Ford Police Interceptor Sedan | 1.5 / 5.0 |
| Avg. Fullsize Car | 4.0 |
The Best and Worst Years for Dodge Charge
To find the worst years of the Dodge Charger, we searched the database on the website carcomplaints.com
According to the search results, we have found that the 2006 Dodge Charger was the worst year for the Charger.
This is determined by complaints, repair costs, and average mileage when problems occur.
Numerous consumers reported that the number one issue with the 2006 Dodge Charger was premature engine failures.
This vital issue was reported to happen at an average of 94,000 miles and had an average repair cost of $5,500.
On Car Complaints alone, there are over 56 complaints about engine failure for this model year.
This model year also received a mediocre 75/100 reliability scores from J.D Power
We recommend sticking to the 2018 or newer Dodge Charger due to its minimal reported issues.
When it came to repairs, these newer models had low reports of early engine or transmission issues and high scores overall in general.
Table below compiled from data obtained from Car Complaints
Related: 16 Best & Worst Dodge Charger Years (With Facts & Stats)
| | |
| --- | --- |
| Model Year | Number of complaints |
| 2021 | 0 |
| 2020 | 0 |
| 2019 | 4 |
| 2018 | 1 |
| 2017 | 3 |
| 2016 | 18 |
| 2015 | 39 |
| 2014 | 58 |
| 2013 | 48 |
| 2012 | 83 |
| 2011 | 129 |
| 2010 | 25 |
| 2009 | 22 |
| 2008 | 87 |
| 2007 | 124 |
| 2006 | 185 |
Please also read our articles: 11 Dodge Charger facts and Dodge Charger in snow and winter driving
What About Recalls for These Models?
The Dodge Charger has had some years worse than others when it comes to recalls.
Recalls are manufacturing repairs that are offered at no cost to the consumer.
The years 2011-2014 had reported the most recalls in the history of the Charger.
The 2012 Dodge Charger had the most recalls, with a total of 14.
The 2020 and 2021 models have reported zero recalls.
In 2019 the Dodge Charger only had three recalls that were related to interior issues.
Below, we have listed out the years of the Dodge Charger and the number of recalls associated.
2019: 3 Recalls
2018: 4 Recalls
2017: 4 Recalls
2016: 6 Recalls
2015: 8 Recalls
2014: 10 Recalls
2013: 8 Recalls
2012: 14 Recalls
2011: 11Recalls
2010: 6 Recalls
2009 6 Recalls
2008: 5 Recalls
2007 5 Recalls
2006: 5 Recalls
Dodge Charger Model Year List
Here are all the model years for the Dodge Charger:
First Generation
1966 Dodge Charger
1967 Dodge Charger
Second Generation
1968 Dodge Charger
1969 Dodge Charger
1970 Dodge Charger
Third Generation
1971 Dodge Charger
1972 Dodge Charger
1973 Dodge Charger
1974 Dodger Charger
Fourth Generation
1975 Dodge Charger
1976 Dodge Charger
1977 Dodge Charger
1978 Dodge Charger
Fifth Generation
1982 Dodge Charger
1983 Dodge Charger
1984 Dodge Charger
1985 Dodge Charger
1986 Dodge Charger
1987 Dodge Charger
Sixth Generation
2006 Dodge Charger
2007 Dodge Charger
2008 Dodge Charger
2009 Dodge Charger
2010 Dodge Charger
Seventh Generation
2011 Dodge Charger
2012 Dodge Charger
2013 Dodge Charger
2014 Dodge Charger
2015 Dodge Charger
2016 Dodge Charger
2017 Dodge Charger
2018 Dodge Charger
2019 Dodge Charger
2020 Dodge Charger
2021 Dodge Charger
Are Dodge Chargers Expensive to Maintain?
Compared to other full-size sedans, the Dodge Charger has slightly above average repair and maintenance costs.
According to RepairPal, the Dodge Charger has an annual repair cost of $652, the average of all other full-size sedans is $590.
Model
Avg. Annual
Repair Cost
Frequency of
Unscheduled
Repairs (per year)
Probability of
Severe Repairs
Hyundai Azera
$458
0.4
11%
Chevrolet Impala Limited
$594
0.3
10%
Toyota Avalon
$463
0.4
13%
Kia Cadenza
$491
0.4
12%
Chevrolet Impala
$568
0.2
13%
Ford Taurus
$697
0.2
11%
Chrysler 300
$631
0.3
13%
Buick Lucerne
$585
0.4
14%
Nissan Maxima
$540
0.3
15%
Dodge Charger
$652
0.2
15%
Ford Crown Victoria
$1,081
0.1
13%
Ford Police Interceptor Sedan
$1,288
0.8
26%
Avg. Fullsize Car
$590
0.3
13%
How Long Do the Brakes Last?
On average, the Chargers factory brakes last on average 30,000 to 70,000 miles.
Depending on your driving habits, this average can increase or decrease.
Driving in a lot of stop-and-go traffic will wear down brakes a lot quicker than open highway commuting.
How Long Do the Tires Last?
If properly cared for, Dodge Charger tires can last four to five years. However, this is dependent on miles driven each year. Typically, factory tires should last 60,000-70,000 miles.
If you want to make your tires last, you need to have them rotated every 5,000 miles so that they wear more evenly.
If you don't want to be replacing tires every 10,000 miles, you can swap them out for longer-lasting ones.
How Long do Dodge Charger Batteries Last?
A Dodge Charger battery on average will last between 3 to 5 years.
This can vary heavily depending on climate, battery size, type of battery, and driving habits.
How Long Do the Transmissions Last?
Depending on how well they are maintained, transmission can last anywhere between 150k-250k miles.
How Long Do the Spark Plugs Last?
On average, expect the lifespan of your Chargers sparks plugs to be between 20k-30k miles although some can last as far as 50k miles before needing replacement.
What About Insurance Cost?
The average insurance costs for the Dodge Charger costs are $1,930 per year or $161 per month for full coverage.
The Charger SXT Sedan trim level is the cheapest to insure at around $1,778 per year or roughly $148/month.
Note: this is dependent on the Dodge Charger trim package. More horsepower usually mean higher insurance premiums.
You may also be interested in our article: Chevrolet Camaro in snow and winter driving
Tips to Prolong the Life of Your Dodge Charger
Here are some tips and tricks to increase the lifespan of your Dodge Charger:
Stick to the regular maintenance schedule provided by the dealer.
Wash the car often to avoid the possibility of rust.
Fill the gas tank before it gets too low to avoid waste in the fuel filter.
Religiously check the fluids.
Don't neglect the tires – make sure they have the right pressure and stay true to the tire rotation schedule.
Resources
https://www.carcomplaints.com/Dodge/Charger/
http://www.dodgeproblems.com/models/charger/recalls/
https://www.jdpower.com/cars/2021/dodge/charger
https://repairpal.com/reliability/dodge/charger
https://enginepatrol.com/how-long-dodge-avenger-last/
https://www.kbb.com/dodge/charger/