The Maxima is Nissan's flagship performance sedan, sporting a 3.5L V6.
Over the years it has evolved into an entry-level luxury car with distinct styling, robust safety features and a long list of creature comforts.
The Nissan Maxima offers performance without sacrificing the durability and reliability that customers associate with the brand.
In this article will tell you exactly how long you can expect the Nissan Maxima to last…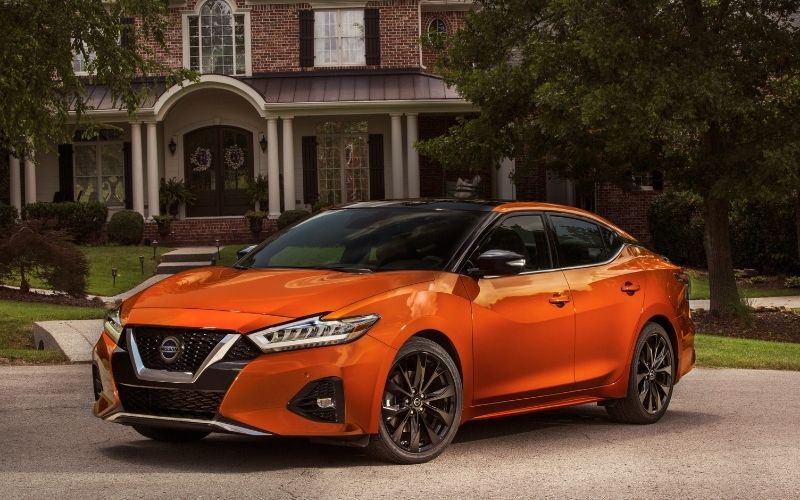 Here is the short answer to how long do Nissan Maximas last:
The Nissan Maxima is a performance sedan built to last. The average lifespan of the Maxima is 150,000 to 200,000 miles. This means that with the average 15,000 miles per year driven, you can expect 10 – 13 years of service or more with proper usage and maintenance.
How Many Miles Can You Expect from a Nissan Maxima?
Like many Japanese car manufacturers, Nissan produces cars capable of exceeding the average estimated lifespan, which according to Consumer Reports is 150,000 miles.
This commitment to longevity can be seen in the Maxima, with owners reporting ownership and use of models from the 90's and early 2000's without many problems, going well over the 200,000 miles mark, and in some cases reaching past 300,000.
It goes without saying that given the nature of the Maxima as a performance sedan, driving habits are a big factor in the overall longevity of the car, agressive driving will significantly hinder the duration of any vehicle.
Whether you use the Maxima as a platform for your latest tuning project, or simply as a comfortable daily commuter suitable for the whole family, make sure to keep up to date with maintenance and fluid changes in order to maximize the lifespan of your car.
How Soon Should You Expect Rust?
Floorboard rust and corrosion was the cause of a class-action lawsuit against Nissan for their 2002-2006 models of the Altima, and 2004-2008 models of the Maxima.
Being that the Nissan Maxima has been around since 1985, it is important to keep in mind that the amount of rust varies depending on which model year you're in the market for. We recommend avoiding year models 2004-2008 altogether to avoid dealing with major rust problems.
According to owners of the Nissan Maxima's, some degree of rust appears on the model after one to three years, however, this is subject to a wide range of factors.
For those looking to buy newer models of the Maxima, rust shouldn't be too much of a problem providing standard rust prevention measures are followed. These include:
Rust-proofing sprays
Regular cleaning
Keeping the car interior dry
Maximas will rust faster in the Rust Belt, a group of states that use salt and de-icing chemicals to clear the roads, both of which can accelerate rusting. And also in coastal regions where the salt in the air from the ocean causes rust to form faster on vehicles.
Salt buildup on vehicle surfaces is corrosive, and the sand, dirt and snow that accumulate can trap moisture in wheel wells and underbody structures.
Left unattended, rust can eat away at the components, the structure and the safety of a vehicle and is much more than just a cosmetic issue.
A good cleaning regime, including the underbody of the car, will make a dramatic, positive impact on reducing the rate at which rusting occurs. However should rust occur, the best way to handle it is with proper treatment.
How Long Does the Nissan Maxima Last Compared to Similar Car Models?
Lets see how well the Nissan Maxima stacks up against similar entry-level luxury performance cars in the market.
Nissan Maxima vs. Dodge Charger
The Dodge Charger slightly edges the Maxima with an estimated lifespan of 250,000 miles..
However, being that the Dodge Charger offers ultra-high performance trims such as the SRT Hellcat, the excessive speeds this car is likely going to be subject to will greatly affect the longevity of the car.
When it comes to the cost of maintenance to get both these cars reaching high mileage, the Nissan Maxima wins by a considerable margin. Costing $540 a year to maintain, while the Charger costs $652. This equates to a $112 difference between the two in annual maintenance.
The Dodge Charger offers more trim levels with higher performance numbers, and is expected to last slightly longer than the Maxima.
Please also read our article: How Long Do Toyota Avalon Hybrids Last?
Nissan Maxima vs. Toyota Avalon
Both the Nissan Maxima and Toyota Avalon are equipped with V6 engines producing 300 horsepower, and both brands have a history and reputation for producing long lasting, reliable cars.
When comparing longevity, both cars average around the same 200,000 miles. However, more reports can be found on the Avalon surpassing 200,000 and reaching 300,000 miles.
The Toyota Avalon also wins in terms of cost to maintain, costing $463 a year compared to the Maxima's $540.
The Nissan Maxima falls short once again when considering reliability. RepairPal rates the Maxima 3.5 out of 5.0 while the Avalon is rated at 4.0 out of 5.0.
You can expect similar features and performance regardless of which car you choose, and both cars are guaranteed to provide you with years of service. Although, the Toyota Avalon may be better value for money in the long run.
Nissan Maxima vs. Chevrolet Impala
The Chevrolet Impala has an average lifespan of 150,000 miles, which puts it slightly behind the Nissan Maxima 200,000 expected miles.
It is important to note, however, that reports of the Chevrolet Impala surpassing 150,000 is considerably rarer than reports of the Nissan Maxima surpassing 200,000.
Owning a Chevrolet Impala will set you back an average of $649 a year in maintenance costs, while the Nissan Maxima will cost an average of $540 annually. Depending on your budget, the $109 difference might be something to consider.
The plus side to owning a Chevrolet Impala is that the current reliability rating for the vehicle is 4.0 out of 5.0 which beats the 3.5 rating of the Nissan Maxima.
How Reliable is a Nissan Maxima?
Reliability is a huge factor when buying a car, and luckily the Nissan Maxima does not disappoint in this area.
The Nissan Maxima earned a reliability rating of 4 out of 5 from J.D. Power, and a 3.5 out of 5.0 rating from RepairPal.
The above-average reliability of the Nissan Maxima makes it one of the best options in the full-size sedan segment, offering a perfect balance of performance, daily usability, durability and reliability.
| | |
| --- | --- |
| Model | Reliability |
| Hyundai Azera | 4.0 / 5.0 |
| Chevrolet Impala Limited | 4.0 / 5.0 |
| Toyota Avalon | 4.0 / 5.0 |
| Kia Cadenza | 4.0 / 5.0 |
| Chevrolet Impala | 4.0 / 5.0 |
| Ford Taurus | 4.0 / 5.0 |
| Chrysler 300 | 3.5 / 5.0 |
| Buick Lucerne | 3.5 / 5.0 |
| Nissan Maxima | 3.5 / 5.0 |
| Dodge Charger | 3.5 / 5.0 |
| Ford Crown Victoria | 3.0 / 5.0 |
| Ford Police Interceptor Sedan | 1.5 / 5.0 |
| Avg. Fullsize Car | 4.0 |
The Best and Worst Years of the Nissan Maxima
The CarComplaints database shows that the worst years for the Nissan Maxima are 2004, 2005, and 2006. These years coincide with class-action lawsuit against Nissan for their 2004-2008 model years of the Maxima.
The 2004 Nissan Maxima earned CarComplaints' "Avoid Like the Plague" badge. The biggest problem with this model year is transmission problems, with owners reporting sudden jerks while shifting.
Owners spent an average of $2,500 to fix this problem, with an average mileage of 107,000 miles when the problem occurs.
When choosing the right Nissan Maxima, we recommend avoiding the 2004-2008 model years entirely.
We found that the best model year of the Nissan Maxima is 2015, which has the least number of complaints in the car's lifetime.
The 2017-2020 model years are also good options with low numbers of complaints. 
Related: Best & Worst Years For The Nissan Maxima? (With Facts & Stats) 
What About Recalls?
Despite having a few problemed years, the Nissan Maxima has managed to maintain a relatively low number of recalls since it debuted in 1985.
Below is the full list of recalls from 1985-2020:
1985: 2 recalls
1986: 2 recalls
1987: 1 recall
1988: 1 recall
1989: 4 recalls
1990: 4 recalls
1991: 4 recalls
1992: 5 recalls
1993: 6 recalls
1994: 5 recalls
1995: 5 recalls
1996: 2 recalls
1997: 5 recalls
1998: 6 recalls
1999: 4 recalls
2000: 3 recalls
2001: 6 recalls
2002: 8 recalls
2003: 3 recalls
2004: 2 recalls
2005: 2 recalls
2006: 2 recalls
2007: 1 recall
2008: 2 recalls
2009: 1 recall
2010: 1 recall
2011: 0 recall
2012: 0 recalls
2013: 0 recalls
2014: 0 recalls
2015: 0 recalls
2016: 8 recalls
2017: 4 recalls
2018: 2 recalls
2019: 1 recall
2020: 0 recalls
Nissan Maxima Model Year List:
Here are all model years for the Nissan Maxima:
1985 Nissan Maxima
1986 Nissan Maxima
1987 Nissan Maxima
1988 Nissan Maxima
1989 Nissan Maxima
1990 Nissan Maxima
1991 Nissan Maxima
1992 Nissan Maxima
1993 Nissan Maxima
1994 Nissan Maxima
1995 Nissan Maxima
1996 Nissan Maxima
1997 Nissan Maxima
1998 Nissan Maxima
1999 Nissan Maxima
2000 Nissan Maxima
2001 Nissan Maxima
2002 Nissan Maxima
2003 Nissan Maxima
2004 Nissan Maxima
2005 Nissan Maxima
2006 Nissan Maxima
2007 Nissan Maxima
2008 Nissan Maxima
2009 Nissan Maxima
2010 Nissan Maxima
2011 Nissan Maxima
2012 Nissan Maxima
2013 Nissan Maxima
2014 Nissan Maxima
2015 Nissan Maxima
2016 Nissan Maxima
2017 Nissan Maxima
2018 Nissan Maxima
2019 Nissan Maxima
2020 Nissan Maxima
2021 Nissan Maxima
Are Nissan Maximas Expensive to Maintain?
The average cost to maintain a Nissan Altima is $540 annually, with an estimated cost of $4163 over a 5 year period.
Model
Avg. Annual
Repair Cost
Frequency of
Unscheduled
Repairs (per year)
Probability of
Severe Repairs
Hyundai Azera
$458
0.4
11%
Chevrolet Impala Limited
$594
0.3
10%
Toyota Avalon
$463
0.4
13%
Kia Cadenza
$491
0.4
12%
Chevrolet Impala
$568
0.2
13%
Ford Taurus
$697
0.2
11%
Chrysler 300
$631
0.3
13%
Buick Lucerne
$585
0.4
14%
Nissan Maxima
$540
0.3
15%
Dodge Charger
$652
0.2
15%
Ford Crown Victoria
$1,081
0.1
13%
Ford Police Interceptor Sedan
$1,288
0.8
26%
Avg. Fullsize Car
$590
0.3
13%
How Long Do the Brakes Last?
Nissan Maxima brake pads typically last between 30,000 to 70,000. Overall longevity of the brakes is determined by driving habits.
How Long Do the Tires Last?
Tires on the Nissan Maxima may last between 50,000 to 60,000 miles.
Road conditions, driving and braking habits are all factors that contribute to how long your tires will last.
Pro Tip: Check Your Tire Air Pressure Monthly. Take the easiest step to extend tire life: Maintain the correct air pressure
How Long Does the Transmission Last?
The transmission in the Nissan Maxima can last up to 200,000 miles without needing replacement as long as proper servicing is observed.
How Long Do the Spark Plugs Last?
Nissan certified service technicians recommend going no more than 100,000 miles in between spark plug replacements.
Please also read our article: Nissan Maxima in snow & winter driving
What About Insurance Cost?
The average insurance costs for a Nissan Maxima is $173 monthly or $2076 annually.
Tips to Prolong the Life of Your Nissan Maxima
Keep up to date with maintenance and fluid changes
Avoid over the top tuning and modifying
Observe regular rust-proofing intervals
Drive smoothly and carefully
Resources
https://www.nissanusa.com/vehicles/cars/maxima.html