The GMC Acadia is a 3 row midsize SUV, that first went on sale in United States in 2006.
Available in a wide range of trims such as the SLE & SLT, Denali, and AT4, the Acadia is great for families, travelers, and commuters alike.
If you're interested in buying one, you might be wondering what it's average lifespan is.
We'll cover all that and more in this article, read on to find out…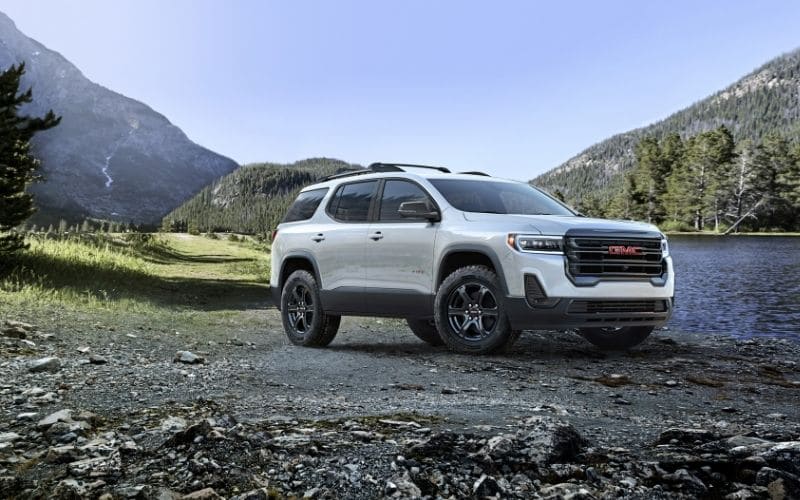 Here's the Short Answer to How Long GMC Acadia Last:
The GMC Acadia is a robust SUV that can last around 200,000 miles with proper maintenance and responsible use. Based on 15,000 miles driven per year, you can expect 13.5 years of service from your Acadia before the vehicle breaks down or major parts need replacing.
How Many Miles Can You Expect from a GMC Acadia?
The GMC Acadia is a mid size SUV designed to fill the size gap between the GMC Terrain and the GMC Yukon.
It's not common to see one with tons of miles on it from any year before 2010. That's due to a transmission issue in the 2008 and 2009 models.
From 2010 on, the GMC Acadia can get upwards of 200,000 miles, with many owners vouching for the durability of the SUV.
The vehicle has a history of being good for families, as the 3 row, 7 seat SUV is easy to conform to your needs. The back row folds down, and the 2nd row has captain chairs for comfort.
The main complaint about the durability of a GMC Acadia is that it can run dirty, and produce a lot of gunk in the engine.
The best way to avoid that problem is to take the Acadia on a road trip once in a while.
The long drives help it to cycle through the oil and loosen up any settling particles in the fluid of the engine.
How Soon Should You Expect Rust on A GMC Acadia?
GMC Acadias are covered by GMC's factory warranty for rust and corrosion. The sheet metal on all GMC products are covered by a 6 year, 100,000 mile warranty for rust issues.
GMC does not condone the application of any post-purchase rust inhibiting products. They even state that the application of such products may do more harm than good, and can cause the warranty to be voided.
Acadias will rust faster in the Rust Belt, and in any seaside community. The salt in the air from the ocean causes rust to form faster on vehicles.
The Rust Belt is a group of states that use salt and de-icing chemicals to clear the roads. These chemicals and the salt can wreak havoc on vehicles when it comes to rust.
Without proper washing, any vehicle can rust out if salt is allowed to stay on the undercarriage and around the bumpers and lower quarter panels.
The best way to keep rust away from your GMC Acadia is to take care of your vehicle.
Proper car washes, and repairing any paint chips and scratches are instrumental for keeping rust off of any vehicle.
You may also be interested in our article: How Long Do Mazda CX-9 Last?
How Long Do GMC Acadias Last Compared to Similar Car Models?
GMC Acadias aren't ranked high among other midsize SUVs. The price point is low, but unfortunately the bells and whistles on the Acadia are lacking, even with the Denali addition.
The GMC Acadia lasts roughly 10 – 15 years with good care, responsible driving, maintenance and with longer trips mixed in.
Here's how the GMC Acadia compares to other major competitors, in durability and specs.
GMC Acadia vs. Kia Telluride
The Kia Telluride is ranked first in its class, due to its price point and roomy interior. It's $1500 less than the GMC Acadia.
The Kia Telluride sits 8, whereas the GMC Acadia sits 7.
There's no proof of mileage on the Kia Telluride, as the first model introduced was 2020. However, it comes with a standard 10 year, 100,000 mile powertrain warranty on all its models.
The Telluride is the highest-ranked midsize SUV due to the value. The MSRP is cheap, and it provides the same amount of roomy interior and high-quality electronics needed in a modern-day vehicle.
The Telluride also comes with a standard 6 Cylinder and a full 291 horsepower. This is compared to the GMC Acadia that comes standard with a V4 193 horsepower engine. You can buy a V6 in the GMC Acadia, but only in the higher-priced Trim options.
GMC Acadia vs. Hyundai Palisade
The Hyundai Palisade is a new release, with only two models available.
Released in 2020, there's no long term data on how long a Palisade can last.
The Hyundai Palisade comes standard with the V6 and a more spacious interior than the GMC Acadia.
It does not meet available statistics requirements to get a reliability score or an annual cost of maintenance from RepairPal.
GMC Acadia vs. Ford Explorer
The GMC Acadia MSRP is a full $3,000 cheaper than the Ford Explorer. Where the Explorer makes up the difference is with a slightly better fuel economy and roomier third seat.
In terms of durability, the Ford Explorer edges out the GMC Acadia, with most Ford Explorers lasting between 80,000 – 200,000 miles. Some uses of a Ford Explorer report odometers of over 300,000 miles.
The Ford Explorer has an annual maintenance cost of $732, with a reliability rating of 3.5/5. Major repairs are uncommon in the Ford Explorer, and with proper care and maintenance are rarer still.
The GMC Acadia has an annual maintenance cost of $734 and thus is comparable to the Ford Explorer. However, if there is a repair needed, there are higher odds that the Acadia has a bigger problem than the Ford Explorer.
GMC Acadia vs. Acura MDX
Price point is one of the main factors in this competition, with the GMC Acadia base model a full $10,000 cheaper.
That being said, the Acura MDX offers a more luxurious driving experience and is expected to last longer.
The Acura MDX can last for 250,000 – 300,000 miles and the 2013 model was voted #1 most reliable used car under $20,000 by ISeeCars.com.
The Acadia earns its $10,000 increase in price with a V6, 290 hp engine and low annual maintenance cost of $573 with major repairs uncommon.
However, many don't have $10,000 extra to spend, leaving the GMC Acadia a durable alternative.
You may be interested in our article: how long do Acura MDX last
How Reliable Is a GMC Acadia?
GMC Acadia is ranked on Repair Pal as 23rd out of 26th in its class.
The low ranking is due to the 3.0 out of 5.0 rating and relatively high cost of annual maintenance at $734.
The issue with the GMC Acadia is that when issues do surface, usually they aren't cheap to fix.
Reliability Compare to Other SUVs
| | |
| --- | --- |
| Model | Reliability |
| Mazda CX-5 | 4.5 / 5.0 |
| Hyundai Santa Fe | 4.0 / 5.0 |
| Toyota Venza | 4.0 / 5.0 |
| Hyundai Veracruz | 4.0 / 5.0 |
| Mitsubishi Endeavor | 4.0 / 5.0 |
| Dodge Journey | 4.0 / 5.0 |
| Toyota Highlander | 4.0 / 5.0 |
| Dodge Nitro | 4.0 / 5.0 |
| Toyota 4Runner | 4.0 / 5.0 |
| Subaru Outback | 3.5 / 5.0 |
| Ford Edge | 3.5 / 5.0 |
| Toyota FJ Cruiser | 3.5 / 5.0 |
| Honda Pilot | 3.5 / 5.0 |
| Jeep Liberty | 3.5 / 5.0 |
| Jeep Grand Cherokee | 3.5 / 5.0 |
| Mazda CX-7 | 3.5 / 5.0 |
| Nissan Pathfinder | 3.5 / 5.0 |
| Subaru Tribeca | 3.5 / 5.0 |
| Ford Explorer | 3.5 / 5.0 |
| Ford Explorer Sport Trac | 3.5 / 5.0 |
| Chevrolet Tahoe | 3.5 / 5.0 |
| Chevrolet Traverse | 3.0 / 5.0 |
| GMC Acadia | 3.0 / 5.0 |
| Buick Enclave | 3.0 / 5.0 |
| Volkswagen Touareg | 3.0 / 5.0 |
| Ford Police Interceptor Utility | 2.0 / 5.0 |
| Avg. Midsize SUV | 3.5 |
The Best and Worst Years for GMC Acadia
Car Complaints is the go to source for different years of vehicles and their reliability.
According to Car complaints, the worst year (by far) is the 2008 GMC Acadia.
The number of complaints in 2008 is 178.
Reports of problems range from transmission issues to the engine simply shutting down while driving.
The transmission issues reported are total transmission failure at an average of 84,150 miles and the cost to repair upwards of $3,000.
The best years for the GMC Acadia is the 2020 with 1 complaint.
The second best year is the 2019 model with 6 complaints.
The majority of the complaints are due to internal electronics problems and has nothing to do with engine or transmission issues.
Related: 16 Best & Worst GMC Acadia Years (With Pictures)
What About Recalls for These Models?
There have been 24 total recalls for GMC Acadia models since 2007. Below is the list of years and recalls in descending order.
2009 GMC Acadia 7 Recalls
2008 GMC Acadia 5 Recalls
2007 GMC Acadia 5 Recalls
2020 GMC Acadia 4 Recalls
2014 GMC Acadia 4 Recalls
2012 GMC Acadia 4 Recalls
2011 GMC Acadia 4 Recalls
2010 GMC Acadia 4 Recalls
2017 GMC Acadia 3 Recalls
2018 GMC Acadia 2 Recalls
2016 GMC Acadia 2 Recalls
2013 GMC Acadia 2 Recalls
2019 GMC Acadia 1 Recall
2015 GMC Acadia 1 Recall
2021 GMC Acadia 0 Recalls
GMC Acadia Model Year List
The GMC Acadia was introduced in 2006. Here is a list of all the models of GMC Acadia
2007 GMC Acadia
2008 GMC Acadia
2009 GMC Acadia
2010 GMC Acadia
2011 GMC Acadia
2012 GMC Acadia
2013 GMC Acadia
2014 GMC Acadia
2015 GMC Acadia
2016 GMC Acadia
2017 GMC Acadia
2018 GMC Acadia
2019 GMC Acadia
2020 GMC Acadia
2021 GMC Acadia
Are GMC Acadia Expensive to Maintain?
A GMC Acadia has an average annual maintenance cost of $734. The reliability score is only 3.0/5.0 due to a higher than average rate of high cost repairs required.
Model
Avg. Annual Repair Cost
Frequency of
Unscheduled Repairs (per year)
Probability of
SevereRepairs
Mazda CX-5
$447
0.3
8%
Hyundai Santa Fe
$515
0.2
10%
Toyota Venza
$444
0.5
10%
Hyundai Veracruz
$524
0.5
9%
Mitsubishi Endeavor
$515
0.2
12%
Dodge Journey
$562
0.3
12%
Toyota Highlander
$489
0.3
13%
Dodge Nitro
$582
0.3
13%
Toyota 4Runner
$514
0.4
13%
Subaru Outback
$607
0.4
12%
Ford Edge
$611
0.3
13%
Toyota FJ Cruiser
$506
0.5
14%
Honda Pilot
$542
0.5
13%
Jeep Liberty
$674
0.3
12%
Jeep Grand Cherokee
$666
0.3
13%
Mazda CX-7
$470
0.7
14%
Nissan Pathfinder
$542
0.4
15%
Subaru Tribeca
$563
0.7
13%
Ford Explorer
$732
0.2
14%
Ford Explorer Sport Trac
$720
0.3
14%
Chevrolet Tahoe
$744
0.3
16%
Chevrolet Traverse
$656
0.4
18%
GMC Acadia
$734
0.4
19%
Buick Enclave
$720
0.5
18%
Volkswagen Touareg
$937
0.9
13%
Ford Police Interceptor Utility
$1,160
1.0
20%
Avg. Midsize SUV
$573
0.4
13%
How Long Do the Brakes Last?
Depending on how the vehicle is driven, the GMC Acadia brake pads have an average lifespan of 25,000 – 70,000 miles.
How Long Do the Tires Last?
The GMC Acadia has tires that are warrantied to 60,000 miles of treadwear. This, of course, is subject to roads, driver aggressiveness and regular rotations and maintenance.
If you want to make your tires last, you need to have them rotated every 5,000 miles so that they wear more evenly.
If you don't want to be replacing tires every 10,000 miles, you can swap them out for longer-lasting ones.
How Long Do the Batteries Last?
Acadia batteries should last on average between 3-5 years.
This is dependent on a number of factors such as driving habits and climate.
As a general rule, warmer weather tends to increase damage due to sulfation.
Also, long periods of time spent in a discharged state will reduce the life of a battery.
How Long Do the Transmissions Last?
GMC Acadia transmissions were troublesome in 2008, but that issue has since been resolved in newer models. The average transmission gets around 100,000 miles with proper maintenance.
How Long Do the Spark Plugs Last?
Spark plugs on a GMC Acadia need to be changed between 30,000 and 90,000 miles.
You may also be interested in our article: how long do Nissan Murano last?
What About Insurance Cost?
The average insurance cost on a GMC Acadia is approximately $1300 a year.
Tips to Prolong the Life of Your GMC Acadia
Here are some tips from various GMC Acadia owner forums to increasing the life of the vehicle:
Take it on longer trips every once in a while to really get the sludge cleared out of the engine
Stay on top of the required maintenance schedule.
Check oil and coolant levels regularly
Adopt smooth driving habits
Resources
https://www.thecarconnection.com/compare/gmc_acadia_2020_choices
https://repairpal.com/gmc/acadia
https://www.gmc.com/suvs/acadia/sle-slt
https://www.cars.com/research/gmc-acadia/recalls/
https://enginepatrol.com/how-long-buick-enclave-last/
https://enginepatrol.com/how-long-ram-1500-last/