Making its debut in 2001, the Acura MDX is Americas best selling three-row luxury SUV of all time.
It combines a sweet-sounding V6, impressive handling and handsome styling both inside and out.
If you're researching the MDX, you might be wondering what it's average lifespan is.
We'll cover that in this article, read on to find out more…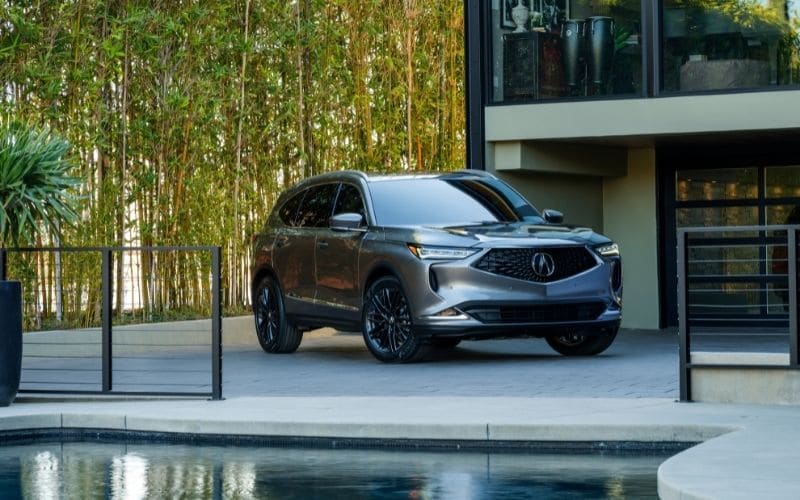 Here is the short answer to how long Acura MDX last:
The Acura MDX is a durable, robust SUV that can last between 250,000 – 300,000 miles when properly maintained and driven conservatively. Based on 15,000 miles driven per year, you can expect 16 – 20 years of service from your MDX before repair costs become uneconomical or it breaks down.
How Many Miles Can You Expect from an Acura MDX?
It should come as no surprise to prospective buyers that the Acura MDX is expected to last for a very long time.
Acura is Hondas luxury branch of vehicles, and the MDX is built on the same platform as the Honda Passport and although the MDX is slightly smaller in size the two vehicles share a lot of the same DNA.
Japanese automaker Honda has a well-earned reputation for making durable vehicles, and the MDX is no exception with a projected lifespan falling within the range of 250,000 – 300,000 miles.
One owner we encountered put 250k miles on their MDX and reported it's still going strong – their only gripe was replacing the shift solenoid sensors.
Another owner who was well on their way to 260k reported no problems but strongly advised ensuring the timing belt is changed on time.
There have also been reports of MDX's passing the 300k mark with one owner reporting an impressive 402,648 miles on the clock – after 20 years of use they've had no problems and stated they do all their own tune-ups.
Whilst high mileages like these are certainly attainable they should by no means be expected.
Ultimately getting the most life from your MDX will depend on a few key factors, namely:
Keeping up to date with factory scheduled maintenance
Driving conservatively; using smooth controlled acceleration and braking
Carrying out basic routine maintenance such as checking fluid levels and tire pressures
Related: 6 Most Common Acura MDX Problems (Explained)
How Soon Should You Expect Rust on An Acura MDX?
There is no set time when you should expect rust on your MDX, however where you live and how you care for your vehicle will play a large role in how soon it may occur.
Having been around for over 20 years, there are unsurprisingly a few complaints surrounding the MDX and rusting although it is not considered a widespread issue.
Some reported problem areas are:
Suspension components behind the wheels
On top of the door jamb
Below the gas cap
Around the wheel arches
Rust on a fairly new vehicle is out of the ordinary and in most cases it will be covered by warranty – if you experience any early signs of rust you should contact your dealership.
According to the Acura.Ca website, surface corrosion is covered for 4 years/80,00 km whilst rust perforation is covered for 5 years/no distance limit.
Depending on where you live, rusting can be much more of an issue:
Coastal regions, where salty ocean air harms the paint and corrodes metal parts.
Areas that use salt and chemicals to melt snow on the road – again, these substances can wreak havoc on your vehicle.
Areas with lots of rainfall and high humidity; moisture will speed up rusting.
All vehicles are susceptible to rusting, however a good rust prevention regime can help reduce the risks significantly, as such we advise the following:
Consider a rustproofing treatment – This adds a layer of protection to exposed components and helps prevent rust
Clean your vehicle frequently – Especially after exposure to rain, dirt, snow and salt. Be sure to get the underside of the vehicle too.
Storage – The best place to store your MDX is in a dry, covered area such as a garage.
Invest in a Ceramic coating – Protects your MDX from external paint damage
How Long Do Acura MDXs Last Compared to Similar Car Models?
In this section we'll see how the Acura MDX stacks up against some of its closest rivals.
Acura MDX vs. Lexus RX
The Lexus RX and Acura MDX are two of the original luxury crossovers both making their debut around the year 2000.
Lexus is owned by Toyota, another Japanese company famed for their reliability.
The Lexus RX and MDX are both very durable SUVs and are expected to last a similar amount of time, on average, in the region of 250,000 – 300,000 miles. Both are very closely matched in terms of their reliability.
According to RepairPal:
The Acura MDX has a reliability rating of 4/5 and is ranked 2nd / 14 for luxury mid-size SUVs.
The Lexus RX is the same, with a reliability rating of 4/5 and ranked the 3rd most reliable luxury SUV out of 14
The MDX has an estimated annual repair cost of $571 whilst the RX is slightly cheaper at $550
Those in need of extra cargo space should opt for the MDX whereas those who are looking for a more luxurious feel will be better suited to the RX.
You may also be interested in our article: how long do Lexus RX last?
Acura MDX vs. Audi Q7
The Audi Q7 is another impressive performance SUV and a close rival of the MDX.
With regular maintenance, the Audi Q7 has an average lifespan of 150k – 200k miles or 10 – 14 years based on 15,000 miles driven per year. The MDX is expected to last longer with an average lifespan of 250k – 300k miles or 16 – 20 years.
According to RepairPal:
The Audi Q7 has a reliability rating of 2.5/5, significantly lower than that of the MDX's 4/5
The Q7 is ranked 8th / 19 for luxury SUVs whilst the MDX is ranked 2nd / 14 for luxury mid-size SUVs.
The Q7 has a projected annual maintenance cost of $1,185 almost twice that of the MDX.
Despite being close competitors the MDX is clearly superior.
You may also be interested in our article: How Long Do Audi Q7 Last?
Audi MDX vs. Volvo XC90
The XC90 by Swedish automakers Volvo is regarded as one of the safest SUVs you can buy.
On average, the XC90 can last between 200,000 – 250,000 miles, slightly less than the average lifespan of the MDX – 250,000 – 300,000 miles.
According to Repair Pal:
The Volvo XC90 has a reliability rating of 3.5/5 Vs. 4/5 for the MDX
The XC90 is ranked 8th / 14 for luxury midsize SUVs whilst the MDX is ranked 2nd / 14 for luxury mid-size SUVs.
The Volvo X90 has an average annual repair cost of $851, which is $280 higher than the MDX.
Both vehicles are excellent choices however the MDX is the more reliable of the two.
You may also be interested in our article: How Long Do Volvo XC90 Last?
How Reliable Is an Acura MDX?
When paying premium prices you want to make sure you're getting a dependable vehicle, fortunately for MDX enthusiasts, this luxury SUV has received impressive reviews for its reliability.
Kelly Blue Book consumer index gives the Acura MDX a reliability rating of 5 out of 5.
RepairPal gave the MDX a reliability score of 4.0/5.0, the Acura brand is ranked 2nd out of 32 for all car brands.
JD Power gives the Acura MDX a rating reliability rating of 80 out of 100.
Based on consumer and expert reports we can confidently say that the Acura MDX is a reliable vehicle.
How Reliable is the Acura MDX Compared to Other Luxury SUVs
In this section we compare the MDX to the other luxury SUVs, this is based on data collected from Repair Pal.
As you can see, the MDX sits right near the top of the table.
The Best and Worst Years for Acura MDX
To find the worst years of the Acura MDX, we searched the database on the website carcomplaints.com
Worst model Year
The 2010 Acura MDX is reported as the worst year due to its higher repair costs or more problems at lower mileage.
Numerous consumers reported that the number one issue with the 2010 Acura MDX was excessive oil consumption.
This vital issue was reported to happen at an average of 96,000 miles and had an average repair cost of $6,700.
On Car Complaints alone, there are over 68 complaints about this year of Acura MDX.
Other common repair complaints about the 2010 Acura MDX are premature transmission failure.
Best Model Year
Despite having relatively few updates, the 2019-2022 Acura MDX models would be our pick.
Model's from 2019 onward have an impressive track record and so far on CarComplaints, they have received no complaints.
This shows that over time Acura has ironed out many of the issues that previous models faced.
Model Year and Number of Complaints
Below is the full table of complaints from Car Complaints – highlighting the model year and its associated number or complaints. Note that newer years are not yet reported.
| | |
| --- | --- |
| Model Year | Number of Complaints |
| 2020 | 0 (Best Year) |
| 2019 | 0 |
| 2018 | 2 |
| 2017 | 14 |
| 2016 | 27 |
| 2015 | 9 |
| 2014 | 59 (Most Complaints) |
| 2013 | 9 |
| 2012 | 10 (Worst Year) |
| 2011 | 21 |
| 2010 | 17 |
| 2009 | 18 |
| 2008 | 7 |
| 2007 | 21 |
| 2006 | 5 |
| 2005 | 9 |
| 2004 | 34 |
| 2003 | 22 |
| 2002 | 12 |
| 2001 | 21 |
What About Recalls for These Models?
At the time of writing, the Acura MDX has a total of 31 recalls across all model years, ranging from air bag defects to faulty fuel pumps.
Recalls are manufacturing repairs that are offered at no cost to the consumer.
Here are the total number of recall campaigns per year for the Acura MDX:
2022: 0
2021: 0
2020: 1
2019: 4
2018: 5
2017: 4
2016: 3
2015: 5
2014: 6
2013: 0
2012:1
2011: 0
2010: 1
2009: 0
2008: 0
2007: 0
2006: 8
2005: 0
2004: 7
2003: 11
2002: 1
2001: 2
Acura MDX Model Year List
Here are all the model years for the Acura MDX:
First Generation
2000 Acura MDX
2001 Acura MDX
2002 Acura MDX
2003 Acura MDX
2004 Acura MDX
2005 Acura MDX
2006 Acura MDX
Second Generation
2007 Acura MDX
2008 Acura MDX
2009 Acura MDX
2010 Acura MDX
2011 Acura MDX
2012 Acura MDX
2013 Acura MDX
Third Generation
2014 Acura MDX
2015 Acura MDX
2016 Acura MDX
2017 Acura MDX
2018 Acura MDX
2019 Acura MDX
2020 Acura MDX
Fourth Generation
2021 Acura MDX
2022 Acura MDX
You may also be interested in our article: How Long Do Infiniti QX60 Last?
Are Acura MDX Expensive to Maintain?
According to RepairPal, the Acura MDX has an annual repair cost of $571 compared to an average annual repair cost of $807 for all other luxury SUVs.
Compared to other luxury SUVs, the Acura MDX has slightly lower average annual repair and maintenance costs, you can find a full breakdown of ownership costs here.
Model
Average Annual
Repair Cost
Frequency of
Unscheduled Repairs
Probability of
Severe Repairs
Lexus RX 450h
$540
0.5
7%
Acura MDX
$571
0.4
8%
Lexus RX 350
$550
0.4
8%
Infiniti FX35
$617
0.7
9%
Cadillac SRX
$703
0.4
15%
Lexus GX 640
$770
0.8
9%
Volvo XC70
804
0.6
10%
Lincoln MKX
$811
0.7
15%
Volvo XC90
$851
0.6
15%
Audi Q5
$928
1.2
9%
Mercedes-Benz ML350
$1,020
0.6
13%
Mercedes-Benz ML550
$1,084
0.8
16%
BMW X3
$1,034
0.8
14%
BMW X5
$1,166
0.8
17%
Land Rover LR4
$1,241
0.9
15%
Porsche Cayenne
$1,231
1.1
21%
Average score for
Midsize Luxury SUVs
$807
0.6
11%
How Long Do the Brakes Last?
On average, the Acura MDX factory brakes last on average 30,000 to 70,000 miles.
Depending on your driving habits, this average can increase or decrease.
Constant braking in stop-and-go traffic will wear down the brakes quicker than driving on the highway or interstate.
How Long Do the Tires Last?
If properly cared for and stored, Acura MDX tires can last four to five years. However, this is dependent on miles driven each year. Typically, factory tires should last 50,000-70,000 miles.
Maintaining the correct tire pressure and regular tire rotations every 7,500 miles / 6 months will help prolong the life of your tires.
How Long Do the Transmissions Last?
An Acura MDX transmission should last 200,000 miles or more.
Regular maintenance is the number one factor affecting a transmission's lifespan.
How Long Do the Spark Plugs Last?
On average, Acura MDX will need a spark plug replacement at approximately 30,000 miles.
Some consumers reported having to replace spark plugs at 50,000 miles.
You may also be interested in our article: 14 Acura MDX Facts & Stats
What About Insurance Cost?
The average full coverage insurance for the Acura MDX costs on average $120 a month or $1,434 per year.
Tips to Prolong the Life of Your Acura MDX
Here are some things you can do to prolong the life of your Acura MDX:
Follow the regular maintenance schedule provided by the dealer
Drive smoothly, this includes acceleration and braking
Don't overload your vehicle or tow beyond its limits
Fill the gas tank before it gets too low to avoid waste in the fuel filter.
Carry our routine checks such as tire pressures and fluid levels
Have repairs done as soon as possible to prevent further problems
Wash your Acura regularly including the underside
Keep your vehicle stored in a garage
Resources
https://www.cargurus.com/Cars/l-Used-Acura-MDX-d16
https://www.autotrader.com/cars-for-sale/acura/mdx
https://repairpal.com/reliability/acura/mdx
https://www.kbb.com/acura/mdx/
https://www.jdpower.com/cars/2020/acura/mdx/sh-awd-7-passenger-w-technology-pkg
https://www.carcomplaints.com/Acura/MDX/
https://enginepatrol.com/acura-rdx-snow-winter-driving/
https://www.acura.ca/owners/standard-warranty
https://www.autoguide.com/car-comparisons/acura-mdx-vs-lexus-rx-luxury-crossover-comparison
https://www.acura.com/compare/audi-q7-vs-acura-mdx
https://enginepatrol.com/how-long-lincoln-aviator-last/
https://enginepatrol.com/acura-tlx-snow-winter-driving/
https://enginepatrol.com/how-long-acura-tlx-last/
https://www.thecarconnection.com/news/1131078_2022-acura-mdx-vs-2021-lexus-rx-compare-crossover-suvs
https://www.newcars.com/reviews/acura-mdx-vs-audi-q7-suv.html
https://enginepatrol.com/how-long-acura-rdx-last/