The Kia EV6 is a sporty compact EV crossover that was first introduced in 2021.
It's the first Kia to use a dedicated EV-only platform and it's already won numerous awards since its debut.
It's received high praise for its exciting modern design, impressive performance, amazing tech, and overall build quality.
In this article we'll take a closer look at the average lifespan of the Kia EV6.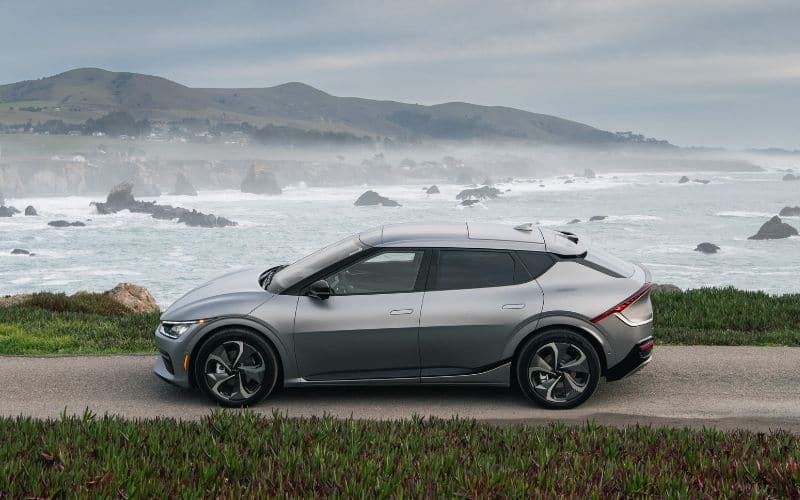 Here is the short answer to how long the Kia EV6 lasts:
Kia has been producing reliable hybrids and EVs for many years now. This leads us to believe that the new EV6 can easily last 300,000 – 400,000 miles with very little maintenance. Its average lifespan should be around 10 – 15 years before battery degradation affects its range and overall usefulness.
How Many Miles Can You Expect from a Kia EV6?
The EV6 is built on the same Electric-Global Modular Platform (E-GMP) used in the Hyundai Ioniq 5.
Although it's the first Kia to be designed as an EV from the ground up, the Korean manufacturer already has two EV models under its belt — the Kia Soul EV and the Kia Niro EV.
They've also sold lots of hybrid vehicles in the past decade, so they already have lots of experience with electric motors and modern battery tech.
EV powertrains have less moving parts and require much less maintenance than an internal combustion engine which makes them inherently more reliable.
In general, the longevity of the battery pack determines the overall lifespan of any EV. Replacing an EV battery out of warranty will typically cost around $20,000 which is almost half of the car's retail price.
Batteries also degrade naturally over time and as they go through multiple charge cycles.
With the Kia EV6's estimated range of 230 – 310 miles (depending on trim level), you can expect at least 300,000 – 400,000 miles out of its battery over 1,500 charge cycles.
Getting more than 1,500 charge cycles out of a high-capacity EV battery should not be an issue as long as it's not thoroughly abused. So you can theoretically get even more life out of the vehicle if you take care of it reasonably well.
In addition, the Kia EV6's battery is liquid-cooled and makes use of advanced battery management systems which helps prolong its lifespan.
The Kia EV6 also comes with a 10-year/100,000-mile powertrain warranty which goes up to 150,000 miles in some states like California.
With all this in mind, you shouldn't have to worry about battery degradation in the first 10 years of the vehicle's life. In most cases, you can get 10 – 15 years of service out of the original battery before the reduced range becomes an issue.
Here are some essential tips that will help extend the life of your EV battery:
Fast charge only when necessary
Don't leave the car under the baking hot sun
Avoid fully charging and discharging the battery
Common Problems of the Kia EV6
After looking at various owner forums we haven't found many major issues associated with the EV6 yet.
On the KiaEVForums, there aren't any reports of EV6s getting bricked or leaving people stranded in the middle of nowhere.
Here's a quick rundown of the most commonly reported issues for the Kia EV6 so far.
Heating and Climate Control Issues
Lots of owners have reported problems getting the heating and/or the air conditioning to work properly.
Early adopters in Europe and the UK were able to get the heating issue resolved by replacing the EV6's inverter.
In North America, there are more reports of the air conditioning not working intermittently or the compressor suddenly dying.
Here's what one owner had to say:
"I live in Miami, Florida and I'm having an issue with my EV6. The AC cools perfect but will randomly start blowing hot air from time to time."
The problem with intermittent climate control issues is that it's hard to replicate when you take it to the dealer.
If they are able to find the cause of the issue, it can take a long time for parts to arrive since the vehicle is so new.
Noises Coming From the Front Motor
All-Wheel Drive versions of the EV6 have a widely known issue wherein the front drive unit starts making a 'whirring' or 'clunking' noise when the car is in Eco or Normal mode and using lower levels of regeneration.
It doesn't occur in Sport mode and when the one-pedal driving 'I-Pedal' mode is engaged.
People who have had the issue addressed have reported that the noise occurs whenever the front differential gets disconnected, which it is supposed to do when the front motor is not powering the wheels.
The only resolution to this problem is a complete replacement of the entire front drive unit since the gears and differentials are not designed to be serviced.
What is High Mileage for a Kia EV6?
Any Kia EV6 with over 100,000 miles should be considered as a high mileage example.
At 100,000 miles, it's already well past its 60,000-mile bumper-to-bumper warranty and just about past its 100,000 battery and powertrain warranty.
Although EVs require less maintenance compared to ICE vehicles, they still use a lot of regular car parts for critical systems like brakes, suspension, steering and climate control, among many others.
EVs also use a lot more electronics and computers than most vehicles, which can be difficult to troubleshoot and expensive to replace.
However, if the price is right and the vehicle is in great condition, a high mileage Kia EV6 can be a great deal. Of course, a lower mileage example in similar condition will always be the safer choice.
It's also important to note that Kia's industry leading 10-year/100,000-mile warranty only applies to the original owner. Used Kias only get a 5-year/60,000-mile powertrain warranty — unless you get a CPO warranty from a Kia dealership.
When buying a used EV6, consider the following:
Assess the battery's health: Used EVs won't have the same battery capacity or range as brand new ones — unless the battery pack was just recently replaced. The dealership should be able to give you a detailed report on battery life.
Maintenance history. Check that the car was properly serviced and that the owner can provide evidence of this.
Battery Warranty: Double-check how long the battery warranty has left, you should be able to verify this with Kia's customer service department using the vehicle's VIN number.
Inspect the interior: this can often give a good idea how well the owner really cared for their vehicle.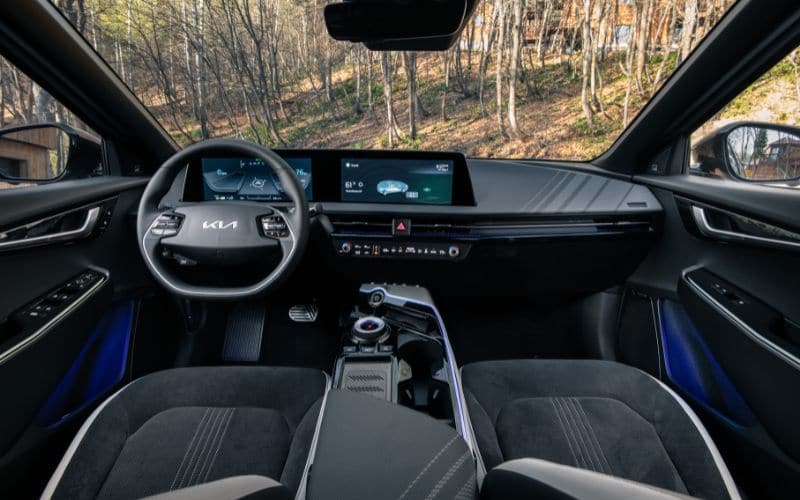 How Long Does the Kia EV6 Last Compared to Other Electric Vehicles?
In this section, we'll compare the EV6 to some of its closest EV rivals.
Kia EV6 vs. Hyundai Ioniq 5
The Kia EV6 and Hyundai Ioniq 5 use the same platform, motors and batteries.
The Ioniq 5 looks like a futuristic crossover and provides more comfort while the EV6 has a sportier and more aggressive design and handling characteristics.
The Hyundai Ioniq 5 should last just as long as the EV6 at 300,000 – 400,000 miles since they use a lot of the same components underneath.
Kelley Blue Book's consumer rating index gave the Ioniq 5 a higher reliability rating of 5/5 while the Kia EV6 has an average rating of 4.6/5.
Edmunds consumer reviews gave the Ioniq 5 an overall rating of 4.4/5 which is just slightly lower than the EV6's 4.7/5.
RepairPal gave both Hyundai and Kia the same reliability rating of 4/5.
RepairPal ranked Hyundai as the 4th most reliable brand while Kia was ranked in 3rd place.
Both vehicles use the same battery technology so they have the same average lifespan.
It's no surprise that reliability ratings and owner reviews for the EV6 and Ioniq 5 are basically the same.
Prices and standard features for both vehicles are also very similar.
The Ioniq 5 is roomier and has a softer ride, so it's a better family vehicle. The EV6 is the better choice if you're looking for a sporty and driver-focused vehicle.
Kia EV6 vs. Tesla Model 3
The Tesla Model 3 sedan is the most popular EV in the market today.
The Model 3 and the EV6 are in roughly the same price bracket so potential buyers are more likely to compare the two — versus the Model Y crossover which is significantly more expensive.
The Model 3 is the more proven platform so we predict its EV powertrain should be able to last slightly longer at 300,000 – 500,000 miles.
Kelley Blue Book's consumer rating index gave the Model 3 a reliability rating of 4.7/5 which is almost the same as the Kia EV6's rating of 4.6/5.
Edmunds consumer reviews gave the Model 3 an overall rating of 4/5 which is much lower than the EV6's overall rating of 4.7/5.
RepairPal does not have any reliability ratings for Tesla vehicles, but Kia is rated as the 3rd most reliable brand and has an average reliability rating of 4/5.
The Model 3 uses larger battery packs and offers more range than the EV6.
Despite Tesla's less than stellar reputation for build quality, lots of older Teslas have proven that they can last 500,000 miles. But these high mileage Teslas have also been repaired several times.
Although Kia has a better overall track record for reliability and build quality, their EV models haven't been around for long enough so there aren't many high mileage examples yet.
Price-wise, the EV6 is less expensive especially since it still qualifies for federal tax credits. It's roomier and more practical than the Model 3, and it's not that far behind when it comes to performance and features.
Related: How Long Do Tesla Model 3 Last?
Kia EV6 vs. Mustang Mach E
The Mustang Mach-E is a sporty compact crossover that's very similar to the EV6.
As Ford's first mass market EV, the Mach-E has an impressive combination of performance, practicality and luxury.
We expect the Mustang Mach-E to be able to last 300,000 – 500,000 miles which is slightly higher than the Kia EV6's expected lifespan.
Kelley Blue Book's consumer rating index gave the Mach-E a reliability rating of 4.3/5 which is slightly lower than the EV6's rating of 4.6/5.
Edmunds consumer reviews gave the Mach-E an overall rating of 4/5 which is much lower than the EV6's overall rating of 4.7/5.
RepairPal gave Ford an overall reliability rating of 3.5/5 which is slightly lower than Kia's 4/5.
RepairPal also ranked Kia as the 3rd most reliable brand while Ford is in 21st place.
The Mach-E uses larger battery packs but the EV6 still has a slight edge when it comes to range.
Although Ford has had a few limited-production EVs in the past, they do have a lot of experience with hybrids.
Many Ford hybrids used in taxi fleets have been able to reach 500,000 miles, which gives us confidence that the Mach-E's EV powertrain should be able to hit similar numbers — or at least come very close to it.
The Mach-E is slightly more expensive than the Kia though both have similar performance and range.
The Mach-E has more interior space, a larger frunk and a massive touchscreen, but the EV6 has better suspension tuning and can recharge much faster.
You'll really have to test drive both to see which one you prefer. Availability is also an issue since both vehicles are very much in demand.
Related: How Long Do Ford Mustang Mach-E Last?
Comparison Chart
| | | | | |
| --- | --- | --- | --- | --- |
| | Kia EV6 | Hyundai Ioniq 5 | Tesla Model 3 | Mustang Mach-E |
| KBB Consumer Rating | 4.6/5 | 5/5 | 4.7/5 | 4.3/5 |
| Edmunds Consumer Rating | 4.7/5 | 4.4/5 | 4/5 | 4/5 |
| RepairPal Brand Reliability | 4/5 | 4/5 | NA | 3.5/5 |
| Battery Capacity (kWh) | 58 – 77.4 | 58 – 77.4 | 60 – 82 | 70 – 91 |
| Electric Range (miles) | 230 – 310 | 220 – 303 | 272 – 358 | 211 – 305 |
| Expected Lifespan (miles) | 300k – 400k | 300k – 400k | 300k – 500k | 300k – 500k |
Is the Kia EV6 Reliable?
Modern Kias generally have excellent reliability and consumer reviews for the EV6 have been extremely positive in the short time that it's been on the market.
Aside from a couple of software glitches and complaints about the climate controls, there haven't been any widespread powertrain or drivability issues reported so far.
This is pretty impressive for a vehicle built on a completely new platform with lots of new technology. It's also a good indicator for the car's long term reliability.
The EV6 has also received lots of positive reviews from owners which reflects its real-world reliability.
Kelley Blue Book's consumer rating index gave the Kia EV6 an average reliability rating of 4.6/5.
Edmunds consumer reviews gave the EV6 an overall rating of 4.7/5 which indicates that owners are quite happy with their vehicle.
How Reliable Are Kia Cars?
According to a Repair Pal, Kia are ranked in 3rd place out of 32 car brands.
| | | |
| --- | --- | --- |
| Ranking | Brand | Score |
| 1 | Honda | 4.0/5.0 |
| 2 | Acura | 4.0/5.0 |
| 3 | Kia | 4.0/5.0 |
| 4 | Hyundai | 4.0/5.0 |
| 5 | Mazda | 4.0/5.0 |
| 6 | Mitsubishi | 4.0/5.0 |
| 7 | Lexus | 4.0/5.0 |
| 8 | Toyota | 4.0/5.0 |
| 9 | Nissan | 4.0/5.0 |
| 10 | Smart | 4.0/5.0 |
| 11 | Chrysler | 3.5/5.0 |
| 12 | Volkswagen | 3.5/5.0 |
| 13 | Buick | 3.5/5.0 |
| 14 | Subaru | 3.5/5.0 |
| 15 | Jeep | 3.5/5.0 |
| 16 | Infiniti | 3.5/5.0 |
| 17 | Volvo | 3.5/5.0 |
| 18 | Fiat | 3.5/5.0 |
| 19 | Dodge | 3.5/5.0 |
| 20 | Chevrolet | 3.5/5.0 |
| 21 | Ford | 3.5/5.0 |
| 22 | GMC | 3.5/5.0 |
| 23 | Ram | 3.0/5.0 |
| 24 | Lincoln | 3.0/5.0 |
| 25 | Mini | 3.0/5.0 |
| 26 | Cadillac | 3.0/5.0 |
| 27 | Mercedes-Benz | 3.0/5.0 |
| 28 | Audi | 3.0/5.0 |
| 29 | Jaguar | 2.5/5.0 |
| 30 | BMW | 2.5/5.0 |
| 31 | Land Rover | 2.5/5.0 |
| 32 | Porsche | 2.0/5.0 |
Source: Repair Pal
Pros and Cons of the Kia EV6
Let's take a quick look at some of the EV6's best features, as well as its shortcomings.
Pros
Quick acceleration
Range is comparable to more expensive rivals
Sporty and modern design
Driver focused handling
More traditional looking yet upscale interior
Ultra-fast quick charging
Lots of standard tech and features
Good value for money
Cons
Stiffer ride compared to rivals
Small front trunk storage
Rear visibility is not that great
Limited availability
Dealerships are not familiar with the platform yet
What About Recalls for the Kia EV6?
The EV6 has only had 1 recall so far for a software issue which can cause the vehicle to roll while parked.
Early production models of the EV6 also had issues with pre-heating which required an updated inverter.
You can check if your EV6 has been subjected to a recall campaign by entering your VIN (Vehicle Identification Number) on the Kia recall site or the NHTSA recall database.
It is important to note that recalls are manufacturing faults repaired at no charge to the consumer.
Kia EV6 Model Year List
Sales of the 2022 Kia EV6 began in the latter half of 2021.
It was first released in South Korea which was soon followed by deliveries to Europe.
North American units started arriving in the first quarter of 2022.
The range topping GT model is set to be released in late 2022.
Is the Kia EV6 Expensive to Maintain?
The Kia EV6 should have very low maintenance costs especially while it's still backed by Kia's industry-leading 5-year/60,000-mile bumper-to-bumper warranty.
In general, Kias are very cheap to maintain even when they're out of warranty.
According to RepairPal, the average annual repair cost for a Kia is only around $474 making it one of the cheapest car brands to own.
However, it's still too early to tell what the real ownership costs of an EV6 will be once it's out of warranty.
Compared to other Kia models, the EV6 is a more upscale vehicle that uses a lot of computers and electronics which tend to be expensive to replace.
But since it shares many parts with the Ioniq 5, as well as other upcoming Hyundai and Kia EVs, parts availability will probably not be too much of an issue.
In general, EV6 only requires an inspection and a tire rotation every year or every 8,000 miles, whichever comes first.
How Long Do the Brakes Last?
The EV6's factory brake pads should be able to last at least 100,000 miles before they need to be replaced.
Since the EV6 has regenerative braking, you don't have to step on the brake pedal too much to slow down the vehicle. You can even adjust the regenerative braking on the fly using the paddles on the steering wheel.
Kia also recommends changing the brake fluids every 4 years or every 50,000 miles whichever comes first.
How Long Do the Tires Last?
The EV6's stock tires should be able to last around 20,000 to 30,000 miles.
The instantaneous torque that electric motors are able to produce, as well as the extra weight of the battery pack, makes the tires wear down faster.
However, tire wear is also dependent on various factors such as driving habits, climate, and road conditions.
Tire tips:
Rotate your tires every 8,000 miles to ensure even tire wear.
Check your tire pressure every few weeks to make sure they're at the correct tire pressure.
Check your wheel alignment every 6 months.
How Long Do the Transmissions Last?
The EV6 uses what is essentially a single speed transmission which can easily outlast the life of the vehicle.
The EV6's electric motors directly control the rotation of the wheels through a set of reduction gears.
It doesn't need constant gear changes so there's less stress on the components overall, which makes them last significantly longer than a traditional car transmission.
Kia only recommends inspecting the reduction gear fluid every 4 years or every 30,000 miles. Otherwise, it doesn't require any maintenance at all.
How Long Will the Kia EV6's Electric Motors Last?
The Kia EV6's electric motors are designed to last the entire lifetime of the vehicle or between 300,000 to 500,000 miles.
Compared to a traditional internal combustion engine, electric motors don't require any maintenance at all such as regular oil changes, or new spark plugs, seals, water pumps and belts every 100,000 miles.
Some owners of older Kia Niro and Soul EVs have reported hearing strange noises coming from the drive units, but these have since been updated.
Several AWD EV6s have also had issues with the front motor making strange sounds at certain speeds when it's in Eco or Normal mode and the regen is not set to its maximum level.
It seems like a design issue with the gears or the differential that occurs when the front drive unit is idle and not powering the front wheels. Kia dealers should be able to address the issue at no cost since the vehicle is still under warranty and, hopefully, newer units will receive updates to resolve the issue completely.
How Long Do the Spark Plugs Last?
The EV6 doesn't use any spark plugs because it doesn't use an internal combustion engine.
How Long Do Kia EV6 Batteries Last?
The Kia EV6's batteries are designed to last for at least 10 years.
All batteries naturally degrade over time even if they aren't used as much. They also degrade much faster as the number of charge cycles go up and whenever they are exposed to extremely hot temperatures.
The EV6 uses liquid cooling and electric fans to keep the battery temperatures down which helps curb battery degradation and significantly improves its average lifespan. The ideal temperature for an EV battery is at around 70° Fahrenheit or 21° Celsius.
The EV6's batteries are also pretty big so they don't need to be recharged all the time which helps keep the number of charge cycles down.
On average, you should be able to get at least 300,000 miles out of the EV6's batteries as long as you follow these battery care best practices:
Avoid using or storing the vehicle in extremely hot temperatures
Don't let the vehicle sit unused for long periods of time
When storing the EV6, slow charge it to avoid draining the battery
Avoid regularly draining the battery to 0% or charging it to 100%
Charging up to 80% is recommended
Minimize the use of DC fast chargers at public charging stations
Kia's 10-year/100,000-mile powertrain warranty also gives you additional peace of mind that the battery will still be able to provide sufficient range even after almost a decade of heavy use.
Even after the warranty expires, a degraded battery doesn't make the car completely useless. It just limits your available range which means you'll have to charge it more often.
The car should still be perfectly usable after 10 to 15 years if you can live with the limited range.
What is the Range of the Kia EV6?
The base model Kia EV6 Light has a smaller battery that goes up to 230 miles on a single charge. All other trim levels use a larger battery that is capable of delivering up to 310 miles. AWD models have slightly less range at 274 miles.
Of course, these are all just estimates and real-world range will usually be slightly lower.
Your maximum range will largely depend on your driving habits and climate.
Range is always going to be better when you're driving around the city in Eco mode compared to high speed highway cruising.
Similar to other EVs, you'll get significantly less range in the EV6 when the weather is too cold. In hot climates, you'll also get more battery degradation which will eventually affect your maximum range over time.
How Long Does the Kia EV6 Take to Charge?
| | | |
| --- | --- | --- |
| Charger Type | Range per Hour of Charge (miles) | 0 to 100% Charge |
| Level 1/120V | 4 – 5 | 2 – 3 days |
| Level 2/240V | 25 – 30 | 9 to 12 hours |
The Kia EV6 is one of the fastest charging EVs in the market when it's connected to a DC fast charger.
Its peak charging rate can easily go over 200 kW in the right conditions.
Kia claims that when connected to a 350 kW fast charger, the EV6 can charge from 10% to 80% in under 18 minutes.
If you just want to quickly top up your vehicle, you can add as much as 70 miles of range in around 5 minutes.
What About Insurance Costs?
According to Insuraviz, the average cost to insure a Kia is around $1,511 per year.
The website doesn't have any data for the Kia EV6, but it does have insurance estimates for its mechanical sibling, the Hyundai Ioniq 5, which is around $1,527 per year on average.
Insurance costs can vary from person to person, so be sure to shop around to find the best possible deal for your EV6.
Tips to Prolong the Life of Your Kia EV6
Practice smooth and safe driving habits.
Use regenerative braking to extend range and battery life.
Charging every couple of days is better than charging every day to keep it topped up.
Keep up to date with factory-recommended maintenance.
Use quality parts and fluids.
Keep on top of repairs to prevent them from developing into larger problems.
Regularly wash your EV6 to remove dirt and grime to protect the paint and undercarriage from rust.
Keep your EV6 stored in a garage to help protect it from extreme heat.
Read the owner's manual to learn the location of important components, what your EV6 needs and in what quantities, and to understand the symbols and dashboard warning lights.
Sources
https://www.caranddriver.com/kia/ev6
https://www.caranddriver.com/research/a31875141/electric-car-battery-life/
https://www.caranddriver.com/research/a33215854/warranty-for-kia/
https://www.edmunds.com/kia/ev6/
https://repairpal.com/reliability/kia
https://www.hyundaimotorgroup.com/story/CONT0000000000002986