Maserati was founded in 1914 and became widely known for its successful race cars.
In the 1950s and 60s, the Italian car maker shifted its focus to developing stylish grand tourers and sports saloons powered by racing-inspired engines.
The brand has seen a strong resurgence in recent years as more practical luxury vehicles like the mid-size Ghibli sedan and the Levante SUV were added to its lineup.
In this article, we'll take a closer look at the average lifespan of a Maserati.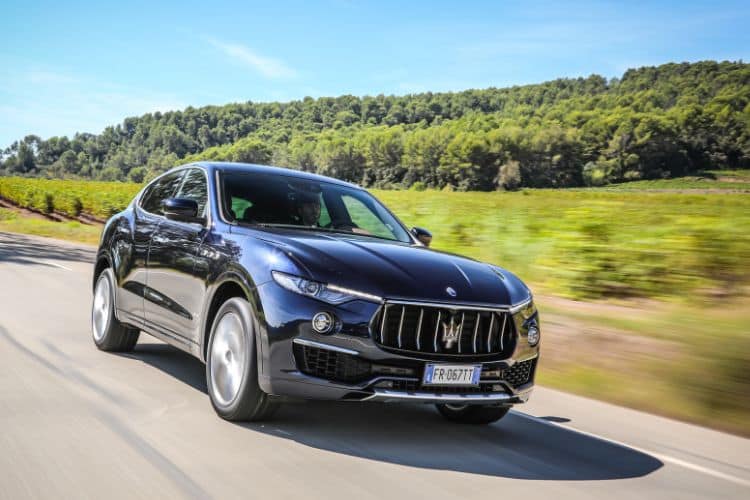 Here is the short answer to how long the Maserati lasts:
A Maserati can typically last 150,000 – 200,000 miles with proper care and maintenance. Driving an average of 15,000 miles a year, you can easily get 10 – 13 years of trouble-free motoring out of a Maserati before repair and maintenance costs become too expensive and impractical.
How Many Miles Can You Expect From A Maserati?
Maserati is a longstanding, exotic Italian brand that is often categorized with the likes of Ferrari and Lamborghini.
In fact, Maserati was owned by Ferrari for a brief period and it still uses Ferrari-designed engines to this day.
Maserati's current lineup is much more reliable and less temperamental than it was a couple of decades ago, and they're all designed to be competent daily drivers. They even come with diesel engine options which are popular in different markets around the world.
Modern Maserati vehicles can easily last 150,000 – 200,000 miles. They can last even longer, but major repairs and ongoing maintenance costs will start becoming an issue at higher mileages.
Expensive maintenance is normal for any European luxury vehicle, but parts and labor at a Maserati dealership are even higher compared to BMW and Mercedes Benz.
Maseratis are also not as common as other European luxury cars, so some replacement parts are not easy to find outside of the dealer.
On the MaseratiLife forum, there are lots of cars with over 100,000 miles that are still running strong. Of course, these cars are owned by enthusiasts who make it a point to keep their cars in great condition — no matter the cost.
All new Maseratis also come with a 4-year/50,000-mile Limited Warranty so the first years of ownership shouldn't give you any headaches. Maserati also offers an Extended Warranty which can be stretched out to 7 years and an unlimited number of miles.
Here are some basic tips that will allow you to get the most life out of a Maserati:
Follow the recommended maintenance schedule
Don't skip oil and fluid changes; do them more frequently if possible
Used genuine Maserati parts
Find an independent Maserati specialist to save on maintenance costs
Research common faults and look for ways to prevent them
Estimated longevity of Maserati Models:
| | | |
| --- | --- | --- |
| Model | Average Max Mileage | Average Maximum Years |
| GranTurismo | 150,000 – 250,000 | 15 |
| Levante | 150,000 – 200,000 | 13 |
| Ghibli | 150,000 – 200,000 | 13 |
| Quattroporte | 150,000 – 200,000 | 13 |
| Maserati Coupe | 100,000 – 150,000 | 10 |
| 3200 GT | 100,000 – 150,000 | 10 |
| Maserati BiTurbo | 100,000 – 150,000 | 10 |
What are Common Problems of a Maserati?
Here are some common Maserati issues you have to watch out for.
Sticky Buttons
Lots of early to mid-2000s Maseratis suffered from an issue often referred to as 'sticky buttons'.
It's when the rubber or plastic coating of the climate control buttons, as well as other controls, start melting off and become extremely sticky or gunky.
It doesn't affect functionality but is quite annoying to deal with in a luxury car of this caliber.
This is a common issue of Ferraris of the same age and the only solutions are to refurbish them or replace them completely.
More recent models like the Levante and Ghibli, as well as newer generations of the GranTurismo and Quattroporte don't seem to suffer from the issue.
People have also complained about the fact that the buttons in the newer models are the exact same ones used in other Dodge and Chrysler vehicles. Although the switchgear in older Maseratis weren't that great to begin with.
Transmission and Drivetrain Failures
Older Maseratis from the early to mid-2000s used a semi-automatic gearbox known as the DuoSelect transmission, which was known to be problematic.
It's the same as the F1 transmission used in the Ferrari 360 and F430, so maintenance and repairs can be very expensive.
Newer Maseratis like the Ghibli and Levante, as well as newer generations of the Quattroporte and most GranTurismo variants, use a traditional automatic transmission made by ZF which is the same unit used in other luxury vehicles like BMW and Audi, and are much more reliable.
Early years of the Ghibli up until the 2017 model also suffered from early transfer case failures.
This only affected the all-wheel drive SQ4 variants.
Some Ghibli owners have also reported differential failures, but it isn't very common.
What is High Mileage for a Maserati?
A Maserati with 70,000 miles is considered high mileage. Most Maseratis with these kinds of mileages will be around 8 – 10 years old and well past their standard warranty period.
Prices for used Maseratis also start to drop rapidly once they go past the 70,000-mile mark.
At these higher mileages, the previous owners might have stopped following the recommended maintenance schedule.
They may also be neglecting outstanding issues due to the exorbitant repair costs.
Even if the car is in great condition, there's a higher chance that some components of critical systems like the suspension, steering, cooling system and HVAC, among many others, may be nearing the end of their useful life.
The engines and transmissions in modern Maseratis are fairly reliable. But it's all the other things that can go wrong with the car such as turbos, differentials, and electronics that you really have to worry about.
Just one or two major repairs on an out-of-warranty Maserati might cost several thousand dollars on labor alone, and can easily outweigh the money you saved by picking a higher mileage example.
How Long Does a Maserati Last Compared to Similar Car Models?
In this section, we'll look at some of Masearti's closest competitors and see how they stack up in terms of durability and repair costs.
Maserati vs. Porsche
Porsche has a great track record for making fantastic sports cars that you can drive every day while Maserati is known for designing sexy and exotic Italian vehicles.
Compared to Porsche, Maserati is still a rookie when it comes to developing mass-produced vehicles.
A typical Porsche can easily last 200,000 miles while a Maserati might struggle to last 150,000 miles without incurring expensive repair costs.
Many of Porsche's passenger cars also share parts with other VW Group vehicles such as Volkswagen and Audi, so replacements are easier to come by and there are more shops that specialize in VW-owned brands.
Although Maserati is owned by Fiat Chrysler Automobiles (FCA), its vehicles don't share many parts with other Fiat or Chrysler products — except for the switchgear and infotainment system which it's often criticized for.
Porsches also have better resale values – although this could be a good thing if you're looking for an exotic luxury vehicle on a budget.
Maserati vs. Mercedes Benz
Mercedes Benz is known for making some of the highest quality executive cars ever made.
Many of their older vehicles have been able to last over a million miles and the company continues to push the boundaries of automotive technology in terms of both hardware and software.
A Mercedes Benz can easily last 200,000 – 250,000 miles which is longer than a Maserati's average lifespan.
Maserati still has a lot to prove when it comes to longevity because it only started ramping up vehicle production in the last decade or so.
Repair and maintenance costs between the two brands are pretty close, especially when it comes to Mercedes Benz's more expensive models and trim levels.
Although Mercedes Benz has a much better dealer network and there are a lot more mechanics who are familiar with their vehicles.
However, one could argue that Maserati's sexy styling does age very well.
Mercedes Benz vehicles always look modern and sophisticated when new, but start looking dated and generic after one or two decades.
Maserati vs. BMW
BMW popularized the slogan 'The Ultimate Driving Machine' in the 1970s.
Since then, their vehicles have become the default choice for those looking for a balanced combination of luxury, refinement and driving dynamics.
Lots of BMWs have been able to last 200,000 – 250,000 miles quite easily with just regular maintenance, which is much more than what one can expect from a Maserati.
Although BMWs have their share of reliability problems, they're much easier to deal with compared to some of the issues and costs associated with Maseratis.
BMWs are also extremely popular all over the world and they're a common sight on the road so it's not that hard to find local mechanics who are familiar with their faults. Maintenance costs are also significantly cheaper for a typical BMW.
But if you want to stand out in a sea of BMWs, Maseratis are definitely head turners and they all have a great exhaust note.
Are Maseratis Reliable?
Contrary to popular opinion, a modern Maserati is very reliable and is extremely rewarding to drive on a daily basis.
The brand has an underserved reputation for being huge money pits that will just be left to collect dust in less than a decade.
Old gearheads continue to associate Maserati with temperamental Italian cars from the 1980s.
The younger generation, on the other hand, don't have much experience with the brand as it is now and just keep following popular opinion.
The truth is, Maserati has made tremendous strides in the last decade or so to make cars that people can drive everyday.
People complain that Maserati has lost its way and doesn't deserve the badge it wears because it's a Fiat-Chrysler product.
But the Fiat-Chrysler era of Maserati has done a lot for its reliability compared to when they were a luxury brand of Ferrari.
If you go to places like Maserati Life, Ghibli Forum and Maserati Levante Forum, you'll find more satisfied owners than disgruntled ones.
There also aren't very many reliability issues to be found in the newer models.
Reliability Compared to Other Brands
| | | |
| --- | --- | --- |
| Ranking | Brand | Score |
| 1 | Honda | 4.0/5.0 |
| 2 | Acura | 4.0/5.0 |
| 3 | Kia | 4.0/5.0 |
| 4 | Hyundai | 4.0/5.0 |
| 5 | Mazda | 4.0/5.0 |
| 6 | Mitsubishi | 4.0/5.0 |
| 7 | Lexus | 4.0/5.0 |
| 8 | Toyota | 4.0/5.0 |
| 9 | Nissan | 4.0/5.0 |
| 10 | Smart | 4.0/5.0 |
| 11 | Chrysler | 3.5/5.0 |
| 12 | Volkswagen | 3.5/5.0 |
| 13 | Buick | 3.5/5.0 |
| 14 | Subaru | 3.5/5.0 |
| 15 | Jeep | 3.5/5.0 |
| 16 | Infiniti | 3.5/5.0 |
| 17 | Volvo | 3.5/5.0 |
| 18 | Fiat | 3.5/5.0 |
| 19 | Dodge | 3.5/5.0 |
| 20 | Chevrolet | 3.5/5.0 |
| 21 | Ford | 3.5/5.0 |
| 22 | GMC | 3.5/5.0 |
| 23 | Ram | 3.0/5.0 |
| 24 | Lincoln | 3.0/5.0 |
| 25 | Mini | 3.0/5.0 |
| 26 | Cadillac | 3.0/5.0 |
| 27 | Mercedes-Benz | 3.0/5.0 |
| 28 | Audi | 3.0/5.0 |
| 29 | Maserati (predicted) | 3.0/5.0 |
| 30 | Jaguar | 2.5/5.0 |
| 31 | BMW | 2.5/5.0 |
| 32 | Land Rover | 2.5/5.0 |
| 33 | Porsche | 2.0/5.0 |
Source: Repair Pal
Related: How Long Do Jaguars Last?
The Best and Worst Years of Maserati
Here are some of the brand's best and worst years in terms of reliability and maintenance costs.
Worst Years
If you're thinking about picking up a Maserati as a daily driver, you should avoid cars made prior to 2008 when the brand was still being run by Ferrari.
Cars like the Maserati Coupe, the 3200 GT and early years of the fifth gen Quattroporte were limited-production models that had lots of Ferrari underpinnings.
These vehicles weren't designed to rack up tens of thousands of miles per year and replacement parts are going to be expensive and hard to come by.
They also used the same semi-automatic transmission found in the Ferrari 360 and 430 which required more maintenance than a standard automatic transmission.
Best Years
Maseratis made from 2018 onwards are the most reliable so far.
By this time, Maserati had already worked out all the issues of the new Ghibli and sixth gen Quattroporte platform, and their engines have been pretty rock solid since then.
Facelifted versions of the fifth gen Quattroporte, also known as the Quattroporte V, as well as the GranTurismo, have also proven to be very reliable vehicles that are capable of lasting over 100,000 miles.
These cars came with a more reliable ZF transmission which is used by lots of other brands like BMW.
Some versions of the GranTurismo still came with an MC-Shift automated manual, which should be avoided if you're after long-term reliability and lower maintenance costs.
What About Recalls for Maseratis?
Maserati vehicles aren't affected by too many recalls.
In the worst cases, specific model years of certain models might be part of less than a handful of minor recalls.
You can always check if your Maserati is part of a recall campaign by entering your VIN (Vehicle Identification Number) on Maserati's recall lookup site or the NHTSA recall database.
It is important to note that recalls are manufacturing faults repaired at no charge for the consumer.
Here are some of the more widespread recalls that have affected different Maserati vehicles:
2011 to 2018 Maserati Quattroportes, GranTurismos and GranCabrios equipped with the 4.2 and 4.7-liter V8 were recalled for an emissions software update.
2014 Ghiblis and Quattroportes were recalled to correct a rollaway risk
Some 2018, 2021 and 2022 Ghiblis, Levantes, Quattroportes were recalled to replace parts that could cause a fuel leak
Are Maseratis Expensive to Maintain?
Maseratis are more expensive to maintain compared to other, more popular, luxury vehicles.
Most Maserati dealerships charge around $500 for an oil change and it's not unusual for labor rates to cost over $200 per hour.
You can save a lot of money if you take your car to an independent repair shop that specializes in European vehicles once the warranty expires.
If you know your way around cars, you can even DIY a lot of regular maintenance like oil changes and brakes.
Consumables such as filters, brake pads, fluids and belts can also be easily ordered online without having to go through a dealer.
How Long Do the Brakes Last?
Maserati brake pads should last 20,000 to 30,000 miles while the rotors can last through 2 or 3 brake pad changes.
Maseratis typically use Brembo brakes so the factory pads are more expensive than normal.
A complete set of pads and rotors can cost around $1,000, but there are lots of cheaper aftermarket options available.
Brake jobs can be done by any competent mechanic which should save you a lot compared to having it done at a Maserati dealership who might end up charging you over $2,000 to swap out the pads and rotors.
How Long Do the Tires Last?
Maseratis usually come with high-performance factory tires like the Pirelli P Zero which can last anywhere from 10,000 – 20,000 miles depending on your driving habits.
If you want more mileage out of your tires, you can swap them out for all season tires which last much longer.
The rear tires are much wider than the fronts in most Maseratis, so you can't rotate them to even out the tire wear.
Get a proper alignment at least every year and regularly check your tire pressure to make sure they wear out evenly.
How Long Do Maserati Engines Last?
Modern Maserati engines can last over 200,000 miles as long as they are properly maintained.
All the other supporting parts like turbochargers, sensors, cooling components, and seals might start wearing out after 100,000 miles, so you need to be more mindful of possible issues as the mileage starts piling up.
Having the car inspected at least once per year by a competent mechanic should help you get more life out of the engine.
Older Maserati engines might need a major overhaul after 100,000 miles but it really depends on the model and how hard the vehicle has been driven.
How Long Do the Transmissions Last?
Modern Maseratis all use a ZF 8-speed automatic transmission which is extremely robust and is used by lots of other brands like BMW, Audi, Porsche, Dodge and Jeep.
The only exception is the GranTurismo S which still had the single-clutch MC-Shift automated manual transmission as an option.
These transmissions were also known as a DuoSelect in older Quattroportes and as a CambioCorsa in the Maserati Coupes required more maintenance than a traditional manual or automatic transmission.
Although these semi-automatic transmissions could last a long time, they use pumps and actuators that needed to be replaced every couple of years.
How Long Do Maserati Batteries Last?
A Maserati's 12-volt battery should last between 3 – 5 years.
Maserati batteries are no different from any other battery you can find at a parts store, you just need to make sure it's the right size.
A vehicle's battery life varies depending on many factors such as climate, driving habits, and battery type, among many others.
Keep your battery tightly fastened: The vibrations of your car can loosen the connections, potentially resulting in short circuits and internal damage.
Limit short rides: Quick car rides prevent the battery from fully charging.
Storage: Keep your Maserati stored indoors to protect it from extreme temperature changes.
Control Corrosion: Clean the terminals (toothbrush dipped in baking soda and water mixture) and keep them free from build-up.
Use a battery tender: If you're storing your Maserati for several months, hook it up to a battery tender to keep the battery fully charged.
How Long Do the Spark Plugs Last?
Modern Maseratis that use a turbocharged engine require a spark plug change every 30,000 miles or every 4 years whichever comes first.
Older models like the Quattroporte V, GranTurismo and GranCabrio that used naturally aspirated V8 engines only need new spark plugs every 75,000 miles or every 12 years, whichever comes first.
It's a good idea to change them every 4 – 6 years to make sure they don't get seized up even if you haven't driven the car much since the last time they were changed.
Spark plugs are usually inspected every time you take your car in for routine maintenance. Your mechanic or dealership may recommend a spark plug change if they appear worn out or fouled up even before the recommended service intervals.
Signs of a fouled spark plug include:
Reduced gas mileage
Lack of acceleration
Rough idling
Hard starts
Engine misfires
What About Insurance Costs?
According to Finder, full coverage insurance for a Maserati ranges from $291 to $535 per month depending on the model.
Insurance costs can vary from person to person; be sure to shop around to find the best potential deal for your Maserati.
Tips to Prolong the Life of Your Maserati
Although Maseratis come with a lot of performance on tap, try to drive as "normal" as possible, this will help keep wear and tear to a minimum.
Have the car washed regularly to keep rust at bay, especially after exposure to rain and road salt.
Keep your Maserati stored in a garage to protect it from the elements and bird droppings that can ruin the paintwork.
Familiarize yourself with the owner's manual to learn the location of important components, what your vehicle needs and in what quantities, and to understand the symbols and dashboard warning lights.
If your Maserati needs any repairs done, have them carried out asap to prevent it from turning into bigger and more expensive problems.
Sources
https://www.finder.com/car-insurance/maserati-car-insurance-rates
https://www.caranddriver.com/maserati
https://www.maserati.com/us/en/services-aftersales/roadside-assistance