Making its debut in 2012, the Model S was the first mainstream ambassador for Tesla's groundbreaking electric vehicle and autonomous driving technologies.
It currently has the longest range and quickest acceleration of any electric vehicle in production with an estimated range of 390 miles and a top speed of 200 mph.
If you're considering buying a Model S, you might be wondering what its average lifespan is.
We'll cover that and much more in this article, read on to find out…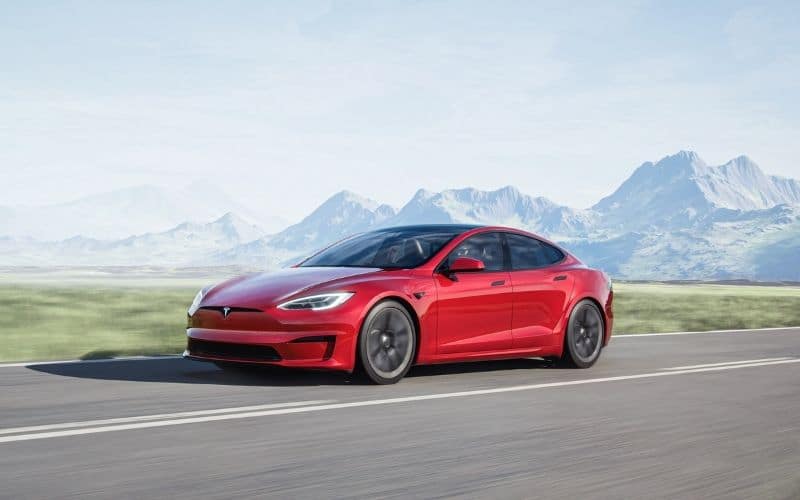 Here is the short answer to how long a Tesla Model S will last:
A Tesla Model S can last between 200,000 – 400,000 miles before requiring a new battery module due to degradation. Based on an annual mileage of 15,000 miles per year this equates to approximately 13 – 27 years of service. The body and drive unit are theoretically expected to last for one million miles.
How Many Miles Can You Expect from a Tesla Model S?
There are many high mileage examples of the Model S with some even reaching 300,000 to 500,000 miles – although not all have done this much on the original battery.
In general, you can expect an absolute minimum of 8 years or 150,000 miles (whichever comes first) out of the Model S because it comes with an 8-year/150,000-mile battery and drive unit warranty.
The Model S will easily go over 100,000 miles with minimal battery degradation.
After around 300,000 miles, the batteries will likely still have around 70% to 80% of their original capacity which translates to reduced range.
If you drive 15,000 miles a year, this means you can theoretically use the Model S for roughly 20 years.
Before reaching the 20-year mark though, the interior will probably start falling apart just like any normal vehicle, especially if it's already racked up hundreds of thousands of miles.
Electric Vehicle site Elektrek reported on a Tesla Model S that had clocked over 400,000 miles, however during this time the car had its battery replaced twice.
The first battery pack replacement occurred after 194,000 miles.
At that time, the battery pack energy capacity degradation was at ~6%, which is acceptable, but Tesla found an issue due to frequent Supercharging.
The second battery pack replacement occured at 324,000 miles and reportedly experienced a much faster battery degradation of ~22%.
Tesla said that there was an issue with the pack, and was subsequently replaced under warranty.
How Soon Should You Expect Rust on a Tesla Model S?
If you live in a coastal area (lots of salt particles in the air) or somewhere that uses a lot of road salt to melt the snow and ice on the road, you've probably seen plenty of vehicles eaten away by rust.
You'll be glad to hear that the Model S uses a lot of aluminum in its chassis and body panels.
Aside from being lighter than steel, aluminum doesn't rust — but can still become corroded and oxidized.
The Model S isn't completely immune to rust though. After a couple of years, you will start seeing rust form on suspension and brake components, various bolts, and other parts made out of steel.
Tesla even issued a recall in 2018 for the Model S due to excessive corrosion on the power steering bolts.
Although the Model S comes with a 12-Year Body Rust Limited Warranty, it has a lot of exceptions.
It won't cover you if the rust is caused by stone / rock chips or if you've put any rustproofing on the car.
If you want to avoid premature formation of rust on your Model S, here are a few things you can do:
Wash the car regularly including the underside
Apply paint protection such as a ceramic coating or paint protection film
Install mud flaps to protect the underside from road salts
Apply rustproofing to the underside of the vehicle
Keep the car garaged to protect it from the elements
Address chips and scratches as quickly as possible by using touchup paint
Related: 6 Most Common Problems With Tesla Model S (Explained)
How Long Does the Tesla Model S Last Compared to Similar Car Models?
Over the last few years, more and more manufacturers have stepped up to the plate and released new EV models to rival the Model S.
Let's take a look at how they stack up against the Model S in terms of reliability.
Model S vs. Porsche Taycan
The Taycan aims to take away the Model S's crown when it comes to EV performance numbers.
They both start at roughly the same price, and can be specced out to over $100,000.
The Taycan has only been on showroom floors since 2020, so there aren't many high mileage examples or any major issues reported with it so far.
But Porsche is well known for its build quality — which Tesla is still coming to grips with. So despite the lack of available data, based on battery size, we would expect the Taycan to last 300,000 – 400,000 miles.
Here's how other reviewers rated the reliability of both vehicles:
Edmunds gave the Taycan 5 out of 5 stars while the Model S only got 3 out of 5
Consumer Reports gave both the Model S and Taycan 2 out of 5 stars for Predicted Reliability
The Taycan comes with an 8-year/100,000-mile powertrain warranty while the S has an 8-year/150,000-mile warranty.
Winner: Porsche Taycan
Related: How Long will a Porsche Taycan Last?
Model S vs. Polestar 2
Another new player in the EV market is the Polestar 2 which is made by Volvo and it's parent company, Geely.
There isn't much data about the Polestar 2's reliability but reviewers seem to think it's quite well put together.
Since it's made by Volvo, you can expect decent build quality and good fit and finish from the Polestar 2.
But despite only being in the market since March 2020, it's already had 2 recalls. But once Polestar sorts out these early production issues, we expect the Polestar 2 to be just as reliable as the Model S and have a lifespan of 300,000 – 400,000 miles.
Edmunds gave the Polestar 4 out of 5 stars while the Model S got 3 stars.
Polestar 2 comes with an 8-year/100,000-mile battery warranty
Winner: Draw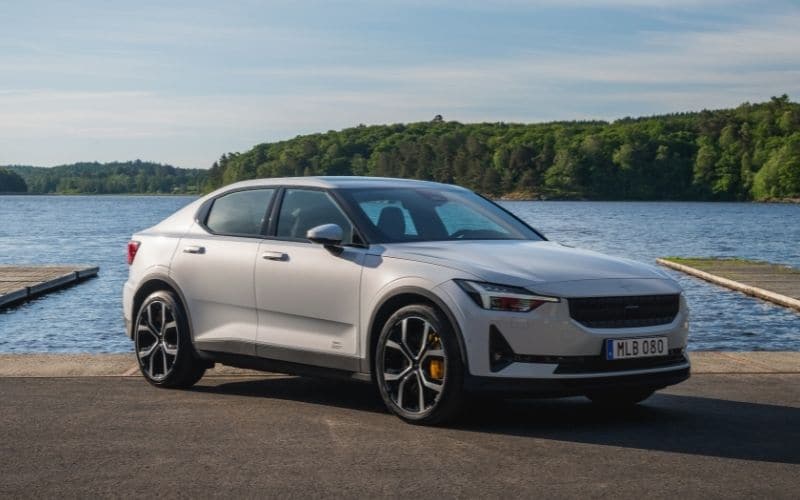 Related: How Long Will a Polestar 2 Last?
Model S vs. Jaguar I-Pace
Though the Jaguar I-Pace is an SUV and more comparable to the Model X, it's still one of the few luxury EVs available today.
Lots of people will be cross shopping between the Jaguar and the Model S as well, and they are around the same price bracket.
The I-Pace has been in the market since 2019, and it's had less reliability issues than Jaguars that use Internal Combustion Engines (ICE). This can probably be attributed to the fact that the I-Pace's production is contracted out to Magna Steyr — a very reputable Austrian manufacturer.
Some early models had battery faults, but a lot of owners and reviewers so far have said that the I-Pace has been pretty solid in terms of reliability.
Edmunds gave the Jaguar I-Pace 4 out of 5 stars which is higher than the Model S's 3 stars
The I-Pace comes with an 8-year/100,000-mile battery warranty
Winner: Jaguar I-Pace
How Reliable is the Tesla Model S?
Despite lots of complaints about build quality issues, the drive units and batteries used in the Model S are quite reliable.
But over time, a lot of issues have been reported in different years of the Model S such as:
Door handles need replacing
Air suspension errors
Leaky sunroofs
Touchscreen failures
These are usually addressed within the basic 4-year/50,000-mile warranty, but once it's out of the warranty period they can be expensive to fix.
But the Model S is one of the few EVs to have done hundreds of thousands of miles in the hands of actual owners. Despite the reported issues, owner satisfaction for the brand in general is very high.
In addition, many of the reported issues don't affect the Model S's drivability. So you don't have to worry too much about getting stranded in the middle of nowhere because of a major drivetrain failure.
Tesla Reliability Compared to Other Brands
Source: Consumer Reports
| | | |
| --- | --- | --- |
| Ranking | Brand | Score |
| 1 | Lexus | 76 |
| 2 | Mazda | 75 |
| 3 | Toyota | 71 |
| 4 | Infiniti | 69 |
| 5 | Buick | 66 |
| 6 | Honda | 66 |
| 7 | Subaru | 66 |
| 8 | Acura | 64 |
| 9 | Nissan | 63 |
| 10 | Mini | 60 |
| 11 | Hyundai | 56 |
| 12 | Chrysler | 54 |
| 13 | Porsche | 52 |
| 14 | Chevy | 48 |
| 15 | Audi | 47 |
| 16 | Cadillac | 47 |
| 17 | BMW | 45 |
| 18 | Ford | 44 |
| 19 | Kia | 43 |
| 20 | Volvo | 42 |
| 21 | Ram | 40 |
| 22 | GMC | 37 |
| 23 | Mercedes-Benz | 34 |
| 24 | Volkswagen | 31 |
| 25 | Genesis | 30 |
| 26 | Jeep | 26 |
| 27 | Tesla | 25 |
| 28 | Lincoln | 18 |
The Best and Worst Years for the Tesla Model S
The Model S has been out since 2012 so there are a lot of vehicles to choose from if you're buying used.
But since the S was Tesla's first mass market offering, they had a lot of teething issues in the beginning.
Here are the best model years and the ones to avoid.
Tesla Model S Best Model Years
2018 models and up have the improved touchscreen or Media Control Unit (MCU). Older touchscreen units were reportedly only designed to last up to 5 years so these will constantly need replacing.
Newer models also benefit from better battery tech and drive unit improvements, so they'll have better range than previous models.
Tesla Model S Worst Model Years
According to the Car Complaints database, the 2013 models have the most complaints overall.
In general, you should avoid the 2012 to 2014 releases, because these would be what many would consider the very first iteration of the Model S and will have less range and fewer features compared to newer versions.
Related: 11 Best & Worst Tesla Model S Years (With Facts & Stats)
Complaints
Here's a quick look at the number of complaints per model year from the Car Complaints database.
| | |
| --- | --- |
| Model Year | Recorded Complaints |
| 2012 Model S | 0 |
| 2013 Model S | 5 |
| 2014 Model S | 1 |
| 2015 Model S | 3 |
| 2016 Model S | 3 |
| 2017 Model S | 1 |
| 2018 Model S | 0 |
| 2019 Model S | 0 |
| 2020 Model S | 0 |
What About Recalls for the Tesla Model S?
According to the National Highway Traffic Safety Administration (NHTSA) database, the Tesla Model S has been recalled a total of 30 times, with most recalls occurring for the earlier model years.
| | |
| --- | --- |
| Model Year | Recorded Complaints |
| 2012 Model S | 5 |
| 2013 Model S | 7 |
| 2014 Model S | 5 |
| 2015 Model S | 5 |
| 2016 Model S | 6 |
| 2017 Model S | 1 |
| 2018 Model S | 1 |
| 2019 Model S | 0 |
| 2020 Model S | 0 |
Tesla Model S Model Year List
Although the Model S is still in its first generation, it's seen lots of gradual improvements over the years.
Here's a quick rundown of the changes in the Model S from year to year.
2012 – First year of the Model S
2013 – P85+ model was introduced; the 40-kwh was removed
2014 – Autopilot and dual electric motors were introduced in late 2014 models
2015 – Premium Interior Package was introduced; P90D also got Ludicrous mode
2016 – Solid glass roof option and cooled seats became available; Autopilot version 2
2017 – Improved range on 90D and P90D; Improved acceleration on 75-kwh models
2018 – Removed several interior options such as panoramic sunroof and textile seats
2019 – Model S Long Range improved range to 370 miles; Upgraded air suspension
2020 – Model S Long Range Plus improved to 402 miles
Related: Where are Tesla Model S Made?
Is the Tesla Model S Expensive to Maintain?
Based on owner feedback we would estimate the Tesla Model S maintenance costs to be somewhere in the region of $250 – $500 per year.
As long as you don't suffer from too many build quality issues, the Tesla Model S should be relatively cheap to maintain over a long period of time.
It doesn't require gas or oil changes, and will only need periodic servicing to replace the cabin filters and check the brake fluid, which isn't very expensive at all.
Its drive-units also use fewer parts than a traditional car and its components aren't subjected to a lot of heat and friction – they're less likely to fail due to wear and tear.
| Tesla Maintenance Service | Tesla Maintenance Cost |
| --- | --- |
| Cabin air filter replacement | $50 – $150 |
| Wiper blade replacement | $20 – $50 |
| Tire rotation | $30 – $120 |
| Brake system flush | $100 to $130 |
| Air conditioning service | $50 |
| Full-service maintenance, including an inspection and services listed above | $500 or higher |
How Long Do Model S Brakes Last?
The Model S uses Regenerative Braking which slows the vehicle down and charges up the batteries whenever you lift your foot off the gas.
You'll be using the brakes less to bring the car to a stop so the brake pads and rotors should last a very long time.
A lot of owners have reported going over 100,000 miles in their Model S and saw that their brake pads still had a lot of life in them.
How Long Do Tires Last on the Model S?
A set of tires will last you around 20,000 to 25,000 miles on the Model S.
Teslas and other performance oriented EVs tend to wear out their tires more.
This is due to the instantaneous power that their electric motors can deliver which exerts a lot more force on the tires causing them to wear down faster.
To make a set of tires last longer and make sure they wear evenly, you need to rotate your tires every 5,000 miles or so.
How Long Do the Spark Plugs Last?
The Model S doesn't use any spark plugs because it's a Battery Electric Vehicle (BEV) or a Pure Electric Vehicle.
It doesn't need spark plugs to ignite any fuel.
Related: how long do Tesla Model 3 last?
How Long Does the Transmission Last?
The Tesla Model S doesn't use a traditional transmission and is basically a single-speed vehicle.
Drive units in the newer models should be more efficient and should also last much longer.
Some drive units in the older models needed replacing early on, but this should all be covered under warranty.
Tesla has tested the Model 3's drive units for up to 1 million miles, so you can expect similar improvements to have been introduced to the Model S drive units.
With proper maintenance, you can easily reach 500,000 miles in the Model S without any major drive unit issues.
The Model S drive units are also covered under an 8-year/150,000-mile warranty, which should protect you from any premature failures.
What is the Range of the Tesla Model S?
The latest Long Range versions of the Model can go over 400 miles on a single charge.
The Performance models have an EPA-estimated range of 348 miles.
The new Model S Plaid models are promising to deliver up to 390 miles of range.
Early model years of the Tesla Model S only had a little over 200 miles of range, so the improvements in range over the years have been quite significant.
How Long Do Tesla Model S Batteries Last?
Tesla claims the Model 3 batteries can last at least 1,500 charge cycles, and still have a lot of life left in them.
We can only assume that these newer battery technologies are also being used in newer Model S variants.
If the latest Long Range Model S can go up to 400 miles on a single charge, the batteries can theoretically deliver over 600,000 miles of driving.
Early models with their 200-plus miles of range will probably be able to last 200,000 to 300,000 miles on their original batteries.
How Long Does the Tesla Model S Take to Charge?
The Model S can be charged using either a standard 120v or 240v wall socket, a dedicated Wall Connector, or using a Tesla Supercharger.
Here are the Model S's charging rates according to Tesla:
| | | |
| --- | --- | --- |
| Charger Type | Range per Hour of Charge | 0 to 100% Charge |
| 120 volt / 15 amps | 3 | 5 to 6 days |
| 240 volt / 32 amps | 23 | 17 to 20 hours |
| Wall Connector | 44 | 9 to 10 hours |
When hooked up to a Supercharger, the Model S gets an additional 150 miles of range every 15 minutes. This means you can fully charge up its batteries in under 40 minutes.
How Much Does it Cost to Insure a Tesla Model S?
According to Insurance.com, the Model S can be quite expensive to insure — averaging at around $3,500 per year.
This is not exactly an outrageous rate considering the Model S starts at over $80,000.
Rates are also dependent on several factors such as age, state, and driving history.
So you should be able to find better deals if you shop around.
Tips to Prolong the Life of your Tesla Model S
Don't drain the battery to 0%
Avoid charging over 80% unless you're preparing for a long trip
As much as possible you should charge it at home versus via a Supercharger
Rotate your tires
Use regenerative braking to extend range
Address paint issues upon delivery
Avoid leaving it outside in extremely cold or hot weather
Related: Tesla Model S: 11 Common Problems (Solution Guide)
Resources
https://www.reuters.com/article/us-autos-reliability-tesla-idCAKBN27Z28C
https://www.cnbc.com/2020/11/19/tesla-model-s-no-longer-recommended-by-consumer-reports.html
https://www.edmunds.com/tesla/model-s/
https://www.edmunds.com/porsche/taycan/
https://www.edmunds.com/polestar/2/
https://www.edmunds.com/jaguar/i-pace/
https://www.statista.com/chart/24908/electric-vehicle-sales-by-model-in-the-us-over-the-past-three-years/
https://insideevs.com/reviews/350883/tesla-model-s-review-450000-miles/
https://electrek.co/2020/06/06/tesla-battery-degradation-replacement/
https://insideevs.com/news/339852/researched-data-how-long-should-a-tesla-battery-last/
https://www.inc.com/peter-economy/tesla-recalls-123000-cars-due-to-excessive-corrosion-amid-production-problems-for-model-3.html
https://www.thedrive.com/tech/37931/consumer-reports-pulled-recommendation-of-porsche-taycan-other-evs-over-electric-growing-pains
https://www.motorauthority.com/news/1131184_tesla-recalled-touchscreens-were-meant-to-only-last-5-6-years
https://electrek.co/2018/07/17/tesla-model-s-holds-up-400000-miles-3-years/
https://enginepatrol.com/how-long-tesla-model-3-last