The Hyundai Tucson is a compact SUV that was first introduced as a 2005 model year.
It's known for its practicality, affordability and reliability – although some years have proven to be problematic.
In this article, we'll take a deep dive into the best and worst model years of the Hyundai Tucson.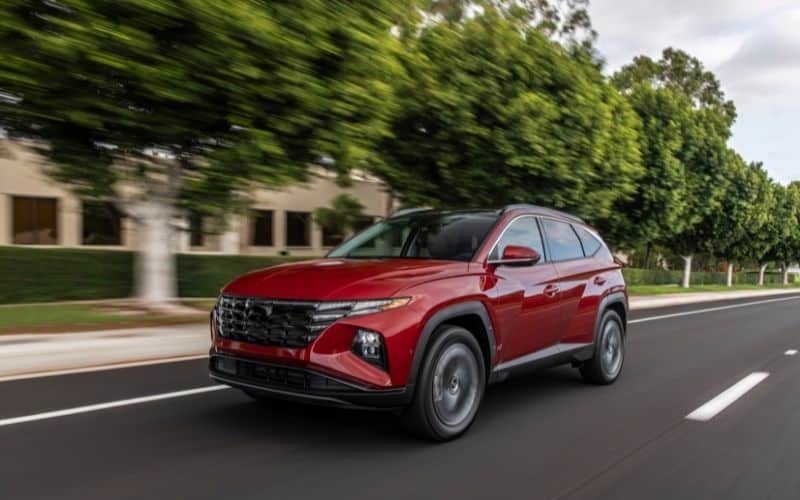 Here are the Best and Worst Years for Hyundai Tucson
Detailed below we've ranked the Hyundai Tucson Models.
Best Years for Hyundai Tucson:
2023
2021 and 2020
2014
2010
2008
Worst Years for Hyundai Tucson:
2016
2017
What Are The Best Years For The Hyundai Tucson?
2023 Hyundai Tucson
The 2023 Hyundai Tuscon is the second iteration of the 4th Generation which boasts a completely revamped, cutting-edge design.
It's available in a wide range of trims and powertrains including a hybrid and plug-in hybrid which provide excellent fuel economy.
The standard powertrain for this model is a 2.5-liter four-cylinder, whilst the hybrid and plug-in hybrid are equipped with 1.6-liter turbocharged engine paired with an electric motor which are noticeably quicker.
The higher trims have cabins that border on luxury and the futuristic exterior design helps it stand out in the segment.
2023 Hyundai Tucson, Edmunds review:
"Test drove and looked at a lot of cars in this segment including luxury lines. For the price, technology, ride and style, the hyundai tuscon really separated itself. We purchased the AWD Hybrid Limited version. I've seen some negative reviews about everything being touch screen, however, I don't agree that its an issue."
2021 and 2020 Hyundai Tucson
The 2021 and 2020 Hyundai Tucsons were the final installments of the 3rd Generation, and they are two of the most reliable Tucson models ever produced according to NHTSA data.
In terms of engine choices, buyers can choose between a 2.0-liter or a 2.4-liter and either front- or all-wheel drive.
These Tucson models come with a plethora of features and are fitted with an intuitive, easy-to-use infotainment system.
Owners have praised the ride comfort and the above-average interior materials.
These models may not offer the best fuel economy or cargo space in their class but they aren't too far off.
If you're looking for something modern, affordable and reliable the 2021 and 2020 Tucsons are solid picks.
2020 Hyundai Tucson, Edmunds review:
"I have had my 2020 Tucson for about 2 months. One word to describe this car- FABULOUS! I feel like I am driving a luxury car that cost thousands of dollars more. The car is very quiet , smooth and very comfortable."
2014 Hyundai Tucson
The 2014 Tucson has an eye-catching design and solid handling.
This model can be picked up on the used market for a good price, and offers lots of value all round.
It comes with a long list of safety features including ABS brakes, stability and traction control and a rearview camera.
The vehicle itself is very compact measuring just 173.2 inches, making it great for tight maneuvering and parking in tight spots.
It can be equipped with either front or all-wheel drive and is available with either a 2.0-liter or 2.4-liter engine.
When shopping for a slightly older 3rd Gen Tucson the 2014 model is a safe choice (others are not).
2014 Hyundai Tucson, Edmunds review:
"This car has converted me solely to Hyundai. It's amazing, great gas mileage, I average 28mpg combined. I can't imagine the reviewers saying that it doesn't have get up and go, it does, I fly onto the highway. The car has every feature and then some, great handling."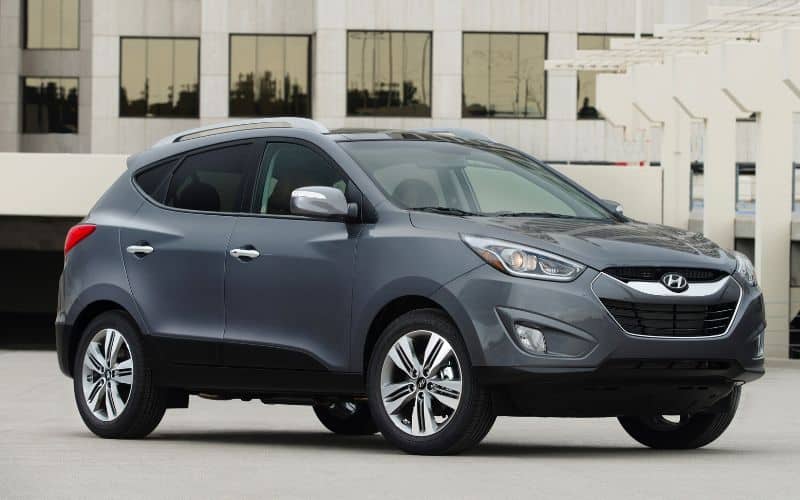 2010 Hyundai Tucson
The 2010 Tucson was the debutant model year for the second generation.
The SUV received a significant facelift, performance upgrades and tweaks to the powertrain, and comes with a myriad of standard safety features.
It secured an impressive 4.6 / 5.0 at Edmunds.com from customer ratings thanks to its sporty handling and nicely appointed cabin.
The 2010 Tucson comes standard with a 2.4-liter four-cylinder, producing 176 horsepower and has a combined fuel economy of 26 mpg.
This model may be slightly older but it has proven to be very reliable and is more than capable of lasting over 200,000 miles.
2010 Hyundai Tucson, Edmunds review:
"I absolutely love my black Tuscon and look forward to driving it everyday. It runs great and looks even better. In my opinion, it's the sharpest compact SUV on the road now. I'm averaging 24 MPG so I'm not complaining."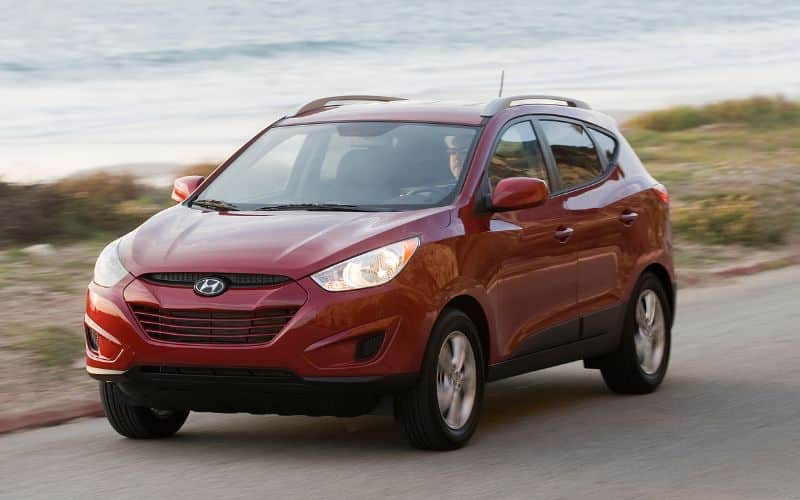 2008 Hyundai Tucson
The 2008 Tucson is the oldest model on our list, however it is a great choice for those on a tight budget.
For 2008, the Tucson received a number of new features including active front head restraints, satellite radio and auxiliary audio input.
Although slightly dated now, the Limited trim comes with a six-CD changer as standard.
The styling of the Tucson has come a long way since 2008, however this model has a classic look that won't look out of place on the road today.
Overall, its a great small SUV however you should make sure that it has been properly maintained before handing over your hard-earned cash.
2008 Hyundai Tucson, Edmunds review:
"So far, I like the general conservative styling of the vehicle. I have the black interior which gets rid of a lot of the tackiness and cheap feel. Audio is great. Handling is brilliant for a car in its' class. A few blind spots, but otherwise vision is good."
Consumer Scores For Best Hyundai Tucson Years
Model Year
Edmunds
Consumer Rating
Kelley Blue Book
Consumer Rating
JD Power
Consumer Rating
2023 Hyundai Tucson
4.0 / 5.0
4.4 / 5.0
78 / 100
2021 Hyundai Tucson
4.7 / 5.0
4.2 / 5.0
81 / 100
2020 Hyundai Tucson
4.3 / 5.0
4.2 / 5.0
81 / 100
2014 Hyundai Tucson
3.8 / 5.0
4.2 / 5.0
81 / 100
2010 Hyundai Tucson
4.6 / 5.0
4.2 / 5.0
80 / 100
2008 Hyundai Tucson
4.4 / 5.0
4.5 / 5.0
82 / 100
What Are The Worst Years For The Hyundai Tucson?
2016 Hyundai Tucson
Based on data and statistics provided by CarComplaints.com and CarProblemZoo.com, the 2016 Tucson is historically the most problematic model year to have ever been produced.
To make matters worse CarComplaints.com gave this model the "Beware of the Clunker" label.
The 2016 Tucson was plagued by transmission problems and ultimately it meant owners were unable to accelerate after a stop.
Here's one owners report:
"One moment the car is gliding along with plenty of zip. Then when I come to a stop at a signal and begin to accelerate… it has no power. Completely gutless. But then it kicks in and there is power. There is no consistent pattern. Sometimes it's after a complete stop. Sometimes it's just if I need to accelerate due to a higher speed limit or wanting to pass someone."
There were also a large number of complaints about the A/C system that intermittently blows warm air.
Common Problems:
Transmission failure
A/C not working
Power window failure
2017 Hyundai Tucson
The 2017 Hyundai Tucson was nearly as problematic as the 2016 one, although not quite.
It shared many of the same transmission problems.
This meant drivers were unable to pull away after a stop, or the car would hesitate from a stop.
The transmission issues were widespread, and we'd advise you to steer clear of this model.
To make matters worse, the 2017 Tucson had engine issues.
The most common symptom was engine knocking, which meant that the engine was about to fail and in some instances this led to fires.
Common Problems:
Hesistation at acceleration
Shuddering / jerky transmission
Engine failure
Related: How Long Do Hyundai Tucson Last? (Solved & Explained)
Reported Problems Per Model Year
Listed below are the number of reported complaints for each Hyundai Tucson model year based on data from CarProblemZoo.com, a site that tracks NHTSA customer reports.
Model Year
Problems
(CarProblemZoo.com)
2023 Hyundai Tucson
12
2022 Hyundai Tucson
138
2021 Hyundai Tucson
29
2020 Hyundai Tucson
102
2019 Hyundai Tucson
246
2018 Hyundai Tucson
245
2017 Hyundai Tucson
845
2016 Hyundai Tucson
1600
2015 Hyundai Tucson
247
2014 Hyundai Tucson
193
2013 Hyundai Tucson
224
2012 Hyundai Tucson
245
2011 Hyundai Tucson
129
2010 Hyundai Tucson
62
2009 Hyundai Tucson
18
2008 Hyundai Tucson
58
2007 Hyundai Tucson
79
2006 Hyundai Tucson
183
2005 Hyundai Tucson
262
What Problems Do Hyundai Tucson Have?
Engine knocking
Transmission issues
Engine failure and stalling
Air conditioning not working
Doors won't unlock
Forward collision not working
Related: 8 Most Common Problems With Hyundai Tucson (Explained)
What Are The Best Alternatives to the Hyundai Tucson?
| | | | |
| --- | --- | --- | --- |
| Make & Model | Score | MSRP | Fuel Economy (MPG) |
| Mazda CX-5 | 8.7 | $25,900 – $38,650 | City: 22 – 24 /Highway: 27 – 30 |
| Hyundai Tucson | 8.5 | $26,450 – $37,210 | City: 23 – 26 /Highway: 28 – 33 |
| Honda CR-V | 8.4 | $31,110 – $35,260 | City: 27 – 28 /Highway: 32 – 34 |
| Ford Bronco Sport | 8.3 | $29,215 – $44,655 | City: 21 – 25 /Highway: 26 – 28 |
| Subaru Forester | 8.3 | $26,395 – $36,495 | City: 25 – 26 /Highway: 28 – 33 |
| Mazda CX-50 | 8.2 | $27,550 – $42,300 | City: 23 – 24 /Highway: 29 – 30 |
| Nissan Rogue | 8.2 | $27,360 – $38,640 | City: 28 – 30 /Highway: 34 – 37 |
| Ford Bronco | 8.1 | $32,295 – $73,780 | City: 15 – 20 /Highway: 16 – 21 |
| Toyota RAV4 | 8.1 | $27,575 – $37,280 | City: 25 – 27 /Highway: 32 – 34 |
| Ford Escape | 7.9 | $27,185 – $37,305 | City: 22 – 28 /Highway: 31 – 34 |
Related: Hyundai Tucson in Snow & Winter Driving? (Explained)
How Long Do Hyundai Tucson Last?
A well-kept Tucson should last around 200,000 miles on average, however with meticulous maintenance and good driving habits they can lost longer.
Based on driving 15,000 miles per year, this equates to about 13.5 years of motoring before you may encounter expensive repairs.
Keeping the car clean, staying on top of routine servicing and making sure the oil is changed regularly will all help get the most life from the vehicle.
What are the Pros and Cons of the Hyundai Tucson?
Pros
Futuristic design
Nice interior cabin
Lots of powertrain options including hybrid and plug-in hybrid
Excellent handling
Cheap to run
Cons
Not as spacious as other small SUVs
Best features are reserved for the higher trims
Not very quick
References
https://www.caranddriver.com/hyundai/tucson
https://cars.usnews.com/cars-trucks/hyundai/tucson
https://www.carcomplaints.com/Hyundai/Tucson/
https://www.carproblemzoo.com/hyundai/tucson/
https://www.edmunds.com/hyundai/tucson/
https://www.kbb.com/hyundai/tucson/