The Tucson is Hyundai's best-seller, having sold more than 7 million units worldwide.
Its features a standout design, top-class safety packages, a wide range of powertrains and plenty of family-oriented convenience features.
No vehicle is perfect though, and in this article we'll dive into the most common problems associated with the Tucson.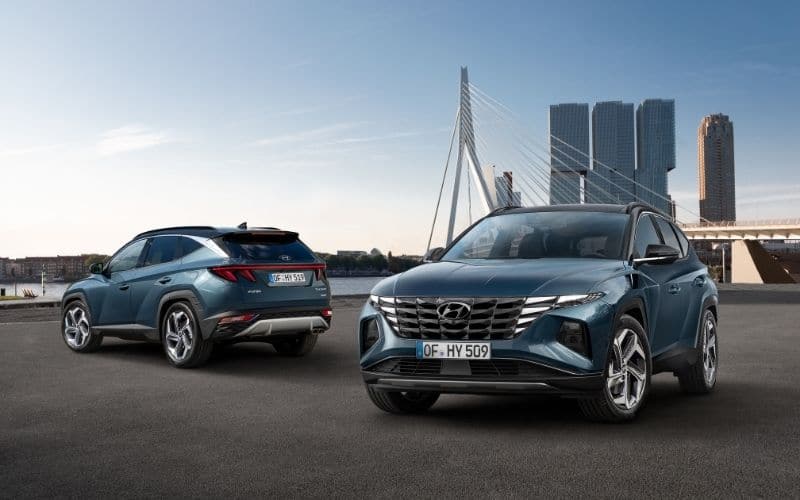 1. Engine Knocking
A major problem with the 2017 Tucson is the dreaded 'engine knocking' which had the potential to cause catastrophic engine failure and also posed an engine fire risk.
This problem was so widespread that Hyundai issued a recall which affected 95,515 vehicles.
This problem was caused by faulty connecting rod bearings.
Here's what one owner had to say:
"Car was driving fine. I started going up a moderate hill and car stalled out with no warning, right in the middle of a busy highway. Was able to finally get it started to pull onto the side of the road, it had a loud knocking sound and the engine light and oil light came on."
Solution
All Tucson's that were recalled were fitted with an enhanced engine control software update with a new Knock Sensor Detection System.
The technology continuously monitors for 'rod knock' a symptom that may precede an engine failure.
This gave owners enough warning to get their car to the dealership before it broke down.
2. Transmission Problems
According to Car Complaints, a site dedicated to car owner feedback, the worst problem for the Hyundai Tucson is transmission-related, this mostly affected the 2016 and 2017 model years.
They've deemed it the worst problem due to the low average mileage at which the problem occurred and the large number of complaints.
Specifically, owners have complained that their Tucson has poor acceleration from a stop, is jerky and would hesitate and launch forward.
This problem affected certain model year 2016 Hyundai Tucsons equipped with a 7-speed EcoShift® Dual Clutch Transmission (DCT) and these were subsequently recalled.
However, not every single 2016 (and 2017) Tucson's transmission was fixed by the recall.
Solution
Hyundai issued a recall, and the problem was rectified by reprograming the Dual Clutch Transmission with updated software.
However this didn't solve the issue for everyone and for others it only offered a temporary improvement.
3. Engine Failure & Stalling
Engine stalling, often accompanied by engine failure has been widely reported on 2014, 2013 and 2012 models and there has been a recall campaign for affected vehicles.
Owners have reported engine stalling whilst driving at high speeds on the highway, with several accounts of near misses.
This problem is often accompanied by a check engine light coming on and engine noises.
Here's one owner's account:
"Cruising at 70 when I began to hear a noise, sort of a knock, that progressively got louder. I took off the cruise and immediately the check engine, oil and battery lights came on. Within seconds the engine died, RPMs at 0 and obviously no response on the accelerator. I was able to get to the shoulder safely. Tow service brought me to the dealership who diagnosed a blown engine."
Solution
In most cases, the engine will need to be replaced, this can cost upwards of $5000.
Run the VIN of your Tucson to see if it's been affected by an engine recall.
4. No Sound From Speakers
This problem is specific to gas-driven Tucsons with navigation units.
Owners have reported that all the speakers suddenly cut out and stop playing audio.
According to Repair Pal this problem has affected 9 model years in total from 2009 – 2017,
Although this issue isn't serious it can be very annoying.
Solution
This fault is easy enough to fix and has been attributed to a software glitch that can be remedied by a hard reset.
Simply disconnect the 12V battery terminals, wait 15 minutes and reconnect them.
5. Hesitation on Acceleration
Owners have described a hesitation of approximately 2 seconds before the car decides to accelerate.
In other cases, owners have experienced stalling and losing speed whilst others have said their Tucson will not accelerate past 20 – 30 mph.
This problem has been documented on models as recently as 2022.
One frustrated Tucson owner has described the severity of the issue and a slight workaround:
"This is very dangerous as I have barely avoided several crashes by the car refusing to respond as I try to accelerate. This occurs in both regular and sport driving mode. The only way to avoid this issue is to drive the car in manual mode. This appears to fix the problem 80 percent of the time."
Solution
It seems Hyundai dealers and service departments are aware of the acceleration issue but at the time of writing, they currently don't have a fix.
Hyundai has offered some customers software updates but this hasn't helped…
6. Air Conditioning Problems
There have been a large number of complaints from Tucson owners due to the Air Conditioning not working.
The problems vary but most commonly that the A/C intermittently blows warm air or the A/C flip-flops from driver to passenger side.
For those living in hotter regions, this problem can be incredibly frustrating.
Solution
Replacing the thermistor (not the thermostat) is one solution that has worked for some owners.
A thermistor is a resistor whose resistance fluctuates fast and reliably with temperature and can thus be used to detect temperature.
Some owners have said that turning off the A/C (for about 15 minutes) and then on again, can provide a short-lived solution.
7. Doors Won't Open or Unlock
Hyundai Tucson owners have commonly complained about doors that won't unlock or open, although it's not so common on the newer models from 2018 onwards.
To give you an idea, here are some owner reports on door issues:
The rear passenger door is unable to be opened from either the inside or outside. The door is unlocked and unless I push on it from the outside first, it can not be opened.
The rear doors wouldn't open.
The passenger door won't open when unlocked using the key fob.
The door (for me driver-side front) will not open from the outside.
Solution
The door latch problems have been widespread on Tucson models, particularly for the 2016 year.
This problem has been attributed to the door lock actuator that is not fully returning and thus remains unlocked.
It's worth spraying the latch with some WD-40 to see if that helps, failing that the lock actuator will need to be replaced.
8. Forward Collision Not Working
The Forward Collision System is designed to outright prevent or to reduce the effects of a forward collision.
It uses a camera to scan the road and will alert drivers if they need to brake and if needed the system will apply the brakes automatically.
Unfortunately though this system has been problematic – not only for Tucson owners but for owners of various Hyundai models.
There have been accounts from owners who have been terrified by their vehicle braking whilst traveling 75 mph down the highway.
In other instances, drivers have described that despite setting FCW to 'early' not once has the system worked and has failed to recognize a car pulling out in front of them.
This problem is most commonly reported on models from 2020 to 2022.
Solution
A Forward Collision Warning with a mind of its own or with overly low sensitivity is no good to anyone.
This is a job for the technicians at Hyundai and is likely due to a problem with the software, and should be fixed under warranty.
Related: 8 Best & Worst Hyundai Tucson Years (With Pictures)
Hyundai Tucson Model Years With the Most Problems
To get a better idea of which Hyundai Tucson has the most problems the fairest way is to compare models based on the number of vehicles sold in relation to the number of reported problems.
We're using Car Complaints PPMY index which means problems reported per thousand vehicles per Year.
For example, newer cars will have fewer complaints simply because they've been around for less time.
Based on this index, the most problematic years are:
2016 – 2.35 PPMY
2017 – 0.90 PPMY
2012, 2015, 2019 – 0.47 PPMY
And the least problematic years are:
2007, 2009 – 0.11 PPMY
2008 – 0.17 PPMY
2006 – 0.20 PPMY
Hyundai Tucson
Model Year
Problems
Sales
PPMY Index
2022
36
–
–
2021
29
89,492
0.32
2020
89
116,779
0.38
2019
213
150,531
0.47
2018
199
132,112
0.38
2017
712
158,610
0.90
2016
1,457
103,410
2.35
2015
166
50,699
0.47
2014
125
40,047
0.39
2013
215
56,742
0.42
2012
238
50,457
0.47
2011
124
46,108
0.24
2010
59
23,399
0.21
2009
17
11,549
0.11
2008
58
24,011
0.17
2007
77
45,434
0.11
2006
178
56,724
0.20
2005
255
62,878
0.24
Source: Car Problem Zoo
Hyundai Tucson Pros and Cons
If you're considering a Hyundai Tucson as your next car you might be wondering what its strengths and weaknesses are…
Pros
Striking exterior design
Well-equipped cabin
Quality interior
Wide range of powertrain options including hybrid and plug-in hybrid
Cons
Not as spacious as some competitors
Not particularly fuel-efficient
Powertrain warranty doesn't transfer to second owner
Hyundai Tucson Reliability Compared to Similar Cars
Consumer Reports rankings detailed below is based on the model's newest three years, the Hyundai Tucson sits at on top, with a great score of 87/100, at least 7 points higher than the rest of the vehicles.
| | |
| --- | --- |
| Make & Model | Reliability Score |
| Hyundai Tucson | 87 |
| Honda CR-V | 80 |
| Mazda CX-5 | 80 |
| Subaru Forester | 80 |
| Toyota RAV4 | 44 |
| Ford Escape | 25 |
Source: Consumer Reports
Hyundai Tucson Used Value
We've taken a look on Car Gurus to gauge the resale value of a Hyundai Tucson, below are typical asking prices for each model year.
According to Car Edge, a Hyundai Tucson will depreciate 45% after 5 years and have a 5 year resale value of $16,807.
Note: Used model prices will vary depending on trim level.
| | | |
| --- | --- | --- |
| Model Year | Mileage (miles) | Resale Price |
| 2022 | 13,115 | $27,888 |
| 2021 | 16,664 | $32,598 |
| 2020 | 14,989 | $21,795 |
| 2019 | 66,731 | $18,000 |
| 2018 | 34,361 | $19,998 |
| 2017 | 63,216 | $16,987 |
| 2016 | 75,409 | $16,491 |
| 2015 | 108,055 | $9,995 |
| 2014 | 146,952 | $9,777 |
| 2013 | 106,794 | $11,995 |
| 2012 | 120,382 | $7,700 |
| 2011 | 113,632 | $7,900 |
| 2010 | 170,000 | $6,200 |
Source: Car Gurus
Related: How Long Do Hyundai Tucson Last? (Solved & Explained)
What Do Owners Like and Dislike About the Hyundai Tucson?
Based on owner feedback from the Kelley Blue Book site here are what real-life owners love and hate about the Hyundai Tucson.
Likes
Decent room
MPG as advertised
Handles extremely well
Fun to drive
Roomy
Beautiful SUV
Comfortable
Dislikes
Loud over 60 MPH
No spare tire
Underpowered
Rough cloth seats
Rough gear shifter
Owners Reviews
"The car is aggressively styled and built solid. It has a quiet smooth ride with adequate although not head-turning performance. The warranties are amazing as are the safety features and Hyundai's after-sales support."
Source: Kelley Blue Book
"We planned for months to buy a Hyundai and ONLY a Hyundai! We chose a mid-level Tucson and, I can't say enough wonderful things about this SUV. We will enjoy our new Tucson for years to come."
Source: Kelley Blue Book
"I was sitting in my car..stopped waiting to make a turn when a car hit me head-on. All of his airbags deployed as he was driving very fast when he hit me..my seatbelt held me in place.. I had no injuries and my front end of my car did not crunch up like his car..thank you Hyundai for making such a safe car."
Source: Edmunds
Related: 9 Most Common Hyundai Tucson Hybrid Problems (Explained)
How Reliable Are Hyundai Cars?
According to a recent report from Consumer Reports, Hyundai are ranked the 11th most reliable car manufacturer out of 28 brands, with a score of 56/100.
| | | |
| --- | --- | --- |
| Ranking | Brand | Score |
| 1 | Lexus | 76 |
| 2 | Mazda | 75 |
| 3 | Toyota | 71 |
| 4 | Infiniti | 69 |
| 5 | Buick | 66 |
| 6 | Honda | 66 |
| 7 | Subaru | 66 |
| 8 | Acura | 64 |
| 9 | Nissan | 63 |
| 10 | Mini | 60 |
| 11 | Hyundai | 56 |
| 12 | Chrysler | 54 |
| 13 | Porsche | 52 |
| 14 | Chevy | 48 |
| 15 | Audi | 47 |
| 16 | Cadillac | 47 |
| 17 | BMW | 45 |
| 18 | Ford | 44 |
| 19 | Kia | 43 |
| 20 | Volvo | 42 |
| 21 | Ram | 40 |
| 22 | GMC | 37 |
| 23 | Mercedes-Benz | 34 |
| 24 | Volkswagen | 31 |
| 25 | Genesis | 30 |
| 26 | Jeep | 26 |
| 27 | Tesla | 25 |
| 28 | Lincoln | 18 |
Source: Consumer Reports
Related: Hyundai Tucson in Snow & Winter Driving? (Explained)
Sources
https://www.consumerreports.org/cars/hyundai/tucson/
https://caredge.com/hyundai/tucson/depreciation
https://www.cargurus.com/Cars/l-Used-Hyundai-Tucson-d98
https://www.carcomplaints.com/Hyundai/Tucson/
https://www.carproblemzoo.com/hyundai/tucson/
https://www.kbb.com/hyundai/tucson/