The Indian Challenger dropped in 2020, stocked with the brand-new PowerPlus engine.
The Challenger's sixty-degree, liquid-cooled, 1178cc V-Twin is unlike anything else on the market.
Its unique PowerPlus motor packs four valves per engine cylinder on a single overhead cam to achieve 128 foot-pounds of torque and 122 horsepower with a top speed of 125 MPH, annihilating anything else in its class, but no bike is perfect…
This article explains the most common problems with the Indian Challenger.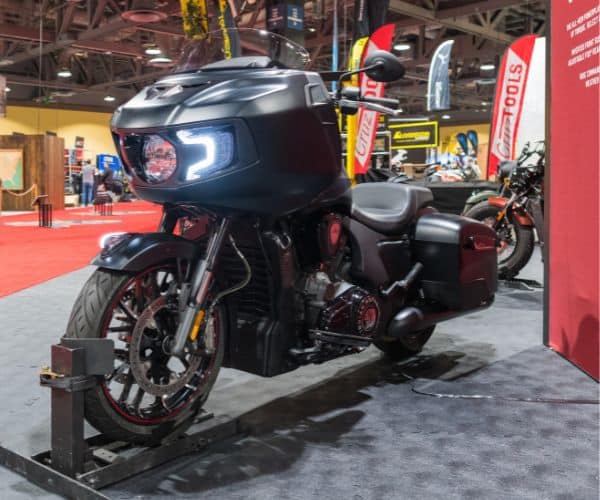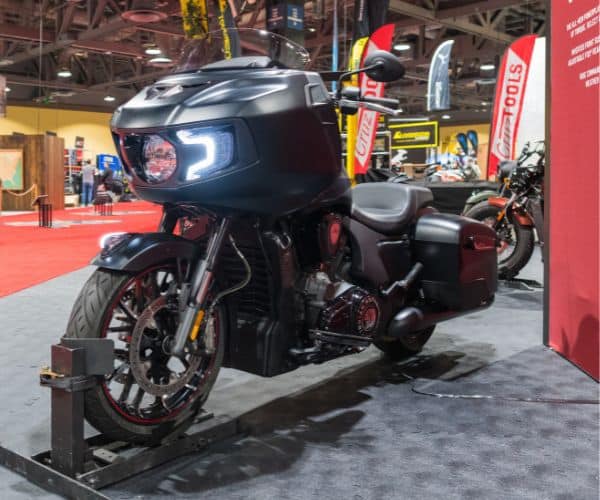 1. Fairing Storage Pockets Pop Open While Riding
The Indian Challenger includes a state-of-the-art fairing to protect the rider from wind, rain, cold, and loose road debris.
This fairing includes a 7-inch display screen with navigation, a high-class audio system that interfaces with your phone via blue tooth, and two convenient storage compartments to keep items like your keys and phone safe and within reach while riding.
Unfortunately, the storage compartments on the Indian Challenger have a bad habit of popping open while riding, making many riders feel unsafe about storing their phone inside.
"I love the convenience of having my phone within arm's reach just as much as the next guy, but it's more important that it's secure than that it's close. The two pockets on the Indian Challenger's fairing are right in front of you while riding and very conveniently placed, but they are nearly useless as they continuously pop open, often at the most inopportune time."
The Challenger's Front Fairing Storage Compartments are covered with a door.
The compartment door is equipped with a release spring designed to lift when the rider pushes on the outside of the door.
Once the rider closes the compartment door, a latch keeps the spring from retracting until the rider pushes it in again.
One of the most common problems with the Indian Challenger is that this latch fails, allowing the spring to retract and open the storage compartment door while the motorcycle is in motion.
Some consumer reports claim that this issue was fixed in 2021 and only affects the first year, 2020 models. Still, while some say the storage compartment latch on their 2020 Challenger was repaired for free, other riders report a limit to the Polaris warranty:
"I ride a 2020 Challenger limited – 12K miles… Regarding the poor fairing pocket design, [Indian] already replaced the [piece] that latches the pocket, saying that they will do just one replacement during the life of the warranty."
2. Harsh Clutch Cable Feel
One of the most common issues with the Indian Challenger is its tight clutch cable action. The Challenger's clutch cable has a max free play-adjustment limit of 2 mm at the clutch lever before you risk damage to the plates. Riders complain that this tight-lever-action tires their hand and arm.
Here's an example of a Challenger Rider who reports his clutch cable tightens
"The clutch engagement range seems very short to me… From fully disengaged to fully engaged, it's probably less than 1/2″ of lever travel. I've adjusted the lever and have the suggested 1-2mm of free play. It's not the end of the world, but it makes perfectly smooth clutch modulation at slow speeds harder than other bikes I ride."
The design of the Indian challenger's clutch actuator and cable attachment at the bottom end restricts the free play of the clutch lever.
As the clutch of a new Challenger breaks in, the clutch cable will tighten due to the increased compression.
The Indian Challenger's clutch cable will also tighten up in cold weather or after long storage periods.
As the cable tightens, the already slim margin of free play on the Challenger's clutch is reduced, making it uncomfortable for riders' hands and risking a cable break and improper shifting.
The clutch cable of your Indian Challenger requires frequent inspections and adjustments, per the service intervals outlined in the owner's manual, and at the first sign of hard shifting.
Adjusting the clutch cable is simple and can be done at home by following the Challenger owner's manual instructions, which are also published on Indian Motorcycle's official website.
Riders who are less excited about wrenching on their motorcycles are often unsatisfied with the clutch lever's lack of free play and its impact on their riding:
"The first thing I noticed about this bike is that the slight friction zone, coupled with the touchiness of the electronic throttle, made it very tricky to make tight, slow-speed maneuvers. It took quite a bit of practice for me to make full-lock slow-speed (2-3 mph) turns. And even now, I have to feather the throttle while doing so."
3. Rubber Trim Falls Off
Another frequent complaint regarding the Indian Challenger is that its "rubber" saddle bag trim falls off. While some riders report the plastic framing comes off slowly over time, others claim it was hanging off their hard bags before they hit their first 500-mile service.
"Bought a new 2020 Challenger Limited on June 16, 2021. Ten days, 700 miles later, the rubber trim on BOTH saddlebags came off the nearest passenger foot peg. I went to an Indian dealer who told me it needed to be fixed with double-sided tape, which they didn't have. I offered to go 3 miles away to Lowes to get 3M Tape."
Many riders follow the above-mentioned dealership suggestion of using double-sided tape from an auto parts store to keep the trim in place.
Other riders pull the rubber trim off their bags, leave it off, and choose to showcase the paint underneath.
In some cases, the paint hasn't faded evenly or is damaged by the loose trim, which can be frustrating to someone who just spent $25k on a new bike.
"[My] Challenger rubber bag trim [started] coming off. Just one spot on one side. I can still press it down and make it stick, but the next time I look, it's come apart again [so I] decided to remove them. They came off just fine. That doesn't mean the adhesive came off quickly, though. Found a clearcoat/surface scratch in the paint under the front/right part of the saddlebag—kind of a "cat eye" shaped rash about 1.5 inches wide and .5 inches high. Evidently, something nestled down behind the trim while it was loose and rubbed the saddlebag. Either that, or it was scratched before the trim went on."
4. Windshield Motor Failure
One problem reported by Indian Challenger owners that's never officially been acknowledged by Indian is the wear of the gear system that automatically raises the Challenger windshield. Much like the windows in a car, if the motor gears fail while the windshield is down, the rider can't use the electronic switch to raise it, rendering the windshield useless.
"The auto-adjust windshield on the 2020 Indian Challenger is not operating up nor down. The motor operates due to its sound, but the windshield seems stuck. Indian dealership in Tucson said it's an issue with other models but not the Challenger. In my opinion, the bike is a new model, a 2020, and there have not been many reports of this failure on these Challengers. The problem was fixed three weeks later and was a total motor "part" replacement."
SOURCE: Indian Challenger windshield failure not operating up or down. Motor issue? – YouTube
Some Challenger riders report they've had their automatic windshield units replaced multiple times.
There are consumer reports on Indian dealership technicians claiming the culprit is an easily stripped plastic bracket inside the unit.
We could not find any official claim of an issue from Polaris, the parent company that owns Indian Motorcycles.
"My windshield just broke for the 2nd time. Apparently, the screw that drives the windshield up/down strips a plastic bracket that attaches to the windshield. Someone on Facebook is selling an aluminum replacement part that won't get stripped. I spoke with Indian, and they told me once your warranty expires, they won't cover the cost of repairing the windshield even though it's a known issue."
The issue is primarily reported on first-year models and has since been fixed.
Related: 9 Common Problems with Indian Motorcycles (Explained)
5. Rattling Noises at High Speeds
The Indian Challenger is known to develop an intrusive fairing rattle at high speeds, particularly between 3,000 and 4,000 RPMs. Consumer reports published online claim the bike's vibration comes from rattling fairing housing and can be so loud it's audible over the motorcycle's stereo system.
"The Indian Challenger has the best sound system I have ever heard on a stock motorcycle. Huge bass speakers with little tweeters result in a deep, full-sounding audio system. Unfortunately, between 3,500 and 4,000 rpm, the Challenger's fairing rattles like an old jalopy. Something about this certain vibration makes the gauge housing loud enough to hear clearly over that audio system, even when it's turned all the way up at highway speeds… on long trips, I find myself reaching up to grab the plastic above the gauges trying to silence it."
SOURCE: Motorcycle Cruiser
6. Fuel Cap Gets Stuck
Owners of the Indian Challenger sometimes report issues with their fuel gap getting stuck in the locked position. The Challenger features a locking gas cap that needs to be unlocked before the release lever will open it for fueling, and sometimes that lock gets jammed.
"I have a 2021 Challenger, brand new. At 2,000 miles, they replaced the gas cap that refused to unvacuumed seal, then the tank because they scratched my new dark horse [paint] and tried to rub it out with the wrong rag."
Pros and Cons
Pros
Unique, high-performing PowerPlus V-Twin Engine.
Liquid-Cooling System
Three Different Riding Modes—Standard, Rain, and Sport.
Comes standard with the Ride Command Infotainment System, 7" Display Screen with GPS and Bluetooth Connectivity
Hard, Locking Saddle Bags
Adjustable Power Windshield
Adjustable airflow vents
Chassis-mounted Fairing
Excessive Storage Space
6 Speed Transmission with True Over-Drive
Comfortable and Fun to Ride
Multiple packages: base model, Limited (Highway Bars, Refined Paint Finish, and saddlebag speakers), Dark Horse (Extra Bosch IMU safety features and an Upgraded Infotainment System).
Cons
Limited Color choices
Non-Adjustable Suspension
Fairing Storage Pockets Pop Open While Riding
Harsh Clutch Cable Feel
Rubber Trim Falls Off
Windshield Motor Failure
Rattling Noises at High Speeds
Inconsistent/Lagging Throttle Wire
Fuel Cap Gets Stuck
What Do the Reviews Say?'
"There's always a feeling of immense bulk beneath you, especially at paddling speeds, but it quickly melts away, and those kilograms are an advantage for a bagger on the move – flattening every bump in its path and putting so much pressure down through the tires in corners, the grip it generates makes it feel almost uncrashable."
"Refined and perfectly fueled, Indian's new 1769cc PowerPlus motor is built to waft. In top gear, it'll purr along at 70mph with the gentle tremor of its super-sized, short-stroke pistons lolloping away beneath you at just 2800rpm."
"It might be born to cruise, and it has noticeably more instant grunt than Indian's air-cooled Thunder Stroke-engine machines, but drop it down out of its tall, overdrive sixth gear, and it gets a serious shift on, not just for a 361kg (dry) behemoth – it accelerates like a wild thing, especially in the sportiest of its three riding modes."
"Indian claims 0-60mph in 3.9 seconds, 30-60mph in 2.2, and it'll hammer the standing quarter mile in just 12.2. Off the line, they say it'll pull five bike lengths on the bike it has set squarely in its sights: Harley Davidson's Road Glide. Top speed is restricted to an indicated 112mph."
"Available in three versions, the base model comes with Indian's 'Ride Command Infotainment System' with a seven-inch color touch screen, USB charger, 100-Watt stereo, cruise control, keyless ignition, adjustable air vents, an electric screen, and 68 liters of storage."
SOURCES: INDIAN CHALLENGER (2020 – on) Review | MCN (motorcyclenews.com)
What's the Resale Value of an Indian Challenger?
| | | |
| --- | --- | --- |
| Year | Mileage | Price |
| 2020 | 2,683 | $21,990 |
| 2020 | 5,261 | $24,450 |
| 2020 | 13,785 | $25,899 |
| 2021 | 21 | $24,999 |
| 2022 | 1,857 | $26,995 |
What are Some Alternatives to the Indian Challenger?
| | | |
| --- | --- | --- |
| Make/Model | MSRP | Average MPG |
| Indian Challenger | $24,499 | 40 |
| Harley-Davidson Road Glide | $26,699 | 38 |
| Honda Gold Wing | $23,800 | 38 |
| Indian Roadmaster | $29,999 | 45 |
| Harley-Davidson Electra Glide Ultra Limited | $29,169 | 42 |
Sources:
INDIAN CHALLENGER (2020 – on) Review | MCN (motorcyclenews.com)
Used Challenger For Sale – Indian Motorcycles Near Me – Cycle Trader
Challenges With The Indian Challenger | Motorcycle Cruiser
A Closer Look at the 2020 Indian Challenger (moneyinc.com)
Indian Challenger windshield failure not operating up or down. Motor issue? – YouTube