The Indian FTR is an innovative powerhouse of a motorcycle, combining the brand's flat-track-racing heritage with the best of modern street racing.
While the FTR 1200's engine is one of the most unique and powerful machines around, the development of the FTR 1200 has hit a few bumps in the road.
This article explores the most common problems with the Indian FTR 1200, how to solve them, and how to prevent them from happening.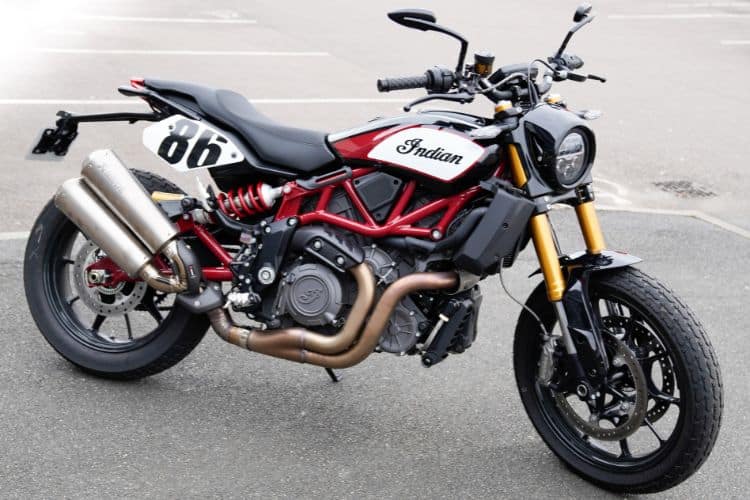 1. Hard Starting; Cold Start Problems
Some owners reported that their Indian FTR 1200 would stall or "cough" when starting, especially when the engine or ambient temperature was cold.
These riders explained the occurrence on the forums at indianmotorcycle.net:
"New FTR 1200 owner and new to the forums. I just purchased an FTR 1200S (RR)… I am seeing cold start problems as a common issue on these motorcycles. I am having this problem as well. The bike spits and sputters on a cold start-up, stalls, and throws cylinder misfire engine codes at me every start-up. The bike's dash notified me to contact my dealer, which I did, and they took it back to the shop and had the bike for five days to "fix" the problem… I just got the bike back yesterday, and it still has the issue and is throwing codes at me left and right. It didn't stall on the first start-up this morning, which is an improvement, but both cylinder misfire codes popped up on the dash within the first minute of running the bike." – indianmotorcycle.net
"I got my [FTR 1200] brand new at the beginning of March. I confirmed with the dealer that it had the updated ECU tune that Indian sent out to "solve" this problem. I rode it on several ~30°F days, and those were typically the worst. It didn't stall every time, but it would do it about one in five, starting from cold. Of those stalls, I've had it throw a code at me maybe three times since I've owned it, and it was just one cylinder, not both. I turned it off, turned it back on, and the code was gone, and I rode about my day. It's got 3k miles on it, and days are in the 70s and 80s. It hasn't cold stalled on me in a while, but it still very, very occasionally happens, and it hasn't thrown a code since…" – indianmotorcycle.net
Solution:
Update the bike's ECU with Indian Motorcycle's latest software.
Inspect spark plugs for correct gaps and cleanliness.
Use a fuel system cleaner for optimal combustion.
If issues persist, get professional diagnostics.
Check for fuel injector or ignition system problems.
2. Lean Stock Fueling
Owners often criticize the FTR1200s stock fuel/ignition map in the bike's ECU for being too lean, causing surging and jerky throttle response even at steady RPMs. Some owners also experienced throttle burps on downshifts.
"I assume the new FTRs come with factory fuel map #2. I had the first version, and [its stock fueling] was awful. After having the dealer upgrade to version 2, they told me it would solve the cold stalling issue, but I haven't had a cold morning (below 50F) since testing it. I have also heard that the bikes get better with more mileage."
"When I got my FTR, it had cold start and shitty fueling problems for the first 816kms till I put an aftermarket tune on it. But I NEVER got any of those error codes."
Solution:
Upgrade to the latest factory fuel map provided by Indian Motorcycle.
Regularly check for ECU software updates and apply when available.
Ask the dealership to optimize your FTR's throttle body synchronization for smoother performance.
Consider a custom fuel/ignition map from reputable aftermarket tuners.
Monitor fuel quality; premium gasoline may offer improved combustion.
3. Excessive Vibrations at High Speeds
Some Indian FTR 1200 owners complained that their FTR 1200 vibrates too much, especially at higher speeds or RPMs. Abrupt rattling can affect the comfort and handling of the bike, as well as cause some parts to loosen or rattle.
Here's how owners described the symptoms at ftrforums.com.
"The strong vibration on [my FTR1200's] handlebars is getting on my nerves a bit. When I'm down all day, it isn't very pleasant. Even though I bought rubber bearings for my iPhone, the phone is defective again. It's not just about the cell phone; it's much more about the strong vibration on the handlebars, which is between 4 and 6 thousand revolutions."
"I want to reduce handlebar vibration [on my FTR1200] by installing rubber bearings… I drive a lot, and it just bothers me because it vibrates too much. My hands and arms suffer from it when I'm out for more than five hours."
Solution:
Install high-quality bar-end weights to reduce handlebar vibrations.
Ensure all parts are securely tightened, especially after long rides.
Consider rubber handlebar mounts for additional dampening.
Regularly check wheel balance and alignment.
Upgrade to vibration-dampening grips for enhanced comfort during prolonged rides.
Ask your India-literate mechanic about less abrasive exhaust system options.
4. Faulty Gear Position Sensor
A few riders reported that their FTR 1200 had a faulty gear position sensor, which caused the gear indicator to go blank or show the wrong gear. Shifting can become problematic if the rider does not know what gear they are in.
Here's what a handful of riders said in the forums on indianmotorcycles.net.
"My [FTR 1200S's Gear Position Sensor] has been sketchy since day one.
It took the dealer two months to get another.
Bike on the lift, but the one they got plus another was not good.
The dealer is trying to get some more by expedited shipping.
Supposed to get back to me next week."
"Just had my gear position sensor replaced today; it has been a problem since delivery [of my FTR 1200]; it took three months for it to arrive. I will find out how it's going tomorrow.
"Unfortunately, I just got the check engine and the faulty gear position sensor code on mine last night. I ran the diagnostics and was given the gear sensor code. Less than 500 miles in on mine. The dealer wants $140 to look at it and then $140 an hour to work on it…"
"I am currently having the same issue on my 2019 FTR 1200. Do you think it is safe to ride with a bad sensor? Or should I avoid riding it until the new one comes in? The dealer said they cleaned and reinstalled the sensor, but I am still having issues."
Solution:
Take your FTR 1200 to the closest Indian dealership for a replacement Gear Position Sensor.
Conduct routine service inspections to catch faulty electrical problems early.
5. Front End Head Shakes; Speed Wobbles
Some owners experienced speed wobbles or head shakes on their FTR 1200, especially over 120 mph. Faulty tire pressure, suspension settings, steering damper, or aerodynamics could cause front-end instability. It's also possible that the bike isn't intended to sustain speeds above 120 for extended riding periods.
Here's what riders at ftrforums.com had to say about speed wobbles:
"I have a 2019 base model [FTR 1200] with about 1800 miles on it. It's been a blast riding it, but a weird rattle started this past weekend while on a ride. It's only there when you're accelerating, and it sounds like it's coming from the right side of the bike. I removed the front heat shield, which didn't make a difference."
"When my [FTR 1200] was new, and in full standard trim, it had a nasty rattle on acceleration and also when down gearing mostly 4th, 3rd, 2nd…on the down gear it was as soon as you let the clutch out…so the dealer reckoned it was quieter than most that he had ridden…I didn't believe a word they said…they also said that I shouldn't be running 98 octane fuel…once again, at 12.5 to 1, I couldn't believe what I heard…anyway, to cut a long story short, I got my first tune, and still ran 98 and it disappeared…I believe that it was a tuning knock…"
Solutions:
Make sure your tire pressure aligns with Indian guidelines while staying aware of what is suitable for you.
Tweak your FTR 1200's suspension settings like preload, rebound, and compression to match your weight, your riding style, and the type of roads you're on.
Adjust your FTR's steering damper for stability and smoother handling at top speeds.
Consider adding a windshield or fairing if your Indian FTR lacks one to cut down wind buffeting and speed wobbles.
6. Radiator Leaks Coolant
The coolant junction, which is a part that connects the radiator hoses, may fail and cause hot coolant to leak from the liquid-cooling system. This could result in rear tire traction loss and severe burns if the coolant comes in contact with the rider.
A serious coolant leak could also damage the engine and increase the risk of fire hazards.
Indian Motorcycle recognized the gravity of this issue and proactively issued a safety recall for specific FTR models spanning the 2019, 2020, and 2022 production years. This recall was instigated due to the coolant junction part, unique to the FTR, which was found to be the culprit behind the model's rampant coolant leaks.
The potential for the hot coolant loss to splash onto the rider or the rear tire increased the risk of accidents and possible injuries, making the recall an urgent affair.
While the company's thorough investigation revealed instances of leaks, no injuries or fatalities were reported.
Solutions:
If you own an FTR 1200 from the specified production years, check your VIN against the mentioned year-model range to determine if your bike is part of the recall.
Contact Indian Motorcycle customer service at 1-877-204-3697 or visit the National Highway Traffic Safety Administration (NHTSA) website to cross-check the recall campaign number 22V-636 with your FTR's VIN.
Schedule an appointment with an authorized Indian Motorcycle dealer to have the faulty coolant junction replaced, free of charge.
While awaiting the recall servicing, it's advisable to be extra cautious during rides, especially noting any unusual liquid leakage or temperature spikes.
Conduct a routine check on the coolant system to guarantee no coolant leaks.
7. Display Screen Failures
Several FTR 1200 owners have reported issues with the bike's LCD touchscreen display. Problems range from distortion lines to freezing screens and gear indicator lapses. While these glitches can be inconvenient, frustrating, distracting, and dangerous, they're typically easy to solve with an ECU flash from dealership technicians.
More than a few real-life FTR owners discuss this issue on forums like indianmotorcycles.net
"Within a few hours of leaving the dealership, the [FTR 1200's] touchscreen started glitching. To be fair, it was almost 200 miles when I bought it. It has blue distortion lines across the screen. A few days later, I could not see the white background on the net. The service dept said he had heard of this being an issue a few other times.
"I think the only thing I had majorly wrong [with my Indian FTR 1200] was the touch screen completely froze up and wouldn't turn off with the bike two days after bringing it home. Undoing the wiring harness on the back of it and re-plugging it in fixed that, though, and I haven't had that happen since.
I've noticed the gear indicator will stay blank sometimes when shifting, but it only stays that way for a few seconds. I've only seen that happen twice now. The neutral indicator got locked up one time. ABS suddenly turned off a few days ago during a ride. It seems like the Ride Command for the FTR is a bit buggy and causes issues sometimes. I'm sure a firmware update will fix most of that stuff. Most of the issues I've seen are easily fixable and are just mild annoyances. Still a great bike."
Solutions:
Restart the FTR if the touchscreen glitches.
Disconnect and reconnect the touchscreen's wiring harness for persistent issues.
Check for and apply any available firmware updates.
Contact the dealership for severe display issues or potential replacements.
If gear or ABS indicators fail, wait a few seconds for system correction.
Join online forums for tips, tricks, shared experiences, and solutions.
What Are the Pros and Cons of the Indian FTR 1200?
Pros:
Powerful, Torque-Forward V-Twin Engine
Reliable
Fun To Ride
Stylish Aesthetic
Nimble handling
Enhanced Features
Modern Technology
Lightweight
LED headlight
Sculpted Fuel Tank
High-Mounted Exhaust
Flat Track-inspired Design
Cons:
Display Screen Failures
Radiator Leaks Coolant
Front End Head Shakes; Speed Wobbles
Faulty Gear Position Sensor
Excessive Vibrations at High Speeds
Lean Stock Fueling
Hard Starting; Cold Start Problems
What's the Resale Value?
| | | |
| --- | --- | --- |
| Year | Mileage | Used Listing Price |
| 2019 | 1,800 | $12,499 |
| 2019 | 2,000 | $11,999 |
| 2019 | 2,500 | $11,500 |
| 2019 | 3,000 | $10,999 |
| 2020 | 1,000 | $13,999 |
What Are Some Alternative Models to the Indian FTR 1200?
| | | |
| --- | --- | --- |
| Make/Model | MSRP | MPG |
| Indian FTR 1200 | $12,999 | 43 |
| Harley-Davidson Sportster S | $14,999 | 49 |
| Ducati Monster 1200 | $14,995 | 44 |
| KTM 1290 Super Duke R | $18,699 | 35 |
| Honda CBR1000RR | $16,499 | 41 |
What Do the Reviews Say?
"For 2020, India has added a new 'Rally' version of the FTR1200 to their line-up. Using the same basic engine, frame, and ancillaries as the 2019 bike, the new model has received a number of subtle tweaks to turn it into more of a rugged retro than a flat tracking hooligan."
"It makes other retros seem soft and fluffy by comparison. For spirited riding, it would be nice to have less instant power and more rear grip, but for the rest of the time, it's a class act – built like an exquisite Tonka toy, comfortable, well-equipped, packed with US of A-grade character."
"Indian have created a beautiful but gnarly flat track-inspired street hooligan that's not for the faint-hearted or inexperienced. It's a character trait deliberately built to make the Indian FTR1200 S stand out from the crowd, and few modern machines offer the same drama or challenge to the rider."
Sources:
Recall: 2019 Through 2022 Indian FTR 1200s May Have Coolant Leak (rideapart.com)
INDIAN FTR1200 (2019 – 2021) Review | MCN (motorcyclenews.com)
FTR 1200 For Sale – Indian Motorcycles – Cycle Trader.