Harley-Davidson is the most recognizable American Motorcycle.
The classic HD style, signature sound, and timeless V-Twin engine design have all but become requirements of the American Biker image in an almost cult-like way.
Harley fanatics will rarely be seen riding anything else, and while there are plenty of reasons to love these motorcycles, are they good bikes for beginners?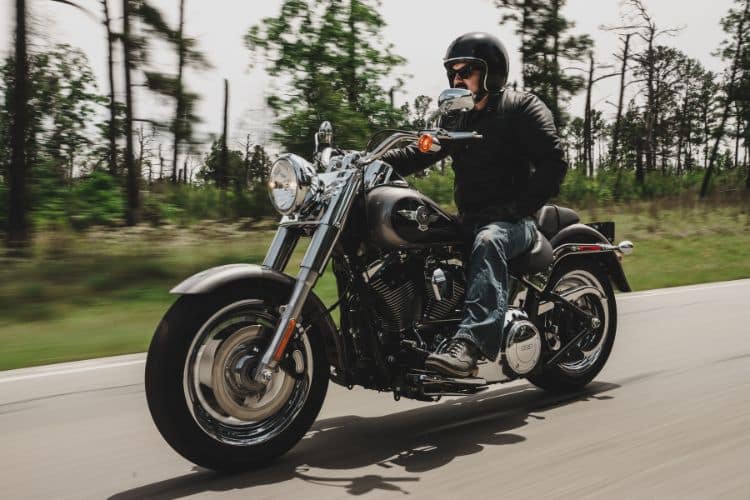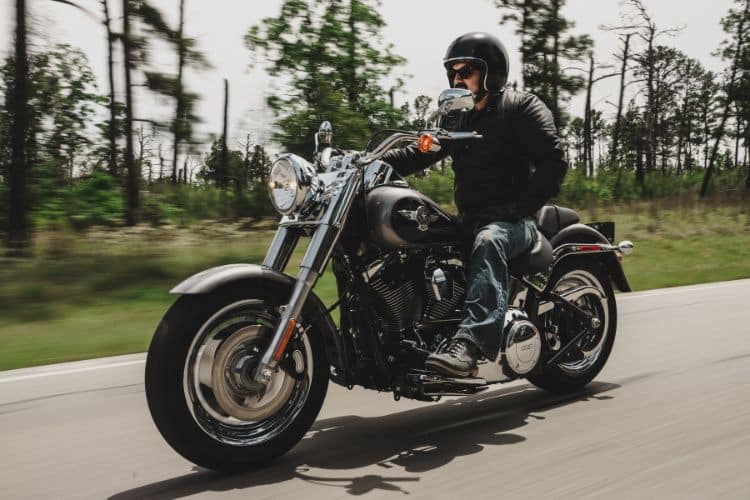 Here's the Short Answer to Is a Harley-Davidson a Good Beginner Bike:
Harley-Davidson motorcycles make good beginner bikes because they're easy to work on, comfortable and fun to ride, include lots of safety features, hold their value, and are easy to find on the used motorcycle market. However, some models can be expensive and some have reliability issues.
Why a Harley is a Good Beginner Bike
The pros of owning a Harley as a first bike far outweigh the cons, listed below are the reasons why.
1. Accessible Dealerships
Harley-Davidsons dealerships are widespread across the US, and their global popularity makes them accessible even when you're riding abroad.
This means that should you experience a failure while you're long-distant cruising across the States, there's typically a Harley dealership within your insurance provider's tow limit.
This means less tool-and-spare-part-packing when traveling, as replacement parts are readily available in every major city and many small towns.
Harley has multiple factories around the world.
Their designs have been consistent over the years, never straying far from the vintage V-Twin concept despite the integration of some modern engineering.
This means that the factory technicians can repair an engine that is no longer in production, a service they readily offer.
Most Harley dealerships also keep a hefty backstock of replacement parts, not only for the contemporary models but also for engines from 40-60 years ago.
While the cult-like exclusivity of Harley can be intimidating for new riders, the upside is that the HD dealership techs will often bend over backward to help a fellow Harley enthusiast, especially if they know you're traveling and far from home.
2. Ease of Use
Harley-Davidson motorcycles are heavier than many Japanese and European competitors. While this deters race-ready riders looking for lightweight handling, the extra weight makes them wind-resistant in ways ideal for riders still on a learning curve.
Keeping a motorcycle balanced on two wheels takes time and practice to master.
To make matters more tricky, new riders have to acclimate to the two-wheel feel as well as the two-hand-two-feet manual controls.
While the extra weight of a Harley-Davidson serves to slow them down, it makes them easier to ride and more mild-mannered, especially when you're learning to ride at highway speeds.
Harley bikes tend to have longer wheelbases and rake angles, making them less of a sporty ride and more comfort-cruiser oriented by increasing their stability and relaxing the riding position, so it's easier on beginners.
3. Classic Harley-Davidson V-Twin Engine Concept
The mild manners of the classic V-Twin engine, coupled with the extra weight, make long-distance cruising a joy.
Your base-model Harley-Davidson isn't a high-horsepower machine nor designed for high-revving, quick-shifting RPM boosts, which means less shifting while you're still a beginner rider.
That said, what the small-midsized Harleys lack in Horsepower, they more than make up for in torque.
So, while you're still learning, the torque allows you to hit the throttle in top gear while you sit back and cruise, with no, downshifts required.
4. Iconic American Image
Harley's image is timeless and they have maintained the vintage muscle-bike feel well after most other brands converted to sleeker, more modern designs and technology.
In fact, every time another brand launches a vintage-style cruiser, the market labels it as a "Harley imposter," in so many words.
In addition to the image of the bike, there's the signature and patented sound.
The HD motorcycle engine design process involves audio engineers who tweak and perfect the signature Harley roar that no other brand is legally permitted to come close to.
And finally, just as iconic as the image of the Harley bike is the Harley rider – no brand has managed to come as close to immortalizing and capitalizing the image of the gruff, action-ready biker as Harly-Davidson.
5. It Lasts Long if You're Willing to Keep it Running
A Harley can certainly last for over 75,000 miles or more with proper maintenance and good riding habits.
In fact, there are even Harley-Davidsons in museums have clocked over a million miles, though their riders invested time and money into engine rebuilds.
While the modern Harley-Davidson Twin Cam engines are more reliable and last a long time, the older designs are just as easy to replace parts for and will last if you're interested in keeping it running.
Related: How Long Do Harley-Davidsons Last? (Complete Guide)
6. Highly Customizable; Myriad Aftermarket Parts Available
Because the various Harley motors have been founded on the same core design principles for decades, HD and aftermarket accessories manufacturers have long since cracked the code for customization, and there is a world of options available.
The simplicity of Harley-Davidson means you can learn how to do your customization at home.
The popularity of custom Harley builds also makes it easy to find a pro-tech to help you modify your first motorcycle to your liking.
7. Harley-Davidsons Motorcycles are Easy to Service for Beginners
Many Harleys use belts to spin the rear tire instead of chains, meaning you won't have to lubricate or adjust your chain, which is intimidating for some beginner riders.
Many V-Twin Harley engines don't require valve adjustments like many of the more high-tech engine concepts used by other moto-manufacturers.
Harleys do tend to develop minor problems like oil leaks or light vibration damage. That said, the repairs are often straightforward enough to do in your driveway.
And finally, the simplicity of Harley's engineering means the suggested service intervals are often much less frequent than on more complex motorcycle designs.
8. Surplus of Used Harley-Davidson Bikes from Private Sellers and Dealerships
While not all riders drop their bikes during the learning phase, most of us do, which is why most beginners opt for a used bike for their first motorcycle.
As some of the most popular motorcycles in the world, there is no shortage of used Harley-Davidson motorcycles on the market in most regions of the country.
Not only are most Harley-Davidson motorcycle dealerships stocked with a plethora of used options, but private online sellers are also readily available in every state and more than a few countries worldwide.
Even if you can afford a brand-new motorcycle for your first bike, beginners are often not sure how often they'll ride or if they'll stick with the hobby long term.
9. It Grows with You
It's common for riders to outgrow their first motorcycle, especially if they start with a small displacement cruiser or standard bike.
Entry-level Harley cruisers like the Sportster series come with engines as big as 1200ccs; Harley even offers kits to convert the smaller-sized sports to the 1200 category.
The sheer variety of accessories available for Harleys means that you can customize your motorcycle in any direction as you adjust to your personal riding preferences.
So, while other beginner motorcyclists outgrow their small cruisers and decide they want a bagger they can tour on, you're busy customizing your Harley into a bagger, a chopper or a drag bike, or even a stripped-down sporty café.
10. Good Resale Value
Suppose you decide to sell the Harley-Davidson motorcycle you learned on and graduate to something bigger.
In that case, a used Harley-Davidson motorcycle sells for more than other used bikes.
And while a bought-new HD moto typically does suffer depreciation, second-hand models often sell for close to what they were purchased for.
11. Insurance Costs
The motorcycle insurance cost for your Harley-Davidson Motorcycle is significantly lower than that of a car, with a national average of between $700 and $800 per year or between.
And even though that cost is impacted by personal variables like location, age, gender, motorcycle type, and riding experience, the quote is never anything close to the high cost of a car or truck.
Finally, the type of motorcycle and the riding it's intended for is always considered when adjusting your insurance quote.
Because Harley-Davidsons are cruisers and not race bikes, superbikes, or stunt bikes, quotes are lower than bikes intended for higher-risk riding.
Why a Harley Isn't a Good Beginner Bike
Sure, the Harley is a great starter bike, but it has a few downsides that we should mention.
1. Overpriced; Style Over Substance
Up until a short time ago, Harley's used the same V-twin air-cooled carbureted technology they used in the 1960s.
While the die-hard Harley fanatics respect the brand for its consistency, riders who prioritize performance and engineering felt the brand had fallen behind the times.
Furthermore, Harley-Davidsons are among the most expensive motorcycles worldwide, even though their engineering was behind, and their designs lacked the features and performance most modern motorcycles have.
2. Heavy Vibrations
Harley-Davidsons are known for their vintage roar and oscillating engine.
That said, the novelty can wear off quickly for an inexperienced rider on the highway for the first time when their Harley vibrates and shakes at highway speeds.
While experienced Harley enthusiasts like the raw, rattling feel of their trusty old steed, it's more challenging to acclimate on a learning curve than another motorcycle brand can be.
Related: 9 Most Common Harley Davidson Problems (Explained)
3. Pretentious Brand Image
The overtly rebellious American brand image is true to some, fetishized by others, and then some find the implication that "American is better" to be outright offensive.
And while not all Harley owners are either outlaws or wannabe outlaws, some riders feel pressured to live up to the Harley image while just starting out.
4. Heavy Customization
While the accessibility of Harley modification is a positive thing, it adds risks to buying a used Harley, as an experienced motorcyclist might not spot some shoddy customization job that can cause significant problems down the road.
5. Inconsistent Reliability
While Harleys are some of the more accessible machines to work on for capable home mechanics, some models do encounter problems.
Generally speaking, these are more of the older, rattle-heavy ones which are prone to vibration issues.
This results in minor oil leaks, loose spark plugs, blown seals, and other reliability issues.
This can be problematic for beginner-level riders who don't have the wrenching experience and are trying to clock experience miles regularly.
Best Beginner Harley Models
| | | |
| --- | --- | --- |
| Model | Price | Fuel Economy (MPG) |
| Street 500 | $9,995 | 58 |
| Street 750 | $8,999 | 42.7 |
| Softail Slim | $15,899 | 40 |
| Street Bob | $14,999 | 47 |
| Iron 883 | $11,249 | 44 |
Best Alternatives to Harleys for Beginners
| | | |
| --- | --- | --- |
| Make/Model | Price | Fuel Economy (MPG) |
| Kawasaki Vulcan 900 | $8,499 | 49.6 |
| Yamaha Bolt | $8,599 | 49.4 |
| Indian Scout Sixty | $8,999 | 45.7 |
| Indian Chief | $14,499 | 46.7 |
| Triumph Bonneville Bobber | $13,400 | 49.1 |
Sources:
Six honest-to-goodness, logical reasons to ride a Harley-Davidson – RevZilla
How Much is Motorcycle Insurance (and Why Rates Vary) | Harley-Davidson® Insurance