The Jeep Cherokee is a compact crossover SUV that was first introduced in 1974.
The Cherokee offers a smooth driving experience, decent fuel economy, and amazing off-road capability.
In this article, we take a look at the most important facts you need to know about the Jeep Cherokee.
Among others, you will get to know about safety ratings, vehicle recall figures, sales performance, and so much more!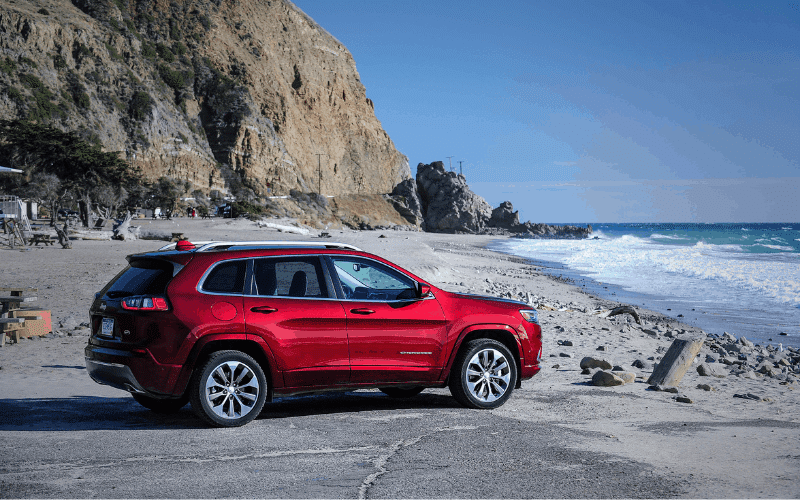 How Many Jeep Cherokee Units Have Been Sold in the US?
The Jeep Cherokee has had remarkable sales figures since it was introduced in the US, but there were a few years that had major dips.
In the past 3 years, Jeep has sold approximately 180,000 Cherokee units per year on average.
The Cherokee sold under 9,000 units in 1983 but began trending in the right direction, securing sales of over 100,000 units in 1986.
The Jeep Cherokee (XJ) recorded an all-time high in sales in 1999, selling a little over 165,000 units.
During the lifespan of the Jeep Liberty (KJ and KK variants), the highest sales figure was achieved in its second year of production in 2002, with 171,212 units sold.
Dips in sales were experienced in 1983, 2001, and 2013 due to the introduction of newer models but bouncebacks were immediately experienced in the succeeding years.
For the current model, the Jeep Cherokee (KL), 2015, 2016, and 2018 were stellar years with over 200,000 units sold in the US alone.
Below are three tables presenting US sales figures for the three variants of the Cherokee (from carsalesbase.com):
Jeep Cherokee (XJ)
1983
8,729
1984
69,054
1985
98,877
1986
107,225
1987
111,945
1988
149,566
1989
156,118
1990
124,864
1991
121,461
1992
120,960
1993
125,443
1994
122,981
1995
110,552
1996
110,356
1997
130,041
1998
146,298
1999
165,261
2000
141,457
2001
74,490
Jeep Liberty (KJ) and Jeep Liberty (KK), known internationally as Jeep Cherokee
2001
88,485
2002
171,212
2003
162,987
2004
167,376
2005
166,883
2006
133,557
2007
92,105
2008
66,911
2009
43,503
2010
49,564
2011
66,684
2012
75,483
2013
6,101
Jeep Cherokee (KL)
2013
25,786
2014
178,508
2015
220,260
2016
201,420
2017
169,882
2018
239,437
2019
191,397
2020
135,855
What Year Did Jeep Start the Production of the Cherokee Models?
The first generation Cherokee, known as the Jeep Cherokee (SJ), was introduced in 1974.
Originally a full-size SUV, the Cherokee (SJ) served as Jeep's sporty two-door variant.
A four-door variant was introduced in 1977.
The second generation Cherokee, identified as the Jeep Cherokee (XJ), was a compact SUV.
This model was a monumental introduction to the automotive industry due to major innovations in design and performance.
The popularity of the Cherokee (XJ) was so great that Jeep created an entirely new line-up, the Grand Cherokee series, to serve as the flagship vehicle for the brand.
From 2004 to 20012 the Cherokee was labeled as Jeep Liberty, to distinguish it from the Grand Cherokee model line.
The Liberty was marketed as the smallest Jeep SUV at the time and had remarkable success despite the name change.
The third and latest generation of the Cherokee series is the Jeep Cherokee (KL).
This model debuted as a crossover SUV but grew larger and found its place within the compact SUV segment to give room to other models.
Jeep Cherokee Generations:
1974 – 1983 Jeep Cherokee (SJ 1st Generation)
1984 – 2001 Jeep Cherokee (XJ 2nd Generation)
2004 – 2007 Jeep Liberty (KJ 1st Generation)
2008 – 2012 Jeep Liberty (KK 2nd Generation)
2014 – Present Jeep Cherokee (KL 3rd Generation)
How is the Fuel Economy of the Jeep Cherokee?
For the model year 2021, the Jeep Cherokee is unable to keep up with the leading competitors in terms of fuel economy.
Depending on the variant, the Jeep Cherokee's fuel economy ranges from 24 MPG to 26 MPG, as compared to the figures posted by competitors that posted mileage of 30 and above miles per gallon.
The reason behind low fuel economy can be attributed to a number of factors, including:
Off-road capability
Engine size
Vehicle weight
For reference, below are the figures posted by Jeep for the fuel economy of the latest Cherokee variants.
| | | | |
| --- | --- | --- | --- |
| Variant | Combined (MPG) | City (MPG) | Highway (MPG) |
| Latitude 2.4-liter | 26 | 22 | 31 |
| Latitude Plus 2.4-liter | 26 | 22 | 31 |
| Altitude 2.4-liter | 26 | 22 | 31 |
| Latitude Lux 3.2-liter | 24 | 20 | 29 |
| 80th Edition 3.2-liter | 24 | 20 | 29 |
| Limited Edition 3.2-liter | 24 | 20 | 29 |
| Trailhawk 3.2-liter | 20 | 18 | 24 |
Related: 17 Best & Worst Jeep Cherokee Years (With Pictures)
How Quickly Does the Jeep Cherokee Depreciate?
Nowadays, compact SUVs compete on fuel efficiency, technology, and performance.
Despite a high market demand for compact SUVs, the Cherokee posted below-average figures when it comes to depreciation rates.
According to caredge.com, the Jeep Cherokee has an average depreciation of 53% after five years of standard use.
This means that the Cherokee will only retain 47% of its original value after five years. This places the Cherokee slightly under the average of 51% depreciation (49% retained value) for vehicles.
For comparison, the leading models in the compact SUV space have 5 year depreciation rates pegged at roughly 40%.
Did Jeep Recall Any of the Cherokee Models?
Unfortunately, vehicle recalls are a part of the vehicle manufacturing processes, with some models getting tens of thousands of vehicles recalled due to various performance concerns and safety hazards.
The good news for current and future Jeep Cherokee owners is that in 2020, the National Highway Traffic Safety Administration (NHTSA) only recorded a total of 2 recalls and 28 pending complaints.
The worst recall campaign experienced by the Cherokee line was from 2014 – 2017 when roughly 67,000 Cherokee units were recalled due to transmission, drivetrain, and park function issues.
Despite the recent massive recall campaign, prospective buyers will have a lower likelihood of experiencing a vehicle recall when they purchase Cherokee models with year models 2018 and above.
How Much Do the Cherokee Models Pollute?
Since the Jeep Cherokee consumes relatively greater fuel than the segment average, this vehicle produces more greenhouse gas emissions.
This is a challenge since compact SUVs were built to be the more environmentally friendly version of their larger SUV counterparts.
According to Car Buyer, the Jeep Cherokee models from year model 2014 – year model 2019 garnered a poor rating of 2.5 stars out of a possible 5 for MPG, running costs, and carbon dioxide emissions.
If you are conscious about your carbon footprint and the harsh effects of pollution on the environment, the Jeep Cherokee may not be the best option for you.
How Much Can the Cherokee Models Tow?
The latest models come in two engine variants:
For the latest models, Jeep only recommends a maximum towing capacity of 2,000 pounds for the 2.4-liter models.
However, the Kelley Blue Book reported that the latest Cherokee models with the larger, 3.2-liter V6 engine can haul up to 4,500 pounds, awarding the Cherokee with the best maximum towing capacity rating under the compact SUV segment.
A 2,000-pound towing capacity is sufficient enough to carry small fishing boats (1,800 pounds) and camper trailers under 2,000 pounds.
A 4,500-pound towing capacity can haul ski boats (3,500 pounds) and medium to large-sized trailers (4,000 pounds).
Despite the figures mentioned above, always refer to your vehicle's manual and the technical expertise of the service advisors of the vehicle for the best estimates.
How Reliable is a Jeep Cherokee?
Unfortunately, based on owner feedback and expert reviews, the Jeep Cherokee delivered subpar reliability ratings.
In 2019, the Consumer Reports data showed that the Cherokee garnered a reliability rating of 2 out of 5. The actual percentage rating given by Consumer Reports was even lower 14%.
Out of the 27 similar SUVs rated, the Jeep Cherokee's rating was second to the last in reliability, only being 1% higher than the lowest-rated vehicle, the Volkswagen Tiguan.
The low reliability rating of the Cherokee can be traced back to the major recall issues that were mentioned earlier in this article.
Additional factors contributing to the low reliability rating included the following:
Body integrity
Power equipment
Electronics
The Cherokee fared better when assessed by J.D. Power and Associates. The model was given a 75 out of 100 for reliability, translating to 3 out of 5 stars.
This is nothing to be proud of, but this rating is within the average for the compact SUV segment.
There is no need for prospective buyers to worry, however, as Jeep offers a limited warranty of 36 months (3 years) or 36,000 miles, whichever comes first.
The warranty is also accompanied by a 60,000-mile emergency roadside assistance service.
Please also read our articles: where are Jeep Cherokee made? and Jeep Wrangler statistics
How Safe is a Jeep Cherokee?
From our research we can safely say the Jeep Cherokee is a safe vehicle.
Based on crashworthiness tests conducted by the Insurance Institute for Highway Safety (IIHS), the 2021 Jeep Cherokee scored "good" (the best rating possible) on all six tests.
The 2021 Cherokee received an overall rating of four stars for its crash test rating from the NHTSA.
The Jeep Cherokee has several safety features embedded into the vehicle to make it safer to drive and ride in, regardless of road or weather conditions.
The Cherokee safety features include a suite of newly standard features that offer impressive protection.
The safety highlights of the Jeep Cherokee are as follows:
Blindspot monitoring and rear cross path detection
Full-speed forward collision warning with active braking
Lanesense lane departure warning system
Electronic stability control (ESC)
What are the Typical Buyer Demographics for the Jeep Cherokee?
According to Jeep, the target buyer demographics for the new and improved Jeep Cherokee are equally divided between men and women, primarily between ages 35 and 48.
With that target, Jeep aims to capture a huge chunk of the market share pertaining to the Gen X population and a portion of the millennial population.
Jeep Marketing director Jim Morrison went on record and stated that there are two distinct classifications of Cherokee buyers:
Individuals who have never owned a Jeep vehicle before (roughly 80%)
Individuals who have been fans of the Jeep brand and are looking for vehicles with good off-road capabilities (roughly 20%)
Jeep Cherokee Theft Numbers
Due to the brand heritage and name recognition, the Jeep Cherokee, unfortunately, ranked within the top 10 most stolen vehicles in the US for several years.
It was estimated that a total of 9,818 Jeep Cherokee vehicles have been stolen with the year model 2000 Cherokee being the most affected, garnering 646 thefts.
In addition to its popularity, another contributing factor to high theft rates is the longevity that the Jeep Cherokee can offer.
If maintained properly, the Cherokee can reportedly perform well up to 300,000 miles.
Based on these figures, we would advise you to take extra precautions in ensuring the safety and security of your Cherokee.
Find a secure parking space, purchase steering wheel locks, or find other means to safeguard your vehicle from theft.
Related: Jeep Cherokee Tune-Up & Maintenance Costs
Resources