The Kia Telluride is a midsize SUV that was first introduced as a 2020 model year.
It is a highly acclaimed vehicle known for its spacious and well-designed cabin, powerful engine, and overall versatility.
In this article, we'll cover its best and worst years…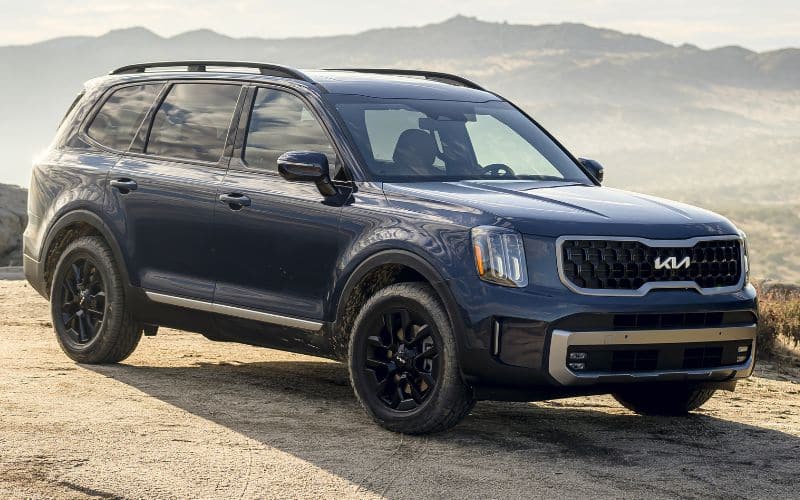 Here's The Short Answer To What The Best And Worst Years For The Kia Telluride Are:
The best Kia Telluride model years are 2023, 2022 and 2021. The worst model years of the Telluride is 2020. This is based on auto industry reviews, NHTSA statistics, reported problems, and consumer feedback.
What Are The Best Years For The Kia Telluride?
2023 Kia Telluride
The 2023 Telluride is unquestionably fantastic SUV. Auto-giant Edmunds has ranked it #1 out of 13 midsize 3-row SUVs and Car & Driver gave it a 10/10 score, the Editors Choice Award and placed it on their "10Best" list.
It has been widely praised for being stylish, comfortable, spacious and refined – all at a reasonable price.
Pricing ranges from $37,000 to $54,400, with top-end models bordering on luxury.
New for 2023 is an updated interior, larger displays, enhanced driver assistance tech, and revamped front and rear styling.
Buyers can choose from 5 trim levels: LX, S, EX, SX, and SX Prestige.
Of these 5 trims, we suggest going with the high-end SX trim as it provides an upgraded instrument cluster with a 12.3-inch display, leather upholstery, and heated front seats.
For those looking for beefed-up versions, there are also X-Line and X-Pro versions of the standard trims.
These variants equip slightly better suspension, increased towing capacity, and off-road suspension tuning, among other features.
Notable safety features include Blind Spot View Monitor, Safe Exit Assist, and Highway Drive Assist 2.
Edmunds: 4.0 / 5.0
Kelley Blue Book: 4.1 / 5.0
JD Power: 84 / 100
2023 Telluride, Edmunds review:
"I previously drove a Ford Explorer Limited. I was concerned about moving to the Kia Telluride S package because it lacked some of the options I had in the Explorer. I no longer feel that way. The Kia looks better, drives better, gets better gas mileage and despite missing a few key features that my upgraded Explorer has, the Telluride has some other cool features…"
2022 Kia Telluride
The 2022 Kia Telluride is another firm favorite with auto critics and owners alike, this model was ranked #1 by JD Power in the Upper Midsize SUV category and won various accolades from Car & Driver as well as earning a prefect 10/10 rating.
Its popularity is thanks to its ability to haul families in comfort and style, with plush seating and a handsome exterior – the 2022 Telluride is a great choice.
Every model is powered by a naturally aspirated V-6 mated to an automatic transmission.
Front wheel drive is standard although all-wheel drive is optional across the lineup.
2022 saw the introduction of new driver assist and safety tech on all trims, dual-zone automatic climate control as standard and a new 10.25-inch center display.
No car is perfect though and some owners have complained about windscreens and sunroofs cracking far too easily, often without impact.
Edmunds: 4.1 / 5.0
Kelley Blue Book: 4.1 / 5.0
JD Power: 84 / 100
2022 Telluride, Edmunds review:
"This is our second Telluride (2020 and 2022). It is without question the best vehicle I have ever owned. The hype is real. Very comfortable and roomy, it both drives and rides well, The power is great for passing or avoiding danger, Our 2020 Telluride has averaged 28.2 mpg over the last 20,300 mile of about 50-50 city-interstate travel. I do drive in eco and am a smooth driver. The seats are very comfortable and the infotainment system is actually very easy to master in a few minutes only."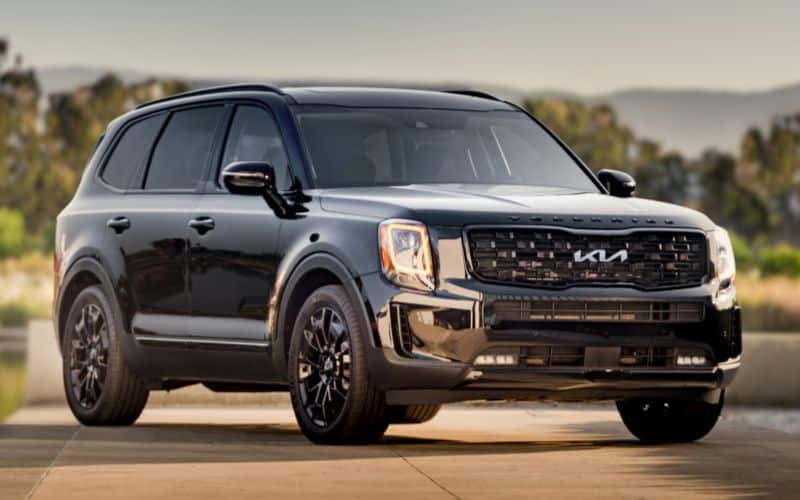 2021 Kia Telluride
The 2021 Telluride is the second installment of the first generation, it was notably less problematic than its predecessor (complaints down by roughly 50%) and it received high praise from auto journalists and owners.
The 2021 Telluride is roomy, versatile, and highly capable.
New for this model year is an upgraded trailer-towing wiring harness, remote engine start button on the key fob, and a Nightfall Edition package that equips blacked out wheels and trim.
The 2021 Telluride comes in 4 trim levels, LX, S, EX, and SX.
All varinats come with a 3.8-liter V6 engine (461 horsepower) paired to an 8-speed automatic transmission.
Fuel economy is 21 MPG for combined driving, 19 MPG for city driving, and 24 MPG for highway driving.
This model has received complaints for windshields being too fragile, that seem to crack far too easily.
Edmunds: 4.1 / 5.0
Kelley Blue Book: 4.1 / 5.0
JD Power: 82 / 100
2021 Telluride, Edmunds review:
" … Conclusion – If you're interested in a 3-row SUV because you have a growing family and need the 3rd row, or you need the versatility of a people mover and a stuff-hauler, OR if you just really like the midsize SUV package, the Telluride is without doubt, the best value you can find… if you're purchasing new. Because the current supply is not enough to fulfill the demand for this vehicle, used prices are at least $4k-$6k over true KBB – and there are a lot of dealers nationwide, marking up NEW models at the same amount…"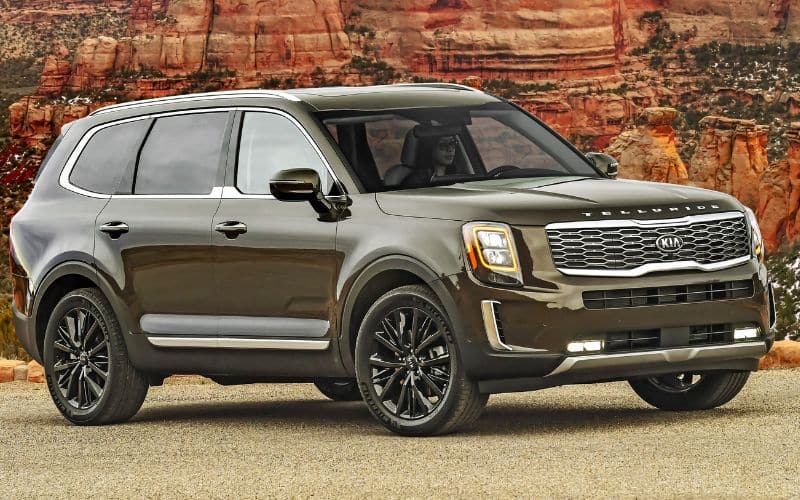 Consumer Scores For Best Kia Telluride Years
Model Year
Edmunds
Consumer Rating
Kelley Blue Book
Consumer Rating
JD Power
Consumer Rating
2023 Kia Telluride
4.0 / 5.0
4.1 / 5.0
84 / 100
2022 Kia Telluride
4.1 / 5.0
4.1 / 5.0
84 / 100
2021 Kia Telluride
4.1 / 5.0
4.1 / 5.0
82 / 100
Related: 15 Midsize SUVs with the Best Ground Clearance (With Pics)
What Are The Worst Years For The Kia Telluride?
2020 Kia Telluride
The 2020 Telluride, based on data from CarComplaints.com and CarProblemZoo.com, is the most problematic model year ever produced. This should come as no great surprise as this was the debut model, which are known to have a number of teething issues.
Owners frequently reported issues with their windshield, with reports specifying cracks on the glass even without significant impact.
Here is what owners have had to say:
"Got a small ding in the bottom right hand corner of the windshield which was barely visible when it happened. Although I heard the slight sound of something hitting the windshield there was no obvious damage like a smashed glass appearance. However, I parked the car in the garage and the next day when I went out to the car there was a crack that went up the right side of the windshield and then went 1/2 way across vertically to stop just under the mirror. I have no choice but to replace the windshield. I've never seen a window crack like this from such minor damage. It clearly has to be defective."
"I noticed a small crack in the windshield one day. The next day it grew longer. Then it split out on two sides. It appears to be growing rapidly and I need the windshield repaired."
Another frequently occurring issue is the failure of the headlights high beam.
Here is what owners had to say:
"I was traveling with my family and while driving on a dark road, I turned on my high beam lights, but nothing happened. I tried several times but they still did not work. Just a few weeks ago they were working. I do not have any indications on my dashboard of any issues. I do use the kia app and the last healthy alert indicated no issues. I did a little research online and found a forum with other kia customers having the same issue. Because of this, I decided to make an appointment with the dealership and file a complaint to assure this issue gets resolved in a timely manner."
"As I was driving home down country roads my bright lights went out. I now only have regular headlights and no one has indicate they know how to fix the problem. This is a huge safety concern as I need them especially driving down dark country roads. I now have to drive another vehicle at night bc you cannot see."
A number of owners have reported issues with the side view mirrors – this includes failure of the motor and being unable to manually adjust the mirror and the mirrors opening and closing on their own.
The 2022 Telluride had a total of 25 problems at CarComplaints.com and 336 problems at CarProblemZoo.com.
Common problems:
Headlights stopped working
Poor illumination
Loud noise during acceleration
Related: 7 Midsize SUVs With the Best Visibility (With Pictures)
What Years Have The Most Complaints?
Model Year
Complaints
(CarComplaints.com)
Problems
(CarProblemZoo.com)
Recalls
2023 Kia Telluride
0
21
1
2022 Kia Telluride
7
152
4
2021 Kia Telluride
4
126
2
2020 Kia Telluride
25
336
3
What Problems Do Kia Tellurides Have?
Sunroof glass shattered
Headlights stopped working
Poor illumination
Loud noise during acceleration
Brakes failed without warning
Windshield cracked while parked
Instrument cluster went dark
Hard shifting
Sudden unintended acceleration
What Are The Best Alternatives To The Kia Telluride?
| | | | |
| --- | --- | --- | --- |
| Make & Model | Score | MSRP | Fuel Economy (MPG) |
| Kia Telluride | 8.7 | $35,690 – $52,785 | City: 18 – 20 /Highway: 24 – 26 |
| Hyundai Palisade | 8.7 | $35,550 – $51,400 | City: 19 /Highway: 25 – 27 |
| Chevrolet Traverse | 8.3 | $34,520 – $54,200 | City: 17 – 18 /Highway: 25 – 27 |
| Hyundai Santa Fe | 8.3 | $28,450 – $44,000 | City: 21 – 25 /Highway: 25 – 28 |
| Jeep Grand Cherokee L | 8.3 | $43,035 – $65,710 | City: 14 – 19 /Highway: 22 – 26 |
| Mazda CX-9 | 8.3 | $38,750 – $48,460 | City: 20 /Highway: 26 |
| Honda Passport | 8.2 | $41,100 – $46,560 | City: 19 /Highway: 24 |
| Honda Pilot | 8.2 | $35,950 – $52,030 | City: 18 – 19 /Highway: 23 – 27 |
| Buick Enclave | 8.1 | $44,800 – $59,470 | City: 17 – 18 /Highway: 25 – 26 |
| Jeep Grand Cherokee | 8.1 | $41,035 – $63,710 | City: 14 – 19 /Highway: 22 – 26 |
| Kia Sorento | 8.1 | $29,990 – $43,590 | City: 22 – 24 /Highway: 25 – 29 |
| Volkswagen Atlas | 8.0 | $34,460 – $52,340 | City: 18 – 21 /Highway: 23 – 25 |
Source: cars.usnews.com, edmunds.com
References
https://www.caranddriver.com/kia/telluride
https://cars.usnews.com/cars-trucks/kia/telluride
https://www.edmunds.com/kia/telluride/
https://www.kbb.com/kia/telluride/
https://www.jdpower.com/cars/2022/kia/telluride
https://www.carcomplaints.com/Kia/Telluride/