The Mazda6 is a midsize car that was produced for the 2002 – 2021 model years in the U.S.
It's a classy family sedan that offers nimble handling and a well-appointed, quiet cabin.
In this article, we'll take a closer look at the best and worst model years of the Mazda6…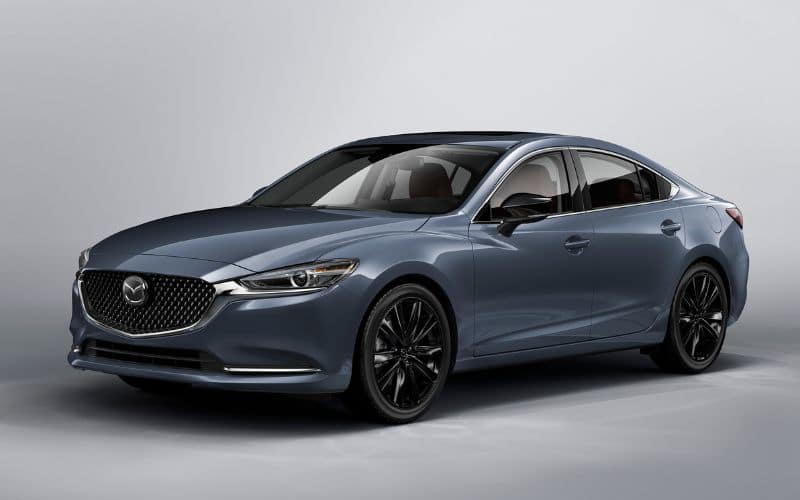 Here are the Best and Worst Years for Mazda6
Detailed below we've ranked the Mazda6 Models.
Best Years for Mazda6:
2021
2019
2017
2013
Worst Years for Mazda6:
2009
2003
2006
2010
What Are The Best Years For The Mazda6?
2021 Mazda6
The 2021 Mazda6 was the most recent model year produced before being discontinued and was the final iteration of the third generation introduced in 2014.
It was also the most refined and featured the latest tech including Apple CarPlay and Android Auto as standard across the lineup.
The exterior styling could easily be mistaken for a Jag or Audi and the interior styling does not disappoint either.
The 2021 Mazda6 offers driving dynamics that are second to none in the midsize sedan class and if you need an extra bit of power there is an optional turbocharged engine available.
Owners have praised this model for combining fun, luxury and comfort.
This model sits near the top of Cars US News midsize car rankings and scored 4.1 / 5.0 from owners over at Edmunds.
2019 Mazda6
Another solid pick is the 2019 Mazda6 which has proven reliability, excellent crash test scores and high reviews from auto critics and owners alike.
This model year benefits from a subtle makeover that evolved the exterior design and revamped the interior.
The base model is equipped with a 2.5-liter four-cylinder engine paired with a six-speed automatic gearbox.
This powertrain provides ample oompf and is quicker than many rivals in the segment.
Handling is also exceptional which makes driving a 6 feel like you're in a sports sedan.
This model year received minimal complaints on the NHTSA website and is as dependable as they come.
Auto review site Kelley Blue Book gave this model an impressive 4.5 / 5.0 stars.
2017 Mazda6
The 2017 Mazda6 is a great family sedan that puts the fun into driving. It comes with an impressive amount of tech and has a surprising amount of cargo space too.
For 2017 Mazda integrated G-Vectoring Control, which modulates the engine to control chassis dynamics, leading to smoother, more accurate steering inputs.
This model also received a bigger 7-inch infotainment display and automatic emergency braking and lane-keeping assist as standard on the higher trims.
This model has been praised for its suave interior and modern exterior and received excellent reviews all around.
Based on owners' reviews, Edmunds gave the 2019 Mazda6 an impressive 4.6 stars out of 5.0.
2013 Mazda6
The 2013 Mazda6 is a slightly older model however it is one of the least problematic 6 models ever made.
It was the final installment of the second generation and it received minimal complaints on the NHTSA website.
This model may not have the latest tech but its driving dynamics are still impressive by today's standards.
It comes with a big trunk, a spacious cabin and 2.5-liter four-cylinder engine that produces 170 horsepower.
According to data from Edmunds, owners gave this model a strong score of 4.4 / 5.0 stars.
If you're looking for something fun, affordable and practical, look no further than the 2013 Mazda6.
Related: 8 Most Common Problems With Mazda 6 (Explained)
What Are The Worst Years For The Mazda6?
2009 Mazda6
The 2009 Mazda6 was by far the most problematic 6 model ever made.
It suffered from numerous issues, the most common being rusting of the subframe.
The rust was so severe some owners reported the car was breaking apart, and a recall was issued.
Owners also reported that the dashboard would melt and become sticky.
This model was also affected by the infamous Takata airbag recall.
The airbags were known to explode and fire shrapnel into the cabin, causing a serious safety risk to occupants.
2003 Mazda6
The 2003 Mazda6 is another model to steer clear of. This was one of the earlier, 1st generation models produced and it had its fair share of teething issues.
According to NHTSA reports, the biggest issue with the 2003 Mazda6 was its engine.
Owners reported problems with the car shaking, hesitation when hitting the gas and loss of engine power.
This was usually accompanied by a Check Engine Light coming on.
Owners also reported issues with the transmission ranging from violent shifting to knocking noises.
2010 Mazda6
The 2010 Mazda6 received a lot of complaints, more so than many other models.
The most widespread issue was that it used exploding Takata airbags. Not only were these a safety hazard, but owners also reported that the airbag warning light would be constantly flashing.
Many dealerships were short of parts due to the number of cars affected, leaving people with long waiting times for repairs.
Another widely reported issue with the 2010 Mazda6 was that the headlights would continually blow.
Essentially the bulbs would need replacement after only a few weeks of use, costing owners a small fortune in replacement bulbs.
2006 Mazda6
The 2006 Mazda6 had its share of problems, many of which were engine related.
Owners reported losing power whilst going uphill and the Check Engine Light coming on.
Other owners reported that the clutch would shift automatically into neutral and the vehicle would accelerate on its own.
There were reports of tires wearing out prematurely due to the sidewall cracking.
The 2006 Mazda6 was also affected by the infamous Takata airbag recall.
Related: 14 Mazda6 Facts and Statistics You Should Know
What Problems Do Mazda6 Have?
Cracking and Sticky Dashboard
A very common complaint from Mazda6 owners is that the dashboard would melt and become very sticky.
This would then attract bits of dirt, dog hairs and debris and look very unsightly.
This was caused by the glue that Mazda decided to use.
It also caused visibility issues for drivers as sunlight would reflect off it into their eyes.
This problem was most prevalent on models made from 2007 – 2013.
Exploding Sunroof
A common complaint from 6 owners is that the sunroof shattered for no apparent reason.
This would often be accompanied by a loud bang.
Hot weather seemed to trigger this, and it was reported on various models from 2012 – 2021.
Airbag Problems
The most commonly reported complaint from Mazda6 owners is related to the airbags.
These complaints are mostly linked to the infamous Takata recalls which affected thousands of 6 models.
When exposed to humidity and high heat the airbags were known to explode due to propellant degradation, firing off sharp metal fragments causing serious injury and in some cases death.
In 2019, Mazda issued a recall which covered various Mazda6 models from 2003 – 2012.
What Are The Best Alternatives to the Mazda6?
Honda Accord
The Honda Accord is one of the most famous midsize cars ever made.
It is praised for its stellar fuel economy, roomy cabin and solid driving dynamics.
The only downside to this model is that it's not available in AWD.
The Mazda6 and the Accord share a lot of the same attributes although the 6 is slightly cheaper.
Hyundai Sonata
The Sonata is a great choice for those looking for something that's economical at the gas pump.
This model boasts an intuitive infotainment system and a spacious and upscale interior.
It won't offer the same driving dynamics as the Mazda6 and it's nowhere near as much fun to drive.
However, it is very comfortable and offers a smooth ride.
Toyota Camry
The Camry is a safe choice when shopping for an ultra-reliable midsize car.
These cars are known to last a very long time and have won many awards over the years.
These commuter-friendly cars offer composed handling and plenty of comfort.
Choosing between a Camry and a 6 is a tough call and we'd advise taking both for a test drive.
How Long Do Mazda6 Last?
A well-kept Mazda6 should last approximately 200,000 – 250,000 miles on average.
Based on driving 15,000 miles per year (US average), you can expect 13 – 17 years of life from your 6.
This depends on various factors such as maintenance habits, style of driving and climate.
However, these cars are built to last and you will find many on the used market with even higher numbers on the odometer.
Related: Where Are Mazda6 Made?
What are the Pros and Cons of Mazda6?
Pros
More premium than its rivals
Suave presence
Fun to drive
Nimble handling
Advanced driver aids are standard
Classy cabin
Cons
Turbo engine is fairly average
Luxury options are reserved for the top trims
Small trunk
Overly complex folding rear seats
Not many powertrain options