The Mazda RX-8 is a sports car that was first introduced as a 2004 model.
The rotary engine makes it a unique choice, and while fuel consumption and maintenance requirements may be relatively greater than others, it creates a perfect balance of speed, handling, and style.
In this article, we'll take a deep dive into the best and worst model years of the RX-8.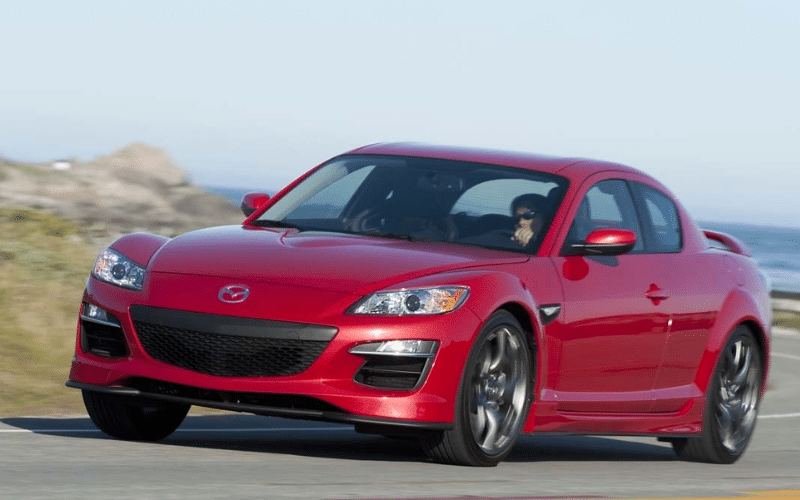 Here's The Short Answer To What The Best And Worst Years For The Mazda RX-8 Are:
The best Mazda RX-8 model years are 2011, 2010, 2009, and 2008. The worst model years of the RX-8 are 2007, 2006, 2005, and 2004. This is based on auto industry reviews, NHTSA statistics, reported problems, and consumer feedback.
What Are The Best Years For The Mazda RX-8?
2011 Mazda RX-8
The 2011 RX-8 was the last model ever produced, it benefits from all the lessons learned from previous model years.
Its discontinuation was attributed to a lot of factors, including stringent emissions regulations and competitive fuel efficiency standards (both of which were challenging for a vehicle that depends on a rotary engine).
Regardless, this model year left quite a big mark in the automotive industry.
It shall forever be recognized as one of the more popular sports cars for its nimble handling, comfortable ride, and innovative body style.
This model comes standard with anti-lock brakes, front side airbags, and front side curtain airbags.
Stability control, on the other hand, is not available on the Sport trim but comes as a standard feature for the Grand Touring and R3 variants.
The entry-level Sport trim features 18-inch performance tires, cruise control, and a leather-wrapped steering wheel and shifter.
The midrange Grand Touring trim includes the limited-slip differential and spoiler, as well as automatic xenon headlights.
The top-spec R3 trim, available only with a 6-speed manual transmission, has a more aggressively tuned suspension, 19-inch performance wheels, a rear wing spoiler, and Recaro front sport seats.
Owners of this model year praised this model for the following aspects: handling, steering, interior, comfort, and appearance.
Edmunds: 4.6 / 5.0
Kelley Blue Book: 4.2 / 5.0
2011 RX-8, Edmunds review:
"The RX-8 as a sports car is amazing. It is such a nice car to be in and drive because it looks great both inside and out, is comfortable, and handles phenomenally well. When you floor it, you are treated with a very responsive, short-throw transmission and an engine that will rev up to 9000rpm. When you want to relax, the seats are comfortable, the cabin is quiet, and the rotary engine gently hums as you go along at highway speeds in top gear…"
2010 Mazda RX-8
The 2010 RX-8 is the penultimate model year before the nameplate ended.
It is considered to be one of the most problem-free model years and has been ranked highly in terms of durability and reliability (with proper care and maintenance).
For 2010 the Touring model and the Premium package were removed.
These changes resulted in equipment shuffling for both standard and optional features.
Critics call it a competent sports car with 4-passenger capacity, making it one of the better practical sports car options in the market.
Fuel economy, however, was not as good as its other areas.
EPA states around 18 MPG for combined driving, 16 MPG for city driving, and 22 MPG for highway driving.
Despite relatively low fuel economy, all other areas of the model's performance are excellent.
It is powered by a 1.3-liter rotary engine that receives either 212 horsepower (on a 6-speed automatic transmission) or 232 horsepower (on a 6-speed manual transmission).
Based on testing, a manual-equipped RX-8 can go from 0 to 60 MPH in just about 7 seconds.
Edmunds: 4.6 / 5.0
Kelley Blue Book: 4.2 / 5.0
2010 RX-8, Edmunds review:
"I used to own a RX8 6 years ago. It slipped out of my hands, and now I'm proud to say that I'm back in this car: A 2010 RX8 R3. There's a lot of criticism on this car within the media. Mostly because of its lack of power, poor fuel economy, and higher than normal oil consumption. Not many people understand how good of a sports car it is. It has an extremely rich driving experience. It's one of the lightest and most nimble cars out there, and you can really appreciate that when you start pushing the car…"
2009 Mazda RX-8
The 2009 RX-8 is received several significant updates to its appearance, performance, and tech.
The exterior of the car is updated with a new front end with a wider grille and a lightly massaged tail.
The interior, on the other hand, has a restyled center stack and can now offer interesting features such as Bluetooth, an auxiliary audio jack, and an all-new touchscreen navigation system.
This was also the model year that introduced the performance-level R3 trim.
Speaking of trims, there are 4 to choose from: Sport, Touring, Grand Touring, and R3.
The Sport trim features 18-inch wheels and performance tires, a rear lip spoiler (for manual transmission variants), cruise control, and a leather-wrapped steering wheel and shifter.
The Touring possesses all the features of the base Sport and adds a limited-slip rear differential, xenon headlights, fog lights, and an auto-dimming rear view mirror.
The Grand Touring models have all of the previously mentioned features plus automatic headlights, heated side mirrors, and rain-sensing wipers.
Finally, the R3 trim is better for those seeking more aggressive suspension tuning, bigger wheels (19 inches), a rear wing spoiler, and, perhaps most notably, Recaro front sports seats.
Owners loved this model year for its driving experience, appearance, engine, interior, and comfort.
Edmunds: 4.6 / 5.0
Kelley Blue Book: 4.2 / 5.0
2009 RX-8, Edmunds review:
"This car is excellent for people familiar with rotory engines. Knowing up front that the car needs the oil checked every fillup and let it run for at least five minutes before you turn it off. That is really the only obligations you have from regular cars,that I am aware of. This is no problem for me. The sound and unique. The car is not lightening quick but is very fast once to speed. Handling is a dream,at any speed. Nice leather seats and all the stuff that comes in a loaded vehicle…"
2008 Mazda RX-8
The 2008 RX-8 comes at a bargain starting price, but definitely does not skimp on available standard features and overall performance.
It provides owners with nimble handling, a comfortable ride, a smooth and exciting rotary engine, and can afford to accommodate four full-sized adults comfortably.
New to this model year is the Special Edition offering of the RX-8 in celebration of the 40th anniversary of the rotary engine system.
What sets this variant apart is a variety of features and stylistic choices, including a gray exterior, red leather interior, unique 18-inch alloy wheels, a firmer suspension, fog lamps, and a silver engine cover.
Other than the Special Edition version, there are 3 main trim levels: Sport, Touring, and Grand Touring.
All variants are powered by a 1.3-liter rotary engine (as much as 232 horsepower) that sends power to the rear wheels.
Transmission is either a 6-speed paddle-shift automatic transmission or a 6-speed manual transmission.
In the safety department, the model comes standard with anti-lock disc brakes, front seat side airbags and front side curtain airbags.
Despite a race-tuned sports car flair, its demeanor can also be likened to a docile vehicle along the highway.
It offers plenty of grip when turning corners and provides solid feedback through the steering system.
Edmunds: 4.6 / 5.0
Kelley Blue Book: 4.2 / 5.0
2008 RX-8, Edmunds review:
"Bought this car used w/ 7500mi. The car, as of this writing, has just over 20k miles. Have not had any reason to take the car in for unscheduled visits to a mechanic. Best fuel mileage was 24.63mpg doing a constant 75mph on the freeway the day after I purchased the vehicle. Daily commuting in traffic has resulted in 16-17mpg six months later…"
Consumer Scores For Best Mazda RX-8 Years
Model Year
Edmunds
Consumer Rating
Kelley Blue Book
Consumer Rating
2011 Mazda RX-8
4.6 / 5.0
4.2 / 5.0
2010 Mazda RX-8
4.6 / 5.0
4.2 / 5.0
2009 Mazda RX-8
4.6 / 5.0
4.2 / 5.0
2008 Mazda RX-8
4.6 / 5.0
4.2 / 5.0
Related: 11 Best & Worst Mazda MX-5 Miata Years (Explained)
What Are The Worst Years For The Mazda RX-8?
2004 Mazda RX-8
The 2004 RX-8 model, according to online statistics, is the most problematic model year ever produced.
Its main reported issue is a defective clutch pedal.
Numerous owners reported literal snapping of the clutch pedal assembly during casual driving.
This is a highly dangerous scenario as it could lead to loss of vehicle control or collisions with other vehicles on the road.
The complaints below best sum up how this issue occurs for most owners:
"I was driving my car and when I went to depress the clutch pedal to shift up a gear the clutch pedal snapped. I can force the transmission into first and up, but I cannot get it into reverse."
"2004 Mazda RX-8 touring with 6-speed manual has a broken clutch pedal. The aluminum clutch pedal weaves left and right. It is on the verge of snapping in half. Placed the car at jax automotive while I purchased a new oem clutch pedal with reinforced brackets from race roots."
"I was driving down the road and I went to slow down at a light and when I pressed the clutch pedal to engage the brake I heard a pop and my clutch felt like it was shifting to the side and it barely cut off enough to come out of gear. I inspected the assembly by looking under the steering wheel and I found that a weld had snapped."
The 2004 RX-8 had a total of 12 complaints at CarComplaints.com and 606 problems at CarProblemZoo.com.
Common problems:
Engine failure
Power steering jerks
Check engine light on
2005 Mazda RX-8
Much like its direct predecessor, a lot of 2005 RX-8 owners suffered from clutch pedal defects.
Other than this issue, several owners also filed reports regarding the engine and engine cooling system of the vehicle.
Problems included excessive oil consumption, oil leakage, failure to start, and premature rust and corrosion along the pipelines.
Some owners unfortunately suffered from these issues (and many more) as early as the 35,000-mile mark.
One owner unfortunately experienced severe issues in as early as 159 miles, as noted below:
"Purchased a Mazda Rx8 2005, on 7-16-2006. The vehicle was only 159 miles on the odometer. I purchased it from classic Mazda in mentor ohio and they never advised me of open recall regarding possible fire from leaking fuel tank. Found out from another Mazda dealer where the vehicle sits at this time with mechanical issues. My family's safety was compromised by the greed of classic Mazda by not informing us prior to the sale of the open safety recall."
The 2005 RX-8 had a total of 6 complaints at CarComplaints.com and 211 problems at CarProblemZoo.com.
Common problems:
Check engine light on
Engine flooding
Engine failure
2006 and 2007 Mazda RX-8
The 2006 and 2007 RX-8 model years suffered greatly from airbag-related problems.
These issues are linked to the infamous Takata airbag recall, whereby the airbags were known to explode.
Problems also included, failure to deploy, unwanted deployment of airbags, cracked airbag housing, and other similar issues.
Unfortunately, owners were left with no other recourse but to wait for the necessary parts and corresponding repairs.
According to our research, a lot of owners had to wait for unreasonable periods of time.
Take a look at one of the many reports that attest to the above statement below:
"Takata recall. The contact owns a 2006 Mazda RX-8. The contact received notification of NHTSA campaign number: 15v382000 (air bags). The part for the recall repair was unavailable. The contact stated that the manufacturer exceeded a reasonable amount of time for the recall repair. The manufacturer was aware of the issue. The contact had not experienced a failure. VIN tool confirms parts not available."
The 2006 RX-8 had a total of 1 complaint at CarComplaints.com and 70 problems at CarProblemZoo.com.
The 2007 RX-8 had a total of 6 complaints at CarComplaints.com and 52 problems at CarProblemZoo.com.
Common problems:
Cracked dashboard
Excessive oil consumption
Synchromesh failure
Engine failure
What Years Have The Most Complaints?
Model Year
Complaints
(CarComplaints.com)
Problems
(CarProblemZoo.com)
Recalls
(NHTSA.gov)
2011 Mazda RX-8
0
3
3
2010 Mazda RX-8
0
4
5
2009 Mazda RX-8
2
8
4
2008 Mazda RX-8
2
22
5
2007 Mazda RX-8
6
52
5
2006 Mazda RX-8
1
70
5
2005 Mazda RX-8
6
211
6
2004 Mazda RX-8
12
606
10
What Problems Do Mazda RX-8 Have?
Excessive oil consumption
Check engine light on
Engine failure
Power steering jerks
Engine flooding
Synchromesh failure
What Are The Best Alternatives To The Mazda RX-8?
| | | | |
| --- | --- | --- | --- |
| Make & Model | Score | MSRP | Fuel Economy (MPG) |
| Chevrolet Camaro | 8.7 | $9,135 – $12,584 | City: 17 – 18 /Highway: 28 – 29 |
| Nissan 370Z | 8.7 | $11,309 – $18,768 | City: 18 – 19 /Highway: 25 – 26 |
| Dodge Challenger | 8.6 | $11,003 – $14,854 | City: 15 – 17 /Highway: 24 – 25 |
| Ford Mustang | 8.5 | $9,405 – $10,190 | City: NA /Highway: NA |
| Mazda RX-8 | 7.8 | $8,636 – $15,681 | City: 16 /Highway: 22 |
| Mitsubishi Eclipse | 7.8 | $6,349 – $8,553 | City: 17 – 20 /Highway: 25 – 28 |
| Mazda MX-5 Miata | 7.6 | $9,020 – $14,418 | City: NA /Highway: NA |
| Hyundai Genesis Coupe | 6.9 | $7,637 – $9,830 | City: 17 – 21 /Highway: 26 – 30 |
Source: cars.usnews.com, edmunds.com
References
https://www.caranddriver.com/mazda/rx-8
https://cars.usnews.com/cars-trucks/mazda/rx-8
https://www.carcomplaints.com/Mazda/RX-8/
https://www.carproblemzoo.com/mazda/rx8/
https://www.edmunds.com/mazda/rx-8/2008/review/
https://www.kbb.com/mazda/rx-8/
https://www.jdpower.com/cars/2008/mazda/rx-8