The Mazda MX-5 Miata is a sports car that was first introduced for the 1989 model year.
This sharp-looking two-seater is highly acclaimed for its sleek design and go-kart-like handling.
In this article, we'll take a deeper look into its best and worst years.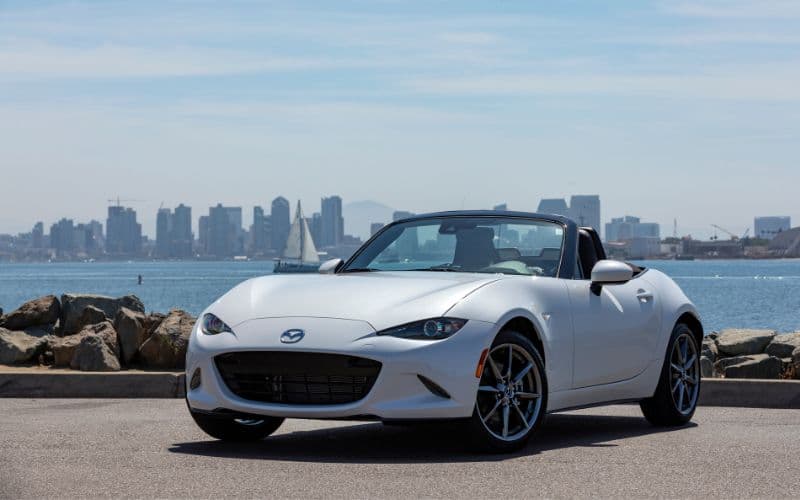 Here are the Best and Worst Years for Mazda MX-5 Miata
Detailed below we've ranked the Mazda MX-5 Miata Models.
Best Years for Mazda MX-5 Miata:
2023
2005
2018
2010
2008
2003
Worst Years for Mazda MX-5 Miata:
1999
2000
2016
2006
1996
What Are The Best Years For The Mazda MX-5 Miata?
2023 Mazda MX-5 Miata
As far as roadsters go, the 2023 MX-5 Miata is arguably one of the best models on the market.
It stays true to its old-school sports-car heritage and is widely praised for its great build quality.
Steering is near-telepathic, there are two main open-top designs that are suitable for any enthusiast and the engine performance is top-notch.
All models are fitted with a 181-hp four-cylinder engine paired with a standard six-speed manual transmission.
With all this being said, it comes at a relatively affordable price point, starting at approximately $28,000.
Whether you want this model year in manual or automatic, the driving experience will be an absolute joy.
2005 Mazda MX-5 Miata
The 2005 MX-5 Miata is considered to be one of the greatest offerings from Mazda for its fun factor, precise steering and economical running costs.
It was the final iteration of the second generation and its impeccable reviews speak for themselves – 4.9 / 5.0 at Edmunds and 4.8 / 5.0 at Kelley Blue Book.
Owners have praised this vehicle for its reliability, with several owners reporting mileages in excess of 200,000 miles.
Pricing is also very affordable and it definitely will not break the bank.
And even though it's a sports car it can still be used as a year-round, daily driver if you live in warmer climates.
If you want to enjoy a vintage roadster that delivers on all fronts, this model year would be a good pick.
2018 Mazda MX-5 Miata
Pure sports car driving fun at an affordable price sums up the 2018 MX-5 Miata.
This model scored strong reviews from owners and auto critics alike and had few reported problems according to NHTSA stats.
It boasts a modest 2.0-liter, 155-hp engine although this is more than enough power for its fun-size chassis.
The Miata was completely redesigned in 2016 although the 2018 model is notably more reliable.
Related: How Long Do Mazda MX-5 Miata Last? (12 Important Facts)
2010 Mazda MX-5 Miata
If you're looking for a dependable option from the third generation, look no further than the 2010 Miata.
Considered to be the best "Compact Sporty Car" by J.D. Power, the 2010 MX-5 Miata outdoes the competition with its agility, style, performance, and affordability.
This vehicle scored near-perfect reviews from car owners who widely praised the car's fun factor.
Its fuel economy can make the vehicle worthy enough to be an everyday commuter car instead of a rarely used prized possession only to be taken out on weekends.
This 2010 model year generated a lot of excitement in the market and can still be considered as one of the greatest model years ever produced in the badge's lifespan.
2008 Mazda MX-5 Miata
The 2008 MX-5 Miata was one of the best and most unproblematic sports cars of its era.
It comes standard with a five-speed manual transmission, four-wheel anti-lock disc brakes (ABS) and 16-inch alloy wheels.
Owners love this model year because it drives like a dream, had minimal issues, and came at an affordable price.
This model also got the thumbs-up for its top-notch Bose Audio system which offers thumping bass and crisp trebles.
2003 Mazda MX-5 Miata
Do not be fooled by the age of the 2003 MX-5 Miata, if you can find one in good condition, it's a purchase you won't regret.
The 2003 Miata is one of the later entries from the second generation which benefits from a facelift introduced in 2001.
Steering and handling are the big draws, and the glass rear window with defogger came as a welcome addition (as it was rare for vehicles to have this in the early 2000s).
The base model boasts 16-inch alloy wheels, a strut-tower brace, stronger and larger brakes, and last but not least, a child seat anchoring system for the little ones.
What Are The Worst Years For The Mazda MX-5 Miata?
1999 Mazda MX-5 Miata
According to CarProblemZoo.com, the 1999 MX-5 Miata was statistically the most problematic model produced, raking in a total of 92 reported complaints.
The biggest and most widespread problem was related to the disc brakes.
Specifically, owners reported that when driving in the rain there was a 3-4 second delay after the application of the brake pedal before the brakes would kick in.
There were also a number of reports of car stalling and sudden loss of power whilst driving.
2000 Mazda MX-5 Miata
Another Miata to steer clear of is the 2000 model.
The main issue of the 2000 MX-5 Miata, just like the 1999 MX-5 that came immediately before it, was the faulty brake system.
While the number of reports were significantly lower than its predecessor, this model year still suffered from faulty ABS brakes in wet weather conditions.
Other minor issues of this model year included premature dilapidation of the clear coat and ignition coil pack failure.
2016 Mazda MX-5 Miata
The 2016 MX-5 Miata is another problematic year that should be approached with caution.
Common gripes included metal clanking noises when going over speed bumps and issues with the blind spot monitoring system.
However, the biggest problem of them all was related to the powertrain.
According to owners of this model year, the vehicle was prone to sudden deceleration/loss of power, refusal to shift into selected gears, and whining noises when driving at normal speeds.
2006 Mazda MX-5 Miata
Radiator cracking and leakage, clear coat failure, and water leakage in the trunk were common issues for owners of the 2006 MX-5 Miata.
Owners also complained that the factory-fitted tires were susceptible to premature failure.
A safety issue reported by some owners was related to the seatbelt.
According to owners, there were instances wherein the seat belt refused to retract.
1996 Mazda MX-5 Miata
The unanimous issue with the 1996 MX-5 Miata was none other than faulty airbags.
Several reports indicated that the airbag warning indicator stayed on which was caused by one of two things: faulty electronics or a defective airbag system.
Owners had to have the airbag module completely replaced while some were fortunate enough to have only required a battery replacement for said module.
Related: 9 Common Mazda MX-5 Miata Problems (Explained)
What Problems Do Mazda MX-5 Miata Have?
Airbag Problems
Defects and problems with the airbags of the MX-5 Miata were most frequently reported prior to the release of the 2010 model year.
Numerous reports have indicated persistent and intermittent lighting up of the airbag warning indicator, while others have specified that their airbags failed to deploy during accidents or collisions.
Fortunately, reports under this category have been few and far between, but it is still important to keep an eye out on post-2010 model years as some units have reportedly still exhibited defective behavior with the airbag system.
Transmission Problems
A large number of MX-5 units were plagued with various transmission problems.
These concerns included loss of power/acceleration, stubborn gear shifting, unintended gear shifting, jerking, and excessive vibration/shaking.
These complaints were most prevalent from the 2016 model year to the 2019 model year.
Road Noise
While considered to be more of an annoyance than a safety-related problem, road noise is an issue for MX-5 Miata, regardless of model year.
According to owners and reviews, road noise would gradually creep up as vehicle speed went up, and was particularly at its loudest when above 60 miles per hour.
Granted this is a common problem for practically all roadsters and sports cars, but it's important to know about if you prefer a quiet ride.
What Are The Best Alternatives to the Mazda MX-5 Miata?
Subaru BRZ
Of all the vehicles in the sports car segment today, the Subaru BRZ is one of the most exciting and affordable.
It is extremely agile, possesses lively acceleration, intuitive tech features, and has comfortable seating.
It is available in manual transmission and automatic transmissions.
Whilst the Subaru BZ has more power the Miata is a convertible.
Toyota GR86
The GR86 hails from Toyota, one of the most widely successful and reliable automotive manufacturers in the world.
This model has received strong feedback from auto critics thanks to its agile handling and playful chassis.
It's powered by a four-cylinder engine paired with a standard six-speed manual gearbox.
Like most sports cars, the GR86 is held back by excessive noise at higher speeds and a cramped backseat, leaving no room for people with long legs.
Go for this sports car if you would like to get a vehicle from a trusted and relatively affordable brand.
How Long Do Mazda MX-5 Miata Last?
If a Mazda MX-5 Miata is cared for and subjected to the recommended maintenance schedule, it could last between 200,000 and 300,000 miles.
However, there are a lot of factors that must be considered, such as driving habits, weather conditions, parking conditions, and accident history.
If we were to base it on the national average for driving which is 15,000 miles per year, a Mazda MX-5 Miata should last between 13 and 20 years.
To prolong the life of your Mazda MX-5 Miata, we recommend frequent oil changes, high-quality fuel, and storing the vehicle in a garage when not in use.
What are the Pros and Cons of Mazda MX-5 Miata?
Pros
Good transmission
Great build quality
Fun driving experience
Sharp handling
Soft top is easy to operate
Fuel efficient (for a sports car)
Swift acceleration
Upscale styling
Cons
Tight interior
Small trunk
Reflective display
Noisy engine
Limited leg room
Challenging infotainment controls