The Mercedes-Benz C-Class is a luxury compact car that was first introduced in 1993.
They're well known for their sophisticated design, deluxe cabins and wide array of standard features.
In this article we'll take a closer look at the C-Class's most common problems...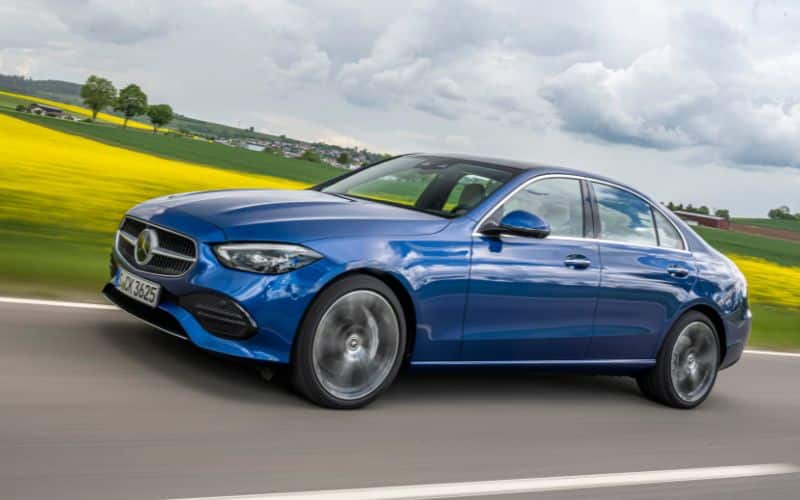 1. Airbag Problems
According to data from Car Problem Zoo, a site that tracks NHTSA data, the most commonly reported problem with the C-Class is related to its airbags. The vast majority of these complaints are for model years from 2005 – 2014.
The complaints were largely related to the infamous, exploding, shrapnel-shooting Takata airbags.
The airbags were known to rupture due to excessive internal pressure which had the potential to fire fragments of metal at the driver and occupants resulting in serious injury or death.
Almost 1 million Mercedes vehicles were recalled in total.
Many owners were left waiting unreasonable lengths of time for the repair work due to the shortage of parts and were left having to drive around in a potential death trap.
Here's one owner's take:
"What is the status of the driver and passenger airbag recall on my 2008 Mercedes-Benz C300? I don't feel safe driving my car due to the possibility of the airbags deploying. It's been over 2 years since the recall was issued. When will my vehicle be serviced??!"
There are a few complaints on more recent models (2017 onwards) from owners stating that the airbags did not deploy when they were in an accident although the low volume of reports suggests this isn't a particularly common issue.
Solution
Affected models will need to have their airbags replaced, free of charge by Mercedes.
Whether you're a C-Class owner or you're scouting out a used one – run the car's VIN on the NHTSA website to see if the vehicle has been subject to a recall and you can also see if the recall has been addressed.
If there are any outstanding recalls, be sure to get them fixed asap.
2. Broken Piston Caused by Faulty Wrist Pin
A common C-Class problem that was reported on 2015 and 2016 models are engine-related issues caused by a cracked or broken piston. In many instances owners were left with astronomical repair bills to rectify the issue.
Pistons are moving components that are used to transfer the force from the gas which expands in the cylinders to the crankshaft to turn the wheels, if your car has a broken piston this means the engine has significant damage.
The cause of pistons cracking is reportedly defective wrist pins – a hardened steel pin that connects an engine's piston to a connecting rod.
Many owners reported:
Loud engine noises
Check engine light coming
White smoke coming out the tailpipe
Engine shaking and shuddering
Here's what the owners had to say:
"Piston cracked at 68,000 miles, causing engine damage. This car was always serviced on time and premium fuel was always used. Mercedes will not assist in repairs as it is out of warranty. Out-of-spec wrist pins were the cause."
"The problem turned out to be a cracked piston in cylinder one, when it cracked it allowed oil to mix with the gasoline and that's what was causing all the white smoke out the rear, the burnt smell was from the oil that was leaked all over my engine getting too hot from the engine. I found out a few days ago that Mercedes has a technical bulletin regarding a faulty wrist pin that was causing the pistons to eventually crack."
Solution
If the problem is caught before the piston cracks the best thing to do is to replace the defective wrist pin with an upgraded one. However, should the piston crack then a common solution offered by Mercedes is to replace the entire engine.
Many owners have been left distraught by this problem as their C-Class was out of warranty when the failure occurred leaving them with huge repair bills often in the region of $12,000 – $18,000.
3. Shaking Wiper Blades
On various C-Class model years, a common complaint we came across on owners' forums and car review sites is shuddering wiper blades. The problem has been widely reported on other Mercedes models too.
Typical symptoms have been described as:
Noisy wipers
Badly juddering
Chatter
Cluttering
Shuttering
Dragging
Skipping
Squeaking
Here's what the owners had to say:
"wobbly and noisy windshield wipers that look very cheap"
"i have an '18 c300 and really the only issue I've ever had is with the wipers, when it rains they constantly jet and jag across the windshield. It's a common problem for the c300."
"I also have the juddering wipers issue, car has been back to dealer once but will have to go again as unresolved. Seems like a very common issue."
Solution
A common suggestion is to replace the wiper blades and to clean the windshield – this has worked for some but not all. Adjusting the wiper angles has also proven not to be the solution.
We did come across a slightly unorthodox solution to the problem on sgmerc.com where a notable number of owners had great success applying a coat of Amour All Tyre Gel to the wipers – simply use a clean sponge and apply a thin layer.
You may need to reapply every 2 weeks.
"Very good recommendation indeed. Tried it and it works really well, although have a few stains on the first few wipes."
"Yes, the Armor All Tire Shine works like a charm. It has been nearly a month since I applied the gel on the car wiper blades, the wipers still work fine. I can finally say goodbye to the irritating wiper juddering and noise!"
4. Low on Cargo Space
Compared to some of its rivals the C-Class sedan offers a lot less cargo space.
The table below should help put this in perspective:
Make & Model
Trunk Space
(Cubic Feet)
BMW 3 Series
17 ft³
Acura TLX
13.5 ft³
Infiniti Q50
13.5 ft³
Mercedes C-Class
12.6 ft³
Audi A4
12 ft³
5. Rough Ride from Run Flat Tires
A common complaint owners have with their C-Class Mercedes-Benz is the rough ride of the factory-equipped run-flat tires.
Run-flat tires allow you to keep driving even after getting a puncture because they have rigid sidewalls that keep the rim from hitting the road.
This sounds great on paper, but in normal driving situations, the stiffer sidewalls negatively affect the car's ride quality – which is most noticeable when driving over potholes or bumps in the road.
Without run-flat tires, the car will drive much better and it will feel much smoother.
From a customer perspective, run flats can be a nightmare especially on the high-end models with larger rim diameters and short sidewalls.
The sorts of minor impacts that wouldn't affect a conventional tire can rupture the sidewall on a run flat, either producing a bubble (which can be driven on for a bit) or a full blowout that disables the car.
The stock run-flats also wear out pretty quickly with most owners needing a replacement before a set reaches 20,000 miles.
Solution
You can replace the run flats with regular tires to improve the ride quality. Regular tires also last longer than run-flats.
The downside, of course, is that you may want to carry a spare tire with you, otherwise in the event of a flat tire you will need to call for roadside assistance.
6. Faulty Steering Column
A common complaint on C-Class models years 2008, 2009 and 2010 is a seized steering column.
On the NHTSA website there are hundreds of complaints from owners of these C-Class model years who experienced steering-related issues.
Many of them were unable to start the car and the steering wheel was locked in position.
This usually occurred when the car was stationary although there were reports of this happening when driving.
The issue is usually accompanied by being unable to turn the key in the ignition.
Solution
The problem has been linked to ESL (Electric Steering Lock) failure – specifically, the motor burns out eventually due to poor quality parts.
In most instances, Mercedes recommends replacing the ELS which costs in the region of $2000.
If you're mechanically inclined there are a number of DIY tutorials online to fix this although it's not a simple fix by any means.
Related: 12 Best & Worst Mercedes C300 Years (With Facts & Stats)
7. Rusted Subframe
A common problem on 2008, 2009, 2010, 2011, 2012 and 2013 C-Class Mercedes is a rusted subframe.
Across owners forums such as mbworld.org and the carproblemzoo.com website, you'll find a number of disgruntled owners who have been affected by this.
In some instances, the rust has spread to the control arms causing them to detach from the frame.
A rusted subframe reduces the integrity of the structure of the car, meaning parts of the car could break or snap off while driving.
Owners experience:
"The car is 2012 C300 Luxury with 73,000 miles. It mainly ran on local roads in NJ with some highways. I just sent the car to the dealer for 9 year maintenance (Service A), and the dealer told me that the car has a rotted rear subframe problem and the subframe could break out in months. He quoted a replacement cost of $5,800."
Solution
The only recommended solution to this problem is to replace the subframe.
According to our research, there aren't any recalls for this particular issue despite it being so common in the US.
It is essential not to drive the car until it gets fixed.
Related: How Long Do Mercedes-Benz C300 Last? (Solved & Explained)
Mercedes-Benz C-Class Model Years With the Most Problems
| | |
| --- | --- |
| Model Year | Number of Problems |
| 2022 | 4 |
| 2021 | 2 |
| 2020 | 15 |
| 2019 | 32 |
| 2018 | 51 |
| 2017 | 127 |
| 2016 | 140 |
| 2015 | 289 |
| 2014 | 83 |
| 2013 | 228 |
| 2012 | 209 |
| 2011 | 455 |
| 2010 | 535 |
| 2009 | 759 |
| 2008 | 895 |
Source: Car Problem Zoo
Mercedes-Benz C-Class Pros and Cons
If you're considering a Mercedes-Benz C-Class as your next car you might be wondering what its strengths and weaknesses are…
Pros
High-tech cabin
Relatively affordable for a high-end car
Upscale appearance inside and out
Comfortable ride
Premium feel
Cons
Not as quick as some of its 4-cylinder rivals
Fuel economy isn't amazing
Base engine sounds coarse when overexerted
So-so trunk space
Mercedes-Benz C-Class Reliability Compared to Similar Cars
Consumer Reports ranks the C-Class in the middle of the pack with a score of 50/100.
Make & Model
Consumer Reports
Reliability Score
Infiniti Q50
90
Acura TLX
87
Audi A4
77
Tesla Model 3
59
BMW 3 Series
58
Lexus IS
58
Genesis G70
55
Mercedes-Benz C-Class
50
Volkswagen Arteon
49
Kia Stinger
46
Volvo S60
29
Polestar 2
28
Cadillac CT5
27
Alfa Romeo Giulia
18
Source: Consumer Reports
Mercedes-Benz C-Class Used Value
We've taken a look on Car Gurus to gauge the resale value of a Mercedes-Benz C-Class, below are typical asking prices for each model year.
According to Car Edge, a Mercedes-Benz C-Class will depreciate 39% after 5 years and have a 5 year resale value of $40,416.
Note: Used model prices will vary depending on trim level.
| | | |
| --- | --- | --- |
| Model Year | Mileage (miles) | Resale Price |
| 2022 | 2,382 | $46,972 |
| 2021 | 6,954 | $39,983 |
| 2020 | 22,938 | $48,997 |
| 2019 | 44,694 | $45,991 |
| 2018 | 29,688 | $28,591 |
| 2017 | 41,761 | $25,888 |
| 2016 | 66,573 | $22,990 |
| 2015 | 76,434 | $21,998 |
| | | |
Source: Car Gurus
Related: Where are Mercedes Benz C300 Made?
What Do Owners Like and Dislike About the Mercedes-Benz C-Class?
Based on owner feedback from the Kelley Blue Book site here are what real-life owners love and hate about the Mercedes-Benz C-Class.
Likes
Fun to drive
Infotainment technology
Safety features
Design and styling
Sports car
Dislikes
Costly
No analog dials
Owners Reviews
"This is my second c300 and I love this car. It's not too big but has plenty of room for adults in the back seat. It has great, luxurious options, great acceleration, plenty of space and love that the back seats fold down when you need extra room."
Source: Kelley Blue Book
"The car is everything I expected. Only one issue-the hands free access for the trunk does not work all the time. It is intermittent and dealer has tried to solve this but with only some success. Still intermittent"
Source: Kelley Blue Book
"So far it looks like maybe we got a lemon. Like the performance and handling. But after just 7 months and 3,000 miles; one of the Mercedes Original tires went flat, and an electrical problem with the gear shift lever. Could not take the car out of the park mode. 2 trips back to the dealer already."
Source: Edmunds
How Reliable Are Mercedes-Benz Cars?
According to a recent report from Consumer Reports, Mercedes-Benz are ranked 23rd out of 28 brands in terms of reliability, with a score of 34/100.
| | | |
| --- | --- | --- |
| 1 | Lexus | 76 |
| 2 | Mazda | 75 |
| 3 | Toyota | 71 |
| 4 | Infiniti | 69 |
| 5 | Buick | 66 |
| 6 | Honda | 66 |
| 7 | Subaru | 66 |
| 8 | Acura | 64 |
| 9 | Nissan | 63 |
| 10 | Mini | 60 |
| 11 | Hyundai | 56 |
| 12 | Chrysler | 54 |
| 13 | Porsche | 52 |
| 14 | Chevy | 48 |
| 15 | Audi | 47 |
| 16 | Cadillac | 47 |
| 17 | BMW | 45 |
| 18 | Ford | 44 |
| 19 | Kia | 43 |
| 20 | Volvo | 42 |
| 21 | Ram | 40 |
| 22 | GMC | 37 |
| 23 | Mercedes-Benz | 34 |
| 24 | Volkswagen | 31 |
| 25 | Genesis | 30 |
| 26 | Jeep | 26 |
| 27 | Tesla | 25 |
| 28 | Lincoln | 18 |
Source: Consumer Reports
Related: Mercedes-Benz C300 in snow and winter driving
Sources
https://www.consumerreports.org/cars/mercedes-benz/c-class/
https://www.carcomplaints.com/Mercedes-Benz/
https://www.carproblemzoo.com/mercedesbenz/cclass/
https://www.kbb.com/mercedes-benz/c-class/
https://www.edmunds.com/mercedes-benz/c-class/
https://caredge.com/mercedes-benz/c-class/depreciation
https://www.cargurus.com/Cars/l-Used-Mercedes-Benz-C-Class-d66