The Mercedes-Benz GLE was first introduced in 2015 when the Mercedes M-Class was renamed for its third-generation facelift.
It's also been Mercedes-Benz's top-selling vehicle for many years.
The GLE is known for being one of the benchmarks of the midsize luxury SUV class with its gorgeous interiors, feature-packed tech, and powerful engines.
In this article, we'll take a look at some of its most common issues…
1. Exhaust Drone
Many early examples of the Mercedes-Benz GLE suffered from a constant exhaust drone or a high-pitched whine that can only be heard at lower engine RPMs.
This issue only seems to affect the 2016 and 2017 models of the GLE 350 and GLE 400.
Newer model years, as well as other trim levels, didn't have any complaints about excessive exhaust noises.
GLE owners reported on different Internet forums that the exhaust drone could only be heard whenever the car reached around 1,500 RPM.
Sometimes, it could be loud enough to drown out the car's sound system.
Here is how a few owners described the issue:
"I purchased the GLE 350 in April and immediately noticed the problem. At first Mercedes denied the existence but after pressing the issue the service manager discovered it was Harmonic Resonance in the exhaust system created by the through-the-body exhaust ports."
"I have the same exhaust noise on my GLE 350. Starts at 1500 rpm and not as noticeable at higher rpms."
Due to the numerous complaints, Mercedes-Benz dealers eventually figured out that the noise was caused by the GLE 350's updated exhaust system.
Since the GLE's exhaust system isn't actually connected to the exhaust tips on the bumper, the exhaust gasses had a tendency to create droning noises when it hit the interior of the fake exhaust tips.
Solution
To remove the exhaust drone, dealerships often swapped out the GLE's mufflers for the ones used in the M-Class which had exhaust tips that pointed downwards towards the ground.
Newer models of the GLE most likely have updated mufflers and exhaust tips to completely eliminate the harmonic resonance that the original design created.
2. Weak Halogen Headlights
Lots of Mercedes Benz GLE owners have found that the standard halogen headlamps don't provide great visibility when driving at night.
Owners reported that the GLE's halogen headlamps' low beams were much weaker compared to similar halogen lights found in other vehicles.
The first generation GLE from 2016 to 2019 came with halogen headlamps and LED daytime running lights as standard.
Active LED headlights were only available as an option in North America.
In some markets, the LED headlights were offered as standard equipment
LED headlights only became standard in the second generation GLE
All AMG models of the GLE came with LED headlamps as standard
Here is how one owner described their experience:
"I just purchased a CPO 2016 GLE. I've driven and owned numerous Mercedes and BMWs in the past — all with halogen headlamps — and they were all sufficiently bright, EXCEPT FOR THE 2016 GLE. It is not safe to drive at night with these weak lights."
Solution
A quick fix that helps sort out the GLE's halogen headlight issue is to replace the stock bulbs with brighter ones that have a higher color temperature which can provide better visibility.
Upgrading to aftermarket HID or LED systems is another common solution but will require some modifications to wire correctly and get the right beam pattern.
Unfortunately, swapping out the standard halogen headlights for the OEM LED headlights requires lots of advanced wiring and reprogramming so it's very cost prohibitive.
3. Keyless Entry and Key Fob Issues
The second generation Mercedes-Benz GLE had some issues with its Keyless-Go system and key fob during its first few years.
Owners of 2019 and 2020 GLEs often reported that after some time, they would experience issues like:
Car won't lock or unlock
Tailgate won't open
Kick-to-open tailgate functionality doesn't work
Car won't start
The keyless entry system would only work half the time and was quite unpredictable, which often left owners scratching their heads.
In most cases, the car would eventually respond if the lock/unlock buttons on the key fob were pushed.
Here's what one GLE owner had to say:
"I've had my GLE for 5 months and I've noticed key fob issues (only when locking) the last 60 days or so. For me, it mostly occurs when the key is in my pants pocket (vs jacket pocket), and if I move my leg a little faster when getting out of the vehicle it almost never fails."
Since the problem was intermittent, dealers also had trouble figuring out what to do.
Solution
GLE owners who had problems with the car's keyless entry were only able to completely fix the problem after ordering a new set of key fobs.
Mercedes-Benz updated their Keyless-Go system sometime in 2019 to prevent car thefts.
After the update, the key fob would go into sleep mode if it was not used for some time.
Older key fobs had difficulty waking back up so the car couldn't detect that it was in range, which caused many of the issues mentioned above.
People eventually figured out that shaking the keys repeatedly would eventually wake the system up and just did that as a workaround until they could get their replacement key fobs.
It's also possible that the key fob's battery simply died and just needs replacing. But if the issue persists, you might need to look at replacing your key fob.
4. High-Pitched Noise at High Speed
Many second-generation GLEs were prone to generating a high-pitched whistle usually when driving over 60 miles per hour.
The wind noise mostly affects the early model years of the second-gen GLE from 2020 to 2021, but some owners of the 2022 models reported that they also had the same issue.
Here are a few owner complaints:
"Picked up a GLE450 about two months ago and the whistling sound is there above 50-55mph or so."
"I get the same whistling sound on my '21 GLE 350 around 55mph but it becomes very noticeable at 70 mph."
Although the wind noise doesn't affect the car's drivability or reliability, people expect a refined and quiet cabin when they buy a premium luxury SUV like the GLE.
Fortunately, it's usually only audible when the radio is off and can easily be drowned out by playing some music.
Solution
Mercedes-Benz eventually released a TSB (technical service bulletin) to address the GLE's wind noise issue in 2020.
The TSB recommends replacing the side mirror housing cover with an updated unit that should completely eliminate the whistling.
Early attempts to fix the issue helped minimize the noise but didn't eliminate it completely.
By the end of 2021, Mercedes-Benz came up with redesigned side mirror cover that seems to have completely removed the wind noise.
5. Throttle Lag
A common complaint that owners have with both generations of the GLE (and the last generation M-Class that it replaced) is the somewhat laggy throttle response.
Varying levels of throttle lag can be felt in every trim level of the GLE from 2016 up to the present.
Essentially, when the gas pedal is pushed down, it can take a second or two for the transmission to downshift and get the car up to speed.
While this makes the car smoother to drive, it can be annoying when you're trying to quickly speed up or overtake a vehicle.
The AMG GLE 63 isn't affected by this issue too much because of its more aggressive transmission and ECU tuning.
Here is how one unhappy GLE owner described their experience:
"I love everything about my GLE400 except for the throttle response. I understand that the car has an adaptive transmission and I've reset it a few times, but it still has an annoying delay between when I hit the gas and when the car gets moving."
The noticeable throttle delay can be attributed to the GLE's drive-by-wire system coupled with its turbocharged engine which needs a few moments to build up boost and generate enough power.
Solution
Using the car's 'Sport' mode makes the car respond quicker when the gas pedal is pushed, but it also causes more aggressive shifts which can jolt your passengers.
The GLE's transmission doesn't respond the same way older automatic transmissions do where you just have to kick down the pedal to the floor to force it to shift to a lower gear.
Pressing the pedal halfway at a higher velocity is more effective at making the transmission downshift quicker.
Many M-Class and GLE owners have also successfully improved their car's throttle response by installing aftermarket devices like a Sprintbooster or a PedalBox to change the throttle mapping. Getting an aftermarket tune will also have the same effect. But both these methods can void your warranty.
Related: How Long Do Mercedes Benz GLE Last? (Solved & Explained)
6. Jerky Transmission
Some GLE owners have reported that their cars have rough downshifts when it shifts from fourth to third and from third to second gear.
This issue seems to be more common in the second generation GLE 450 and AMG GLE 53, but the GLE 350 has also had a few complaints of rough downshifts.
The GLE 450 and GLE 53 share the same engine and EQ Boost mild hybrid motor which might explain the higher number of complaints they've received.
Here is how some owners described their transmission issues:
"I got my 2020 GLE 450 last November. When downshifting from 4,3, and 2, the kick is very obvious. But this only happens when the engine is fully warmed up, not when it's cold."
"I had the same issue in my October 2019 GLE450 with 4->3 and 3->2 downshifts being a bit rough occasionally (more noticeable in sport and sport+ but still in comfort). Not super jerky but enough to be a bit annoying to me as the driver."
Not all GLEs suffer from this downshifting problem.
Some vehicles have worse symptoms while other examples might have it to some degree but it's imperceptible to the driver.
Some people who complained about the rough downshifts have also reported that it has gotten better as time goes by.
Solution
If the jerky downshifting doesn't go away and becomes more bothersome, the best thing to do is to take your car to the dealer to check if there are any trouble codes being thrown.
Some GLE owners have reported that after the dealer reset some of the car's computers, their shifting improved significantly. The dealership can also make sure that the car has all the latest software.
If the software resets and updates don't help, the dealership should diagnose the issue more thoroughly.
Some GLE owners have reported that the problem only went away after replacing a faulty part like a sensor or transmission valve body.
A few have even had their entire transmissions replaced.
7. Noisy and Stuttering Wipers
A few GLE owners have also complained about the car's noisy and stuttering wipers.
It's a common issue in other Mercedes-Benz models like the GLC and C-Class. However, it's not as widely reported in the GLE despite it being Mercedes-Benz's best selling vehicle.
GLE owners have encountered wiper issues such as:
Squeaking or hard rubbing noises with every wipe
Wiper blades skip and stutter mid-sweep
Ends of the wiper blades hit the edge of the windshield
Here is one GLE owner's unhappy experience:
"My situation is that this just started about a month and a half ago. Like most everyone here I've cleaned the windshield, replaced wiper blades, talked to Mercedes about it ( which they were more than happy to sell me some sort of windshield cleaning service for $250."
Solution
In a lot of cases, the wiper noise eventually goes away as the wiper blades wear out and become softer. Although, when it comes time to replace the wiper blades, there's a good chance the noise will return.
Some were able to reduce the noise and stuttering by using aftermarket wiper blades like the Bosch Aerotwins.
Another fix that's often suggested on different Mercedes Benz forums is to clean and polish the windshield using an abrasive cleanser like Bon Ami.
To fix the wipers hitting the edge of the windshield, either the wiper blades or the wiper arms need to be adjusted by the dealership.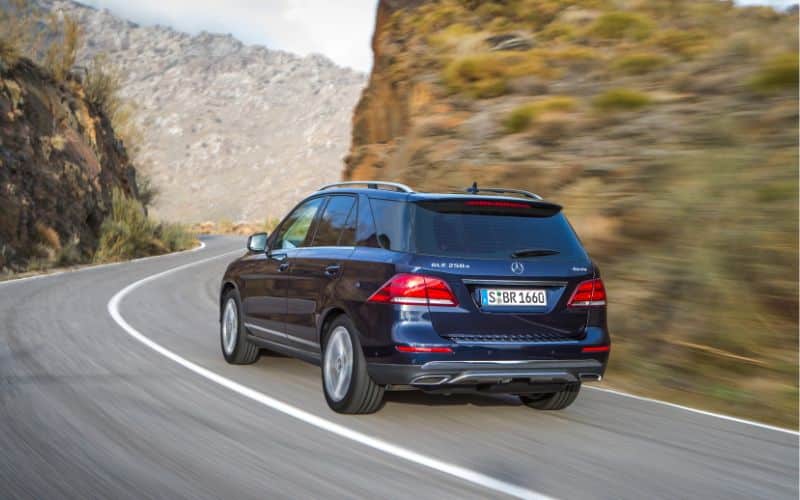 Mercedes-Benz GLE Pros and Cons
If you're considering a Mercedes-Benz GLE as your next car you might be wondering what its strengths and weaknesses are…
Pros
Upscale styling inside and out
Well built and luxurious interiors
Optional third-row seats
Comes with lots of tech and driver aids
Reliable drivetrain
AMG models have powerful engines
Cons
Expensive options
Suspension can be floaty
High dealership costs
Mercedes-Benz GLE Reliability Compared to Similar Cars
Consumer Reports ranks the Mercedes-Benz GLE in 17th place with a score of 5/100.
| | |
| --- | --- |
| Make & Model | Consumer ReportsReliability Score |
| Lexus GX | 100 |
| Lexus RX | 76 |
| Lexus RX L | 76 |
| Acura MDX | 61 |
| BMW X5 | 58 |
| Audi Q7 | 45 |
| GMC Acadia | 43 |
| Porsche Cayenne | 43 |
| Cadillac XT6 | 37 |
| Lincoln Nautilus | 31 |
| Infiniti QX60 | 30 |
| Land Rover Defender | 25 |
| Land Rover Discovery | 25 |
| Land Rover Range Rover Sport | 25 |
| Jaguar I-Pace | 24 |
| Volvo XC90 | 17 |
| Audi Q8 | 5 |
| Audi e-tron | 5 |
| Genesis GV80 | 5 |
| Mercedes-Benz GLE | 5 |
| Tesla Model X | 5 |
| Lincoln Aviator | 3 |
Source: Consumer Reports
Mercedes-Benz GLE Used Value
We've taken a look on Car Gurus to gauge the resale value of a Mercedes-Benz GLE, below are typical asking prices for each model year.
According to Car Edge, a Mercedes-Benz GLE will depreciate 56% after 5 years and have a 5 year resale value of $39,642.
Note: Used model prices will vary depending on trim level.
| | | |
| --- | --- | --- |
| Model Year | Mileage (miles) | Resale Price |
| 2022 | 8,607 | $63,113 |
| 2021 | 20,286 | $72,846 |
| 2020 | 33,433 | $49,888 |
| 2019 | 27,206 | $64,997 |
| 2018 | 49,054 | $31,998 |
| 2017 | 28,648 | $32,730 |
| 2016 | 65,274 | $27,995 |
Source: Car Gurus
Related: Mercedes Benz GLE In Snow & Winter Driving (Explained)
What Do Owners Like and Dislike About the Mercedes-Benz GLE?
Based on owner feedback from the Kelley Blue Book site here are what real-life owners love and hate about the Mercedes-Benz GLE.
Likes
Fun to drive
Amazing features
Comfortable
Luxurious
Massage seats
Good exterior design
Good interior styling
Dislikes
Noisy brakes
Rattles
Costly to maintain
Body quality
Owners Reviews
"I came previously from 3 Volvos and 2 teslas. This is definitely the best car I've had so far. So many features and well worth the money. Very comfortable, reliable, and lovely features…"
Source: Kelley Blue Book
"Extra leg room is improved. Headlights are the best. I am very pleased Mercedes went away from run flat tires. They are noisy, rough, and cannot be repaired. Fit and finish is excellent. Drives great!"
Source: Edmunds
"I took delivery in December and immediately fell in love. I upgraded from a 2016 Volkswagen Touareg and everything about this car is worth the $15k increase in MSRP (mine came in at $71k.) I'm averaging 24.8 MPG with mixed/highway driving over 3,600mi…"
Source: Edmunds
Related: 6 Most Common Mercedes-Benz GLS Problems (Explained)
How Reliable Are Mercedes-Benz Cars?
According to a recent report from Consumer Reports, Mercedes-Benz are ranked the 23rd most reliable car manufacturer out of 28 brands, with a score of 34/100.
| | | |
| --- | --- | --- |
| Rank | Brand | Score |
| 1 | Lexus | 76 |
| 2 | Mazda | 75 |
| 3 | Toyota | 71 |
| 4 | Infiniti | 69 |
| 5 | Buick | 66 |
| 6 | Honda | 66 |
| 7 | Subaru | 66 |
| 8 | Acura | 64 |
| 9 | Nissan | 63 |
| 10 | Mini | 60 |
| 11 | Hyundai | 56 |
| 12 | Chrysler | 54 |
| 13 | Porsche | 52 |
| 14 | Chevy | 48 |
| 15 | Audi | 47 |
| 16 | Cadillac | 47 |
| 17 | BMW | 45 |
| 18 | Ford | 44 |
| 19 | Kia | 43 |
| 20 | Volvo | 42 |
| 21 | Ram | 40 |
| 22 | GMC | 37 |
| 23 | Mercedes-Benz | 34 |
| 24 | Volkswagen | 31 |
| 25 | Genesis | 30 |
| 26 | Jeep | 26 |
| 27 | Tesla | 25 |
| 28 | Lincoln | 18 |
Source: Consumer Reports
Sources
https://www.consumerreports.org/cars/mercedes-benz/gle/
https://www.carcomplaints.com/Mercedes-Benz/GLE350/
https://www.carproblemzoo.com/tsb/mercedes-benz/gle/
https://www.kbb.com/mercedes-benz/gle/
https://www.edmunds.com/mercedes-benz/gle-class/
https://caredge.com/mercedes-benz/gle-class/depreciation
https://www.cargurus.com/Cars/l-Used-Mercedes-Benz-GLE-Class-d2317