The Mercedes Benz GLE is a mid-size luxury SUV that was first introduced in 2015, and is currently Mercedes second best selling model.
Offering exceptional power and performance, the GLE combines sportiness, off-road capability and everyday practicality.
But how well does it perform in snow and winter conditions?
Read on to find out…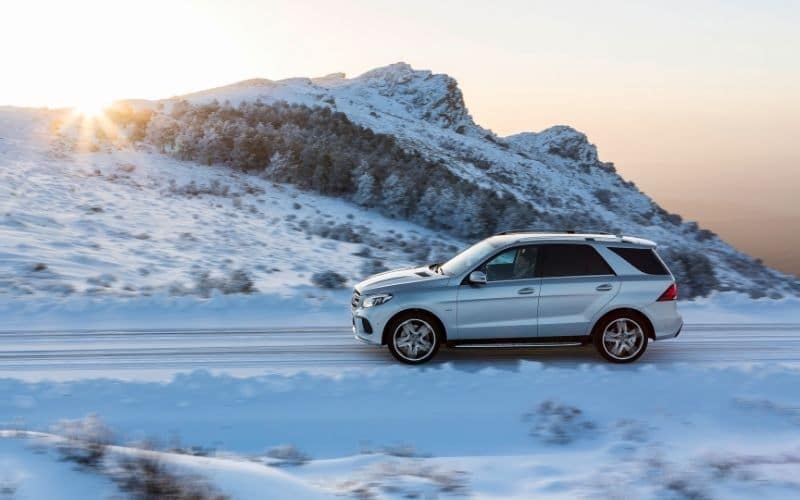 Here is the short answer to whether the Mercedes Benz GLE is good for snow and winter driving:
The Mercedes GLE excels in the snow. When equipped with 4Matic All-Wheel-Drive the GLE provides a safe, comfortable ride that handles snowy roads with ease. Features such as heated seats, traction control, ABS, adaptive braking and advanced driving aids make this premium SUV great in the winter.
Is the Mercedes GLE Good in the Snow?
The GLE is a luxurious and comfortable vehicle that when driving on wet winter roads will feel solid, safe and secure, with lots of glass area too visibility is good.
For those who are likely to encounter snow-covered roads, we'd advise opting for any of the all-wheel-drive models to help boost traction and control.
All trim levels come standard with 4Matic AWD with the exception of the GLE 350, which comes in your choice of either rear or all-wheel drive.
The GLE has a generous ground clearance of 7.9 inches and this can be increased further to a maximum of 11 inches by adjusting the air suspension – as a general rule when driving in snow, more ground clearance is always better in most cases.
It's got a roomy and luxurious cabin fitted with a whole host of smart tech features including heated seats and steering wheel, which makes driving in the freezing cold a pleasurable experience.
It's also got lots of room in the back for all sorts of winter gear and supplies for longer road trips.
What Features Will Improve Winter Driving?
Mercedes Benz didn't skimp on features when it came to designing the GLE. It's an important model for the German brand so they loaded it with their best tech and luxury options.
In this section we'll take a closer look at all the features that make the Mercedes Benz GLE an outstanding winter vehicle…
4Matic All-Wheel Drive
The 4Matic AWD is a full-time system that constantly sends power to all four wheels.
The GLE 350 4MATIC divides the engine's torque 50:50 front to rear.
The GLE 450 and GLE 580 can vary the torque from 0 to 100%
Having 4Matic equipped significantly improves the GLEs handling and traction on snow-covered roads, by intelligently sending power to any of the four wheels to combat loss of traction or slipping.
Adaptability is the main focus of the 4MATIC system as regardless of which wheel loses grip, power will be distributed to the opposite wheel.
These computerized adjustments offer drivers an enhanced level of safety and peace of mind.
The AWD models offer better traction than the RWD GLE, and are at less risk of fishtailing on slippery roads.
Related: 7 Most Common Mercedes-Benz GLE Problems (Explained)
Electronic Stability Program (ESP)
ESP is a computerized technology that improves stability by detecting and reducing loss of traction.
It carefully monitors your driving inputs and the vehicles motion to make sure you don't lose control in the event of understeer or oversteer.
If it detects that the car is not heading in the intended direction, it can selectively apply the brakes to individual wheels and reduce engine power to maintain stability and correct trajectory.
ESP helps keeps you safe in the winter when the road surfaces can become slippery and unpredictable and is fitted as standard on all GLEs.
4-Wheel Electronic Traction System
4-ETS uses individual sensors and brakes on every wheel and is essentially traction control.
It is designed to detect when a tire loses grip and starts spinning – it will then stop, or slow down the rate of spin.
When the roads are covered with snow, slush or ice, it's easy to make the wheels spin, but this won't actually help move the car forward and can cause loss of control.
The GLE's Traction Control System will automatically apply the brakes when it senses wheelspin so that the tires can better grip the road.
Anti-Lock Braking System
During the winter when roads are wet and slippery your tires have less grip, and therefore the risk of skidding when braking is higher.
The GLE addresses this with powerful disc brakes on all four wheels and a sophisticated Anti-Lock Braking System (ABS).
ABS brakes prevent the car's wheels from locking up under heavy braking, thereby maintaining more control and reducing the chance of skidding.
Adaptive Braking Technology
Fitted as standard across the latest GLE trims, Adaptive Braking Technology is a series of innovations that helps improve braking and consists of:
Predictive Brake Priming – uses special sensors that predict emergency stops. In some situations, the brake pads are brought closer to the brake rotors when you release the gas pedal and are therefore 'pre-charged' for a quicker response.
Automatic Brake Drying – dries your brake rotors when it's raining or snowing outside by occasionally applying light brake pressure just enough to remove water build-up.
Hill Start Assist – keeps the car from rolling backward so you don't have to worry about quickly switching from the brakes to the gas pedal and sliding downhill.
Dynamic Select
The GLE's Dynamic Select lets you switch to different vehicle modes to suit the driving conditions.
In the GLE, you get to choose between the following modes:
Sport
Comfort
Eco
Off Road
Individual
Each mode or drive program changes the vehicle's engine and transmission characteristics, ESP settings, and on vehicles with the Airmatic Air Suspension, the vehicle's ride height and suspension settings.
During the winter, Comfort or Eco makes the car easier to handle compared to Sport which makes the engine's power output more aggressive.
If you're driving through rough country roads, you can switch it over to Off Road to raise the vehicle even more and make the AWD system more responsive.
Heated Mirrors and Seats
As can be expected from a luxury vehicle like the GLE, it includes heated side mirrors and front seats in all trim levels.
Additional heating options are also available as options such as:
Heated front armrests and upper door panels
Heated and cooled front cupholders
Heated steering wheel
Heated 2nd-row seats
4-zone climate control
All of these extra creature comforts make the cabin of the GLE much comfier and cozier even in the coldest of winters.
You may also be interested in our article: How Long Do Mercedes GLE Last?
Remote Engine Start
The GLE also comes standard with Remote Start which is activated via a mobile app called Mercedes Me.
This allows you to warm up the car long before you get in so that you don't have to sit outside in the cold and wait for the heater to work.
It also helps the engine get up to temperature before you drive off.
Advanced Driver Aids
The GLE comes standard with modern Driver Aids such as:
Active Brake Assist
Crosswind Assist
Blind Spot Assist
These add an extra layer of safety by utilizing electronic sensors and computerized systems to help reduce accidents.
You can also equip the GLE with the Driver Assistance Package Plus which includes more driver aids like:
Active Distance Assist
Active Brake Assist
Active Lane Keep Assist
Active Steering Assist
Speed Limit Assist
All of which make the GLE much safer to drive all-year round no matter what the conditions are outside.
Does the Mercedes Benz GLE Have a Snow Mode?
In the latest generation of the GLE, only the AMG versions come with a 'Slippery' or Snow Mode which can be selected via the Dynamic Select menu.
Earlier generations of the GLE also featured this mode on the non-AMG models.
Current generations of the GLE 350, 450 and 580 no longer have a dedicated Snow Mode.
But you can easily switch it to Eco mode to make similar adjustments to the engine and transmission settings.
You can also switch it to Off-Road if you're dealing with uneven terrain, and also turn off the ESP and Traction Control if you need some wheelspin to power your way out of deep snow or really slippery roads.
You may also be interested in our article: Mercedes Benz GLC in Snow & Winter Driving
Can You Install Additional Snow Gear on the GLE?
You can easily fit extra snow gear on the GLE if you're going to be driving it through more extreme winter conditions.
These may includes things such as:
Snow tires
Tire chains
Snow socks
Studded tires
Tow hooks
Mercedes does not recommend putting on tire chains on the front wheels because there may not be enough clearance between the chains and the fender lining — especially if you have the larger 20-inch wheels.
For extreme winter use, you can swap out the stock wheels for smaller ones so you can easily put on chains on all four wheels, as well as fit special tires with studs.
How Much Snow Can a GLE Handle?
Even with the standard suspension, the GLE has pretty decent ground clearance at around 8 inches. So driving through 6 to 7 inches of snow should be no problem.
The GLE can be raised up a few inches higher with the Airmatic suspension so you can easily drive through up to a foot of snow.
How Does the Mercedes Benz GLE Handle Low Winter Temperatures?
Mercedes Benz is known for its tremendous build quality so the GLE should be a very reliable vehicle even if you're driving it in frozen tundras.
If you are going to be driving the GLE in freezing conditions for prolonged periods, there are some preparations you can do such as:
Switching to cold weather rated engine oil
Install an engine block heater
Putting on snow tires with smaller wheels
Charging the battery using a battery tender when garaged
Keeping emergency gear like a jump pack, tow straps, a shovel and chains in the back
Can the GLE Drive on Ice?
The GLE can comfortably drive on ice although it should be done so slowly.
Features such as 4Matic, ESP, 4ETS and ABS makes it much more manageable on slippery ice-covered roads.
All these systems work together to keep the car stable and give your tires as much grip as possible.
Does the GLE Have 4WD?
All generations of the GLE, and its M-Class predecessors, can be equipped with the 4Matic AWD system.
It's a permanent system that's always on and automatically sends power to the wheels that need it the most. It also works seamlessly in the background in all sorts of driving conditions.
Mercedes Benz first introduced their 4Matic system in 1986, and has been developing and offering it in more and more vehicles ever since.
It's an extremely reliable AWD system that sees a lot of winter action all over the world in all kinds of Mercedes Benz vehicles.
What About Older GLE Models And Winter Driving?
The GLE was only introduced in 2015, and the latest generation was released in 2019.
This means that all GLEs are fairly modern, and even the older ones should have much of the same technology and perform similarly in snow and ice.
If you go back to the earliest M-Class SUVs, they all had ESP, 4ETS and ABS which are essentials for winter driving.
These older Mercedes SUVs also had optional low-range gearing with their AWD systems which made them more suitable for more extreme off-roading.
Does the Mercedes GLE Need Snow Tires?
Snow tires will ensure you get the best possible winter performance from your GLE, and are highly recommended.
Snow tires are proven to significantly improve handling and stopping distances in winter driving conditions.
The compound is made to grip the road better in lower temperatures as it remains soft and flexible in cold weather.
The tread pattern is designed to push the snow out from underneath the tire.
Can You Mount A Snow Plow on a GLE?
The Mercedes Benz GLE uses a unibody construction so it's more difficult to find snow plows that will fit on it.
Most snow plows are designed to be attached directly to truck frames which are much stronger.
Attaching a snow plow on a GLE might cause some damage to the body and the chassis, and also prematurely wear out the transmission and the drivetrain.
It can be done as a novelty or for very light duty plowing, but for deep snow, you're better off finding a better vehicle like an old truck to use as a snow plow instead of an expensive luxury vehicle like the GLE.
Related: How Long Do Mercedes Benz GLC Last?
Resources
https://www.mbusa.com/en/vehicles/class/gle/suv
https://www.caranddriver.com/reviews/a22606068/the-2020-mercedes-benz-gles-suspension-is-super-crazy-insane/
https://www.edmunds.com/mercedes-benz/gle-class/
https://enginepatrol.com/mercedes-glc-facts-statistics/